INDIO GRIS
INDIVIDUAL MAGAZINE OF GARBAGE COLLECTION
Nº 9.YEAR 2000. JULY, THURSDAY 27
FUSIONED - DIRECTED - WRITTEN AND CORRESPONDED BY: MENASSA 2000
WE DON'T KNOW HOW TO TALK BUT WE DO IT IN SEVERAL LANGUAGES.
SPANISH, FRENCH, ENGLISH, GERMAN,
ARABIAN, PORTUGUESE, ITALIAN, CATALAN.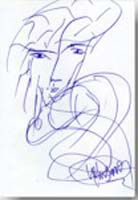 INDIO GRIS, IS A PRODUCT
OF A FUSION
EL BRILLO DE LO GRIS
AND
EL INDIO DEL JARAMA
THE FUSION WITH MORE FUTURE
OF THE XXI CENTURY
---
INDIO GRIS N.º 9
1
Today was one of those days that begin early.
My wife got up at seven o'clock in the morning and told me:
-I don't have complains about the way you treat me, but I feel I'm not desired... while she talked I remembered, with certain contained emotion, the last time we have been fucking ( according to her doing the things of desire) and we had been great, me too.
Once in a while, she added, we have a marvellous lay but I feel I'm not desired and I would like to know ( she said once more, partly moved) what I have to do to make you desire me the whole time. Because a woman, and you know very well that I am one, feels like shit when she is not desired and, she concluded deepening her voice:
-I'm this shit who cannot even desire you.
I didn't precisely want to answer her when I said:
-I look like an exceptional diamond,
I shine like an exceptional diamond,
I''m priced like an exceptional diamond
perhaps, darling, I am an exceptional diamond.
-Yes, it is true, she said obligingly, this is all very true but I need you dick to arouse more quickly and often.
-If that is what you want, we have the solution, I said boldly.
She wanted to talk, sometimes she reproached me harshly that I didn't speak much with her and yes, the truth is that it is very difficult for her to listen to me. However, one day she said to me:
-You keep talking the whole day with that whore. And I answered her almost brusquely:
-I don't know what the fuck you are talking about, I only know that one day I served her to you on a tray and you despised her, what I don't know, my darling, is if we're talking about the same "whore".
The possibility opening up with the phrase that a woman would exist other than the one she wanted for me, made the shadows of pain appear in my life. There was no love that didn't hurt in some way. There was no pleasure that didn't have it punishment.
Even writing poems became a pain.
When I wrote, she felt as if I abandoned her, that I didn't desire her as I used to, that some young whore fulfilled me, that work or some hard drug had seduced me with death.
Generally I left her reach her own tomb but this time I interrupted her with a joke, perhaps stupid.
-You are my hard drug, darling. It has been more than 30 years living together and so far, I haven't thought of leaving.
2
Ms. Soledad start her session asking what she has to do to live more tranquilly.
Then she speaks very badly about the professors in general ( I feel myself referred to but I say nothing to her) and explains how she meddles in people's lives:
-There are things in which I can think of before they happen. Perhaps I don't do my homework correctly because I want to do it on my own. But then she speaks the whole time about the possibility of anticipating the events ( I feel that she is a witch or an old-fashioned psychiatrist, but I say nothing to her) She pleases herself by speaking her mind to loved ones and patients. And sometimes she manages to transform a loved one or a patient into a very, very amicable person. I held a different stand in life before, but I starved to death. Now, everything is different, now I count on my own enthusiasm.
She gets lost in an insurmountable silence, meanwhile I'm pierced by thousands of love songs. Before I could tell her we'll continue next time, she was able to say:
-I want to be happy, even though no one can believe it or achieve it.
3
Clotilde dropped herself on the couch and said freely:
-If I could, I would never go out, Yesterday, she added, I wrote a poem to my mother and felt that thousand of women, that same day, at the same time, were writing a poem to their mothers and felt powerful, master of myself, that what I had had no solution. I'll never be original, she said, and once more she was engulfed by silence.
4
I'm a little desperate, to have wanted to leave my mark on our Internet pages has led me through non-return roads, so to speak.
Once the connections were made, the links and the super links established and some other nonsense I still ignore, the machine works almost as if it were a brain. It is full of junk that is worthless, three virtuous memories, the incestuous relations pushing through remote places of the memory and all the rest mixed in proportions that are always bothering for the individual. If things are well done, everything is connected with everything and with some things from the outside, that even if they are few, are the ones that allow us to exist.
PAGES LIKE GIGANTIC OCEANIC WAVES.
From one border to the other of the Spanish language without moving from Paris, There are things which seem unbelievable, even with me saying them.
5
Today, I'll make myself almost obscene questions: Do I have to organize myself my 60th birthday party? Or
Do I have to let others be in charge of organizing my 60th birthday party?
6
I think that what I'm writing can be read by my neighbour sitting in front of his computer, in his house and I tremble a little. And when I think that even my dead mother will be able to read what I write in few more time, something in me halts. This comes because of a dream I had last night: GREAT SIGN ANNOUNCING THE ARRIVAL OF INTERNET INTO CEMETERIES.
THERE WON'T BE A DEAD PERSON WITHOUT A FILE
WINDOW WITHOUT HELP
AND THERE WON'T EVER BE
SALVATION TABLET WITHOUT TOOLS
I'm EXHAUSTED NOW, THE WORLD IS BIGGER THAN I and nobody realizes it.
7
Today, in my second day of navigation, things didn't result as brutal as the first time. If the first time everybody was more beautiful and intelligent than us, the second time only half of them turned out to be more intelligent and we didn't see any beautiful ones, in general we didn't see them although we admit they exist.
8
The success I obtain for myself surprises me. Today I looked at myself in the mirror at least three times and I even thought that growing a beard would suit me. Later I was reading N 2 Editorial of EL INDIO DEL JARAMA- (March, April, 1992) and I couldn't hold back:
EL INDIO DEL JARAMA MAGAZINE- N 2- -1992- EXCERPTS FROM EDITORIAL
Anyway, we want to point out in this second attempt that even though things are going well for us, the world keeps on falling and this is why taking advantage of so much falling, we raise ourselves to go on:
Poetry does not fall, and what a marvelous thing! neither does flesh.
Love, love, in the next decades, the horrors of the XX century forgotten, we will kiss again in the mouth and the moon will be once again that romantic place, in that nocturnal remoteness, where people in love look for their own love, remote ans impossible.
Because reality usually beats all dreams, though this isn't our case, what happens to us is that our reality is the materialization of our dreams.
I'm American and I am America. My voice is an American voice. My lusts, my crazy ambitions of flying, are American. And Madrid, my dearest, my little Parisian orphans, is not Europe, it won't be in a thousand years.
Madrid is the central piece of the great American diamond.
The language that generates a gift that excels it.
The incredible mother that remained without an owner
and lets her children take her tranquilly.
Time is not being
but being cannot occur out of time.
And time is a language, a writing.
I am the stone, the American Indian
that Spain did not kill during the conquest.
I come from a splendid heaven, without gods.
From a fertile plain, almost without limits.
I am the bleeding and talkative Guarani.
The limpid tear of the Mayan,
the furrow opened with firmness by the Inca,
the infinite sadness of what does not die.
I am the tree, the fruit, the perfidious emerald.
Quartered silver, machine-gunned copper.
Mountains and women plundered in the name of God.
I am from America, the different plume,
indigenous and galactic, historical and superfluous,
Granite-like presence, bile of the times.
EL INDIO DEL JARAMA (1992)
EL INDIO DEL JARAMA EDITORIALS
IS ALSO A BOOK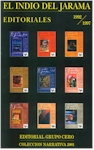 IT NEVER HAPPENED
IT IS NOT HAPPENING
IT CAN ONLY BE READ.
9
Nº 2 of El Indio del Jarama magazine, is a turn in the spiral of the apparent fall in the values. everything must be forgotten, the Indio is the new machine, when this is realized, we will have already conquered a place and we will be in 93.
INDIO, I LOVE YOU, NOW I HAVE TO RESPECT YOU.
El Indio del Jarama,was born from pride and escaped from my working hands and a flew so high in its first flight that it doesn't belong to me any longer.
The poetry department will have the responsibility of creating writings workshops groups in all its area of influence, that is to say, the entire world, and the right of demanding the publication of all the produced writings.
10
Now, in 2001, a very short time from now, it will be 40 years since my first publication.
Stop saying " that's enough" and that will produce lots of money.
11
I have to remain calm means: if the ship is sinking, ask for help.
12
If I speak to her about sex, she speaks clearly that there is something she will never give to me.
She says that her things cannot be straightened out and, who knows, she may be right and it is silence. When the retaining walls break she can claim with enthusiasm:
- The dyspnea that I suffered since I was a child is cause by envy. I hardly can live, I'm almost desperate. My head aches. As I'm reading the whole day, my dick has become shorter, excuse me doctor, I meant to say my sight. Although I wanted to tell her that what was happening to her had more to do with her gaze than with my dick, but I remained silent.
- I know men very well, she said in a faltering voice, because we, women do things for ourselves and for you, men. You do everything for the pulsation... and do you know why I suffer from dyspnea? It is very simple, I suffer form dyspnea because I'm shut up, better to continue next time.
I said neither yes or no. She, on her own, got herself up and before leaving she made a military salute. I responded to her with an affected smile.
13
New ideas shouldn't be born. Birth is the place of deception.
14
We can deduce from the classes we have attended that Oedipus Complex is not a group organizer. One element of the Oedipus is the enigma. We could say that a group of work deals with the Sphinx, an element of myth, not the articulated myth.
Compulsion to repetition fixed the problem of knowledge to death anguish. Interrogation is linked to anguish, where death haunts the problem of knowledge.
It commits suicide or it kills me. quite complex alternatives in which knowledge is paralyzed, when its developments are paralyzed due to the difficulties they offer to the individual.
I have to learn to enjoy within my jail, and this way the epistolary genre will be possible. One letter a day, 30 letters per month, 300 letters per year. That in 10 years, will be many books.
15
To rest in order to work I love the idea. something from being and something from work. Afterwards the world will come to ask me, and I will have already answered.
Terrible hurricanes of hatred and love had to pass to achieve these simple pages.
16
-Finally, she said to me before parting, the man who cannot know how much he earns, in time cannot know how much he is worth.
17
With patient and saliva, an elephant fucked an ant..
18
All what I posses has to be put to the service of Grupo Cero system (October, 1991) , and this way I'll be grand, grand indeed.
I'm dislocated thinking that there will always be lack of equilibrium, though I am very well-balanced. Everyday I have to remember that my work depends on people who are generally very neurotic. People that don't manage reality with concepts or ideas but do it with their asses, with their dicks, with the respiratory system, with the heart.
19
When one can put together a very large sum of money, it produces the same moral effect on the individual than a large quantity of sex.
20
Sometimes I think that everything must occur moving from Madrid.
But in order not to move from Madrid I will have to arrive first. Every question poses alternatives.
Without ever having one unique, ultimate sense, things of life have some sense.
El INDIO DEL JARAMA IS UNDEFEATABLE. ¡¡¡ HUAA!!! ¡¡¡HURRAH!!!
21
Whenever possible, a poem written by any of the members of Grupo Cero poetry workshops will be included in this section.
THE MONSTERS OF REASONING
So many times I wanted
to kill you or die.
I am apocalyptic today,
I smell the end as if I were a prey
and that maddens me.
The stench of blood
inhabiting the arteries.
Tonight, the moon
has placed the splendor
of wolves in my gaze,
a red abyss
like the cliffs of flesh.
And teeth like claws,
gums inhabited by hatred.
Tonight is a cemetery
where to bury solitude.
There will not be any other erection
than the one of the hanged.
No more feasts
but the ones from the larvae.
When the worm kisses
the bowels of the dead,
it does it with indescribable passion.
The heart has abandoned me,
its frenetic rhythm
of a flock of birds.
I go about the corners
asking, in a screaming voice,
for a soul to fling
the oblivion onto my shoulders.
That smell of the end, that smell
maddens me,
it impulses me to commit
an atrocious murder.
This page, this blank page
has died between my hands.
Princess of the night,
my lost apple,
inhabits her darkness.
ALEJANDRA MENASSA DE LUCIA.
The author has published:
Primera Inquietud Al Oído del Viento
---