Weekly magazine through Internet Indio Gris
Nº 88. THURSDAY, JANUARY 31 TH ,2001
FUSIONED - DIRECTED - WRITTEN AND CORRESPONDED BY: MENASSA 2002
WE DON'T KNOW HOW TO SPEAK BUT WE DO IT IN SEVERAL LANGUAGES
SPANISH, FRENCH, ENGLISH, GERMAN, ARABIAN,
PORTUGUESE, ITALIAN, CATALAN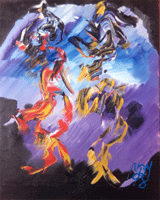 INDIO GRIS, IS A PRODUCT
OF A FUSION
THE BRIGTHENESS OF THE GREY
AND
THE JARAMA INDIAN
THE FUSION WITH MORE FUTURE OF THE
XXI CENTURY
---
INDIO GRIS Nº 88

YEAR II

EDITORIAL

There are moments when you can't any longer.


There are days when life is unreachable,


When pain produces thoughts


Of a far away death, here, with me.

Future calls me with its voice of delirium,


it shortens distances, it alights lightly


on my tired muscles, it closes my eyes,


it takes off the lid of my brain and everything is grey.

There are days when words are not enough


nor the juvenile memories full of love,


those dry days, twisted, with no tears


when pain is so great that there is no pain.

Beloved, my beloved, help me to hide


these blank pages for no one to know


for no one ever to know about this pain.

There was an afternoon, a day in which I couldn't write.

I thought I was flying, that I was the bird


which flew the highest, and I fell.


I dreamt that I loved you sweetly


I dreamt that you loved me with ardour


and the hurricane-like wind of your jealousy


froze the warm desert of love.

Afterwards, when awakening I realised


that falling and flying were the same kiss.


that ice and frenzy were the same love,


that giving and receiving didn't correspond each other.

I thought I flew, that I was the man


who best defended his freedom and I fell,


but not because I wanted to, they trampled me down,


they bullied my light smile.

A man killed a man just for the sake of it,


the modern states, with their precariousness,


tortured and killed in the same way


the passive victims as well as the murderers.

The guilty person was looked for and every time


we found ourselves with a tunnel of hatred.


And always some guilty person was found


though truth seemed black, in the silence.

The heart hurt, the words hurt,


guilty, guilty, we all were.


To live without living, to love each other with no passion


and we all were in agreement.

Darling,

Today, I hoist the word freedom before your amazed eyes.


Be careful with her, don't try to own her, nor to be indifferent.


At the same time I love you and I put you in chains and chained I love you more.

Freedom are your caresses, she told me before disappearing.

Today, she realised I was a little worried and she said to me:

- Look, doctor, to open yourself, to open yourself, to open yourself, it isn't, it doesn't mean to abandon the direction, what it means is to lead more persons, to articulate more power.

- How do you know that I'm interested in those things?

- Nothing, I simply imagine that you won't want to be just a psychoanalyst. Don't you worry, doctor, I'm here to redeem you. I'll be the burning flame of your night. After me, doctor, no one will forget you.
Cero Group
Consulting Room

Cero Group
Consulting Room

Amelia Díez Cuesta
Psychoanalyst

Carlos Fernández
Psychoanalyst

Appointments:
91 402 61 93
Móvil: 607 76 21 04
MADRID
AMELIAA@terra.es

Appointments:
91 883 02 13
ALCALÁ DE HENARES (MADRID)
She not only choked with my semen, but also or even more, with my words. The other day I told her that we should die to know and she responded that I was a murderer. I said to her that she shouldn't make a big fuss about it and she answered that if she had to allow someone to kill her, she would do it, but that she would prefer to make love.
- And this time, how do you want it: wrapped in black tulips from Holland, seasoned, macerated in Turkish anise or do you want in your mother's pussy style?
- Listen to me, baby, the man, I had told you in the previous book, can't stand any longer. He is sinking.
Cero Group Consulting Room
COUPLES COUNCELLING

EROTIC LITERATURE WORKSHOP

Miguel Martínez Fondón
Psychoanalyst

Coordinator: Miguel Oscar Menassa

APPOINTMENTS: 91 682 18 95
GETAFE (MADRID)

91 758 19 40 (MADRID)
The rebellions are those which don't fructify as a transformation. Rebellion is what is suffocated.

Rebelliousness is another history of the world, is another history that didn't occur.

I'm not afraid of not knowing how to say, I'm afraid of not knowing how to write, of not reaching but only my contemporaries or at the most the next century. That was said by several writers, among them, Sartre. It must be something that it is said to compromise, just in case other worlds may exist, other centuries that may come to read us, may they know that they have been taken into account in our writing.

Oh, far away and unknown worlds!


Oh, future centuries!


I love you.

INDIO GRIS
---
THIS IS ADVERTISING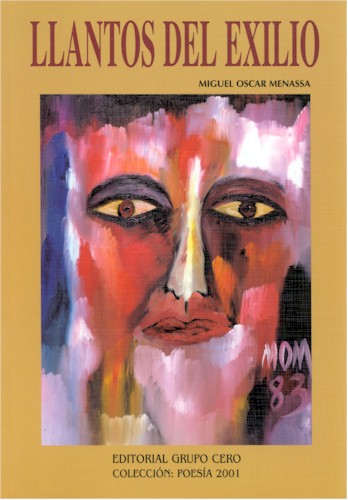 Tears of exile
author:
MIGUEL OSCAR MENASSA
75 pages
18.30 Euros, 3,000 Pts.
It contains thirteen illustrations of some of the best paintings
of Miguel Oscar Menassa.
---
"Exercise in time key

"
Oil paintings


Stella Cino Núñez


March 8 through 17, 2002, 7 PM

Opening: Friday, March 8, 7 PM

Closing: Sunday, March 17, 2 PM

HALL: Manolo Revilla
Mutual complutense
10th NUEVA St. . Alcalá de Henares

TIMETABLE
Monday through Saturday: 7 to 9 PM


Sunday: 12 through 2 PM
---
---