Weekly magazine through Internet Indio Gris
Nº 86. THURSDAY, JANUARY 17 TH , 2002
FUSIONED - DIRECTED - WRITTEN AND CORRESPONDED BY: MENASSA 2002
WE DON'T KNOW HOW TO SPEAK BUT WE DO IT IN SEVERAL LANGUAGES
SPANISH, FRENCH, ENGLISH, GERMAN, ARABIAN,
PORTUGUESE, ITALIAN, CATALAN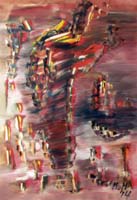 INDIO GRIS, IS A PRODUCT
OF A FUSION
THE BRIGTHENESS OF THE GREY
AND
THE JARAMA INDIAN
THE FUSION WITH MORE FUTURE OF THE
XXI CENTURY
---
INDIO GRIS Nº 86

YEAR II

EDITORIAL

I have spent six days without a computer, I'm undergoing for five days now one hell of a Madrilenian influenza. In reality I didn't have the time nor the will nor enough health to congratulate anybody for the Season.

I don't lack motives to be happy, motives to salute everybody who is still left in some countries, some alive citizens, I'd also like and, on the other hand, I have personal motives to congratulate myself for having realised that poetry, for the time being, won't fall.

What is happening in Argentina seems a little surrealistic, that besides the people who suffers, who don't eat and who probably will die in the following months, all can be synthesised saying that the United States wants to punish severely the Spanish enterprises settled in Argentina, for the savage exploitation method used. It's funny that the United States has to put in its place, precisely, our Motherland, because instead of looking after us as if we were its children, she wants to rob us even our food.

In synthesis, if nobody wanted to believe that there would be a sordid war between the Dollar and the Euro, let them know about it. Argentina is the first evident battle between the two currencies.

Somebody must excuse me, I'm cold, I have some temperature, a bit of a cough and I'd like to be happy, that's why I'm somewhat angry, somewhat powerless, but if I don't end up saying it, I can die. According to the United States, Spain isn't exactly capitalistic, but rather imperial and not only in Latin America but also in Spain, and if you haven't heard about it yet, try to change your telephone company or your server or try to travel in another airline that isn't Iberia and you'll feel in your own flesh and blood all the power of the imperial ideology of the Spanish companies.

Now, already calmer, I can dedicate myself to my things.

EDITORIAL


SECOND ATTEMPT

Each day that goes by, reality subjects me a little more. Everything that reality demands from me, seems absurd to me.

We were all sublime but the writer was me.

The measures must be just and it is in that point that I get lost for not understanding that I live in a world where justice isn't known.

I must understand it, the economy is always martial. Even if there is no war, the economy is always an economy of war.

EDITORIAL


THIRD ATTEMPT

The first conclusion about the 2002 is that I have to go on working two or three more decades to be able to pay what I spent celebrating the 2001. So this year, no more celebrations.

Even if I can, the sensation of not being able is permanent. I have questions, bad questions of money and sex, with more loves than what one can possibly think of.

I feel myself opaque, with no poetry when walking. Sometimes, I'm even afraid of having no work at all.

I consider myself cured, now the rest of the staff has to be cured.

This time, the accounts are right, that is to say, they are favourable to me. For the people whose accounts are not right, let them take the road of exile. To remember that no one is a prophet in his homeland.

EDITORIAL


FOURTH ATTEMPT

Today I wouldn't give a damn for anything, I'm OK as I am.


Today nor flying nor falling, I'm at a normal height, I'm happy.


Today no falling in love completely nor remaining alone.


Today, having a heart, I don't suffer from that.


Perhaps, tomorrow, pacing around the patio,


I'll feel that the patio is too small for me.

If I were to lose the fear of staying naked in the street a winter


night,]


surely, I'd leave everything as it is. I like to be here,


sitting in the patio of my house, in Madrid, Spain Square,


looking at the tall buildings, the unreachable high clouds


and I feel happy of living in the earth, sitting, of course,


on a small chair, in the patio of my house, in Madrid,


a metre from the square, almost in Spain.

I'd like to strum, to tune a guitar,


but I don't have guitarist's nails,


nor the music, nor the light, nor the time, nor the guitar.


So I better stay here,


sitting in my small chair, in the middle of my patio,


as if my patio were part of the world,


as if my small chair were public, and I say to myself:

How well the people in this country live!

I ACCEPT THE CHALLENGE, DEAR SPANIARDS

I accept the challenge, dear Spaniards.


Now that I can pay for my food


and that I pay the shitty air I breath,


with my social security fee.

Now, I say, let's talk.


I was neither brought up among silks


and the wine ran gently and


one day, blood reddened it.

And people killed each other in the streets,


while my mother was breast-feeding me


and we lived in mourning for many centuries.

And, eventhough, we never said no


when a foreign hand came,


when a Spaniard arrived from death.

FIRST ATTEMPT

DARLING,

And now for you to know that I have lived it all,


I'll talk to you in these verses of the quarters,


about the true love there is in the centre of your soul:


pesetas with Franco's face, blessed by God.

Saving, saving, taking everything off circulation,


you have achieved, for the time being, to have nothing, almost nothing.


A money saved against everything, stops being money.
A woman tied against her will, stops being a woman.

That's why I tell you simply, that your life is not going well.


That your life is a long term promissory note which you'll not be able


to pay.]


Don't you see that your life, your wife, your money is escaping from your hands.

I recommend you a little more sex, more love.


You'll see how your wife suddenly resuscitates.


You'll see how all my verses speak about you.

SECOND ATTEMPT

DARLING,

Today I want to move you, tender Spanish macho,


to dance a sad tango in your presence.


to do as if I were falling at your feet embracing my partner,


for you to be able to forget Franco and the Church.

Afterwards, I'd like to plant a woman in your gaze,


But not a virgin, but not a hurt or a dead mother.


I want to plant a female of love and desire in your gaze,


A panther, unquestionable fire, partly beast, partly light.

Something sad in your eyes, something that allows itself to fall in winter.


Something smooth in your hands, something that doesn't allow hatred to


permeate it.]


Some pleasure in your heart, something against death in your heart.

See, I have nothing to teach you and nothing new.


Sadness, solitude, pleasure, they have no price in the market.


That's why, Spanish macho, I advise you to surrender to a woman, to


dream.]

FIRST ATTEMPT

The Argentines, what braggarts!

Did you see the Argentines, what braggarts!


They are all doctors, intelligent or poets.


He who doesn't make love with ten women, sings.


Afterwards with very little effort they earn some money.

They think that life was invented by them.


They think that all the pain in the world comes from the south.


That the best verses loosen from their lips.


That to lose in any competition, they have to reduce their efforts.

They'll see what we'll do with them, insolent children.


They'll have to pay all the taxes and social security


and each time they talk we'll say: they are Argentines and we'll act


this way.]

Until they recognise that here in Spain, they haven't been able.


And if someone lasts in time, if someone gets loose from the civic


control,]


we'll give him an identity card that says; born in Buenos Aires.

SECOND ATTEMPT

Argentineans Super Star

They have no mother or she's far away, they are people with no family,


no one will claim if they disappear, no one will cry for them.


An Argentinean sinking in indifference and blindness.


A piece of flesh from the lands of silver, down on the floor.

They have no children because their children are already Spaniards.


No one needs them, no one will claim for them.


We'll file their verses in old drawers of the Indies


and if one of them shouts, we'll fall on deaf ears.

We'll write on their graves: HE NEVER EXISTED,


he was a breath of light which we quickly put off.


He was always in the air, he never touched ground.

And if any Spanish woman, who are so crazy,


would fall in love of that remain of life,


we'll burn her, we'll forget her in silence.
Cero Group
Consulting Room

Cero Group
Consulting Room

Amelia Díez Cuesta
Psychoanalyst

Carlos Fernández
Psychoanalyst

Appointments:
91 402 61 93
Móvil: 607 76 21 04
MADRID
AMELIAA@terra.es

Appointments:
91 883 02 13
ALCALÁ DE HENARES (MADRID)
FIRST ATTEMPT

With you, I haven't had any fantasies

With you, I haven't had any sort of sexual fantasy.


She said tranquilly, as if what she said was nothing.


When I dream about you I see you dressed as a woman with black


socks]


dancing a tango for me, among the ambiguous mists of my sex.

From far away, your taste for wild loves, fascinates me.


From far away, your cries of chained and lonely beast, hurt me.


From far away, your desperate, torn, painful verses, move me.


From far away, your roars of an old and wounded tiger, excite me.

I am a Galician, as you say in your country, who doesn't know how to


love.]


I have boyfriends, husband, bisexual lovers and it's not enough for me.


I experiment everything, drugs, garbage, loves and it's not enough for


me.]

I suffer during the night, the days, the afternoons, during meals.


Leave me, man, don't you see that in my quiet gaze, Spain rots.


Don't come back, don't stay, don't fly, don't fall, nobody will love you.

SECOND ATTEMPT

She is a pleasant plump lady

She is a pleasant plump lady I see at the Gijón café.


I frequently find her at daybreak, lying on vane dreams.


Spaniard, in her being and substance, she was born in Castile


and her Stain was to have loved God in excess.

I always find her talking about herself:


That I'm very fat, that I cannot be mended.


That I throw poison over my body to die.


That if I kiss you, you handsome, I rot you forever.

I am the lonely black silence of night,


what dies in Madrid with no one noticing it.


An open thread of light that no one wanted to see.

I let myself fall on a chair by her side


And I feel myself as if I were Gardel singing the tango Hand-in-hand,


I hold her chin and say to her: Ah! fatty, fatty!
Cero Group Consulting Room
COUPLES COUNCELLING

EROTIC LITERATURE WORKSHOP

Miguel Martínez Fondón
Psychoanalyst

Coordinator: Miguel Oscar Menassa

APPOINTMENTS: 91 682 18 95
GETAFE (MADRID)

91 542 33 49 (MADRID)
Carnival in Madrid

Now February goes by and when it goes by, Carnival goes by.


I don't say that Carnival in Madrid might be a serious matter.


It's not Pamplona when the bulls eat the children.


It's not Seville when the Virgin bleeds copiously and dies.

It's not Afghanistan fighting for a freedom that won't benefit them.


Nor the Parade that, in Malvinas, the Argentine army organised.


They aren't the Carnival of Madrid, the famous nights of Santiago,


where the witches get together to toast for having been born with time.

Carnivals in Madrid aren't Rio de Janeiro's Carnivals.


They aren't the feasts of the modern socialists in the congresses


and they aren't, you can imagine, as the Carnivals of my


neighbourhood.]

What happens, then, partner, with the Carnivals in Madrid?


Nothing happens, partner, with the Carnivals in Madrid.


Only at the end, before dying, they bury the sardine.

Supersonic bulb of light

Supersonic bulb of light and mystery,


I was launched to space and without knowing why, I fell in Madrid.


A short time after they asked me what I was meant for and I knew everything.


With so much light, here in Madrid, you go nowhere!

I wanted to suffocate the cries I brought from America in my entrails


and the torn weeping of the Andes burst in my chest,


the violence of a language fighting for its freedom


and I could no longer remain silent and I could no longer live in peace.

After the first blows I obtained my documents.


Good Conduct, Certificate of having been born alive


and the ID of a dead man, to keep up appearances.

They sold me a house to be paid in fifteen years


and when I asked about the great Poets of Spain


and what they'll do with my verses, they said nothing,


with poets, nothing. We exile them, we let them die.

Indio Gris
---
THIS IS ADVERTISING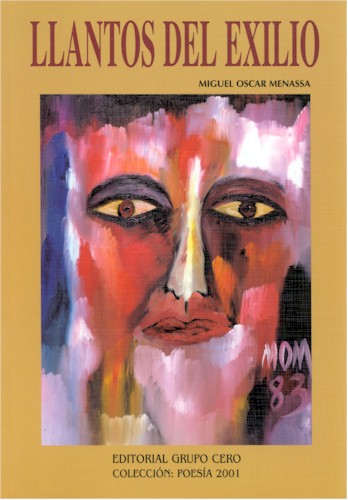 Tears of exile
author:
MIGUEL OSCAR MENASSA
75 pages
3,000 Pts., 18.3 Euros
It contains thirteen illustrations of some of the best paintings
of Miguel Oscar Menassa.
---