Weekly magazine through Internet Indio Gris
Nº 85. THURSDAY, JANUARY 10 TH , 2002
FUSIONED - DIRECTED - WRITTEN AND CORRESPONDED BY: MENASSA 2002
WE DON'T KNOW HOW TO SPEAK BUT WE DO IT IN SEVERAL LANGUAGES
SPANISH, FRENCH, ENGLISH, GERMAN, ARABIAN,
PORTUGUESE, ITALIAN, CATALAN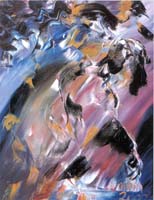 INDIO GRIS, IS A PRODUCT
OF A FUSION
THE BRIGTHENESS OF THE GREY
AND
THE JARAMA INDIAN
THE FUSION WITH MORE FUTURE OF THE
XXI CENTURY
---
INDIO GRIS Nº 85

YEAR II

EDITORIAL

MY WEEPING

I have broken so many breezes with my weeping,


I have cried to break up even the future


and breaking the sea I cried bravely


and I conquered the world with this weeping.

Weeping of love, weeping of fury, silly weeping.


I cried in horror nailed down in somebody else's pain.


Open to my pain, I cried pieces of glass.


I loved you so much, that I even cried of love.

And afterwards the vintages, the turbid wine,


the ruby-coloured tear, enamoured diamond,


your body as if fallen but flying.

Each weeping reminds me of a love,


of all weeping only one, crying.

I pull out of my eyes the last pearls


and I eat them to go on crying.

Crying like an ox, a cow, a decapitated calf.

Well exiled from water,


I cry these old pieces of iron, I cry rusts.


Plaintive tears broken by love,


as if coming out of a hurt "bandoneón".

Beautiful hidden tear, I keep it


just in case someone, someday, may need it,


then, although I love it, I'll cry that tear off.


And that other naked tear


which doesn't want to abandon us


to be cried one more time.

Love of tears, crying of the oceans,


waterfalls of disappeared pearls,


majestic river falling in my eyes.

Tears from liquor, from vinegar, poisoned,


tears from hatred till the point of murder,


humid shroud of burning quicklime,


eyes popped out by surprise


of seeing themselves burning, alive, in the lime.

It was a strong tear which cried,


tears from a war, from a violent death,


tragic tears from exile.


Son, Father, Mother, the whole world crying.


There was a great deal of tears in that instant.

Sometimes, to remember having suffered so much,


we cried and cried, but with no reasons.


It was an open weeping, it had rhythm, music.

When we cried for no reason,


each tear had compassion for itself,


when falling they did it with delicacy, with elegance.


They never finished falling


and it was beautiful to see them dance from love,


falling smoothly, smooth dance of sex.

Obscure wines, aromatic liquors,


seas embalmed in the eyes,


tidal waves withheld in my gaze.

I come from the very centre of water,


to cry a pain so great as the world.

There are things which leave no hope,


They are things like ice in front of the sun.


As if wanting to find, in a far away sea,


brought by the waves,


that kiss from that lost love,


when we hadn't yet learnt to cry.

Today I'll cry for the things never cried for.


A love, a death, that drunkenness,


music of pain, beloved crying,


tender little waters from our childhood,


a lake hidden among the trees,


where lovers drown from crying.

Tears like hurling rocks,


mountain fallen on beauty,


silk pierced by the bullets of time,


covering my eyes already closed to sleep.

A small tear traverses the future,


pulls out an eye from the night


and holds it strongly against its heart


and the night starts crying,


tears of a lost continent.


Weeping or woman.


Labyrinth, water without return,


lost light,


hunger with no satiety, open.

I cry this verse now


because the singing ends.

Water from me, for me, for my things.


That pain from me, from the universe in me.

I write cried weeping in the poem


because of a death which repeats itself in me.

XX

I have been born


I am in the world


and the things done are the world


and the reason for being has been found.

Terrors and ointments of the past,


go with me through my own time of living


and, nevertheless, it won't be necessary


to tie oneself to any cart,


from a sheer violence against man


to no passion for murders.

Acrylic clouds, perfect, alter my being.

Machine of power, ardent machine of power,


I submerge my name in your solitude,


my name first in your entrails.

I climb your mountains,


not with the powerful flight of the eagles,


I climb your mountains,


in the flight of a poor and deformed bird.

DARLING,

The impact produced in you by my first letters, made me doubt on going on writing about our passionate adventure, for fear of damaging your sensibility, your pride.

Your silence is even deeper, your dissociation more extreme.

Trying to help you, I'll tell you that the last times we talked about money, of the relation between money and your body, and that always disturbs you in some spectacular way.

You would have preferred everything to be for love.

If everything would have been for love, my little one, there wouldn't be now any need for separating. But I want to remind you, darling, that you came to me to fly and not for dying, as sometimes it seems you would like to, small and dying of fear between my legs.

"Don't leave me, doctor, wait a little longer, I couldn't yet write a poem to my mother. I came to you, it is true, because I wanted to be like the great women writers, who are not afraid of anything. Those writers who don't die in the war, those writers who don't yield in front of any love, those who burst into tears only in front of a well-written poem. Don't leave me, doctor, right now, that I had understood that you weren't the roar of the wind calling me to death, nor the frozen surface of the winds where, at sundown, I shaped my madness".

I didn't say to her to leave, just that time opens a road between us.

"Yes, time, doctor, of course… our good-bye, the own death of our things, doctor, we and time".

To put it someway, what had been omitted in the philosophy previous to Freud was that there was a limit in the human existence, what had been omitted before the discovery of the unconscious was that man was a mortal being. Therefore, what was going to be repeated doesn't come from any past, but it came from the future. What was going to be repeated in the symptom wasn't a repetition which came from the past, but that psychoanalysis produces such time where the repetition is triggered from the future. That is to say, from that material limit to the existence of man is from where that mechanism of compulsion to repetition is triggered and allows to elaborate theoretically the instinct of death. A time that, the people who dare giving it a name, call it anterior future and that it has the characteristic of not abiding to the essence of the Aristotelian time.

- Thanks for now, we'll continue the next time.
Cero Group
Consulting Room

Cero Group
Consulting Room

Amelia Díez Cuesta
Psychoanalyst

Carlos Fernández
Psychoanalyst

Appointments:
91 402 61 93
Móvil: 607 76 21 04
MADRID
AMELIAA@terra.es

Appointments:
91 883 02 13
ALCALÁ DE HENARES (MADRID)
This time there were more words, accompanying that oceanic feeling where the whole body transforms itself into energy and it joins with the energy of other bodies.
The murmured or shouted names:
- Love, love. How much I enjoy it. Your pussy drags me mad.
And my husband shouted:
Look at my dick, how it swells.
While I, lying upwards with my legs flexed, well open, being the frame of the hole for the utmost pleasure, I went crazy as my friend's tongue ran, licking from my clitoris to my ass and slightly penetrating my vagina.
He, astride me, offering me his ass that I could barely reach to lick touching it with the tip of my tongue and his huge dick well held by his two hands and his ass that went up and down touching alternatively my tits and his hands accompanying the movement, made the nacreous drops surge, in mouthfuls, which fell over my friend's face, and slipped as if they were pearls detained over my pubis, while she laughed and laughed and she rubbed her face with my husband's semen as if it were a face cream.
From the top we came down in a dive to look at each other in the eyes and say:
- What a beauty!
Cero Group Consulting Room
COUPLES COUNCELLING

EROTIC LITERATURE WORKSHOP

Miguel Martínez Fondón
Psychoanalyst

Coordinator: Miguel Oscar Menassa

APPOINTMENTS: 91 682 18 95
GETAFE (MADRID)

91 542 33 49 (MADRID)
1
The great passions between persons are love stories that never began.
2
A happiness: to be able to reign over words already pronounced.
3
Man lives corned by his own passions, which, sometimes, are sad.
4
The only way to stop making accounts is to spend 5 and earn 10.
5
When somebody talks about what shit he/she is, he/she clearly wants the whole world to be made of shit, that is to say, made to measure.
6
No one must stop even though the most beautiful faces may darken.
7
To loosen all reins, all. People must do or say what they can. And if they can't anything, they will neither be told anything.
8
To live tranquilly can also be terrible.
LETTER FROM THE EDITOR
I'm a sort of extraterrestrial intelligence, that is to say, what I would like to be. Now, who knows when the marine opuscule which weaves the dreams of the marmot will come that cannot be the grey man of the swamps but simply, the hidden beauty of the divine mud, to put it in an interesting way for the footmen of your servants.
To write in the typewriter under the influence of a thought ripened under the sun, I haven't written since a long time ago, I don't know then why I must write as the Academy dictates to me. I won't let this opportunity pass, I won't allow them to rob my properties in front of my eyes and if you don't believe that my properties aren't made of cement it is because you don't very well know how to see beyond words.
INDIO GRIS
---
THIS IS ADVERTISING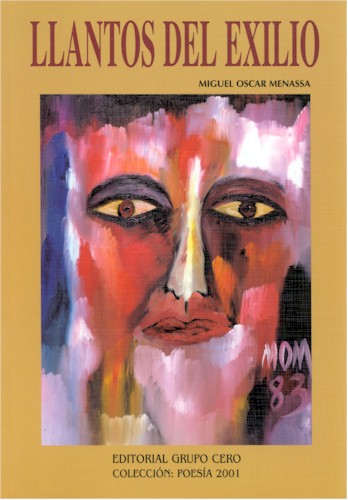 Tears of exile
author:
MIGUEL OSCAR MENASSA
75 pages
3,000 Pts., 18.3 Euros
It contains thirteen illustrations of some of the best paintings
of Miguel Oscar Menassa.
---