Weekly magazine through Internet Indio Gris
Nº 84. THURSDAY, JANUARY 3 TH ,2002
FUSIONED - DIRECTED - WRITTEN AND CORRESPONDED BY: MENASSA 2002
WE DON'T KNOW HOW TO SPEAK BUT WE DO IT IN SEVERAL LANGUAGES
SPANISH, FRENCH, ENGLISH, GERMAN, ARABIAN,
PORTUGUESE, ITALIAN, CATALAN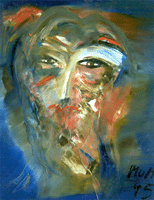 INDIO GRIS, IS A PRODUCT
OF A FUSION
THE BRIGTHENESS OF THE GREY
AND
THE JARAMA INDIAN
THE FUSION WITH MORE FUTURE OF THE
XXI CENTURY
---
INDIO GRIS Nº 84

YEAR II

EDITORIAL

I am really waiting for a miracle. And I don't know if something will

happen.]


A life with almost no mysteries, my life is a worker's life.


I wait for midday and midday comes, and I eat my food cooked


almost without love, with tired vegetables and meat, perhaps, poisoned.

Afterwards I brush my teeth following the advise of a mature lover


and without saying a word, because love breaks in the ripped mirror,


I pay in Euros my small meal and return, somewhat docile, to work.


On my way back I suddenly find some happiness and I reject it.

Freedom calls me shouting, poor thing, hallucinated, and I can't hear it.


I fumble in my pockets looking for a coin to give to a poor


and I find small pieces, pieces of memories, where the soul


lost, in love with itself, didn't have love or hatred, not even bread.

I don't find the coin and the beggar makes fun of my meanness.


Wouldn't you like doctor, to borrow from me some cents? You can


give them back to me tomorrow.]


The man is delicate, he breaks when walking, night frightens him and


with no water and no food, the poor man dies the same as an animal.

THE MERCILESS DAISY DISCOVERS ITS OWN END AMONG ITS LEAVES

To write, certain nights,


is like playing chess,


between move and move, between letter and letter,


there is always time for dreams.

Shroud and cross,


small quartered sandals,


little fisherman drowned by the weight of his catch.

At the bottom of the sea, among fish,


my body is weak and deformed.


My frozen face,


violent blue against the tenuous marine frosts,


my face,


hardened rock by the coming and going of the tides,


my face,


steel-like limit where truth vanishes.

Definitely deviated compass,


I touch the bottom,


and among corals,


hungry bees and honeys devour my gaze.

The moss under my feet has a smell of old,


of an infantile recollection on the curb of the sidewalk,


waiting to grow,


waiting to find some treasure in the drains.

Living close to nothingness,


they told us,


any future is promissory.


Living badly,


you have hopes.

DARLING,

Intellectual, with no definite class,


open to the suspicion of the hours,


worker of nothingness, boss of time,


ineffable poet of love and death.

I don't come, by chance, looking for nothing.


Nor the malignant waves of nostalgia.


Nor the bleeding heart of a poem.


Nor the fugitive money, nor people.

I am here because of the scents of the wind.


Because of the penetrating caress of the waves.


Because of the throbbing stanza, because of words.

Because of dispersed words all over the sea,


because of a cold ocean, open in my throat,


because of those black pearls torn away from the soul.

When the bell rang for the first time, it surprised me having a sexual fantasy, I pressed the button to let her in and waited. When she greeted me I noticed that she had realised something, at least she made it noticeable to me by the way she kissed me and looked at me when she came into the consulting room, as if my fantasy were lived by her as an objective reality.

- I come here to feed my hatred. Your eyes remind me of her.

I answered her that my eyes were first-hand, that I couldn't understand how they could remind anyone if before today my eyes didn't exist. She argued that the colour was also significant, to what, because I am also a painter, I said nothing, but I thought we were talking about something else. Afterwards she continued criticising that my complexion was too dark. I responded to that:

- Better black than white.

Later, there was a silence cut by the sound of an old youthful music, wanting things to remain hidden even for those who are experiencing them.

Time always surprises me doing something, saying something, so after twenty minutes of the session, I told her:

- We'll continue the next time - and she thought that the time was scarce. When she left I felt grand, ugly, stupid, she, once more, had accomplished not to realise that it had to do with my job, but with her life.
Cero Group
Consulting Room

Cero Group
Consulting Room

Amelia Díez Cuesta
Psychoanalyst

Carlos Fernández
Psychoanalyst

Appointments:
91 402 61 93
Móvil: 607 76 21 04
MADRID
AMELIAA@terra.es

Appointments:
91 883 02 13
ALCALÁ DE HENARES (MADRID)
Remotely, like a story of old times

Remotely, like a story of old ghosts,


I see myself on my knees. My hands in perfect supination,


your eyes over my nape opened to your clear desires.


My belly twisting in revolt when asking for that love.

Remotely, as a story of a primitive man,


I recall your aristocratic madness tied to my fly,


your kisses of an educated woman, your kisses of a cultured lady,


in a mad rush, they reach the hidden dimension of my tits.

Not in the time, but in the dreams where time


died irremediably attacked by blows of tenderness.


I loved you, I admit it, with fury and with pain. I loved you,


tearing away from the fierce humiliation, tenuous sounds.
Cero Group Consulting Room
COUPLES COUNCELLING

EROTIC LITERATURE WORKSHOP

Miguel Martínez Fondón
Psychoanalyst

Coordinator: Miguel Oscar Menassa

APPOINTMENTS: 91 682 18 95
GETAFE (MADRID)

91 542 33 49 (MADRID)
I saw how the profiles of time


alighted tenuously on my skin,


leaving a mark.

I was happy, I was happy, that is what I have to say sometime, humanity must know it, I was happy, the happiest man in the universe, I understood solitude and thought that it was a small thing, my solitude, compared to any other solitude, for example the solitude of centuries, the solitude of the stars. I drift unable to hold the words at the edge of a sense, I feel that I'm not exactly doing things well, so that I won't know if with so much noise I will be able to hear the noise of some weeping. I must be able to pull myself together in front of disorder, always bourgeoisie, that is to say, that disorder, negligence is always counter-revolutionary, whatever may be said, and whatever revolution we may be talking about.

INDIO GRIS
---
THIS IS ADVERTISING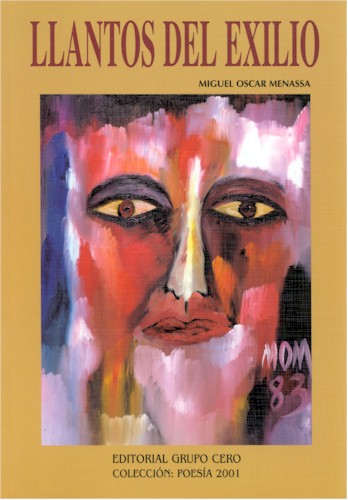 Tears of exile
author:
MIGUEL OSCAR MENASSA
75 pages
3,000 Pts., 18.3 Euros
It contains thirteen illustrations of some of the best paintings
of Miguel Oscar Menassa.
---