Weekly magazine through Internet Indio Gris
Nº 83. THURSDAY, DECEMBER 27 TH ,2001
FUSIONED - DIRECTED - WRITTEN AND CORRESPONDED BY: MENASSA 2001
WE DON'T KNOW HOW TO SPEAK BUT WE DO IT IN SEVERAL LANGUAGES
SPANISH, FRENCH, ENGLISH, GERMAN, ARABIAN,
PORTUGUESE, ITALIAN, CATALAN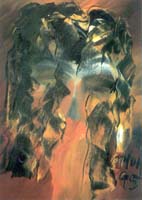 INDIO GRIS, IS A PRODUCT
OF A FUSION
THE BRIGTHENESS OF THE GREY
AND
THE JARAMA INDIAN
THE FUSION WITH MORE FUTURE OF THE
XXI CENTURY
---
INDIO GRIS Nº 83

YEAR II

EDITORIAL

Leave, forget little by little who I am.

Let myself sink slowly in the hours of the night, as if the night were a woman.

Write a poem, where it is clearly shown that my life is over.

Aborigine torn by culture. Small vital monument, made letter. Desperate prey bird, blinded by the condition of being. In some secret place of my heart, God has died. At last, all ideals have died.

I go down the last steps. I allow a smile to be seen. I am the one who is ready to surrender. And beyond any compensation, what I ambition is the sensation, to know why man likes so much to die, to lose, to become a slave.

I laugh of myself, I am an idiot who wants to make fun of justice. One who died before the battle began.

Frivolous and fragrant, I say that what happened to others won't happen to me. And I let myself be drawn by the tide, and I yawn, because yawning is fashionable. To demonstrate that one gets bored with the century is fashionable. What is superfluous, the modern philosophers say, is the human condition. Desire, desires in another dimension of what is possible, therefore, politics doesn't exist.

Beast covered in blood, I devour my knowledge.

I am the last gale over the world and I am also the direction of the gale.

Here in the core of my being, a man is hoisted.

Let's do some exercise, that the whole world practises: a backward gaze and off we go.

Stultified, I try abandoning the set routes. Stultified, the new routes are drawn over me.

And over me, your body of menaced panther. Claws of a beast, in the very centre of your childish heart. Nacreous shroud over my neck, your teeth, white. Red blood for the feast of the chained lovers. Mother-of-pearl and absence.

NEW YEAR'S EVE

I fall, I am falling by the corners of your mouth,


I stop my falling to kiss you, because I am going to die.


I slide my smile over your agonising breasts


and liquor and madness begin the farewell dance.

It isn't that dance is to celebrate my close death,


the pure souls don't get drunk to cry for me,


nor the high-pitched voices break to hear me part,


nor the wombs of passion blow up to forget.

Dance is so that tremors reach your skin,


for your skin to reach in the broken sounds,


the radiant and impossible music, the voices of love.

Before dying, the black caress twists itself,


lives in a frenzy the last pleasures of your body


and twelve desperate tolls of a bell devour the end.

DARLING,

Today, everything is future.

I'll count one by one each miracle.

Today, I promise you: I won't talk again about damages.

From my past I'll recall your gestures of love. Till I die, I'll look for the poems where they can be heard.

Words, small words like waves breaking over my skin, each day I had my love for me. Words like tongues of fire between my thighs, like birds in the heart, awakening, like kisses of love on my neck.

Little grateful mare, I lick your fingers, I look at your eyes, I smile at you and pleasure spreads over our land like the sun.

Today, he arrived desperate, with nothing to say. After more than half an hour of silence, he quickly said:

- I owe a lot to words. Without words everything would be surly, unbearable. She usually imagines to be a body with no words. Can you imagine, doctor? Several hours without pronouncing nothing but groans and cries that express nothing. It isn't that I dislike to be a chimpanzee, but not all the time. I ask myself, doctor, who will dare tell me something that won't hurt me? Who?

- As if the open mirage of night were flowers.

- How do you know it? I went after a flower and its scent was poisoned, it didn't kill me, but it left me open in a thousand pieces, and I feel a certain fear to perfumes. Torn to pieces, I pulled out my nose not to sin ever again and I fell in love completely with a woman who finally was my mother.

- The poison was in me, doctor, they were my own dreams.

- We'll continue the next time.
Cero Group
Consulting Room

Cero Group
Consulting Room

Amelia Díez Cuesta
Psychoanalyst

Carlos Fernández
Psychoanalyst

Appointments:
91 402 61 93
Móvil: 607 76 21 04
MADRID
AMELIAA@terra.es

Appointments:
91 883 02 13
ALCALÁ DE HENARES (MADRID)
- Conversations about the sexual issue seem very intellectual to me.
- Don't say. You prefer making it, don't you?
- I don't mean that, but to talk about love as something that happens in the mind…
- Don't be prosaic, love, after Dante is a spiritual thing, always with more contents of fantasies and words than material events. Love, darling, as Menassa says, is the deepest human act of human intelligence.
- Yes, damn it, but after Freud, love is garbage, maltreated infantile remnants, unfathomable hollows, open minced meat without extensions, something like the unconscious.
- And don't you ever go to the cinema, do you spend the whole day fucking?
- Not fucking, because there is no one who can put up with that, but waiting for that moment the whole day, yes.
Cero Group Consulting Room
COUPLES COUNCELLING

EROTIC LITERATURE WORKSHOP

Miguel Martínez Fondón
Psychoanalyst

Coordinator: Miguel Oscar Menassa

APPOINTMENTS: 91 682 18 95
GETAFE (MADRID)

91 542 33 49 (MADRID)
1

When a mechanism doesn't work, the order is to make it work. Any other intention stops being psychoanalytical to transform itself into political.

2

What monogamy loses is the simultaneity of two different desires, and keeping in mind that heterosexuality is precisely the simultaneous happening of two different desires, so different like the feminine and masculine desire are, I think that what is definitely lost in monogamy, is heterosexuality.

3

Without violence,


but also,


without masochism.

LETTER FROM THE EDITOR

I am the art of declaring oneself defeated, the immortal defeat made song. Afterwards some will come to tell me that everything wasn't completely right and it isn't that time when I'll die, that time I'll write some verses and I'll remain calm, thinking that my intelligence is irreproachable. And, as it is known, a man who can't be reproached for his intelligence, nobody can reproach him anything, neither his morality and I have mine.

Grown up among swamps, vaporous marshes, I mimed my body with the mist. I was the mud and the melancholy that sinks you in the mud. And I say it one more time: to start, I started from the bottom.

One day, I remember, there was nothing deeper, blacker than my hunger, I even thought of stealing, to snatch from a drunkard his glass of wine. I even thought of sticking my finger up the ass of patience. I even thought of calming down, to look for a future for myself, but there was nothing lower, never so much innocence.

INDIO GRIS
---
THIS IS ADVERTISING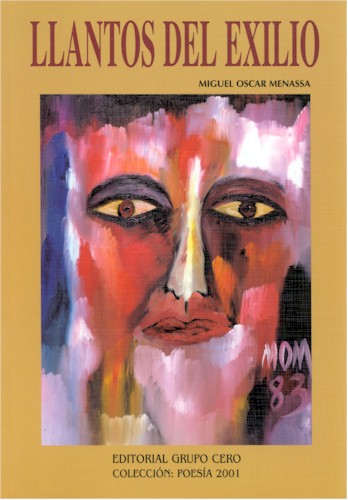 Tears of exile
author:
MIGUEL OSCAR MENASSA
75 pages
3,000 Pts., 18.3 Euros
It contains thirteen illustrations of some of the best paintings
of Miguel Oscar Menassa.
---