Weekly magazine through Internet Indio Gris
Nº 82. THURSDAY, DECEMBER 20 TH ,2001
FUSIONED - DIRECTED - WRITTEN AND CORRESPONDED BY: MENASSA 2001
WE DON'T KNOW HOW TO SPEAK BUT WE DO IT IN SEVERAL LANGUAGES
SPANISH, FRENCH, ENGLISH, GERMAN, ARABIAN,
PORTUGUESE, ITALIAN, CATALAN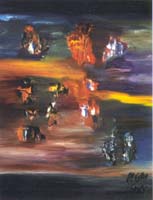 INDIO GRIS, IS A PRODUCT
OF A FUSION
THE BRIGTHENESS OF THE GREY
AND
THE JARAMA INDIAN
THE FUSION WITH MORE FUTURE OF THE
XXI CENTURY
---
INDIO GRIS Nº 82

YEAR II

EDITORIAL

I say it before I'm asked about it.

I'm impressed, what happens in the world


overwears me.


There are days in which no other noise is heard


but the clamour of battles.


Music is the cry of a child


asking for bread,


I only love the rock that protects me


from the enemy's bullets.


Today's man only desires


to have a more powerful weapon


than the enemy's.


Today's man wants to be God


but doesn't attains that much.

To impose goodness he uses evil,


all that is perverse, murders.

To impose goodness they forget beauty


and they make a flag out of freedom


to fight against freedom.

I live somewhat impressed


and without being a pessimist, I can assure,


that man can no longer sleep,


he is persecuted by incendiary planes,


extravagant maps of cities


secretly hidden in the rock.

He is persecuted by the breath of a tiger,


under the sheets, in the air.

He is persecuted by his hatred, the hatred of the victims


and he cannot sleep because at night,


the hatred of the murderers persecutes him.

And he is never calm,


nor when he eats, nor when he vomits.

Sometimes he is tranquil with his beloved,


going through Sunday at the table after eating


and from television, with previous consensus,


he is sent a super-intelligent missile


which only kills children playing in the street


or inattentive mothers in the supermarket


or poor elderly people on wheelchairs.

MY OLD-AGE ALTERED BY YOUR SINGING

My old-age altered by your singing


memories of your body speak for me.


Antique old shades of freedom,


something in us vibrates with past.

Wrapped in delicate virginal leaves,


in silent scrolls of nothingness.


I write to you in the style of the great poets:


I was for you the most infernal of lovers.

Nothing in me sang if it wasn't for your body,


or parts of your body or bodies of your eyes,


that sang in me, love, under your singing.

Afterwards whims and madness took away my soul.


The crazy body voraciously grew up and


we ate, in silence, all the words.

DARLING,


I'M THE SCRIBE OF MYSELF:

In the afternoons I usually lie over white pages.

I begin my dance with dance-like infinite contortions. Music completely perpendicular to my fortuitous way of loving.

Hearts distorted by malignant passions and cruelty. Excited and old passions take refuge in your eyes.

They are the gods of kindness and sadness in your skin.

As if the beautiful serpents of the night in the swarm of happiness, in the nocturnal encounters and the realisation of some infantile desire and the smell of bread burning so that we would all smell as bread. Now, a big war blows up over the clearest springs of love. There, precisely, where snow is Her.

Even if I don't stop kissing her, her eyes collapse, they come close to my skin, thirsty, almost without a gaze. And to say good-bye I remind you that I never know exactly what I have to do. I'm standing in the centre of speech. When I walk all of the senses move. When I write, nothing is sure to exist, not even our love.

- Nor with her. Do you understand me, doctor?

And, with tact, I answered her something:

- I think I do- I told her- that three sessions per week are not enough for you. We'll I'm displeased - she told me as soon as she arrived-, I don't want to do anything with her; she, on the other hand doesn't want to do anything with the other one and the other one has nothing to do, nor with me, continue the next time.
Cero Group
Consulting Room

Cero Group
Consulting Room

Amelia Díez Cuesta
Psychoanalyst

Carlos Fernández
Psychoanalyst

Appointments:
91 402 61 93
Móvil: 607 76 21 04
MADRID
AMELIAA@terra.es

Appointments:
91 883 02 13
ALCALÁ DE HENARES (MADRID)
Walter came out of the kitchen naked, with a glass of gin on the rocks in his hand and went into the bathroom, in order to do so he had to go by the place where Silvia and Ester were sitting.
When Silvia saw him she smiled, and Ester said without doubt and smiling:
- It was true, what you told me, that Walter undressed as soon as he arrived from the street.
And Walter, before going into the bathroom and addressing Silvia, said to her:
- You must have also told her what my weak points are, right?
And while Walter this time did close the door of the bathroom, Silvia shouted to him:
- No, I didn't tell him about that, she has come to check that personally.
Her curiosity aroused, Ester asked with a smile and with a very seductive voice:
- Which are, darling, your husband's weak points?
- The truth -said Silvia, caressing one of Ester's hands -, is that I'm very excited, we'd better leave it alone.
- If you want, I may leave -said Ester -, making a grimace.
- No, please -answered Silvia, while Ester caressed with her free hand one of Silvia's cheeks.
Afterwards both of them moved as to get rid of that emotive moment between them, and while Ester rolled another pot cigarette, Silvia got up from the floor and went to the bathroom.
- May I come in? -she said while coming in without waiting for an answer.
Walter had already taken a shower and was drying himself. Silvia helped him to dry. She did it serenely. Every now and then she gave him a kiss. Walter held her slightly by her hair and kissed her in the lips with intention, while he was kissing her, she let her hands fall between his legs. Walter's sex hardened up and Silvia clang to him strongly.
Walter, pointing at the door, told Silvia:
- Let's stop, Ester is here.
Silvia, moving scarcely apart from him, and smiling seductively, said without any inhibition:
- Perhaps Ester likes it too - and holding Walter's hand, she insisted-, come on -she told him-, let's try to be together.
And then she got loose and sat by Ester's side, this time much closer than the previous ones.
Walter, who had come out of the bathroom after Silvia, also sat on the floor opposite the two women.
He noticed that the only one naked was him, and turned round, showing his back to the women and letting his head fall, calculating partially that it wouldn't fall on the floor but on the lap of one of both women.
He realised that he had fallen on top of Silvia, she softly put his head on Ester's lap, and while she caressed Walter's head very softly with both hand, Silvia passionately kissed Walter's lips, whom with closed eyes felt that Ester trembled each time Silvia kissed him.
Silvia, abandoning Walter's lips, kissed now his chest, his naked belly, when she went close by his sex, she inhaled deeply and then kissed his legs, and Walter moved restlessly and his head rubbed in each movement Ester's thighs, who let his head fall on the floor softly, and moving from where she was, while Silvia sucked happily Walter's feet, started to kiss him in the mouth.
It was the first time they enjoyed that pleasure. Walter felt his sex erect as if it were about to blow up. As Ester was the one who was closer to him, she kissed him in the mouth and in his neck and she put her tongue in his ears, Walter tried to undress her, while Silvia, saying that she was hot, undressed totally.
When now the three of them were naked, Ester began to go down with her kisses through Walter's chest and Silvia began to go up Walter's legs with her kisses and bites. He had a moment of panic and of infinite pleasure at the same time, when he realised that at the rhythm they were kissing his body in opposite directions, their mouths were going to meet to kiss, of course, just on top of his sex.
And there, Walter had the first thought since he had arrived home:
How strange! with so much excitement I haven't reached an orgasm, not even have I had any particular desire of penetrating none of the two with my sex.
Perhaps, Walter said to himself, while he panted and twirled desperately, in these situations you don't feel the desire for an orgasm, but that all desire be at the service of sustaining this situation of madness and infinite pleasure to the utmost.
Silvia and Ester, less preoccupied than Walter, had reached at least their first objective. And now, both lying with their cheeks on Walter's sex and moving their lips, which touched slightly, imperceptibly.
Walter made the first movement and his hands started to caress tenderly the heads of both women. Now, he didn't think of anything else and couldn't even precise with which of his hands he touched each of those two women.
It was something unbelievable, the girls, as Walter called them, had had their first orgasm of the night, one each, of course, and for him this question hadn't even started. His sex continued erect as if that were the indispensable condition for all the other things to happen.
The two women, after having enjoyed their things, pretended now as if the desire were that Walter could forget everything he had seen.
A jump, a happy moment, and now the two women kissed Walter's lips at the same time.
Silvia let herself drop on Walter's right side and pulled Silvia along in her movement, who was placed with her face against Silvia's face and their buttocks lying on Walter's sex which continued erect.
From that moment on everything was slow until the end. They enjoyed and laughed, and Walter reached all heights and went through all deepness.
Everything was soft and slow. Everything was ripe fruit open without equal. Velvety and juicy vaginas and radiant mouth in search of the wind.
He felt that those women had transformed him into a fortunate man. They came to think that they would live in gratefulness to that man.
Cero Group Consulting Room
COUPLES COUNCELLING

EROTIC LITERATURE WORKSHOP

Miguel Martínez Fondón
Psychoanalyst

Coordinator: Miguel Oscar Menassa

APPOINTMENTS: 91 682 18 95
GETAFE (MADRID)

91 542 33 49 (MADRID)
1
Fear also has its lust. If we are going to repress, then, we should repress fear, or else, exhibitionism of its failure.
2
Money! Money! Money!
A man always places an admiration mark on what he lacks.
3
We should never calm hunger.
4
Time is being lost because one has the illusion of possessing it. If you don't posses time you can't lose it.
5
The trend of normality leads in all cases to a premature death.
LETTER FROM THE EDITOR
If everyday I want to set forth my indeclinable resignation to living, it means that things progress in a direction that I cannot foresee.
Something is happening beyond us. The grupal machine has taken possession of our soul. We are fanatics of words which aren't ours, we are always on the verge of a genial deed.
These same mechanisms buried entire peoples in the nothingness of wisdom.
I cannot walk. I say to myself: a man like that won't be able to go very far. It's only walking that one knows where to go. It's only beginning a movement that we can imagine its end. That is to say, we start living only when we know about death.
In the midst of my own battlefield, I'd like to write a poem that will make me cry. A poem like spirals of smoke chained to life.
Year after year I experiment a kind of solitude, something like seeing beyond my eyes, above my words.
INDIO GRIS
---
THIS IS ADVERTISING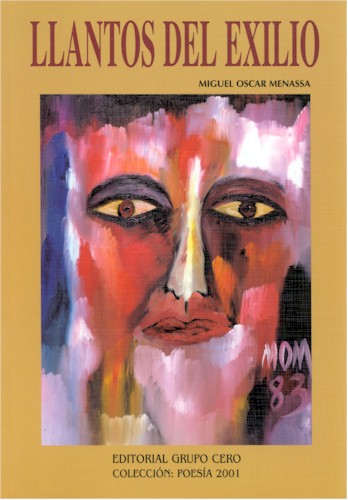 Tears of exile
author:
MIGUEL OSCAR MENASSA
75 pages
3,000 Pts., 18.3 Euros
It contains thirteen illustrations of some of the best paintings
of Miguel Oscar Menassa.
---