Weekly magazine through Internet Indio Gris
Nº 81. THURSDAY, DECEMBER 13 TH ,2001
FUSIONED - DIRECTED - WRITTEN AND CORRESPONDED BY: MENASSA 2001
WE DON'T KNOW HOW TO SPEAK BUT WE DO IT IN SEVERAL LANGUAGES
SPANISH, FRENCH, ENGLISH, GERMAN, ARABIAN,
PORTUGUESE, ITALIAN, CATALAN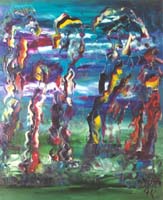 INDIO GRIS, IS A PRODUCT
OF A FUSION
THE BRIGTHENESS OF THE GREY
AND
THE JARAMA INDIAN
THE FUSION WITH MORE FUTURE OF THE
XXI CENTURY
---
INDIO GRIS Nº 81

YEAR II

EDITORIAL

To be nothing is a foolishness compare to the game I propose.


To dilute yourself in others without having any philosophy of dilution.


However it isn't that yet, neither is it something else.


It isn't a sigh, nor the wind which shapes it. Perhaps the nostalgia of a


sigh which wasn't shaped.


There was no wind, but something moved in the world.


It was the negation of what is, nor alive, nor dead. An abyss between


them. Something untouched by life. A being torn from side to side,


by death. But it isn't exactly like this, but oblique, or else,


wrapped in vortices, where the strength, the brutality of the wind


prevents all mark.


I'm that impossible register.


A beam of light that isn't registered as light.


A veil that crosses itself definitively before anything occurs.


Afterwards someone imagines what happened but which will never


happen and no one considers real any moment but that one which never


occurred.

I don't have to be blinded by any Light

I don't have to be blinded by any light


though I admit, in saying it, something blinds me.


The things I have done, the loves I have had, my poems,


some crazy ambition of future time gone with the wind.

Mark that hunger left in my nostalgia.


Some dear dead, claiming for his death.


Something blinds me when I write: I have loved.


Something from freedom that I will no longer be able to be.

Some piece of sun fallen forever.


Something which shines for no one any longer, blinds me.


A glow that not being, doesn't see anything in me.

And in that not seeing what will be impossible, speaks,


it tells me about the ephemeral wandering of the stars,


about of a love made flesh over the blinded eyes.

Darling,

I find these moments of our relationship favourable to start to tell you how I would like things to be between us. And, nevertheless, I choose the intermittent silence of my verses not to tell you completely, to allow once more your luxuriant imagination, without which, I must admit, it would be very difficult for me to go on living.

I am, my dear Madam, he who wanted to kill the dove of peace. The bloody vulture full of fury because ha had been maltreated in love since it was a baby. Because of that, in the mortal encounters, in the nocturnal discord of sunrise, there I can tell you of the odours of the sad butterflies dead before really flying. Those souls without a destiny.

Fliers for the pleasure of some flying spirit,


with nothing for them in that art of flying.


I would like, with you my love, to be the mortal uproar of inefficacy.


Doorman of nothingness, of the wind against the wind,


a being confused with the angriest protests of freedom.

Embellished by being unable to return to no place, open after the tremendous inefficacy, in multi-coloured flames, wrapped among the reasons of her hatred, I wait for her. Badly wounded, full of horror for what is inevitable.

Wrapped in branches, sacrificing some odour, holding back anger and fear, love has remained in me, inalterable. I know it, in the strongest hatreds and envies, in the deepest rips, there, poetry nests.

It's not a liberated imbecile to whom poetry is delivered, it is delivered to he who gave his life to liberate himself.

She loves me when I show her my face covered in blood. When the grimace of death shows in my face, she adores me.

CERO CLASSROOM OF FRENCH

Practise French in Madrid


INTENSIVE COURSES


Tel. 91 542 42 85. From 8 p.m. to 10 p.m.


ALL YEAR ROUND

She arrives tranquilly and before anything happens she says to me:

- I have finally got fifty minutes for me…

Afterwards, already lying on the couch:

- I'm in my first hour of psychoanalysis of the week. It will claim for vengeance this time. Don't think that today I come here to make a fool of myself, to freely associate about anything, but about the themes that demand from me a quick and effective transformation, because of this, doctor, to this of today's we are going to call it: directed psychoanalysis. to capitalise the senses! To capitalise the senses! means, to put psychoanalysis to the service of any utility.

Riding on philosophy I won't get far. Psychoanalysis not only cures, that is what I wanted to tell you, but it gives a sensation of well-being.

One day, tired of saying so many foolish things, I'll start singing and I'll sing, for sure, because of the winning ways I received when being a grown-up, apocalyptic poems, women like me embalmed by pollution.

I, this time, was clear, conclusive:

- If I only speak about what is going to happen,


what I speak is very little.


I can only speak about what I see,


my mother's eyes look instead of mine.


Horse of the night
black, black horse of the night.

- All right, doctor - she said to me-, we continue the next time.
Cero Group
Consulting Room

Cero Group
Consulting Room

Amelia Díez Cuesta
Psychoanalyst

Carlos Fernández
Psychoanalyst

Appointments:
91 402 61 93
Móvil: 607 76 21 04
MADRID
AMELIAA@terra.es

Appointments:
91 883 02 13
ALCALÁ DE HENARES (MADRID)
In arriving, Rosi Provert wouldn't get off the car nor speak. The Professor got off the car, walked around it and opened Rosi's door, he took her by the hand and helped her to get out. And that was the moment in which they had been closer during the whole night. At less than 20 centimetres of distance, one opposite the other, listening to the other person's breathing, the genital tremor.
Rosi closed her eyes and the Professor kissed her lips in an imperceptible way, and she felt that everything in her was being torn apart. Perhaps that what love was about, she thought, what madness!
- We'll see each other some other day and continue conversing - the Professor told her, while she opened the portals of her house.
The professor was pleased. While he was driving, he sang a melody in Italian.
For Rosi Provert, things were not as simple, nor so clear. She had never experienced that uneasiness in her lower womb.
When he slightly touched her lips in the street, she almost fainted because of the revolving emotions she had in her chest, in her head, in her legs.
She dropped herself in an armchair of the living-room, but only for an instant, immediately she went to the bathroom. She carefully cleaned the bathtub. She then added some bubble bath and let the water run.
Before going out of the bathroom, she looked at her face in the mirror. She found herself as beautiful as never before, she let her hair loose, went out of the bathroom (she did everything in a beating rhythm), she put a Vivaldi's disk in a mini-component set her mother had given her and took her shoes off.
She ran barefooted through the corridor, the took her skirt off, she looked at her ass in the mirror of the corridor and saw that she had a little and delicate ass.
Inattentive and already naked, trying to dance The Rite of Spring, she came back to reality with the noise of the water running out of the tub.
Running to the bathroom to shut the faucet, she noticed herself beautifully agitated and imagined herself running wildly, in the jungle, a prey of love.
She dived into the tub as if it were the shores of an spectacular river in the Amazonian jungle.
She felt her own green eyes reflected in the green foam and she allowed millions of coloured fish invade her, which like Oriental silks, alighted over her body and, some of them with the Professor's eyes and, even others with Evaristo's eyes and even other more, with Josefina's eyes, tried to penetrate her.
She, trying to escape from those fish, for some moments, voracious of love, and playing with the green foam discovered her nipples and, in touching them, was highly impressed about how sensible they were, that they could produce so much pleasure, and she went on a little longer and pressed a little and, while Vivaldi, this time, shouted out all the characters, she had her orgasm.
The first one and so, in such a simple way, the difference between life and death was established in her.
Cero Group Consulting Room
COUPLES COUNCELLING

EROTIC LITERATURE WORKSHOP

Miguel Martínez Fondón
Psychoanalyst

Coordinator: Miguel Oscar Menassa

APPOINTMENTS: 91 682 18 95
GETAFE (MADRID)

91 542 33 49 (MADRID)
1
Boasts, they'll say, but a man is his verses and if he doesn't have his own verses, his being is property of alien verses.
2
There is a place where the police is similar to the Mafia: they both despise their informers.
3
If I can with that, no, the rest is relatively easy.
4
Today, nothing, only the horror of the dove of the peace dead in my arms.
5
Everybody finds their destiny and becomes blind in front of it.
6
From now on, life will live.
7
People want freedom, not friendship or advice.
8
I found the greatest political ignorance in the ruling class.
9
The universe, darling, means other lives, out of ourselves.
10
Without any money, love is too cruel.
LETTER FROM THE EDITOR
I have all the patience that a perennial tree must have. Can you imagine that solemnity?
And I'm not as many of my verses say, a songbird, but rather hundreds of songbirds nest in my own entrails. I am, for that reason, the mother of what sings in each songbird. And what I grow against time makes the flight of the birds ephemeral, they call me: POETRY.
INDIO GRIS
---
THIS IS ADVERTISING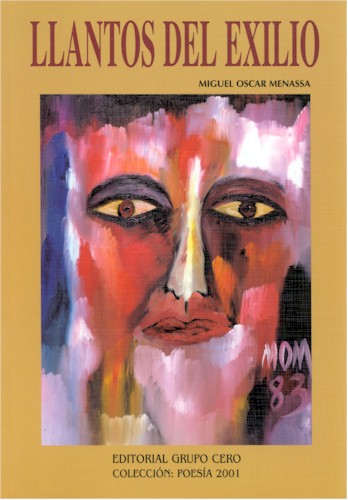 Tears of exile
author:
MIGUEL OSCAR MENASSA
75 pages
3,000 Pts., 18.3 Euros
It contains thirteen illustrations of some of the best paintings
of Miguel Oscar Menassa.
---