Weekly magazine through Internet Indio Gris
Nº 80. THURSDAY, DECEMBER 5 TH ,2001
FUSIONED - DIRECTED - WRITTEN AND CORRESPONDED BY: MENASSA 2001
WE DON'T KNOW HOW TO SPEAK BUT WE DO IT IN SEVERAL LANGUAGES
SPANISH, FRENCH, ENGLISH, GERMAN, ARABIAN,
PORTUGUESE, ITALIAN, CATALAN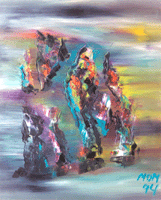 INDIO GRIS, IS A PRODUCT
OF A FUSION
THE BRIGTHENESS OF THE GREY
AND
THE JARAMA INDIAN
THE FUSION WITH MORE FUTURE OF THE
XXI CENTURY
---
INDIO GRIS Nº 80

YEAR II

EDITORIAL

IMPOSSIBLE, DARLING, IMPOSSIBLE

Words are taken away by the wind,


the wealthier citizens said


and they had powerful reasons not to know.

Now we are words that come from the wind, form the gust,


words with the speed of time set in the blood.

Words like torn howls, nerves in freedom.

Wails, we are the wails pulled out of the wind.


Words destined to prevail, to be the language.


Poetry-Psychoanalysis, a new time of death,


impossible to be placed in space as love itself.

A love which is impossible to place in time,


as the unconscious itself, its truth.

A desperate, open, multiple desire,


impossible in life like poetry itself.

Cyclopes spin tied to themselves,


they make the world spin as if it were light.

TODAY DARLING,


A FRIEND WENT MAD

Dear Luis Althusser,

After your madness


I tried a thousand times to close my hands


around the neck of a goddess


and I couldn't,


my heart has its limits,


a passionate verse is always hidden between my hands.

When the only thing I ambition is to kill her,


I strangle her in a brief phrase, between dashes.


I spatter her beauty with suspension points.


I fascinate myself among signs to win her affection


and then, I kill her with a full stop.

I don't mean with this that perhaps, someday, in the bed of some hotel, in


a foreign and far away city, I might want, in forgetfulness, to bring my


fingers down to the profoundness of her blood.

To pierce her throat with my fingers,


looking for antique pearls, rotting mechanisms.


I don't say that, perhaps, life, non-existence. To be but scarcely


living. Not to be, always foundered in being. The maximum holes all in


a circle before me, who knows? Who knows if that day, I'll write


my last poem?

DEAR LUIS ALTHUSSER, I dedicate this page to the screams that you


will never hear again.

When she died between your arms, but didn't die,


the pleasure was infinite, I know it,


who wouldn't have done it?


I saw how her eyes became empty,


how her tongue fell in a corner of the room.


I saw how her screams became frozen.


and her smile, her last smile, what a smile!

Come and see the bloody hippopotamus,


that pisses against the eyes of its beloved.


Come and see, acid odours rank of barracks,


for the enamoured eyes of my beloved.


Semen contaminated with the worst evils of this century,


for the open vagina without equal of my dead beloved.

Afterwards, the divine little touch


and she, once more, sets into motion.


obliging God, I pardon him the joke


and there, blind, both of us completely blind,


kissed as when we were twenty,


I know it.

WHO WOULDN'T HAVE DONE IT?

Those open eyes like open cows,


like lost remoteness,


that slow moo, confused, deaf,


is a moo of the soul.


It is the open simplicity of an emptiness,


something breaks between the hands, something disappears,


even if for this reason it might have never existed.

Overwhelmed by these findings, I spend the whole night


awaken, away from the bed where my beloved awaits, more or less


asleep, more or less tranquilly, for me to kill her.

I, DARLING,


LOVE YOU, I LOVE YOU, BUT…

There is something sordid among the folds of a surrendered heart.


There is something obscure, of dying, in loving.


I love you, I love you, but my soul empties itself of pleasure.


I love you, I love you, but pleasure empties itself of soul.


It is, so to say, as when I write a verse.


I ask nothing to no one and, nevertheless,


there are men and pronouns,


there are things, life, that are lost.


It is like when at night, watching the stars,


I ask myself: what is there in us of those far away suns?


What will there be in us of that life?


What life will they carry in themselves from us?


And there, I'm run over by a glow,


some sky, some suns, some remoteness.

I love you, I love you, but in a black well of shame.


I love you, I love you, but in a black well of solitude.


A black well where death fragments everything.


I love you, I love you, but I love you in pieces,


In threads, in ghostly startles of the night.


Your eyes, your gaze, darling, are that colour,


Your anger for enjoying, your desperation, those sighs.

I love you, I love you, but I get lost in myself,


I'm a shipwrecked of my own tenderness,


a being that breaks before being.


I love you, I love you, but…

CERO CLASSROOM OF FRENCH

Practise French in Madrid


INTENSIVE COURSES


Tel. 91 542 42 85. From 8 p.m. to 10 p.m.


ALL YEAR ROUND

Clotilde arrived somewhat furious and happy. Nothing in her voice reflected any hidden sense:

- If today I can't tell you what I came to tell you, I'll die… yesterday I made love with a blind. Today, I feel myself reconciled with you.

Never up to now had I thought that the blind could make love, too. Perhaps, I said to myself, the doctor, though blind, might be a good psychoanalyst.

- Today, I feel beautiful - she continued -, worth of great men, oceans of women. The blind man is noble, you know? Tenth dan in karate and he had never been with a woman before, although during the encounter he mentioned a "Swift Backward Motion", a good girlfriend of his but, also, a virgin like him.

While she talked, I felt like asking her the blind man's name in two or three opportunities, but when she mentioned the infallible "Swift Backward Motion", I realised without asking that the person in question was Renato, the genial blind karate fighter, the chief of Romualdo's body-guards.

In noticing that Clotilde's new relations, because of being partially my own relations, would complicate Clotilde's treatment to an unimaginable point, I quickly interrupted the encounter. I politely said to her:

- The next time we'll have to talk about an increase in my fees.
Cero Group
Consulting Room

Cero Group
Consulting Room

Amelia Díez Cuesta
Psychoanalyst

Carlos Fernández
Psychoanalyst

Appointments:
91 402 61 93
Móvil: 607 76 21 04
MADRID
AMELIAA@terra.es

Appointments:
91 883 02 13
ALCALÁ DE HENARES (MADRID)
She murmurs that the efforts I make are worthless and therefore it isn't worth to make them.
I make a brutal calculation and say to her:
- I'm 60, what the hell do you want me to do?
- Nothing, darling, nothing - she said to me.
I regained my calm and, in that solitude, I told her:
- Here are my hands, cut them. Gain for yourself an ineffable loot. The most beautiful verses of this century are in my hands.
She fell on her knees in front of my feet and kissed my hands with ease and sucked my dick a little and tickled my ass, while I combed my hair and recited poems to her in a loud voice, where love reached the highest peaks and after, vanished.
- Don't say it to me in that way - she shouted desperately-, I don't want to know it, I want to die without realising anything. Go, go to work.
I felt a sort of relief in her letting me, at last, go to work. On my way to work I avoided three possible accidents because of my way of driving.
When I leave home, I always say to myself:
- For he who goes forward, all danger comes from the outside.
The route is the place where more often I remember that I'm 60.
Cero Group Consulting Room
COUPLES COUNCELLING

EROTIC LITERATURE WORKSHOP

Miguel Martínez Fondón
Psychoanalyst

Coordinator: Miguel Oscar Menassa

APPOINTMENTS: 91 682 18 95
GETAFE (MADRID)

91 542 33 49 (MADRID)
1
Distance is, in psychoanalysis, the only possibility of seeing or not seeing something.
2
Good intentions towards the candidate demand more than exigency.
3
I have to solve things in my favour, that is to say, in favour of Poetry.
4
Amazing, the minimum sometimes accounts for the maximum.
5
The division of work produces civilization.
6
A man without other men is like a man without hands, without speech.
7
Don't worry, it is the world that is crumbling down and others are left.
8
That the other is structurally spread out, is clearly manifested in the delirium.
9
Reality is also what can't be thought.
10
Always escaping war, where shall we end up?
11
To go ahead with the world without being in the world is quite complicated.
12
An athlete of the verb doesn't necessarily have to be weak.
LETTER FROM THE EDITOR
I'm in conditions to say that life is a piece of sky crushed by small feelings, totally set aside of civilization.
I don't understand, but I perceive a violence in my writing, that is to say, I'm perfectly tied to my passions. I feel exploited by life, I have superior classes above me, everywhere.
I don't know how I will go on living with so many bosses who contradict each other in giving the orders, I really don't know what to do, war against everything, even though I may give my life for that, which will go anyway.
Then, nor Buenos Aires, nor Madrid, nor any son-of-a-bitch place. My life is in the south, but in the south of the writing, there where my writing freezes in a truth, there is my life. Pieces of century, faithlessly spread over the sewers.
INDIO GRIS
---
THIS IS ADVERTISING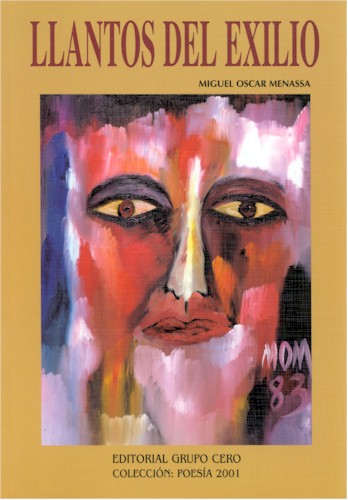 Tears of exile
author:
MIGUEL OSCAR MENASSA
75 pages
3,000 Pts., 18.3 Euros
It contains thirteen illustrations of some of the best paintings
of Miguel Oscar Menassa.
---