Weekly magazine through Internet Indio Gris
Nº 79. THURSDAY, NOVEMBER 29 TH ,2001
FUSIONED - DIRECTED - WRITTEN AND CORRESPONDED BY: MENASSA 2001
WE DON'T KNOW HOW TO SPEAK BUT WE DO IT IN SEVERAL LANGUAGES
SPANISH, FRENCH, ENGLISH, GERMAN, ARABIAN,
PORTUGUESE, ITALIAN, CATALAN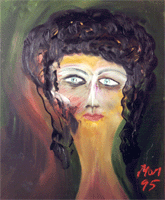 INDIO GRIS, IS A PRODUCT
OF A FUSION
THE BRIGTHENESS OF THE GREY
AND
THE JARAMA INDIAN
THE FUSION WITH MORE FUTURE OF THE
XXI CENTURY
---
INDIO GRIS Nº 79

YEAR II

EDITORIAL

IT IS NECESSARY

It is necessary to break the equilibrium


we have to call to order


the forces of order.


We have to fear the innocent


the innocent


have orders of shooting to kill.

CERTAINTY

I can become sad


for that which differentiates us


and for the things that joins us.

I identify myself:


I am a man from the South.

Standing


the warm winds go through my head


and the cold ones


through my feet.


My genitals look to the East


where my father was born


where linen grows


where love- they tell me - and the rivers


are similar in colour and freshness.


I know about the steps forward


and about the steps backwards


of the dangerous falls


and of the jumps to the sky.

I have


certain customs which are foreign


in my country,

I make love and dream.

Darling,

An irreducible point, a wish, to stop my life in this plenitude, eternally. To live this way, sitting in this place where I am, a thousand years. To have a worry everyday during a thousand years to know that I am alive. During a thousand years I would make up a thousand stories per year. Three stories each day of the year. Each day of the year I assume, without knowing, three open and untouchable parallel lines over my voice, the body of my voice, over the loudest sounds of my voice, they are always present and impossible: woman, death, Poetry.

CERO CLASSROOM OF FRENCH

Practise French in Madrid


INTENSIVE COURSES


Tel. 91 542 42 85. From 8 p.m. to 10 p.m.


ALL YEAR ROUND

- Look doctor - he told me when he arrived without previously saying hello-, there are things that don't allow themselves to be analysed. Today I begin to take B1, B6 and B12 vitamins against the sporadic appearance of a genital herpes which appears each time that a woman wants me only for herself. Then, I said to myself: lack of virility, lack of vitamins.

I maintained his silence as long as it was possible for me and afterwards I told him that as from next week we would start with his third weekly hour. The truth was that I didn't expect to surprise him with what, to my understanding, was something crystal-like, but I surprised him.

- Where did you get that from, doctor?

I didn't say a word to him, I preferred to wait for he himself to try an association.

- Perhaps - he said after a long silence- you may be right, in the sense that, to come to the psychoanalyst to tell him that in order to be more virile you need three vitamins instead of three sessions, could be an aggression. But what I can't understand is why I should have to attack him. I don't know, I don't know, perhaps because of the holidays, perhaps…

- Look- I told him-, if you go on pouring so much water in the wine, in the end you will never know what taste the wine has.

- We'll continue the next time.
Cero Group
Consulting Room

Cero Group
Consulting Room

Amelia Díez Cuesta
Psychoanalyst

Carlos Fernández
Psychoanalyst

Appointments:
91 402 61 93
Móvil: 607 76 21 04
MADRID
AMELIAA@terra.es

Appointments:
91 883 02 13
ALCALÁ DE HENARES (MADRID)
At night while we were fucking, she sang a Gregorian song and when we reached orgasm I told her: Amen, and then, she looked at me with a sustained erotic smile and said:
- Now, my ass.
I quickly answered not to know if I could.
She locked her gaze on mine and I won't tell you what happened, but afterwards, almost dead, one lying beside the other, she in a low voice said:
- Now yes, now you are my master.
Cero Group Consulting Room
COUPLES COUNCELLING

EROTIC LITERATURE WORKSHOP

Miguel Martínez Fondón
Psychoanalyst

Coordinator: Miguel Oscar Menassa

APPOINTMENTS: 91 682 18 95
GETAFE (MADRID)

91 542 33 49 (MADRID)
1

The group, for the time being, is impossible, because it is impossible to make coincide the desires of man, the desires of woman.

2

With love you can generally do anything; with money you can do very few things and almost always the same things.

3

A free, healthy and strong man, can also construct himself.

To end, to break, for beginning, for constructing.

4

For life to be another life, it is indispensable that sexuality be another sexuality.

5

Experience teaches that all those who want to be more noble than what their constitution allows them to be, get sick with neurosis.

Healthy men but immoral.

Refined and noble women but seriously nervous.

The exigency is equal for everyone.

The existent double sexual morality for man in our societies is the best confession that the society itself that has proclaimed the restrictive precepts does not consider possible their abeyance.

6

An abstinent artist is something scarcely possible.

LETTER FROM THE EDITOR

Truth is built


money circulates


the penis is owned by no one


the phallus hasn't got a reflected existence


poetry is the product-effect of a work.

INDIO GRIS
---
THIS IS ADVERTISING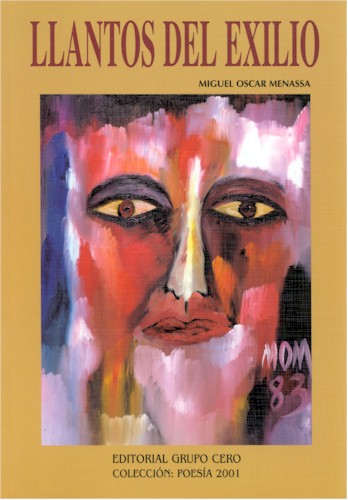 Tears of exile
author:
MIGUEL OSCAR MENASSA
75 pages
3,000 Pts., 18.3 Euros
It contains thirteen illustrations of some of the best paintings
of Miguel Oscar Menassa.
---