Weekly magazine through Internet Indio Gris
Nº 78. THURSDAY, NOVEMBER 22 TH ,2001
FUSIONED - DIRECTED - WRITTEN AND CORRESPONDED BY: MENASSA 2001
WE DON'T KNOW HOW TO SPEAK BUT WE DO IT IN SEVERAL LANGUAGES
SPANISH, FRENCH, ENGLISH, GERMAN, ARABIAN,
PORTUGUESE, ITALIAN, CATALAN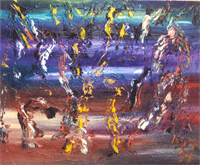 INDIO GRIS, IS A PRODUCT
OF A FUSION
THE BRIGTHENESS OF THE GREY
AND
THE JARAMA INDIAN
THE FUSION WITH MORE FUTURE OF THE
XXI CENTURY
---
INDIO GRIS Nº 78

YEAR II

EDITORIAL

Alien to distances I travelled all over the world,


the world of the others, strong alien cities.


I never asked anyone where we were.


I was from all countries and, at the same time, from none.

I never knew the name of the celebrations of our town,


nor the secret places, nor the flower market,


and I couldn't remember the dead, nor even wanting to,


their triumphs, their battles, their perfect loves.

Alien to the stories of the world, of its wars


I began creating a story where love was made


in the poem, in the desert night, at work,


in the stubborn turns of life, of pain.

I could never think that the world would belong to us,


that our love, that food would be ours,


we were singing birds but the singing did not belong to us


we flew with wings stolen from time,

but the road to love was not ours


it was time that led us to death


we flew knowing that they were oblivion and nothingness


they who waited in the highest peaks

for him who loved to fly with the wings of time,


they were darkness and darkness which chained themselves


insecure steps, eternal doubts about everything,


for the poor fallen bird without home and without motherland.

Here I am in the incalculable space of horror.

I am, in the fifth moon of Saturn, the eye


that watches the universe.

Seven thousand years of macerated fleshes gave me the vision.

Reason and truth are, for me,


affable tenderness of the past.

Caustic and passionate eye, I indicate new directions:

Living in an unquestionable oscillation


between the earth and the universe,


to be a carnivorous and bleeding protein,


and at the same time, a piece of sky.

A word in space,


among the infinite


sheets of death.

Darling,

I was and I wasn't a solitaire. I belonged to no one, but I thought I belonged to everybody. To John, to Peter, to the ones who didn't even have a name for me. All handsome youths, full of energy, dead before their time. I am, sometimes, that grandiose liberated energy. Nobody will be able to deal with me, I am a million dead. I am the hymn that death claims for itself, I am the black of blackness, I mean, the glows of blackness, the emeralds of death.

Do you realise, darling, how time has gone by?

Do you realise how I want to sing and I scarcely sing?

Come on, darling, some time has already passed, the small willows have already taken tears to the river. The small willows have already grown up, the winds have grown up, the children, my writings, my laziness has grown up.

Throughout these years, my darling, death has grown, pain and myself have grown up, I want to tell you, I am not prepared for so much pain. So, this time, we'll start by the beginning. To start with, before anything, we'll modify our way of living.

Old age in the next centuries


will have to be charming.

Old age, I imagine,


an incalculable old age.

CERO CLASSROOM OF FRENCH

Practise French in Madrid


INTENSIVE COURSES


Tel. 91 542 42 85. From 8 p.m. to 10 p.m.


ALL YEAR ROUND

I don't entirely understand her and I don't know either if I should.

- Today- she said to me- perhaps it would suit me to talk about jealousy, because afterwards… is the strangest thing. It is a feeling so real when I go through it and so unreal when I talk about it that…well, this difference frightens me, that's why, I prefer to silence myself, so much I prefer to silence myself that, when jealousy are or were or will be too much, I wanted to leave, I want to leave, I'll leave him. I'm very frightened because this might be truth and madness at the same time, and I might not talk about the matter, because it being truth and madness at the same time causes repulse in me.

Yesterday night I would have cut my tongue.

- Last night… I stuttered-.

- Yes, last night I held a conversation with my love, with the greatest of my loves, and I don't mention him as my only love because I have you, doctor. I tried to talk to him about my jealousy and do you know what he told me?

- Don't tell me those foolish things of vulgar woman, of everyday woman. I love you because other women taught me to love, so stop fucking about it.

- We'll continue the next time.
Cero Group
Consulting Room

Cero Group
Consulting Room

Amelia Díez Cuesta
Psychoanalyst

Carlos Fernández
Psychoanalyst

Appointments:
91 402 61 93
Móvil: 607 76 21 04
MADRID
AMELIAA@terra.es

Appointments:
91 883 02 13
ALCALÁ DE HENARES (MADRID)
Orgasms and pains, that is what she proposes, when she proposes everything: orgasms and pains.
When I show her that everything is light blue, she responds that everybody will die.
- She and I and the clear and gentile love stories, everything will die.
- And the perfume of your body over mine?
- Yes- she answers- and the bodies of other thousand women more over your body, will also die.
- Kiss me for the last time, infernal off-spring, rotten flesh forever, lively shroud, you won't escape from my vaporous and at the same time final tenebrous flesh .
- I'll become a poet- I respond proudly.
- It won't be worth for you either, you'll die anyway.
- I'll write a hundred thousand pages, I will never die. My body may rot, my soul may rot, even our love will fall rotten by passion, but I won't die.
Cero Group Consulting Room
COUPLES COUNCELLING

EROTIC LITERATURE WORKSHOP

Miguel Martínez Fondón
Psychoanalyst

Coordinator: Miguel Oscar Menassa

APPOINTMENTS: 91 682 18 95
GETAFE (MADRID)

91 542 33 49 (MADRID)
1
A small pimple behind my ear reminds me of other researchers who died full of lice or pimples and, I must say it, another destiny awaits me. They will let me make a living with my work or else, as the French woman told me the other day, that in Paris they would make the statue of Eros with me and would replenish me with silk and vices. All for free, said the French, in charge of the French socialist government, what do you think?
2
People are somewhat imbecile, they can't use what has already been done. The world begins when they open their eyes. What jerks!
3
I won't decline because sex doesn't fall.
And if my writing continues forward, it will find a limit: sex doesn't fall.
4
Speaking about direct sexual satisfaction, we'll say that its lack is paid off by phenomena that, because of its functional damage and its unpleasant subjective character, we should consider as pathologic.
5
I have to stop shouting and be clearer. Or else I have to stop shouting and be darker. Or else, simply, I have to stop shouting. Anyway, no one will understand anything till the next century.
6
In the attempt of restoring an impossible movement, life, writing, is the only possibility of rectifying.
7
There was a time when one could talk about the internal forces. Now all the force lies in money, that is to say, all energy is external to the individual.
8
In the blue encounter with hopelessness I shall have to know what is the first thing I'll do knowing that the party is, in reality, a murder. That is to say, a step forward implies fallen persons.
LETTER FROM THE EDITOR
And in the end, Miss, a time where everything is destroyed can be, also, a good moment for changing.
In vain you roam the domains of science, nobody learns but that which is permitted to learn. It is impossible to live in accordance with the principle of pleasure.
What is psychic is something so singularly unique that no comparison can define its nature.
Afterwards, if you want to, you can knock your head against the wall or pull out your balls, no one will cry for you.
Oh, if I could write sacrilegious verses against myself, against my own experience of being!
Now, both of them, are women in love with themselves. They can destroy everything if that love is not allowed to them. The first thing that breaks, of course, is the man who has intervened in the encounter. I won't do it again and this way I'll become a great man.
INDIO GRIS
---
THIS IS ADVERTISING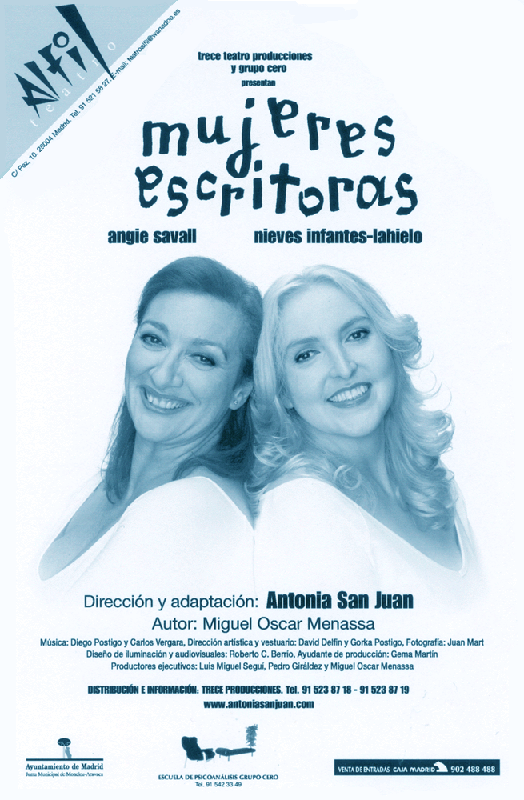 Trece Teatro productions


and Cero Group


presents


Premiere: November 8th


women writers

angie savall nieves infantes-lahiela


Direction and Script: Antonia San Juan


Author: Miguel Oscar Menassa

Music: Diego Postigo and Carlos Vergara. Artistic direction and costumes: David Delfín and Gorka Postigo. Photography: Juan Mart. Design of Illumination and audiovisuals: Roberto C. Barrio. Production assistant: Gema Martín. Executive producers: Luis Miguel Seguí, Pedro Giraldez and Miguel Oscar Menassa

Distribution and information:
Trece Productions: Tel. 91 823 87 78 - 91 523 37 19
---