Weekly magazine through Internet Indio Gris
Nº 77. THURSDAY, NOVEMBER 15 TH ,2001
FUSIONED - DIRECTED - WRITTEN AND CORRESPONDED BY: MENASSA 2001
WE DON'T KNOW HOW TO SPEAK BUT WE DO IT IN SEVERAL LANGUAGES
SPANISH, FRENCH, ENGLISH, GERMAN, ARABIAN,
PORTUGUESE, ITALIAN, CATALAN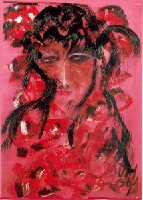 INDIO GRIS, IS A PRODUCT
OF A FUSION
THE BRIGTHENESS OF THE GREY
AND
THE JARAMA INDIAN
THE FUSION WITH MORE FUTURE OF THE
XXI CENTURY
---
INDIO GRIS Nº 77

YEAR II

EDITORIAL

It was a marvellous and strong century, the twentieth century.


Something spectacular for human sadness, for horror.


Solitude had never been so big. This century of lights.


In this century there was no horror that wouldn't touch my eyes.


There was no pleasure that wouldn't reach paroxysm in me.


The silence of singing so that man can speak about his death.


Poetry cannot be accomplished by only one voice.


Thousands and thousands of dead for each verse,


thousands and thousands of lovers for one deception,


thousands and thousands of failures for one hope.

Among blasphemies,


among pitiless memories, I harden my skin.

The days when I can't go on any longer


-antelope and tenderness-


I seek among barks and skies,


among the garbage, without finding anything.

My life is deformed in each step


And, nevertheless,


I'm happy of breathing the air and knowing I'm alive.

I have hopes again every morning,


every morning I dream again.

Darling,

It is an old wound that heals when I stop naming you, my beloved.

All of my will was to stay fixed to your entrails. And your entrails loved death, beloved.

It saved me partially, I must admit, having fulfilled your vanity with my power. But it was all fictitious, a hundred women held my penis erect for your gaze not to get lost. Afterwards some of the girls, bored of being only the support of your infantile evocations, wanted they too, to suck a little, and you raised the roof and from that moment on you denied me everything, wicked.

Time will see us together again and then I'll demonstrate the opposite to you. I'll start by kissing your lips so that disgust may enclose our drama, afterwards I'll take the lid of the oblivion pot off and mysterious and green toads, lovers of your whims, will come out, little Columbine of a tango's carnival.

Beloved, beloved, let me fly, let me be free.

CERO CLASSROOM OF FRENCH

Practise French in Madrid


INTENSIVE COURSES


Tel. 91 542 42 85. From 8 p.m. to 10 p.m.


ALL YEAR ROUND

Yesterday Tarzan came to my consulting room, and dropped himself on the couch, having previously shown me his abilities to imitate all kinds of animals and persons and told me:

- I, clear, Tarzan tied to an endless chains of monkeys and women. The only thing she has are needs of having something. Little by little, Tarzan loses desire to be with woman. Everything with her heavy and painful, full of claims and with little pleasure.

I, so as to intervene, to have participation in the page, asked him:

- In the jungle, did you enjoy more with Chita?

As if what I had said were some sort of foolishness, he continued talking in the same tone:

- She resembles death, my dear doctor, to a dead female monkey, to nothingness. It isn't that she has no brain, she doesn't have a body.

Tarzan asked me for a second session and here we are again talking.

He, in arriving, cackled like a hen after laying an egg and dropped on the couch.

- Me, be tied by chains of extortion and monkeys. She kills herself, she suffers herself, she makes faces, me, have my balls swelled by so much carnival.

She is envious and mean, she takes advantage of my animal naiveté to ask me what no one could give her nor will be able to give her and, on top of this afterwards she wants me to go to work and later she even wants me to love her. She's crazy as a crazy monkey, doctor, it is evident.

I, this time, trying not to contradict him, shouted, howled as if my mother would have died in my arms.

He remained astonished for some seconds, afterwards, with fallen arms hanging from the sides of his body and doing with his eyes as monkeys do, he told me:

- I have understood everything, doctor, she, I and the monkeys, we are an impossible triangle. I'll leave the jungle tomorrow.

- I, making a movement like throwing my dead mother to his feet, said to him:

- We'll continue the next time.
Cero Group
Consulting Room

Cero Group
Consulting Room

Amelia Díez Cuesta
Psychoanalyst

Carlos Fernández
Psychoanalyst

Appointments: 91 402 61 93
Móvil: 607 76 21 04
MADRID
AMELIAA@terra.es

Appointments:
91 883 02 13
ALCALÁ DE HENARES (MADRID)
In the beginning, as we were very young (and a little foreigners), we couldn't get a job.
One afternoon while we were making love I asked her if she was hungry and she didn't reply. She had died.
I took my dick out of her pussy, I cleaned my dick with an end of the sheet, I covered her with some shame and went quickly to look for a knife to the kitchen.
I looked eagerly till I found the big silver knife, a gift from my father.
Once in the room again and with my father's silver knife I opened her chest in two and holding her small heart between my hands, I told her that I loved her.
Cero Group Consulting Room
COUPLES COUNCELLING

EROTIC LITERATURE WORKSHOP

Miguel Martínez Fondón
Psychoanalyst

Coordinator: Miguel Oscar Menassa

APPOINTMENTS: 91 682 18 95
GETAFE (MADRID)

91 542 33 49 (MADRID)
1
I want to feel well with what I'm doing, because what I'm doing is what I can do and what I can do is what I should do. Those are the secrets.
2
I have to go on thinking of reality although life may only last a hundred years.
3
To accept calmly things as they are. Also when things favour you.
4
I don't want to rejuvenate, I want to live a thousand years, though I might be middle-aged or old.
5
Wanting to do something different everyday, is very youthful, not practical and it doesn't allow one to fall in love with anything. A style, I mean, also needs something to repeat itself.
6
When no one thinks of anyone, in that moment, I prefer to give up thinking of me.
7
Jealousy is an illness and you can't nor shouldn't go around with injuries exposed to the air.
As a consequence, jealousy must be psychoanalysed, never to be shown in public.
The jealous person ends up inspiring piety and it is clear that a psychoanalyst who inspires piety, won't have much clientele.
8
Jealousy would be eliminated with the elimination of procreation. Between immortals jealousy doesn't exist.
9
They are all clients, all.
The only thing I can and must expect from them is the payment of the established fees.
LETTER FROM THE EDITOR
When I stop thinking is when I write best; thoughts, in most cases, are disturbing consciences of the true unconscious thought.
And if you can't write a great poem, copy a great poem from a great poet and as cheaply as that, you'll be able to feel something great in your life.
When my own emblems remain broken in my writing, no one will anymore be able to say that I didn't do things entirely well.
I'll engrave all my loves in golden and steel letters, so that other men like us, in the future, know of what we were able to do to recuperate a lost passion.
INDIO GRIS
---
THIS IS ADVERTISING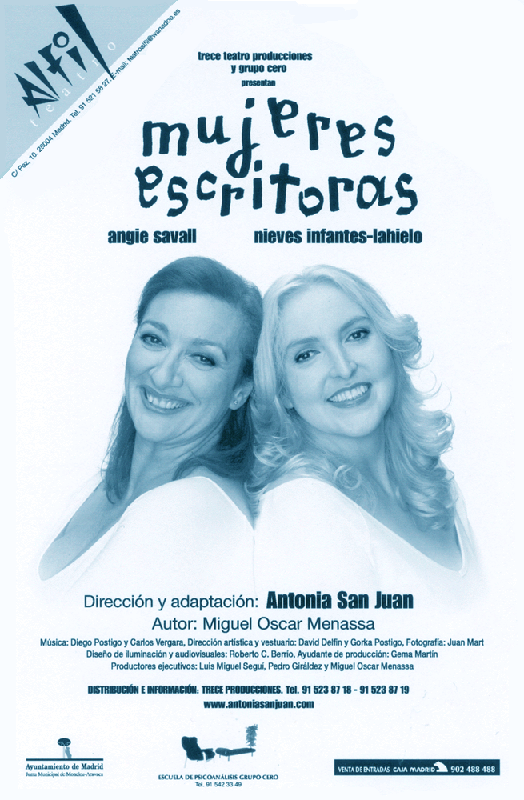 Trece Teatro productions


and Cero Group


presents


Premiere: November 8th


women writers

angie savall nieves infantes-lahiela


Direction and Script: Antonia San Juan


Author: Miguel Oscar Menassa

Music: Diego Postigo and Carlos Vergara. Artistic direction and costumes: David Delfín and Gorka Postigo. Photography: Juan Mart. Design of Illumination and audiovisuals: Roberto C. Barrio. Production assistant: Gema Martín. Executive producers: Luis Miguel Seguí, Pedro Giraldez and Miguel Oscar Menassa

Distribution and information:
Trece Productions: Tel. 91 823 87 78 - 91 523 37 19
---