Weekly magazine through Internet Indio Gris
Nº 76. THURSDAY, NOVEMBER 8 TH ,2001
FUSIONED - DIRECTED - WRITTEN AND CORRESPONDED BY: MENASSA 2001
WE DON'T KNOW HOW TO SPEAK BUT WE DO IT IN SEVERAL LANGUAGES
SPANISH, FRENCH, ENGLISH, GERMAN, ARABIAN,
PORTUGUESE, ITALIAN, CATALAN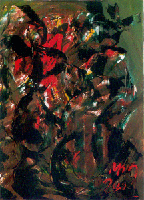 INDIO GRIS, IS A PRODUCT
OF A FUSION
THE BRIGTHENESS OF THE GREY
AND
THE JARAMA INDIAN
THE FUSION WITH MORE FUTURE OF THE
XXI CENTURY
---
INDIO GRIS Nº 76

YEAR II

EDITORIAL

I was, in every aspect, what can be called a good Phoenician.


My trade was not to navigate just for the sake of it,


my trade was to lie between ports.

Lost rose of broken perfumes,


I left the colour of solitude in each port,


an infinite fit of madness.

I'm not lost from loves but from tedium:


no one runs the steps of my mind like you anymore,


no one opens their fountain with happiness and desire for me anymore.


I can no longer see your eyes in the deepness of my hands.

To navigate simply for navigating isn't my trade,


to pull out pieces of nothingness and join them in a spell,


that is my silent and stubborn trade, like in verses,


my trade cannot be learnt, nor known, it's blind.

Cesira Cignoni recites Menassa

Your body among my letters,


sagacious, unprepared,


small sun, open flame,


I try to swallow all that light.

I write short phrases over your skin,


I sign your womb stubbornly,


I draw parallels over your heart,


I draw a crossroads in your brain.

And I courageously put my body before your eyes,


small, sweet and ardent drops of blood,


stain of deep red the words of love.

Darling,

To hoist our own bones, that was what we did.

We whirled up into the air, as if they were multi-coloured flags, our innards.

We had a fibre of power over time, the rest hadn't been studied yet.

We were that future altered by grandeur, by light.

I tried to love you the whole time without frontiers, without goods, without possessions and it couldn't be.

We pulled our small accomplishments of death ceaselessly.

CERO CLASSROOM OF FRENCH

Practise French in Madrid


INTENSIVE COURSES


Tel. 91 542 42 85. From 8 p.m. to 10 p.m.


ALL YEAR ROUND

I come downhearted, doctor, the world is, as many other times, at the edge of a crisis of values.

What I need today is the sun to look at me straight in the eyes.

I need to become a friend of some dog, some policeman, of two or three maids and, this way, I'll be giving an image of me. A wealthy man who escapes from the noises of big cities, that's why he lives in that cave.

Lights, drugs, rock turned me mad, modern, exotic and moralist. I came to feel that I was surrounded by murderers and faggots.

Hooray, rock!, lads, that people get through our asses while we dance and they fuck our mother and chain our father.

Come on, lads! Hooray to rock, that everything marches well, the orphan asylum awaits for you, go ahead that the orphan asylum opens like an immense double door of hatred and disillusionment, to wait for you, boy, girl, be careful with the polar bear that will eat your heart. Be careful that the one who dances with you might be your ferocious mother. Be careful, girl, home is not so bad, sometimes marriage is better than the asylum. Some filth is permitted yet, more than in jail. Long live rock, doctor, long live drug, that while we dance poison gets through our ass.

- Nobody cares to be chained anymore, I told him, we all know already that it isn't possible to live without some little chain, but I understand that it's alright for somebody to ask which are the chains that will become flesh and blood in him.

- Today, I didn't understand you too well, but I happen to think that what is our turn to live in these times is a race without obstacles, the one who lives longer reaches the farthest, that's all.

- Each one will get the hatred he has practised, I told him.

- Ah, in that sense I'm safe because I was the worst, the one who never obeyed.
Cero Group
Consulting Room

Cero Group
Consulting Room

Amelia Díez Cuesta
Psychoanalyst

Carlos Fernández
Psychoanalyst

Appointments: 91 402 61 93
Móvil: 607 76 21 04
MADRID
AMELIAA@terra.es

Appointments:
91 883 02 13
ALCALÁ DE HENARES (MADRID)
I'm a woman in love without destiny. My lover is cruel. He makes me think that he's making love with other women and I turn mad.
Those afternoons, when his odours remind me of my body, that's to say, other woman's body in his odours, I become frantic, I seek for an ambush to undress him and then, I smell him bit by bit. While I smell him, my tongue slips, without surprise, through the most abject places of his body; when at last I enter the deep nostrils of his aquiline nose with my tongue, he tells me, like shouting, like murmuring:
Reach my brain, baby!, reach my brain. Take a chance and mix the grace of the winds with my famous motor cells, let your tongue be the beastly flesh that decides to reach my brain.
Take a chance with pain, which means to submit all the breeze at dawn.
Take a chance with pain, which means to put on the flesh some words. Words like steels, words like embers, blast furnaces eating life.
True words for the flesh, words like flesh.
Cero Group Consulting Room
COUPLES COUNCELLING

EROTIC LITERATURE WORKSHOP

Miguel Martínez Fondón
Psychoanalyst

Coordinator: Miguel Oscar Menassa

APPOINTMENTS: 91 682 18 95
GETAFE (MADRID)

91 542 33 49 (MADRID)
1

A hope will kill us. To suppress hopes makes life longer.

2

I don't have to make it difficult, I have to make it possible and there I'll go through the roads of politics.

3

An account, my love, is just an account. You don't have to take into account an account.

4

Gambling is equivalent to a poor lover supported as if she were rich.

5

To use money doesn't exactly mean to spend it.

6

Man is dislocated in his being.


And there aren't mirrors for the soul, only its singing.


That is to say that if I don't let myself be carried away by goodness,


evil will carry me away.

LETTER FROM THE EDITOR

I calmly throw myself into infinite pages, infinite times and no one will come to ask me how I got what I have because it will be already said.

Today I feel like saying it: I feel glorious. When 30 or 40 years go by, I'll recall these moments with joy. There I'll say for today: it was there where my writing changed.

To reach the confines of universe from here, sitting on a chair.

I easily recall a child's chant:

We have a goal keeper


who is marvellous,


he stops the penalties


sitting on a chair.

Up to the confines of heaven.

INDIO GRIS
---
THIS IS ADVERTISING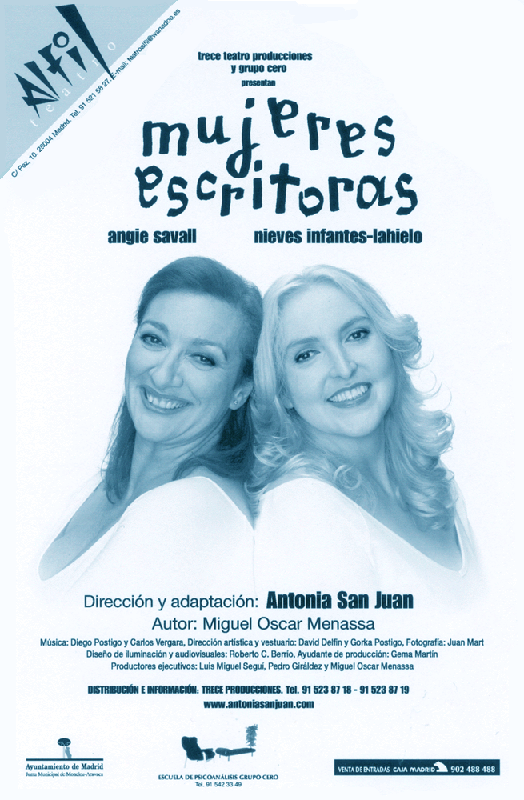 Trece Teatro productions


and Cero Group


presents


Premiere: November 8th


women writers

angie savall nieves infantes-lahiela


Direction and Script: Antonia San Juan


Author: Miguel Oscar Menassa

Music: Diego Postigo and Carlos Vergara. Artistic direction and costumes: David Delfín and Gorka Postigo. Photography: Juan Mart. Design of Illumination and audiovisuals: Roberto C. Barrio. Production assistant: Gema Martín. Executive producers: Luis Miguel Seguí, Pedro Giraldez and Miguel Oscar Menassa

Distribution and information:
Trece Productions: Tel. 91 823 87 78 - 91 523 37 19
---