Weekly magazine through Internet Indio Gris
Nº 75. THURSDAY, NOVEMBER 1 TH ,2001
FUSIONED - DIRECTED - WRITTEN AND CORRESPONDED BY: MENASSA 2001
WE DON'T KNOW HOW TO SPEAK BUT WE DO IT IN SEVERAL LANGUAGES
SPANISH, FRENCH, ENGLISH, GERMAN, ARABIAN,
PORTUGUESE, ITALIAN, CATALAN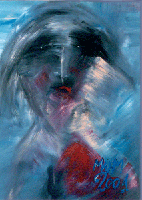 INDIO GRIS, IS A PRODUCT
OF A FUSION
THE BRIGTHENESS OF THE GREY
AND
THE JARAMA INDIAN
THE FUSION WITH MORE FUTURE OF THE
XXI CENTURY
---
INDIO GRIS Nº 75

YEAR II

EDITORIAL

To run away is impossible.

Words overfly the world


and your light, your ardent light,


shines in your eyes.

To run away is impossible.

You carry the poison in your entrails,


the being does not stop at the abysses


and hatred,


lives in your heart.

Voluptuous seed, here I plant myself


and I'll grow and, here, I'll grow roots


and I'll have buds which, at the same time,


will have other buds.


I decree to the thoroughly dry Castilian plateau,


the motherland of the poet.


I'll extract perfumes from your rocks,


As from flowers of the southern season,


and someone will say:


before the colours of the poet,


you,


were grey.

And I'll remember:


having painted your lips with my name.

Over the green scent of lemon,


horse of the stars-.


Indian of light,


copper torn by the vital oxygen,


my poetry,


lung of the universe.

Miry lichen


and knapsacks replete of apples,


detained in the time of freshness.

Immensity,


infinite green,


oblique direction of the sun,


between the eyebrows of the deep sea,


wild Atlantic.

Don't you see I'm the one who salutes you,


from beyond the highest peaks,


beyond the dark skies of God,


from the deep galaxy of greenness.

Meteoric expansion of the rainbow,


I'm a colour it no more has,


white,


from the little immaculate purity,


nor the black cloak of death,


desolated,


nor the bleeding eyes of the ruby.

I'm from the light blue cosmos and the sun,


the maritime and winged conjunction.

My voice,


is the strumming of the astral guitar.


My singing,


is the guttural sound of time.


I sing and burst each time,


and each time,


I disintegrate myself.

I lose my being among fragments,


in that vacuum of nothingness and colour,


because I will no longer be,


I go round the infinite spaces,


riding on a green light,


prairie of the skies.

Pampas,


lying in the heights.

Darling, darling, darling,

How can I explain to you that time won't ever go by through me. I'm that space lacking all kindness, I'm the subterfuge of a damnation.

Open the doors, I'm the one who couldn't, the one who didn't want to, the one who doesn't know, the one who doesn't have. I'll produce a story out of all that that I'm not. I'll be the existence of what doesn't exist, a complete modern person, full of energy. Several millions of young people drugged with heroin, which more than a drug looks like a woman, more than a woman looks like the mother, for me to write those foolish things about what doesn't exist. No century ever gave so much to obtain their writers, in its majority, dead, to write some page full of passion.

CERO CLASSROOM OF FRENCH

Practise French in Madrid


INTENSIVE COURSES


Tel. 91 542 42 85. From 8 p.m. to 10 p.m.


ALL YEAR ROUND

I can't spend my life like this, although I know that this is just beginning. The same things that happened to me with my previous psychoanalysts are happening now.

What a delirium! The things I'm doing for psychoanalysis. Everyday I read some poetry book, but as I don't understand a word I benefit from the feeling I get.

I have been reading Höldering and Eluard, I liked more Höldering and, besides that, I realised that my husband doesn't like when I want to talk about philosophy.

Reading for the first time enthuses me more than reading for a second time.

- Do you trust your intuition, your glance?

She smiles, she cleans out her snots and says:

- Ah, men!
Cero Group
Consulting Room

Cero Group
Consulting Room

Amelia Díez Cuesta
Psychoanalyst

Carlos Fernández
Psychoanalyst

Appointments: 91 402 61 93
Móvil: 607 76 21 04
MADRID
AMELIAA@terra.es

Appointments:
91 883 02 13
ALCALÁ DE HENARES (MADRID)
Everything started to happen as if it always would have happened. She, lying as usual on the bed, looking at her hands, I, knelling in front of the mirror watching my genitals.
Afterwards we started to flee from each other because we had realised that any contact could become too pleasant for us. None of our families could, for sure, stand such love.
We stopped talking brusquely and we looked at each other in the eyes desperately. Later she undressed and sang, with open legs, the Argentine National Anthem, looking at the future.
- Stop, I told her. Do you want me to cry? Didn't you realise that the man I carry with me dies each day?
She clearly noticed that my desperation was increasing, then instead of singing, she moduled and her absolutely erect tits seemed the tits of a soldier.
When I began to masturbate myself furiously in front of the mirror, she stopped singing and gave my small kisses all over my back. And she looked at me in the eyes and laughed and she also wanted to touch and I let her.
Touch yourself, too, you'll see how wonderful it is.
The encounter of the bodies in reality depends on the speed of the gaze. After, among howls and desperation, everything looks normal again.
Cero Group Consulting Room
COUPLES COUNCELLING

EROTIC LITERATURE WORKSHOP

Miguel Martínez Fondón
Psychoanalyst

Coordinator: Miguel Oscar Menassa

APPOINTMENTS: 91 682 18 95
GETAFE (MADRID)

91 542 33 49 (MADRID)
1
When economic stability depends on the worker's skill, that demands from the worker much more than a simple fulfilment of the work timetables.
2
Not to put order is also not to realise that an accumulation has taken place.
And now, there aren't much ways left, or we circulate what has been accumulated or what has been accumulated rots.
3
When I cannot continue with what I have started it's for fear of the future, that is to say, a feminine fear of death.
4
The questions cannot be taken by chance. Beforehand, there are questions which should be treated before beginning a new activity. Without knowing the past there is no new activity.
5
Hoisting old questions we will arrive no place. To talk to people as much as necessary, without thinking that someone can or can't.
Give them the power, that is all the mystery.
6
The charmed nightingale dies trapped in his own singing. His singing belongs to the world, it doesn't belong to him either and that makes him suffer. Poor nightingale, recalling his mother.
The only person who can give me the true gift from heaven is me.
7
Any unruliness, any freedom will be transformed into illusion of belonging to others. Death, as any other word, is only the passage from one significant to another significant.
LETTER FROM THE EDITOR
Not to get old, no more pain, no more blame. We have already paid, now we should go for what corresponds to us, go ahead without blame, without fear, without pain.
Get together stubbornly, obstinately, without remorse, without shame.
And this way we'll go holding hands with good fortune, without blame, without remorse for the dead, without shame for the living ones who can't. No fear, no shame and he who cannot take it, fuck him, without fear, without blame, without remorse, without pain, without pain, without blame, without fear.
INDIO GRIS
---
THIS IS ADVERTISING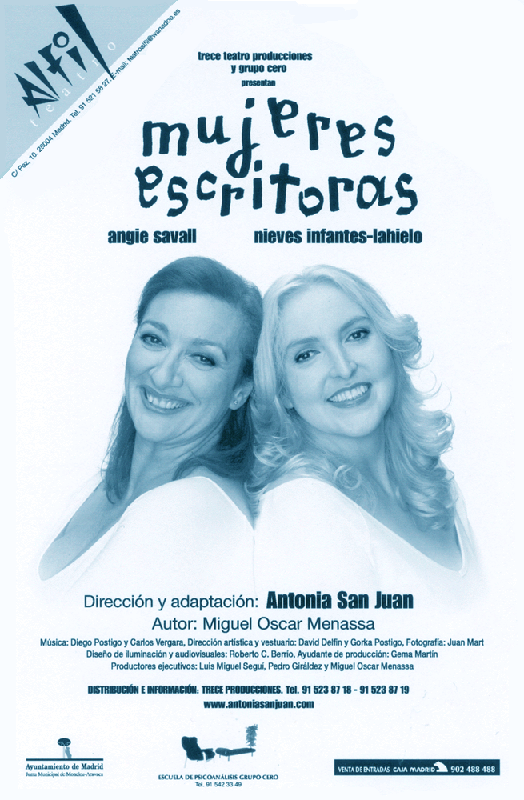 Trece Teatro productions


and Cero Group


presents


Premiere: November 8th


women writers

angie savall nieves infantes-lahiela


Direction and Script: Antonia San Juan


Author: Miguel Oscar Menassa

Music: Diego Postigo and Carlos Vergara. Artistic direction and costumes: David Delfín and Gorka Postigo. Photography: Juan Mart. Design of Illumination and audiovisuals: Roberto C. Barrio. Production assistant: Gema Martín. Executive producers: Luis Miguel Seguí, Pedro Giraldez and Miguel Oscar Menassa

Distribution and information:
Trece Productions: Tel. 91 823 87 78 - 91 523 37 19
---