Weekly magazine through Internet Indio Gris
Nº 74. THURSDAY, OCTOBER 25 TH ,2001
FUSIONED - DIRECTED - WRITTEN AND CORRESPONDED BY: MENASSA 2001
WE DON'T KNOW HOW TO SPEAK BUT WE DO IT IN SEVERAL LANGUAGES
SPANISH, FRENCH, ENGLISH, GERMAN, ARABIAN,
PORTUGUESE, ITALIAN, CATALAN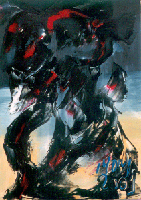 INDIO GRIS, IS A PRODUCT
OF A FUSION
THE BRIGTHENESS OF THE GREY
AND
THE JARAMA INDIAN
THE FUSION WITH MORE FUTURE OF THE
XXI CENTURY
---
INDIO GRIS Nº 74

YEAR II

EDITORIAL

I must admit that my hands tremble when I write. From fear and from pain.

The World persecutes me with bacteria, with bombs, with cold-blooded murders, with angry Gods, the World persecutes me with its hatred, with its thirst of vengeance. On television, to keep me frightened and without strength, they show me quartered dead, desolate children dying for lack of love, one or other headless soldiers. Mothers jumping out of the 25th floor window with a child in their arms because they are bored of not making love during such long time while living with the same person.

Besides, I'm a little gloomy with the question, in which war are my verses participating? What army love me?

I have decided it today: if they go on like this, I prefer ignorance. No more news, no more newspapers, no television, no more conversations referring to war, to hunger, to desolation. No more information about drugs, that every week lets me know of a different drug.

On the other hand, war permits everything that is generally forbidden. To kill, destroy, lie, desecrate, buy evil, extort, cheat, betray… and above all, in the war, NO FREEDOM, NO JUSTICE.

We'll make love when war is over, two lovers said to each other. she was one of the women raped by the enemy army. He, the case of his rifle as a souvenir.

None of the two ever knew that what they had helped to build was what was killing them.

None of the two knew that war enslaved the whole humanity and that it was unjust to everyone.

Now they are dead and however, nor the man, nor the woman when they lived in love, had realised that love as war, enslaves the lover and is unjust to everyone.

She sang to love in the desert and he was an American soldier.


They saw each other and fell in love, they wanted to live together, to join

hopes.


They bought a small house close to a mysterious river.


They talked about strengthening themselves, of mixing races,


of having children who could be the beginning of a new way of loving.

When war burst out, he became gloomy,


he dressed as a soldier,


placed a machine gun in her hands


and told her with much love:

-Kill me, I'm your enemy.

She closed her eyes and a companion of the soldier killed them both.

I started to realise that I wasn't free.


Nobody tolerated that at 61,


I would desire love instead of making it.

Nobody tolerated that at 61,


I would still love freedom


that I had never obtained.

Nor even myself, at 61,


can love my sexual desires.

And afterwards, on Sunday afternoons,


I let myself fall as a withered flower,


for her to be able to trample on me and never, no one,


nor even herself in her tremor,


could tolerate my resurrection.

And I lifted myself as those who can fly


and I was already 61 and I always saw myself falling


but life itself is only one for everyone


that's why there were days in which something in me didn't fall.

She, knelt down praying


and I, lifting myself up in the phrase


to touch her soul,


her womb,


her song.

The lights were there and we were all blind.

No one could see beyond their love.


No one could cry for somebody else's misfortune.

No one could feed the hungry,


our misfortune took everything away.


There has never been justice among us


and we never knew freedom,


we are a dead people,


from the beginning there has never been bread.

So were the phrases she recited


when, we courageously made love.

And no one tolerated that our love


would be that slight cybernetic gallop


at 61


almost without legs


unwilling to fly


no hairs thrown to the winds


no hands in unison


engraving in your body
the traces of time.


At 61,


when we made love


everything was hallucination


verb and madness.

And the worst of all


was that no one could stand,


nor even herself


that I looked at her in the eyes during meals,


in the bathroom,


a moment before giving birth,


son or poem,


and I looked at her in the eyes


while we made love


and, that, would truly madden her


and her pleasure was superb and new


but she could never tolerate it.

One day she told me clearly:


I can't stand your being so happy


at 61.

DARLING,

I have to put into practice old desires of publishing and spreading my writing all over the world.

That's what I should do before my brain is eaten by the Andean consequences of the seas open to the unreasonableness of the snakes dazed by the electric moaning of the earth and the hope of seeing us return repentant.

Darling, when the scrolls of time alight on my temple, I'd like to write a poem that would say as follows:

I'm in me, even covered by illusions.


Everything flows in the being,


when the waters of desire bathe the beaches of my heart.

Mirages and lagoons of crystal-like waters,


impossible to drink from because of their coldness.


Insistence in not being but


those vestiges of being that are knotted in your old kisses.

Sea water, sea water,


inalterable smile, your kisses over my body,


praised by the sublime song of the waves of the sea water.

Sea water, sea water…

CERO CLASSROOM OF FRENCH

Practise French in Madrid


INTENSIVE COURSES


Tel. 91 542 42 85. From 8 p.m. to 10 p.m.


ALL YEAR ROUND

She always used to go up the stairs and when she arrived to the door of my consulting room, she made the sign of the cross before ringing the bell, as if it were the second time she rang the bell. I recognised her ring by its long and persistent sound. This time, I decided not to open for a few minutes to see what her reaction would be. She began to ring the bell with an insolent persistence and, at the same time, she kicked the door and gave little howls of desolation.

- You abandoned me once more, jerk, son of a bitch.

I opened the door calmly and asked her softly:

- What is the matter with you, Clotilde?

- Hello, doctor, I thought you weren't here, it's the same for me, I was thinking that if you didn't want to open the door I'd go to the hairdresser's, you see? what is sometimes impossible on the inside, is possible on the outside.

She bent her head and while she crossed the limit of the corridor and the door of the consulting room, she murmured in a soft voice:

- Son of a bitch, you'll pay for this.

- Yes, Clotilde?

- Nothing, doctor, I can't stand these shoes any more. Would you allow me to undress?

- If you want to do it - I told her- but you have to know that I'm blind. That I can only listen to you, but if you want to undress…

- I didn't know that you were blind, pardon me. When did it happen to you?

- One day, when I was small, they gave me a kick in my balls and left me blind; afterwards, the first psychoanalyst I had, lover of dramas, told me that I wanted to marry my mother and that after I tore apart my eyes confusing them with my balls, with which I had sinned. But God is always just -I told myself. And I started to accept my blindness as something natural. Later, considering a friend's advice, a surgeon, I dedicated myself to psychoanalysis where, because the gaze is the field of love, it's better to be blind. And as from then I was normal, because I had been able to transform a mutilation into a virtue.

- And none of your patients have noticed that you're blind?

- Well, have you seen how neurotics are. They see nothing, only their past.

- And I, how did I notice it?

- Excuse me -I told her- but you didn't notice it, I told you.

- And why did you tell me?

- Because I love you.

- And how can you know that you love me if you never saw me?

- What you see in me, that I never saw, but what you show me of you while looking at me, that I have listened entirely, which is the same as seeing.

- You were like a god to me. How did it enter your mind to fall in love with me and on top of it to confess to me that you were blind? I don't know, I don't know if I'll be able to love you now. God, yes, do you realise? But to love a blind and enamoured God… I don't know, I don't know…

- We'll continue the next session.
Cero Group
Consulting Room

Cero Group
Consulting Room

Amelia Díez Cuesta
Psychoanalyst

Carlos Fernández
Psychoanalyst

Appointments: 91 402 61 93
Móvil: 607 76 21 04
MADRID
AMELIAA@terra.es

Appointments:
91 883 02 13
ALCALÁ DE HENARES (MADRID)
When mirages ambush in the places where love wants once more to put together some forgotten rubbish, I remember you with your protruding teeth, wrapped in the dusk of your crazy dreams of not wanting to remember for no one to penetrate the mystery of your being.
Having been forgotten by your mother, you never wanted to listen to any voice.
Cero Group Consulting Room
COUPLES COUNCELLING

EROTIC LITERATURE WORKSHOP

Miguel Martínez Fondón
Psychoanalyst

Coordinator: Miguel Oscar Menassa

APPOINTMENTS: 91 682 18 95
GETAFE (MADRID)

91 542 33 49 (MADRID)
1
You have to be informed before giving an opinion. Beasts!
2
A bloody beast of the mere illness. The century is agonising, not me.
Little by little, I'm going to liberate myself from everything, of almost everything. Not from love, but yes from its intolerance.
3
Truth is alien to itself. Green branch lost from pain.
4
The bourgeoisie has its charms, but intellectuals have always spoken about that.
No one has ever seen a bourgeois, nor even a worker, talking about the charms of bourgeoisie. Its charms have to do with its capacity to produce illusions. If you pay your taxes you feel normal, if you accept all social rules you could feel like the king of the world, the owner of all the sewers. To love God in the exact centre of bourgeoisie, sometimes is being God. Everybody can love God this way.
God never generates in the bourgeois the anger of not being able of being one. So the one who is misplaced and asks for his place is God. Not because, as some philosophers say, god is dead, but because the current society has privatised him. That is to say, depriving the majority of people of that. That, God, belongs only to some, the rest according conceptions has to pay for everything to continue exactly the same.
5
There is and there is not everything everywhere and it's good to know that.
6
Today I said it to her without beating around the bush: Look my dear, we have the highest peaks of thought and we didn't have a penny. I hope that when we reach the highest levels of money, we have some thought left.
7
Ghosts are mistaken for problems. Death to the intruder.
LETTER FROM THE EDITOR
Alienated, tortured, dead and nevertheless I feel free, ecumenical when I write my verses.
A sort of modern manna, symbolic. Verse for all souls, for all iniquities a good poem. Intellectuals will surely come to tell us that man needs some bread, some shame, some dignity. But we know that if it were a question of fire, it would be the fire of passions. Not the passions on fire, but the passions on fire burnt by the fire of the symbol, of poetry. A century of life triturated in this simple verse, falls defeated.
INDIO GRIS
---
THIS IS ADVERTISING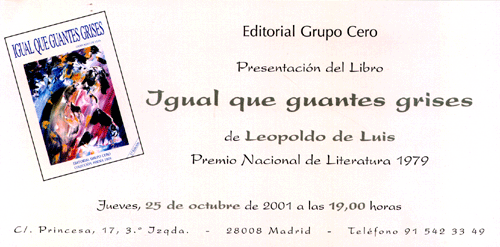 CERO GROUP EDITORIAL


Presentation of the book


The same as grey gloves

by LEOPOLDO de LUÍS


1979 National Literature Award

Thursday, October 25th, 2001 at 7 PM


C/Princesa, 17, 3° Izqda 28008 MADRID Tel: 91 542 33 49

---