Weekly magazine through Internet Indio Gris
Nº 73. THURSDAY, OCTOBER 18TH ,2001
FUSIONED - DIRECTED - WRITTEN AND CORRESPONDED BY: MENASSA 2001
WE DON'T KNOW HOW TO SPEAK BUT WE DO IT IN SEVERAL LANGUAGES
SPANISH, FRENCH, ENGLISH, GERMAN, ARABIAN,
PORTUGUESE, ITALIAN, CATALAN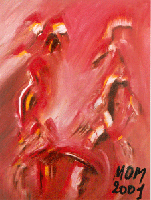 INDIO GRIS, IS A PRODUCT
OF A FUSION
THE BRIGTHENESS OF THE GREY
AND
THE JARAMA INDIAN
THE FUSION WITH MORE FUTURE OF THE
XXI CENTURY
---
INDIO GRIS Nº 73

YEAR II

EDITORIAL

Beyond war, I imagine, there will be misery for many.

Having been mistaken, one more time, will bring ominous consequences for humanity.

There won't even be chaos. The new order will be: no type of order will be possible except the order of weapons. As when the white men made black people slaves or when the Spaniards conquered the Indians.

After this war, for three decades, there won't be anyone left who will be able to think of anything.

Some poet will die to say something and some things he will say, but the rest will all be confusion, all obscurity.

We'll go back to ancient ways of cohabitation and the feminine revolution will suffer a retrocession of a century.

Man, desperate for not being able to solve his own questions, destroys everything, for no one to profit from what was built up to that moment.

What other thing is war?

Today, darling,


I love this pain.

Today, I love this pain that makes me feel alive,


stubborn pains piercing my soul,


in my heart, lacerating and alive lusts,


in my flesh, enamoured poison over my skin.

It's the world's pain, I say to myself crestfallen,


They are the bloody entrails of the West,


They are the shaking silence of the East,


They are the worlds breaking in my eyes.

They are, I say to myself, the desperate cadavers,


the dead who remember they had died,


for humanity to live in my body.

The freedoms, females dead of love,


call me in screams, illuminated


and humane and alive love, lover of emptiness, I sing.

Darling,

I hope to remember you only one time, open and scented, the rest of the time is as if all the scent would open to the nothingness of memory.

An effort of love, I say to myself, an effort of love and work take away all my energy.

When the old treadmill ties me, once more to the desires which today can only be recalled, we'll wait together close to the sea, to see each other again with that first desperation.

Although, truly, I also think that the alterations of the being in these times have to do more with the money that one doesn't have, than with the sex that is being repressed.

I write foolish things, calling you, my love, calling you as when, hurt, you embraced yourself to my hands and we wrote together those unforgettable poems.

CERO CLASSROOM OF FRENCH

Practise French in Madrid


INTENSIVE COURSES


Tel. 91 542 42 85. From 8 p.m. to 10 p.m.


ALL YEAR ROUND

She, after a silence, said:

- If I could realise what my privileges are, I'd live much better. Yesterday I was reading Pavese, he writes better than you, he's a great writer. I'd like to write like him. And what about you, doctor?

She dropped a silence waiting for me to answer some little something and then continued:

- Today I have things to tell you about, terrible stories about my head. All my nerves are from sexual origin. If I become pregnant, I'll have an abortion. Today I feel more hysterical than ever. At last I can see myself, here, as a masochist.

Why, doctor, tell me, why do I want to tell my husband everything? Is it that I want him to be my mother? I don't know, I don't know.

I feel that maintaining two relationships is really complex.

And as she dropped another silence, as gazes are dropped, then this time I told her:

- Oedipus complex, isn't it?

- Please doctor, I don't come here for you to talk to me about sexual problems, I have enough with mine.

- No more sex, doctor, now I want to become a writer. Now I want to lock myself up during twenty years to write. No fighting for life, no desire of being a pioneer, that is what my ancestors did and they weren't happy either.

War among men frightens me, I prefer to lock myself up, see you once a year for you to give me your blessing and I want you to understand this, I don't want to blame anyone.

I think, without telling her anything, that all this seems too strange to me, she wanting to retire from public life, when in reality it's me who has to retire from public life.

- I think that I'm not being well understood by you…

- We'll continue the next time.

So, you aren't angry with me, are you?
Cero Group
Consulting Room

Cero Group
Consulting Room

Amelia Díez Cuesta
Psychoanalyst

Carlos Fernández
Psychoanalyst

Appointments: 91 402 61 93
Móvil: 607 76 21 04
MADRID
AMELIAA@terra.es

Appointments:
91 883 02 13
ALCALÁ DE HENARES (MADRID)
At times, she is a real madwoman, she says to me that she has to give up our love and jumps out of the window. From the ground, all broken down, she signals to me moving her head, that the one who has lost is me. That she has won and she dies tranquilly.
Cero Group Consulting Room
COUPLES COUNCELLING

EROTIC LITERATURE WORKSHOP

Miguel Martínez Fondón
Psychoanalyst

Coordinator: Miguel Oscar Menassa

APPOINTMENTS: 91 682 18 95
GETAFE (MADRID)

91 542 33 49 (MADRID)
1

I'm not even the man of the future. I'm the man who also criticises the future of man. There'll be no future for a man who sees himself in solitude, there'll be no future for a man who always thinks himself as his own self.

2

A better administration of the same thing, would give other results.

3

Apparently communism has failed, for that to be possible, capitalism had to humanise itself, that is to say, communism in that sense has succeeded. The History of the bourgeoisie continues, but is already another one.

4

Thinking of the dead: Sometimes it's better to continue alive, even if our desires may not be entirely accomplished: well, it's better to continue alive even if nothing is accomplished.

5

To be powerful is not enough, afterwards you have to be able to stand it, to carry it on, to be responsible for the love that is generated by power, being responsible for the knowledge generated by power, that's what is most difficult.

6

The empire falls. The last stars crumble down. An empire where everything was too demanding, even if in the end everything would result to us the same as to everyone else in the world.

We got up in the morning and we had to feel that the world was ours. And this way we drank the morning coffee and we never had consolation.

LETTER FROM THE EDITOR

I don't know who loved my body that night,


but I was the centaur,


that sadness of not finding my own world,


made me strong, big, powerful.


and when I can tell what happens today,


nobody will be able to believe it.


Time, they'll tell me, time kills.


After a time, even witches smell rotten.


Come, treat me like those who are going to die should be treated.

INDIO GRIS
---
THIS IS ADVERTISING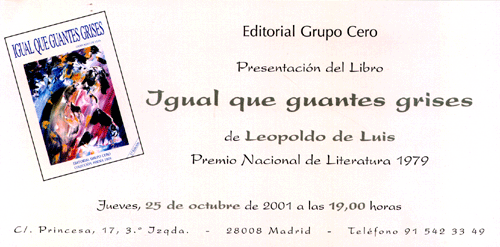 CERO GROUP EDITORIAL


Presentation of the book


The same as grey gloves

by LEOPOLDO de LUÍS


1979 National Literature Award

Thursday, October 25th, 2001 at 7 PM


C/Princesa, 17, 3° Izqda 28008 MADRID Tel: 91 542 33 49

---