INDIO GRIS
Weekly magazine through Internet
Nº 72. THURSDAY, OCTOBER 11TH ,2001
FUSIONED - DIRECTED - WRITTEN AND CORRESPONDED BY: MENASSA 2001
WE DON'T KNOW HOW TO SPEAK BUT WE DO IT IN SEVERAL LANGUAGES
SPANISH, FRENCH, ENGLISH, GERMAN, ARABIAN,
PORTUGUESE, ITALIAN, CATALAN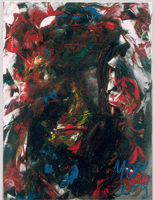 INDIO GRIS, IS A PRODUCT
OF A FUSION
THE BRIGTHENESS OF THE GREY
AND
THE JARAMA INDIAN
THE FUSION WITH MORE FUTURE OF THE
XXI CENTURY
---
INDIO GRIS Nº 72

YEAR II

EDITORIAL

WAR CORRUPTS EVERYTHING

My future, your waist, the twisted pieces of iron. Even exhibitionism will be another in the war. We won't see your legs but the missile that tears them out, the indifferent weapon which pierces the eyes of any night.

WAR CORRUPTS EVERYTHING

Your madness of love, my economic equilibrium, the walls bursting against the bombs, even poetry will be another in the war. There won't be any sound to transform itself into singing. I saw her die, the poet will say, I saw her die, and that will be the only truth. And there won't be metaphor or delirium when the poet says: I saw her die, I saw her die torn to pieces. Running and torn to pieces with a dead child between her arms and no one said anything and that was the truth.

WAR CORRUPTS EVERYTHING

As from tomorrow, said the Head of State, a microbe will have more power than a missile; a God, said the Head of State, will be more powerful than death.

WAR CORRUPTS EVERYTHING

Also my verses, your way of making love, that courage of not declaring yourself defeated even if they kill you. You are like the spring which denies itself. A flower which doesn't name itself flower, a painless sweat, an invisible death.

WAR CORRUPTS EVERYTHING

I'M also CORRUPTED

I suspended my trip around the world, with a 20 days stop in buenos aires, for fear of dying.

aren't i an idiot!

Nevertheless, when I revoked my plane ticket, I felt a sort of relief. The question was no joke. People at airports are very nervous, the air controllers are very nervous, pilots are very nervous, the police, the military, people in general, even terrorists are nervous at the airports. It was right not to travel but now, where will I hide? How will I escape from toxic gases and continue breathing, how will I do to stop speaking about the injustices of war? To make things worse, there will be little food and almost no water and she will be sad and love will lie quartered at the foot of some silent hill.

WAR CORRUPTS EVERYTHING

War, said the Secretary of State, will corrupt our future for at least ten years.

War, said the Indio Gris, is just another word.

Until the world blows up in our hands, we'll make love and, while resting, we'll make the poem.

This time I'm the Indian who won't make war.


This time I'm the Indian whom they won't submit.


This time I'm the Indian who speaks the words.


This time I'm the Indian who liberates himself in verses.

Can't you see that there are no daggers left in my eyes,


nor spears on horseback running towards death.


Can't you see that Christ has fallen from the Andes,


that there are no more prayers left in my eyes.

This time I'm the Indian coming from the future,


I have no treasures to keep, nor temples,


nor women in love, nor fertile lands.

I won't make war, and I won't escape, you coward.


I come from the submerged Atlantis of the verb.


I'm the Indian poet, that impossible civilisation.

LETTER TO BUENOS AIRES

I have destinies and I have solitude,


time, the caresses of the night,


speech, the smile of times,


the silence of the night, dreams,


melancholic serenade to the dead.

To my father, maddened of solitary love,


with nothing big to leave behind, to no one great,


because all grandeur was in his childhood.

To the serene orchestras of the evening,


that " bandoneón" played only for me


at midday, under Pompeya's sun,


suburban beat, unforgettable tango.

That's why I always think of returning and,


remoteness is, every time, more remote.


No one comes back from his own coming back


No one returns from his own return


No one dies precisely in vain.

I'll return tomorrow and that never occurred.

We stopped arriving and that was forever.

CERO CLASSROOM OF FRENCH

Practise French in Madrid


INTENSIVE COURSES


Tel. 91 542 42 85. From 8 p.m. to 10 p.m.


ALL YEAR ROUND

Look, Doctor, any person reading that paper will think that it is written for them.

Whenever I saw hatred in the writing, I felt guilty (for sure, I felt that in the best pages of the book).

I was recalling that once my father said to me: "What is it, do you want, your father and mother to quarrel". They made me feel fundamental to them (the memory slants their current reality). This great passion I feel for my psychoanalyst and his wife.

After a long silence I found courage to ask her:

- Why do you fear?

- I fear that if I speak you could see that I meddled up so much in your life, without being expressly invited to. I'm going to feel very ashamed. Things shouldn't be posed this way. I must fear that you tell me that everything was intended for me to understand something, because I was blind, deaf, dumb, and there was no other way to… and that after this you abandon me, but I think that what is fundamental are all the prejudices I have in order to be able to speak to you about my discoveries. I'm persecuted by the image… Yes…that you will always feel disappointed with me, when in reality it has to do with my life and, at that level, it should be the same for me to disappoint you or not. I think that, sometimes, I feel that your writings were especially written, paradoxically, to put distance between you and I.

And I told her to conclude:

- Sometimes where you gain more is in the place of the loss.
Cero Group
Consulting Room

Cero Group
Consulting Room

Amelia Díez Cuesta
Psychoanalyst

Carlos Fernández
Psychoanalyst

Appointments: 91 402 61 93
Móvil: 607 76 21 04
MADRID
AMELIAA@terra.es

Appointments:
91 883 02 13
ALCALÁ DE HENARES (MADRID)
This section was made with headlines from "El País" newspaper of
October 10th, 2001
1
US ASSURES TO ALREADY DOMINATE AFGHAN AIR SPACE
Four Afghans civilians who worked for the UN died in Kabul bombings.
2
AIRLINE COMPANIES FACE LOSSES OF 13 BILLION EUROS
3
US SHOWS PHOTOS OF THE BOMBINGS
4
PAKISTANI ARMY UNFOLDS 200,000 SOLDIERS TO STOP ISLAMIC PROTESTS
5
US PREPARES GROUND OPERATION
The American Secretary of Defence admits that the air attacks "will not bring the Taliban down to their knees".
6
ARAFAT URGENTLY ASKS ISRAEL FOR ANTI-RIOT MATERIAL TO STOP THE COMMOTION
7
THE WHITE HOUSE RATIONS INFORMATION
8
THE KEY IS IN THE REBELLION
9
HEALTH MINISTRY TAKES MEASURES TO PREVENT BACTERIOLOGICAL RISKS
10
SPAIN OFFERS SPECIAL OPERATION UNITS, PLANES AND SHIPS TO THE US
Piqué, Foreign Affairs Minister, states that the Spanish government "is not racing to provide troops"
11
ANTHRAX UNLEASHES FEAR IN FLORIDA
12
According to Felix de Azua, of course, without any doubt, it cannot be a "clash of civilisations", because there is only one civilisation, the capitalistic one and its army of machines.
Cero Group Consulting Room
COUPLES COUNCELLING

EROTIC LITERATURE WORKSHOP

Miguel Martínez Fondón
Psychoanalyst

Coordinator: Miguel Oscar Menassa

APPOINTMENTS: 91 682 18 95
GETAFE (MADRID)

91 542 33 49 (MADRID)
1

Facing a new war, man tests his death drive and fears not to be able to solve it, this time, in his favour.

Anything that may happen will be bad for the world.

2

War loses all its sense once it is initiated. Sexual desires liberated from their own free produce death everywhere.

3

Off we go to war, they told us, to fight for peace.

4

I'm in condition to write my master work: a war without dead, a peace without madness.

Letter from the Editor

Darling,

I'm depressed, I must admit,


unwilling,


without being able to desire that combat,


without being able to love that defeat.

INDIO GRIS
---
ASOCIACIÓN DE ESCRITORES Y ARTISTAS ESPAÑOLES
SESIÓN DE NARRATIVA Y POESÍA

Miércoles, 17 de Octubre de 2001

Entrega el Premio "CLARÍN DE CUENTOS 2001"
a Pedro Fuentes Guío

y el Premio "NUEVA GENTE" de poesía 2001
a ALEJANDRA MENASSA

Interviene CARLOS MURCIANO
Vicepresidente de la A.E.A.E

C/Leganitos, 10 1º derecha
28013 MADRID
http://w3.sistel.com.com/aeae
8 de la Tarde
ASSOCIATION OF SPANISH WRITERS AND ARTISTS


SESSION OF

NARRATIVE AND POETRY

WEDNESDAY, OCTOBER 17TH,2001

Granting of the "2001 CLARIN DE CUENTOS" Award


to Pedro Fuentes Guío

and the "2001 NUEVA GENTE" Poetry Award

to ALEJANDRA MENASSA

Presented by CARLOS MURCIANO


Vicepresident of the A.E.A.E.

C/Legalitos, 10 1° derecha


28013 MADRID


http://w3.sistel.com.com/aeae

8 PM
---