INDIO GRIS
Weekly magazine through Internet
Nº 70. THURSDAY, SEPTEMBER 27TH ,2001
FUSIONED - DIRECTED - WRITTEN AND CORRESPONDED BY: MENASSA 2001
WE DON'T KNOW HOW TO SPEAK BUT WE DO IT IN SEVERAL LANGUAGES
SPANISH, FRENCH, ENGLISH, GERMAN, ARABIAN,
PORTUGUESE, ITALIAN, CATALAN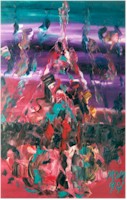 INDIO GRIS, IS A PRODUCT
OF A FUSION
THE BRIGTHENESS OF THE GREY
AND
THE JARAMA INDIAN
THE FUSION WITH MORE FUTURE OF THE
XXI CENTURY
---
INDIO GRIS Nº 70

YEAR II

1

Dear Indio,

I'm still unable to enter Indio, the matter must have been serious.

Roberto

2

Dear Indio,

I'm having diffilcuties with Indio and the Poetry page. I hope that nothing very serious is happening to your pages.

Paula

3

Dear Indio,

I miss you, Indio. What happened? I hope that this week our problems will be solved.

I love you

Lucía

4

Dear Indio,

Since I couldn't find the Indio, everything became unreasonable and I thought atrocities like, for example, that I want to live close to you.

Lucía

5

Dear Indio,

Attacked by wars and viruses, I have just taken one from this machine and hope that you can liberate the Indio from his suffering, I'll meet you again.

Roberto

6

Dear Indio,

Let the world fall but don't allow the Indio to be delayed. I'm looking forward to seeing you.

Marcela

7

Dear Indio,

The contamination was terrible. I couldn't stand the fact that the Indio wasn't there and then imagining what might be happening (viruses and wars) I decided to continue and today, by chance, it is spring.

Lucía

Dear Indio,

I'm the visitor 12,635 waiting for the Indio 69. I think that the delay is due to the poet's birthday, that this one will bring news of the celebration. I remain here, waiting for you while spring arrives.

Marcela

9

Dear Indio,

I've just arrived home and you weren't there either. What a desperation to look for you and not knowing why today, exactly today, is your birthday. Happy birthday, Master! It's unbearable that the 69 wouldn't be there.

I hope, Indio, that nothing will stop you, that…it was brutal not to find you. We looked for you during all the hours of the afternoon and I don't know what happened.

Lucía

LETTER FROM THE EDITOR

Dear readers,

In spite of the bombs, in spite of the viruses, to fail precisely in the 69th, speaks more about my efforts to be able to bear going on writing poetry and, at the same time, to grow older, than the damages that the war and the viruses could have produced on us.

Darlings, loves gone astray, found, lost, left aside, held against their wills, today I want to confess myself: to war, we will oppose peace and to the viruses, the anti-viruses. To love, rest; to death, the poem and to poetry we will oppose Poetry.

I love you, though I know it's not worth much.

Indio Grips

PS: everything is globalising, we should also globalise ourselves and that means that I've been seriously thinking in founding the Grey Indians Club.

Once more, regards

PS 2: Be confident, the Western Christian man (more or less) has transformed the Infinite Justice, which is something belonging to gods, in Endurable Freedom, which is something impossible for man.

If what endures is useful, I love you once more.

Indio Gris

EDITORIAL

I'm a bit disappointed: the famous virtuality is full of reality. Virus, windows, patches, spurious ideologies, cheap criminals, noble sons-of-bitches, good-hearted, that do evil just for the sake of it, almost without benefit, just to fuck the citizen. A sort of terrorism that cannot yet be considered as such, which I hope is fought before it's impossible to fight against it.

The same way bombs have all the citizens of the world afraid of dying at any moment and for any cause, nor even noble, nor even literary; the computing viruses, if a solution is not quickly found, if the people responsible for this isn't hastily and severely punished, in only five years we'll spend more money and we'll lose more lives with computing viruses than with terrorism.

I'm writing what I'm writing full of fear, for me, for the poets who should be publishing in the poetry site, for the readers who wait for the Indio to survive the crisis, for the future of the world, today while writing I'm afraid for the future of the world. For our small independence, for our small means of communication. And to be able to get out of this situation that damages me so badly, I'll say that the computing viruses are as invisible as terrorists, we should take the same precautions as we take with terrorists, with those who are capable of scheming and transmitting a computing virus. And I know that thinking this way can put me in confrontation with the owner of the viruses, but that wasn't my intention, my intention was to ask for mercy, some respect for poetry, some trace of discrimination.

My love, my love, nor with you, nor with her, You can tell your lovers that the Indio is a singer without an owner. Someone who sings not only because he knows and can, but because humanity needs him. And nobody, though it may be a powerful man, a powerful country, can take possession of the whole humanity. And I want to say it with utmost humbleness, not even one God could take possession of the whole humanity.

My love, my love, nor with you, nor with her. I beg you to tell your lovers not to kill the singer, because without poetry there won't be God for man, because without poetry no man will know freedom.

FREEDOM, DIVINE TREASURE

I'm a city man,


a man


condemned to live among stones.


I grew up among the percale of dresses


and the drivels of an unreachable lady,


freedom.


I grew up without an inner life,


I carry a lamp in my chest,


small, plain light and I write verses.


In my city,


when some die, somebody sings,


tenuous light


murmurs a sadness at night,


a gale of furies,


repetition where death has its word.


An afternoon


my cousin Miguel Angel was shot in the back,


the same way one kills a person whose gaze cannot be stood.


When Miguel died, my blood cousin, I had a pain,


a definite clarity and nevertheless,


the next day, I woke up singing.

I went blind


from seeing death, from seeing how they kill,


from seeing so many indifferent people go by.


I had drops of blood over my eyes,


ardent stains of violence over my eyes.


a hatred, a love, above all a remoteness.

Ochre roars, moans of the beast,


Torn by the illusion of being,


by the illusion of eating the flowers


and your eyes


and the tickling in your feet


and my ferocious bites in your sex,


as if your sex were the lost fruit of man,


that lemon, that unforgettable apple.

Freedom started to put on jewels,


precious stones among her white silks


and among her flesh, gold.


She became an inaccessible monster of remoteness


and then I started growing among shadows


and among shadows I loved freedom:


aquatic ghost,


lark dead forever,


among your skins,


remote lady, lost freedom.

I

I was a man


lover of freedom


and the fortunate days to come.


Afterwards, war and its devastation


fell over me.

Freedom


became black between my arms


and that beautiful face of my childhood memories,


her face,


slowly vanished between the eyes of death.

Desperate screams coming out in a gush,


calling her for the last time and, she,


tall and nude, unreachable gust of heaven,


orders to kill.

II

We don't know yet, we don't know:


Who is alive and who is dead?

III

Around us,


freedom goes on flying freely


and flying,


she was spoken about in other worlds


and flying


there was a kingdom beyond heaven,


where freedom,


among the suns of superior galaxies


reigned,


always intangible and serene,


over the lives of men.

IV

To live, darling, it was necessary


to fill our heads and souls with hopes.

To live, it was necessary


to stop living.

CERO CLASSROOM OF FRENCH

Practise French in Madrid


INTENSIVE COURSES


Tel. 91 542 42 85. From 8 p.m. to 10 p.m.


ALL YEAR ROUND

Among the roars of death


I sank into my own inner self.


I wanted to find a sense to the universe


in the centre of my entrails.


I made out of my heart,


a brief and opulent palace of cement.


I put barbed wire on my skin,


surrounded myself with pits,


I pulled up the draw-bridges


and tied chains around me


and chains


and searchlights against the sun


and I stopped writing because I was afraid


that my writing might transform my life.

We'll continue the next time.
Cero Group
Consulting Room

Cero Group
Consulting Room

Amelia Díez Cuesta
Psychoanalyst

Carlos Fernández
Psychoanalyst

Appointments: 91 402 61 93
Móvil: 607 76 21 04
MADRID
AMELIAA@terra.es

Appointments:
91 883 02 13
ALCALÁ DE HENARES (MADRID)
Time where all the music


was the moans of the moribund.


Time where all the joy


was the memory.
Cero Group Consulting Room
COUPLES COUNCELLING

EROTIC LITERATURE WORKSHOP

Miguel Martínez Fondón
Psychoanalyst

Coordinator: Miguel Oscar Menassa

APPOINTMENTS: 91 682 18 95
GETAFE (MADRID)

91 542 33 49 (MADRID)
I

SILENCE


was the only thing they asked for.

II

TO SHOUT


was their only desire.

III

Shouting and silencing not to die.


Recalling and forgetting everything not to die.


Rising and bending the head not to die.

IV

I wanted to fly like birds do, to growl like beats do.

I wanted to be God


and I starved to death with the hungry.


I wanted to be millions


and cried with the desperate because crying


is a memory of the unforgettable man.

Joy got me soaked to the skin when I opposed to her


my first verse of death.

V

DEAR DEATH,

in spite of you,


in spite of me,


life continues.

VI

Grotesque waves, unexpected cataclysms,


visceral twist.


Tortures


and hunger


and small solitary sins,


that time punishes with death.

A time in which everything is the same.

VII

A time,


a wind,


an opaque murmur,


breaks your life in a thousand pieces.

Afterwards a man is what he is.

VIII

After the catastrophe I write verses


and I make love because love


also makes war.

I talk to my children about the movement of the stars:


it is possible to talk about the stars without touching them


and we stay watching the moon tranquilly,


the drunken flight of some bee among the flowers


and we get distracted by any foolish thing of the afternoon,


because it will do them good, I say to myself,


that they start forgetting the names of the dead.
---