INDIO GRIS
INDIVIDUAL MAGAZINE OF GARBAGE COLLECTION
Nš. 7 YEAR 2000, July, Thursday 13th.
FUSIONED - DIRECTED - WRITTEN AND CORRESPONDED BY: MENASSA 2000
WE DON'T KNOW HOW TO TALK BUT WE DO IT IN SEVERAL LANGUAGES SPANISH, FRENCH, GERMAN, ENGLISH,
ARABIAN, PORTUGUES, ITALIAN AND CATALAN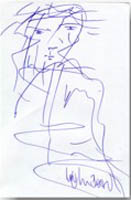 INDIO GRIS, ES A PRODUCT
OF A FUSION
THE BRIGTNESS OF THE GREY
AND
THE JARAMA INDIAN
THE FUSION WITH MORE FUTURE
IN THE XXI CENTURY
---
INDIO GRIS Nš 7
1
I'm in a bad shape with women.
I'm in bad shape with poetry.
Nobody cheats me, I'm in bad shape.
Today, without delay I will start my psychoanalysis in Grupo Cero with the manifest attempt to direct my aim towards love, poetry, the rest, all the rest, I hand it over for the ceremony to be possible.
What is saved, is saved. Now it must be spent.
Courage! cheer up! and Courage raised.
2
Now it is my turn to grow old and when everything is offered to me, I'll also have written words, something to say:
Servants of love
the poet has arrived
the real link.
3
No more accounts means
make way because the poet is coming.
No more accounts means
the poet knows
the result of all the accounts.
No more poverty means that
the poet is exquisitely rich.
No more poverty means that
the poet will teach the mysteries of richness.
And when someone asks for the poet's body
we will show a room full of gold coins.
The poet's body lies a thousand kilometers deep, or either is sailing the heights, he is always unreachable.
4
Life and dreams mix up in me, dreams with death.
Indian torn to pieces by culture, touches bottom.
INDIO GRIS salutes its progenitor , EL INDIO DEL JARAMA,
and recommends editorial del Nš1. January-February 1992
Fragments, phrases
-EL INDIO DEL JARAMA is born free .
-It loves collaboration but doesn't need it.
-EL INDIO DEL JARAMA,as you may have realized, metaphor of what yet impossible, transforms itself into a song.
-I write from the secret entrails of a vibrant black. I head to all directions and upwards too, but there's something in me, something that falls, something that keeps falling.
-I was born to Life on the Jarama banks.
-Fallen or suspended I never knew. However, the Jey from Jarama reminded me of the desert, and there, I stayed in that jabbering, in that quiet dance of centuries, and I was like the Gran Inca too, son of the sun, and the gold belonged to me because it was the sweat of the sun, this poem.
This time I am the Indian who will not make war.
This time I am the Indian who will not be submitted.
This time I am the Indian who speaks the words.
This time I am the Indian who liberates himself in verses.
Do you not see that there are no more daggers left in my eyes,
nor pikes on horseback running towards death?
Do you not see that Christ has fallen from the Andes? that there are no prayers left in my eyes.
This time I am the Indian who comes from the future. have no treasures to guard, nor temples, nor women in love, nor fertile lands.
I will not make war, nor love, nor will I run away cowardly. I come from submerged Atlantis of the verb.
I am the Indian poet, that impossible civilization.
5
I'm happy, the writing though coming from the past, is sometimes directly the future. I'm very happy.
6
Arganda del Rey, December 10th, 1991
I think that my great broodings will end up making people surrounding me ill.
I have to stop with grandeur, and have only broodings which would be directly an illness, at least mentally.
I have to stop with the broodings and just have grandeur, which would be a novelty, especially for me.
7
CHILDREN CAN ACHIEVE EVERYTHING
AMONG CHILDREN AND AT CHILDREN'S LEVEL
8
I have to practice some exercise or sport or game or love to keep myself at a distance from my work. All of the days, all of the weeks, all of the months, all of the years.
9
We must insist on children's health.
It's very good for them to write poetry.
It's very good for them to get into business financing poetry, to make it torpid.
10
CHILDREN UP TO 35 YEARS OLD
Before knocking the door of your House, knock the door of the State, of Culture and in this way you will be able to leave your House onto the World, without any need of knocking at the door.
11
A father in front of his son. They are two monkeys.
None of the two knows which is the next step.
12
Every will change as from January 1st, 1992.
I have to give up, for the time being, all exaggerated growth. Though, I should have a car, even if it is small.
13
MONEY = WORK = TIME
MONEY = TIME = POETRY
MONEY = POETRY = LOVE
MONEY = LOVE NO MONEY = NO LOVE
14
I'm in love with myself
and in a lesser degree, with the world
because truth tells us
that the world is limping.
I'm in love with myself
and in a lesser degree, with the flower
because yet beautiful and different
it withers and dies in my hands.
I'm in love with myself
and in lesser degree
with Mister President
because, practically speaking,
he has piss of the tin.
I'm in love with myself
and in a lesser degree, with my lover
because my verses have given her life
and she, poor thing, loves my lips.
15
I'm afraid that my wife might read what I write and then I don't write, shouted the wretched.
Grey desire of telling what never happened.
16
If I let myself be drawn they break me.
They don't know I'm a free diamond.
I only shine in the air.
FROM NO ONE TO NO ONE AND SHINE WILL BE ETERNAL.
17
I have my ghosts too. My good family and my bad family. I'm a worker, I endure what everybody that works endures: I sell my time for money, I'm a worker there, a whore there.
Give me your time and I will build an empire, shouted the wicked. And this time man asked well, because bourgeoisie pays only for time, talent and those things are negotiated, not time.
Time is only sold, it can only be bought.
18
If at 30 years old I had it sucked, at 60 I should let them give me a palace. If I still only have it sucked, I haven't progressed much.
19
Life itself offered me ways out that I could not find.
Now I owe everything to life.
20
My beloved, I remember having been that deviated light that touched everything. Later, we also lived from love.
21
Now I should do what has already been done.
22
I have browsed through some psychoanalysis pages and others of poetry in the network and it was surprising: I felt like the worst, the ugliest, the worst advised, the solitary, the poor, I want to say it bluntly, I felt like a wretch. A man who has worked part of his life (I'm going to be just 60 on September 19th) to achieve something and then what he has achieved is nothing, almost nothing.
Envy was on the verge of paralyzing me. I was on the verge of holding up INDIO GRIS weekly publication, because I thought it was useless, I was on the verge of halting my thought and stopped loving, there was a moment in which I loved no one.
Later I told myself that I, my colleagues, had more phrases than the Central Bank has 10,000 pesetas bills and that tranquillized me.
The same accounts which had caused the paralysis through envy, were now bearer of joy, 400 entries in the Indio Gris site in four weeks meant 400 more entries in the site than four weeks ago.
And then Indio Gris ensured that at least one page of Internet was dedicated to contents, though partially.
I would like to make of Indio Gris a real magazine.
With sections, editorial, books or entertainment commentaries and activities agenda.
The sections could be:
POETRY AND I
WOMEN AND I
TANGO AND I
POLITICS AND YOU
SCIENCE AND THE WORLD
ILLNESS AND THE SICK
I'll finish recognizing it, I'm a man without environment, many of my best ideas are only worth for orphanage children to play and, thinking and thinking, they might forget their poverty.
But this time I'll do it well. I'll use the following 25 years of my life to have a good site in Internet, with my whole work of my colleagues and teachers and with three million readers per week. Then, only then, I'll feel that I'm a genius, a true teacher of language, a servant of writing.
You'll never know what it meant to me surrender to the charms of new technologies.
But I've surrendered now, I should start studying something, let some one teach me something, owe the world something more to continue having motifs, to go on paying.
Once more I have to find my place in a territory which I don't know, once more poetry will guide us.
But we know that poetry will not set out on its way without seeing itself surrounded by scholars, workers.
I declare my new task commenced and I'll promise something: in three years time I'll know how to put together a good site and I'll be able to manage my own mouse to perfection.
Thanks to everyone who existed before me.
I'm a bit new and a bit of an asshole about all this, but I bring something with me from previous works:
Some drawings, some pictures, some poems, some institutions, some knowledge.
Loves, more than a thousand and dreams a billion.
Though new and a little foolish, if I'm given 25 more years, I bet on me.
INDIO GRIS
ITS HIGH DEFINITION COMES FROM THE FUTURE.
PRESS IS POWER

---