INDIO GRIS
Weekly magazine through Internet
Nº 69. THURSDAY, SEPTEMBER 19TH ,2001
FUSIONED - DIRECTED - WRITTEN AND CORRESPONDED BY: MENASSA 2001
WE DON'T KNOW HOW TO SPEAK BUT WE DO IT IN SEVERAL LANGUAGES
SPANISH, FRENCH, ENGLISH, GERMAN, ARABIAN,
PORTUGUESE, ITALIAN, CATALAN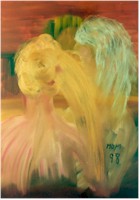 INDIO GRIS, IS A PRODUCT
OF A FUSION
THE BRIGTHENESS OF THE GREY
AND
THE JARAMA INDIAN
THE FUSION WITH MORE FUTURE OF THE
XXI CENTURY
---
INDIO GRIS Nº 69

YEAR II

EDITORIAL

TO BECOME 61 WHEN WAR BURSTS OUT

Today I listened to my world,


the world where I live,


crying out for war,


for total war.

To kill, to kill,


the newspapers shouted.


To kill, to kill,


they said on TV.


To avenge our dead,


the people vociferated.


To kill, to kill,


enemies beyond.

We'll go by air;


we'll go by sea


and through land we'll go


listen to the beat.

I saw a mother freezing


to death in the sidewalk,


waiting for her son


that will never return.

And a woman was dying


pierced by a sword,


that her very young lover


could not handle.

And I saw reptiles dying


tied to themselves


and I saw the song dying


in the singer's voice.

And my mother died


burnt by the fire,


like a witch or a sorcerer


in times of terror.

War has spread


through my world and the world.

Open air will live


no poem.

In the open air, there will be


no love.

In the trenches, death


will be spoken of


and at night, horror


will be dreamt.

At dawn, fear


will be present in the word.


In the maternal chests


the din of the battle will be heard.

At school, the child


will learn to kill.


to be careful about his fellow child,


about the teacher.

To be careful about the sky in general,


even about the soul.

To be careful about the hurricane-like wind


and about the breeze.


About the powerful volcano vomiting


fire and garbage


and about the small scented hill


blooming and open.

In any small place


of any Motherland


even in ours,


it darkens, the mountain folds,


the aggressor becomes invisible.

In complete darkness


you do not even know:


Who is the murderer?


Who has to die?

In such darkness


produced by war,


it is not known


where the beloved is,


nobody knows


where the traitor nests.

That is why we look


at each other,


sensing guilt


in each human being.


The delirium of an endless war


persecutes us.

The wounded Captain


shouted to the stars:


There will be war, there will be war


and everybody will die.

Christians, Muslims,


the rich and the poor,


everyone dying


for some peace.

The whole world dying


from an old morality.

War is necessary


even if it is fatal.

Nothing of nothing,


I can write nothing.


Everybody is at war


and the poem is quiet,


held up,


like a prisoner of war,


in silence


like in slavery,


collapsed by pain


like a dead tower.

the craft of being a poet

Wrapped in the mists of the tedious everyday life,


only poetry accompanies me.

While I go through life


she sometimes wonders about my solitude.


I tell her it doesn't matter,


in her presence the world stops for me,


gold shines for me,


the tallest women dance for me,


nocturnal birds keep vigil over me.

Wrapped in the powerful noises of the machine,


only its human voice accompanies me.

When we make love, She reproaches


my loving her as if she were the only one.


I tell her that it doesn't matter,


in her presence the world detained in my hands


opens for me, what is multiple opens for me,


aged passions and future loves,


deliriums and women open for me,


enamoured goddesses and diadems, stultified beauty,


the air opens for me, the open spaces


where our great sun is simply another star.

Wrapped in the subtle entanglement of power,


the whole life is Her.

When she finds me in that dilemma,


where I am myself the lover of death,


she dances naked for me


and naked, stripped, also from love,


shoots at me so that I don't die


a million words in freedom.


I tell her it doesn't matter,


in her dancing presence, death stops glowing,


cemeteries tremble,


the deep hearts of the earth open up,


life is born everywhere


and frenzy is colour, vertigo, doubt,


dance of happiness with no scruples,


happiness in complete freedom,


death of death.

Dear Olga,

In the end, moderation was a way of thinking of living 200 years.

The problem wasn't that the organs or the soul couldn't stand it. What really happened was that there was no money or that nobody wanted to spend their money in living 200 years.

When money is available, the organs will stand and the soul will be free.

CERO CLASSROOM OF FRENCH

Practise French in Madrid


INTENSIVE COURSES


Tel. 91 542 42 85. From 8 p.m. to 10 p.m.


ALL YEAR ROUND

I saw her walking to me tilted, bending ostentatiously on her right side. She shuffled her feet as if they weighed on her or as if wanting to show an extreme tiredness.

Something in her couldn't go on any longer and she would say it to me that way. Anyway I doubted between calling a doctor or telling her to tumble down on the couch.

She, without taking her coat off or leaving her handbag, tumbled down and said to me:

- The solution for what is happening to me is in your hands. My vertebras are rotten for lack of warmth.

Afterwards she remained silent and so did I. When we said good-bye she told me she felt well.
Cero Group
Consulting Room

Cero Group
Consulting Room

Amelia Díez Cuesta
Psychoanalyst

Carlos Fernández
Psychoanalyst

Appointments: 91 402 61 93
Móvil: 607 76 21 04
MADRID
AMELIAA@terra.es

Appointments:
91 883 02 13
ALCALÁ DE HENARES (MADRID)
FIRST PART
- I must admit not to understand what happens to me.
I'm sort of making real the joke about letting yourself be guided by a madwoman who is blinded by jealousy, as well.
The Professor walks nervously from one side of the hall to the other,
With his gaze, he goes over the body of all the dancers without finding what he was looking for:
A pair of glasses, a light so that his beloved could see the colours.
Clotilde, blinded by her own loves in Buenos Aires, and blinded by jealousy because of the relations the Professor might have in arriving in Madrid.
Doubly blinded, she had to decide in a few days if she would accompany the Professor in his return to Madrid or if she stayed and lived in Buenos Aires.
The Professor thought that she, in that altered state due to passions of all kinds, couldn't decide nothing right or possible, but he couldn't do anything but accompany her blindly, precisely her who suffered from a redoubled blindness.
- We'll end up going to hell.
The Professor said to himself, while he craved for making love to her and to his wife, before leaving Buenos Aires.
- A pussy's hair pulls more than a hundred yokes of oxen - the Professor exclaimed.
And right away he thought that the Master would tell him:
- And what about two hairs, one from each pussy.
And the Professor felt a sort of relief and it didn't look so delirious anymore to live in Buenos Aires.
To tell you the truth I feel a little moved. Something trembles in me.
Something wants to be born for me, and I don't let it.
Now I should rest a little, tonight I want to go dancing.
To suffer all night, let's see how everybody fucks her while I remain at ease, as if nothing were going on.
Later, tomorrow, I will slap her two or three times.
She finally achieved it, she beat about the bush for some time and then made me go home and went dancing with the rest.
Tomorrow I'll tell she's a whore and that will excite her.
I write, she reads and the little whore dances and dances for others.
I'll go ahead with everything: my work, my writing and then, fucking, but with one, with two, with three women as a maximum, and, tranquilly, fucking, one or two shots everyday and some pussy sucking and two or three fingers in the ass and kisses and great speeches at any time of the day and some money to stop time.
However, everything is ephemeral. Pleasure in her lasts very little and no man knows that.
Knowing it, leads her not to move from my side, in spite of her jealousy.
Sometimes, she tortures me to paroxysm.
She ties me to a chair and surrounds me with beautiful women that desire her. And when I look at one of them, she gives two kicks in my balls and bites my lips and then starts shouting:
- Now you can fuck her, now you can fuck her.
- In such circumstances, my dick doesn't get hard not even disguised as Tarzan.
Don't touch her anymore
that is how the rose is.
(to be continued in the next issue)
Cero Group Consulting Room
COUPLES COUNCELLING

EROTIC LITERATURE WORKSHOP

Miguel Martínez Fondón
Psychoanalyst

Coordinator: Miguel Oscar Menassa

APPOINTMENTS: 91 682 18 95
GETAFE (MADRID)

91 542 33 49 (MADRID)
1

I feel as if I were lost in a desert, eagerly searching for what can't be found in a desert.

2

Freedom, everybody free and no one will have anything, because everything will belong to freedom, to poetry.

3

Angular nerve twisting itself in bends.


Love was everything, that foolish caress.


That's how I was, for half a century, the fool of love.


Delirious, afraid of anybody stealing what is mine.

I never had anything,


only the bars that separated what was mine from what belonged to


others].

Embarked by my own delirium


in a great fantastic wave,


I made a voyage of light and of words,


a voyage to the people with no return.

When I saw a human being at a distance,


I got happy, I clapped my hands


and my heart would beat hastily,


but I never tried to get emotional.

In the beginning I would feel nauseous,


when men killed each other or simply died.


Afterwards I was the unlimited complaint.


Complaints of the quiet soul, lusty lament,


and nobody listened to me.
---