INDIO GRIS
Weekly magazine through Internet
Nº 68. THURSDAY, SEPTEMBER 13TH ,2001
FUSIONED - DIRECTED - WRITTEN AND CORRESPONDED BY: MENASSA 2001
WE DON'T KNOW HOW TO SPEAK BUT WE DO IT IN SEVERAL LANGUAGES
SPANISH, FRENCH, ENGLISH, GERMAN, ARABIAN,
PORTUGUESE, ITALIAN, CATALAN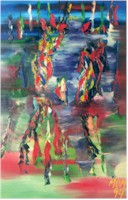 INDIO GRIS, IS A PRODUCT
OF A FUSION
THE BRIGTHENESS OF THE GREY
AND
THE JARAMA INDIAN
THE FUSION WITH MORE FUTURE OF THE
XXI CENTURY
---
INDIO GRIS Nº 68

YEAR II

EDITORIAL

I'm also surprised, no one could have imagined it like this. After a few minutes I started to think that the computers had gone out of order. Some defence programme had become mad, the people responsible for immunity had been paralysed as happens with cancer, with AIDS.

Only five minutes had gone by and I had seen the impact of the plane against the tower in twenty different channels, the spectacular flames, the deafening fall of the towers, already a thousand phone calls had been made from relatives and friends in my country and from far away countries, asking me what would happen to the world from today on, when I began to think something terrible: How what had happened (cancer, AIDS) could have happened if the individual wasn't involved enough for that to happen. Evilness seemed to come from outside, but it was from inside, the individual defended himself from the outside and what was killing him lived in him and I don't want anybody to take offence at me giving as an example the construction of an anti-missile shield to defend myself from exterior attacks, when I cannot still defend myself from internal attacks).

I'm also amazed, nobody could have imagined it like this. In the United States, the children of the streets whose small bodies sustain infantile prostitution; the drug children don't come from the poorest classes as in the majority of countries, but they come from the bourgeoisie, from the small intellectual bourgeoisie.

I'm also amazed, nobody could have imagined it like this. How could it be possible that they were not able to stop the second plane if eighteen minutes had already passed since the first impact? And how could it be possible that no engineer in the world could have warned the fire-fighters, the policemen, the nurses and doctors, that that building wouldn't stand the impact and would cave in ?, if now, after it had happened, they are capable of saying that the collapsing was produced by the impact and the flames.

And finally, without understanding much of this question, I ask myself: how could it be possible that the Pentagon's computers malfunctioned? What is left for us, ordinary mortals, if the powerful, the demigods of war kill themselves or cannot defend themselves.

A poem, my love, that I can stand no longer.

Return to man, return to man.


But, the condemned to live asked himself,


is there somewhere a man as to be willing to return?

The little poem refers to the failure of the new technology, it becomes necessary to return to man because we have realised that the human error is always less spectacular than the error of the machine but this, well thought, is also a foolishness.

And it's philosophy again, dear Editor, a poem, my love, that I can stand no longer.

Poem to read

THE WAR

The war,


today I have thought about gentlemen and war.


And I have to say it, though nobody may believe it,


a thousand litres of coagulated blood broke into tears.


My mother's womb was broken into a thousand pieces,


her arms, her loves, her frozen nerves.


My father, his gaze broken by the time,


my father, dead, rotten, worm-ridden,


and my sad brothers and myself living from silences.

The war,


today I have thought about ladies and war.


Nobody could sleep well in my town,


the heart of the city lived agitated.


Women knitted rags of blood at night,


men murmured, they plotted vengeance, they died.


The youngest dressed in black permanently


and the little angels-to-be would die before being born


and my sad sisters and myself, dying from silences.

I realise I have to vibrate in unison, but I don't know what with.

A poem, a sole poem to withdraw from me:

Today I am happy, you can see it in my eyes.


You will not see any shine but a simple calmness.


I have literally been beaten to a pulp by life and nevertheless


look at my profile against the moon glow, it seems untouched.


And my soul, oh! if you could see my soul,


is a black diamond of a thousand sides


a diamond cut by a limitless love


submarine current of light, I desire crowds.

I feel as if I were tensing a chord that does not exist.

What an atrocity! What a dream.

I am already on the other side, my love,


Nothing in me is a blessing, however, she insists on having hopes


about me.

And I am already lost. I don't know where to return. The bombs over a


defenceless city, the bombs over the women at home, the bombs over


the distracted children playing, the bombs, my love, have deviated


forever my road. I don't know where to return, because the bombs


broke my memory.

How should a man be? I ask myself and nevertheless she sustains firmly her hopes.

In seeing her so crazy, so glad and in spite of the bombs, which are severing my legs, I say to her "I'll return…I'll return" and I become breathless and the bombs leave me breathless, I'll return my love, I'll return.

But I don't know where the return roads begin. While I keep waiting that some light may open for me, I have started to love solitude.

I want to write a verse now, now that I'm surrounded by beasts, by carnivorous beasts.

I have my feet tied up, my hands, my mouth, my brain, I don't know what happened to me, it was an air of madness.

In a way, not even being able to be close to myself.

The "erotic" novel I'm writing and which now I can't conclude, has to do with a dead son, it can't be elaborated.

From the father's point of view, a son can never be separated from his father.

When a son dies, a part of the father dies forever.

Something from me has died forever.


I am impressed by being alive,


with a part of me dead in me.

It was a shooting star that I touched when leaving.


Its light was fleeting, fleeting its sparkle.


It lasted the sole instant of that kiss.


Only that instant of the caress.

CERO CLASSROOM OF FRENCH

Practise French in Madrid


INTENSIVE COURSES


Tel. 91 542 42 85. From 8 p.m. to 10 p.m.


ALL YEAR ROUND

Today no psychoanalyst in the world could work. We have been reading the newspapers, watching TV and we thought a thousand times of dying and a thousand times in resuscitating. We became so tired that we couldn't work.

She didn't want to accept, under no circumstance, that I would cut my hands in front of everybody. Your verses, she told me, are like daggers of fire and madness.

As open daggers in a thousand falls of volcanoes.

Daggers like enamoured infinite dragons,


maddened tongues of fire


against the frozen death, arrogant and quiet.

Your verses,


daggers thrown without any compassion


daggers of fire


against the immense beast, white and frozen.

Then, shall we continue the next time, doctor?
Cero Group
Consulting Room

Cero Group
Consulting Room

Amelia Díez Cuesta
Psychoanalyst

Carlos Fernández
Psychoanalyst

Appointments: 91 402 61 93
Móvil: 607 76 21 04
MADRID
AMELIAA@terra.es

Appointments:
91 883 02 13
ALCALÁ DE HENARES (MADRID)
One more time, as so many times, I feel totally repressed.

Nobody allows me to talk but partially. Nobody allows me to write what is necessary to write.

Now I'm locked alone at home. It's 4.30 in the afternoon of a fresh and sunny day.

I like to be alone, but noxious ideas keep coming up in my mind and that's what I cannot stand. I like solitude, nobody touches me, nobody looks at me and, what is more important, no one contradicts me. I'm immensely happy being alone.

My mother and I, what solitude.

I hope to come back to life, to be born again.

The exaggerated jealousy, the tough moralities are not good things for a moribund.

She loves her father. I'm the one who has to say no to her.

To educate the beasts without living with them,


educate them only to let them leave educated.

I can say it seriously, at this exact moment of the encounter, I like everything that is happening to me. Even working seems charming to me lately. To produce admirers of my silence, day by day, results to me attractive.

Today I'm happy and I say it with extreme simplicity. I fly around you, broken white camellias, torn by bombs and I break down, laugh is now a grimace.
Cero Group Consulting Room
COUPLES COUNCELLING

EROTIC LITERATURE WORKSHOP

Miguel Martínez Fondón
Psychoanalyst

Coordinator: Miguel Oscar Menassa

APPOINTMENTS: 91 682 18 95
GETAFE (MADRID)

91 542 33 49 (MADRID)
Immersed in a time where madness


grows towards the infinite spaces,


I look for you in innumerable happenings,


in endless hatreds and swamps


and suns fallen from their centre.

I look for you -up to the end-


among the dead,


white immemorial waste,


I look for you in my gaze.

Letter to the Editor:

Today I'm going to show you a hallucinating plot:


I love you.


I'm in me, I wait for you in the scents,


I wait for you, tall, superior, haughty.


Green marine silver, little orca of time,


where the purity of the sea bursts against the cliff.

Your eyes are blind.


They are covered by your skin.


The delirious cataracts of oblivion


recall you.


As you can see, you are impossible.

Altered by jealousy,


something bursts in you,


something rots,


the leaves of a violin fall in your entrails.


Love,


humanised torrent of dusty shit,


dried by the years, without smell, fertiliser


for the delicate flowers of desire forever alive.

Indio Gris
---
THIS IS ADVERTISING
FREE SEMINARS
•
Sigmund Freud
•Jacques Lacan
•
Hegel - Marx - Heidegger
TEL.: 91 542 33 49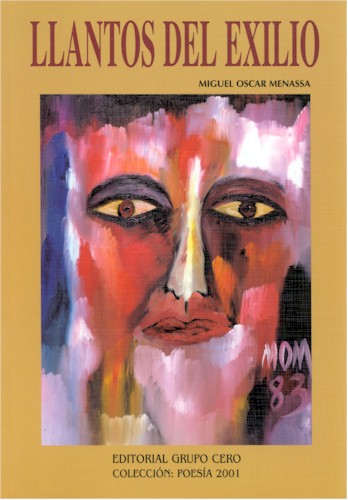 Tears of exile
author:
MIGUEL OSCAR MENASSA
75 pages
3,000 Pts., 18.3 Euros
It contains thirteen illustrations of some of the best paintings
of Miguel Oscar Menassa.
---