INDIO GRIS
Weekly magazine through Internet
Nº 64. THURSDAY, AUGUST 16TH ,2001
FUSIONED - DIRECTED - WRITTEN AND CORRESPONDED BY: MENASSA 2001
WE DON'T KNOW HOW TO SPEAK BUT WE DO IT IN SEVERAL LANGUAGES
SPANISH, FRENCH, ENGLISH, GERMAN, ARABIAN,
PORTUGUESE, ITALIAN, CATALAN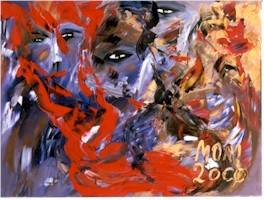 INDIO GRIS, IS A PRODUCT
OF A FUSION
THE BRIGTHENESS OF THE GREY
AND
THE JARAMA INDIAN
THE FUSION WITH MORE FUTURE OF THE
XXI CENTURY
---
INDIO GRIS Nº 64

YEAR II

EDITORIAL

August 21st, 1976

I fight all parties holding power; including those who hold power in Cero Group.


THE SNOW TOUCHED MY BACK

The snow touched my back,


a merry, affectionate slap,


I felt caressed by my mother,


I was happy.

The snow touched my heart.

The sun is setting and from the day,


I am left only with the memory of the mist.
So fragile everything was this morning:


snow and carmine.

We carefully spell, each one our name:

I am the Snow White of your dreams.


The rock-like beauty of crystal,


marine lark of the valleys,


friend of death's sadness.

I wanted to tell her:


I am the poet, the greatest,


the creator of the word Woman


and said nothing.

Darling,

I am going towards our second encounter. I hope that my anxiety to get together doesn't spoil everything.

I desire the catastrophes, the great hurricanes, the deep silences of the earth, the sea pouring over in infinite falls.

Your body reminds me of these supernatural events. That is to say, natural but evil.

A tremor, a sound, are the earth but not you.

I don't have a body to give you. Initials of a living body, signals of a body that melted among disagreements. That-No, I have to give you, and I know that it is not convenient for you.

A frenzy encourages the sound of your voice. Fevers of being invade you constantly.

The negation of death makes it possible for any foolishness to transform the hole of Not being into the plenitude of being nothing.

I admit not having sent Season's greetings to anyone yet.

CERO CLASSROOM OF FRENCH

Practise French in Madrid


INTENSIVE COURSES


Tel. 91 542 42 85. From 8 p.m. to 10 p.m.


ALL YEAR ROUND

1

The Ego considers the cure as a new danger, because it is not him who cures but the Other.

That's why an analyst must not expect the patient to have a great conviction on the curative power of analysis.

2

To say terminable analysis for a psychoanalyst is a bad translation, because it is about analysis when it finishes to place itself in a sort of infinite reach, revealing what, in the end, is irreducible for man and women in the castration complex.

Desire then, that is not a desire of any object, but the desire for that lack which in the Other designates another desire.

3

- Look doctor, I gave him a punch (he spoke with controlled fury) and I caught him off-balance and he hit the sterilisation glass cabinet and broke everything. His face showed surprise because a crystal had stabbed him in his back as if it were a dagger and another piece of glass had cut him on his forehead.

I got excited with the smell of blood and seeing that the guy stood up swaying I gave him a punch with such bad luck for the guy that he was sent flying and his head bumped against the electric scalpel, which started functioning and the poor guy received an electric shock that produced him a fissure of the trochanter and total fracture of both parietals.

I let some minutes of silence go by and trying to pull myself up I asked him:

- And after doing all this to me, whom are you going to psychoanalyse yourself with?

I let two more minutes pass and told him:

- We continue the next time.

He, when he shook hands with me to say good-bye, smiled openly.
Cero Group Consulting Room

Cero Group Consulting Room

Amelia Díez Cuesta
Psychoanalyst

Carlos Fernández
Psychoanalyst

Appointments: 91 402 61 93
Móvil: 607 76 21 04
MADRID
AMELIAA@terra.es

Appointments:
91 883 02 13
ALCALÁ DE HENARES (MADRID)
- She is a wind that devastates my memory.
A small grimace, at mid-afternoon, had me without writing till midnight, worried that my love might be worthless.
Never before have I fucked a woman so much and so frequently, and she, still tells me that I'm a liar when I tell her that I love her.
Perhaps, tomorrow, to satisfy her I'll fuck her with a hot piece of iron and leave her nailed to the wall, but tomorrow she will come happily as if someone had told her that he loved her, and when she arrives she smiles at me and when I kiss her slightly she presses her legs together and puts on a mad face, and I start to kiss her all over, and she moves restlessly and wants to tell me something, and I kiss her insistently and she waves her hands between my legs, and I let her do whatever she likes, because she's beautiful and her hands fly around my body and her mouth flies around my body.
I stay quiet as if defeated and she howls, and she literally throws herself on top of me and jumps over me the same way I jumped over her when we met and when I introduce my dick, when with my dick I caress her womb from the inside, she, enamoured little whore, screams and calls me with the names of all her beloved men.
Afterwards, a little more tranquil, she goes about my body in a placid manner.
She goes over all of my muscles one by one. She looks for the insertions. She asks herself what each of my muscles are for.
- This one must be for breathing - and she touches my Major Serratus.
Later when she asks about my Sartorious, she laughs her head off because she has to pass her finger very close to my dick to indicate the upper insertions.
She looks at me with tenderness and signals with her head to let me know without speaking that she wants me to turn round. I pretend not to understand, because although I enjoy with everything that comes from her, I truly enjoy when apart from doing , she says "things" to me.
I remain quiet knowing this time she will try to turn me round by any means, without asking me again.
First she tries to do it by force, and of course I feel as if I were a young Canadian karate woman defending her virginity.
She, without feeling defeated, holds back and starts playing with my penis (that means my dick, but still soft) and she slowly starts opening my legs and licks my balls with controlled voluptuousness, making me feel a tremendous pleasure and the fantasy, almost corporeal, that she is sucking another woman's pussy.
My dick takes an enormous proportion.
She, taking advantage of my position, sits on top of me, looking at my feet, she holds my dick with one of her hands and with the other opens her vagina lips and while she says with a stammering and horny voice:
- Now, now - and she passes my dick around her vagina time and time again without putting it in.
I can't have it bigger and harder and she tells me:
- Now, now, put it inside it.
And I hold her buttocks with strength and I put in my two thumbs together in her ass and she jumps happily and says:
- Look, how it enjoys.
And she rolls about and laughs and dreams that we are in Rio's Carnival, everybody naked, and she lets herself fall over me and my dick enters her up to the neck and, she shouts and gets hotter and shouts more and gets even hotter and puts her hands on her neck and in her orgasm, one as she had never had before, tears her head apart and starts, so to say, a new life.
(to be continued in the next issue)
Cero Group Consulting Room
COUPLES COUNCELLING

EROTIC LITERATURE WORKSHOP

Miguel Martínez Fondón
Psychoanalyst

Coordinator: Miguel Oscar Menassa

APPOINTMENTS: 91 682 18 95
GETAFE (MADRID)

91 542 33 49 (MADRID)
1

Tonight I have, like a poet, in my gaze:


A Catalan who does not exploit me,


A Basque who does not kill me,


An Andalucian who does not run away from me,


A Madrilenian who does not get bored,


An Arab who does not cry over spilt milk,


A Galician woman who loves me,


A Latinamerican who does not suffer.

2

I want the power of having transformed you and not the dominion over the effects of your transformation.

- Then you don't love me - she said, when she was leaving not to return.

3

War has no human victims though they may be counted by millions; what falls in a war are books, written pages, thoughts.

4

No mortal challenges destiny, but you, so adorable…

5

I have to be able to silence all the voices, also the voices of my enamoured women, shouting around that I can't do anything but make love.

The market and the war also form part of my intelligence.

6

Instead of abandoning everything, I have to learn to let myself go in everything.

He who is not able, isn't able and that's all.

Alphabets which dance around me without being so.

7

The modern hallucinated people, are people without a father and without a mother, or with a father and mother who are a little stupid, religious, imbecile, or absent.

No more family, which means, fundamentally, to educate children adequately.

8

Impetuous, mad, lost, anything you want, but we must not allow any of us to starve, though he might be a lazy-bones, an imbecile, an alien.

Fugitives of any encounter

Hours go by while the world sleeps.


Poetry, the voice orders me to despise the gold


that does not quench the thirst of your horizon.


I dream that I have died and unknown words


visit the fog tied to my eyes.

Oh life abandoned by vices!


Oh life repeated, incorrigible!


Oh life not lived!

The defeats that you have never had are treasured.

There must be the time of the one who accepts


not to ascend further and detained laughs,


without ambitions.

Solitude, you came to visit me


and I put you up because of curiosity,


we are already two,


fugitives of any encounter.

Some days, I would prefer not to know the hide-out.

Lucía Serrano


Buenos Aires
---
Madrid, August 16th, 2001

He who no longer can,


he who cannot


descend from heaven


or ascend from the abyss,


will be the poet.
---
THIS IS ADVERTISING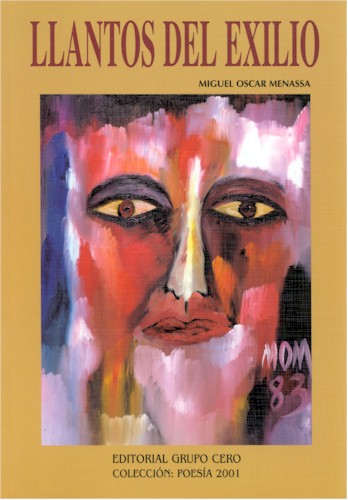 Tears of exile
author:
MIGUEL OSCAR MENASSA
75 pages
3,000 Pts., 18.3 Euros
It contains thirteen illustrations of some of the best paintings
of Miguel Oscar Menassa.
---