INDIO GRIS
Weekly magazine through Internet
Nº 63. THURSDAY, AUGUST 9TH ,2001
FUSIONED - DIRECTED - WRITTEN AND CORRESPONDED BY: MENASSA 2001
WE DON'T KNOW HOW TO SPEAK BUT WE DO IT IN SEVERAL LANGUAGES
SPANISH, FRENCH, ENGLISH, GERMAN, ARABIAN,
PORTUGUESE, ITALIAN, CATALAN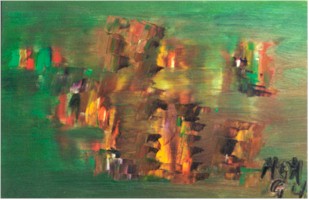 INDIO GRIS, IS A PRODUCT
OF A FUSION
THE BRIGTHENESS OF THE GREY
AND
THE JARAMA INDIAN
THE FUSION WITH MORE FUTURE OF THE
XXI CENTURY
---
INDIO GRIS Nº 63

YEAR II

EDITORIAL

THURSDAY, AUGUST 9TH, 2001

The favour that you could do to people is to draw limits for them and that will be a limit for me.

LOVE EXISTS

The will of loving,


the only and most powerful will


against the mysteries of night.

Silence,


a brusqueness among the shadows,


a knowledge,


a secretive whistling cutting pain


and afterwards, silence.

I draw the curtain, I pull the nails off the coffin,


and I plunge my sex, immaculate and brutal,


among carnivorous excrescence,


-arrogance and slavery-


and silence.

May 1st, 1982

Oh! sad albatrosses, mutilated doves. My father has died, but my father lives in this sadness of rolled up sleeves, ready for everything.

She'll come, for sure, accompanied by her mysteries and her foolishness. She'll put some sort of rag on her forehead and start screaming the word freedom, like a mad woman. I plunge myself definitely in an apathy of dreams, I let loose the anguish of killing myself to be like him. I'll have amianthus blood against the same sad passions that made of you, oh, father! a small stone, calcine and dead. I fight with all my strength which I don't have. I fall time and time again, so close to you, so close to your tears, I remember, crying a son as one cries a life-long loved pet.

Gods of art, gods of curse, I condemn you to die with me among my tiny tears of future.

Besieged, I'm always besieged. There are days in which it's my turn to die and others in which although it's not my turn for anything, it's my turn to die.

Strengthened by holding my chains so much, I allow my presence to illuminate itself and fly. I'll start a new life, but this time I won't tell anyone.

CERO CLASSROOM OF FRENCH

Practise French in Madrid


INTENSIVE COURSES


Tel. 91 542 42 85. From 8 p.m. to 10 p.m.


ALL YEAR ROUND

The boxer arrived five minutes before time, but I let him pass anyway, when I saw in his face something similar to anguish. He dropped quickly on the couch and told me:

- I'm eager to smoke a cigarette.

I interrupted him perhaps too promptly and to say the least, even making a mistake.

- How long have you been without smoking?

- Please, doctor don't say that, those are foolish things compared to what is happening to me today. I'm a father, aren't I?

And as he remained silent, I made a mistake once again and answered him:

- Yes, you're the father of six children, I think…

- Stop your nonsense, doctor, let me speak. I'm a father, and I want to tell you, a disturbed one. At times it seems to me that I get more and more muddled up.

- Like you made me do at the beginning of the session.

This time he pretended that he hadn't listened to me and continued speaking of what he thought was happening to him.

- I'm a disturbed father, a desperate lover. My lover abandons me because I've got another job and I have less time to be with her. Think of it, partly she has good reasons: six children, as you yourself reminded me a few minutes ago, two jobs, afterwards a little gym everyday…As you can see, I have no time. And she's French, you know, I'm desperate. If I don't work I feel I'm a bad father, if I work I feel I'm a bad lover. Tell me, doctor, have you ever suffered like this, with such intensity?

I, that had felt small and ignorant during the meeting, answered once more:

- No, really, not with such intensity, but I think because of similar motives, yes. I remember once in Reggio Calabria…

- Hey! Wait, doctor, that this isn't your session, besides the fact of not having money, you spend my time recalling your things. What is left for me?

I admitted having abused his trust and afterwards I couldn't avoid adding that it looked to me this morning that his intentions were to make me look like an asshole, mainly, in front of him but also in front of other clients, other readers.

- It may be that I envy you - he said, as if admitting something- I imagine you behaving correctly with your children, wife, lovers… Because you surely have them, don't you?

I felt that the patient's irony encouraged me and then I told him:

- Look, Ernesto, if I answer you that I don't have lovers, I would be playing the fool that you have programmed for me today, and if I say yes, that I have lovers, I'm playing the fool that the media has programmed for us, so I prefer to let you know that what I have had were many patients like you who before doubting of themselves, doubted of me.

We continue the next time - he himself said gravely, but happy.

Cero Group Consulting Room

Cero Group Consulting Room

Amelia Díez Cuesta
Psychoanalyst

Carlos Fernández
Psychoanalyst

Appointments: 91 402 61 93
Móvil: 607 76 21 04
MADRID
AMELIAA@terra.es

Appointments:
91 883 02 13
ALCALÁ DE HENARES (MADRID)
It seems that yesterday night I set sail, this morning almost noon, I prefer not to open my eyes.
I stretch my hands trying to know where I am, I can't stop recalling my grandfather Antonio, my mother's father, trying with his hands to bring a colour out of things. His faith was blind, his blindness was infinite.
I would creep silently to him to catch him unaware and in silence I would catch one of his hands and place it on my face and his fingers would slowly press my lids and an angle of his thumb would lightly touch my lips and I would blush without him seeing me and he would exclaim as if it were the first time:
- Here he is, with me, the genius, he who can see everything.
And he would put down his arms touching the sides of my arms and grabbing me by my hands he would make me fly through the air and in spite of his blindness, in spite of my tremor, I would once more fall between his arms.
- Night always has the vertigo of passion - he said to me. Under the sun people become silly. All of the heat remains in the skin, sun - he said to me - doesn't reach the blood. Without sun time is something else.
He grumbled and lit his pipe and in the middle of blasphemies, he asked me if he had turned red and I answered, yes, like a tomato, and he laughed as if dying were also something good, and stood up from his seat and beat the walls with his close fists, and took me for walks on top of his shoulders around the patio, and asked me about the colour of the grapes:
- What exact colour are the small plants that grow at our feet? What colour the sky? What colour is Maria's ass?
- Black.
And this way we spent the morning, and ended up sitting under the fig tree where I explained for the millionth time, that colours didn't exist, that everything is black and that colours exist in the gaze.
His soul opened at the pace of my little words. And we remained silent and María was the music that broke the spell, and we returned to life with his words.
- Men always have pending affairs with justice. A foolish boy and a foolish old man, wanting to discover the world and they are both with their eyes closed.
His voice was crystal.
- Light and shadow are the same world.
And he started his withdrawal around the patio at a gallop and the only colour was María.

Cero Group Consulting Room
COUPLES COUNCELLING

EROTIC LITERATURE WORKSHOP

Miguel Martínez Fondón
Psychoanalyst

Coordinator: Miguel Oscar Menassa

APPOINTMENTS: 91 682 18 95
GETAFE (MADRID)

91 542 33 49 (MADRID)
May 25th, 1977

To listen, but also, to lead the direction. To progress - and this I have already written - one should submit one direction to the other. When it's a question of power to talk about it isn't enough, that is to say, we must talk in one direction and not in others.

May 28th, 1977

The whole world, when said by a neurotic, is no more than three or four people.

June 27th, 1977

We should always suffer a little so no one wants what we have.

She goes slowly through life, in a century's time she will realise that if no one wants what we have, we don't have.

August 14th, 1977

To be present in a grupal idea, it is not even necessary to agree with the idea.

Let's imagine, who can totally agree with the construction of a bridge of words over the green and blue and sometimes yellow waves of the sea, a bridge of words connecting two wonderful and far away beaches. Not even who has planned this, does totally agree with touching in such a way, the holy oceanic nature.

August 21st, 1977

Having more agreements than arms or genital organs, is also a way of living.

Maestro,

Thank you for the INDIO 61: one has to bear the anxiety of the waiting but… it was worth it!

A hug,

Haydée Lucía

Dear editor,

of such hallucinating garbage magazine that collects, because it's its destiny, precious pearls in all the roads. I maddened thinking that two weeks had gone by and that his solitude gained terrain, though I suspect your anxiousness for that of what you are now afraid of.

Oh, mister editor!, it is indispensable that you know that your audacity has no limits and that your intelligence depends on, if it were prior to men that fought and were not defeated and if it is about the future of the world, it is all yours. I profoundly admire the way of enjoying, submitting to that. Nobody is better for me than you, tonight.

With love,

Lucía

Dear Maestro,

I have been the visitor 11070, and to be in this series places me in a major world, where life is made and is the task that keeps me busy.

Just today I was able to enter the pages easily, and to read the 61st supported the ideas I have been thinking of, in the Conference a doing could be seen, and those words spin in my head. Do from zero (Cero).

It seems that that is the phrase, do from zero (Cero).

Several times reading the inaugural paper I imagined your voice above 400 people in the audience.

Do from zero (Cero), is not only the enthusiasm of a beginning, but it is also a style.

A hug,

Marcela

Darling,

So many things I could say about this wonderful indio, everything is in the process of being written, to make a destiny, is said in this issue, and that is something of what I have been saying before, and this poem brought me all the oxygen of the universe, the purest oxygen, the one that doesn't allow to be contaminated but by its own particles.

I never feared that a word would touch me,


but I was afraid of all things.


Suddenly I wrote the word street


and a thousand cities would appear before me.

All the reading was about love for the indio, until the front page of Tears of Exile left me without breathe, hitting my heart, I was saved only by that oxygen that touched everything with certain purity. What an incredible picture the one on the front page, I'm surprised, I have never seen that face before and nevertheless, it is the only face I could have imagined. It is a universal face… I associate that there is a knowledge in the doing of zero (Cero). In all doing there is a knowledge. In that face rests knowledge.

I'm very enthusiastic about returning to these pages… A hug,

Marcela
---
THIS IS ADVERTISING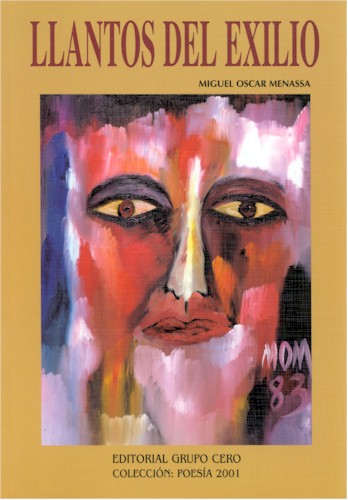 Tears of exile
author:
MIGUEL OSCAR MENASSA
75 pages
3,000 Pts., 18.3 Euros
It contains thirteen illustrations of some of the best paintings
of Miguel Oscar Menassa.
---