INDIO GRIS
Weekly magazine through Internet
Nº 62. THURSDAY, AUGUST 2TH ,2001
FUSIONED - DIRECTED - WRITTEN AND CORRESPONDED BY: MENASSA 2001
WE DON'T KNOW HOW TO SPEAK BUT WE DO IT IN SEVERAL LANGUAGES
SPANISH, FRENCH, ENGLISH, GERMAN, ARABIAN,
PORTUGUESE, ITALIAN, CATALAN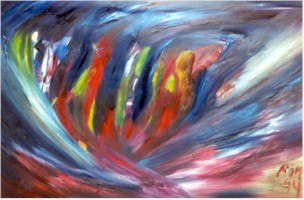 INDIO GRIS, IS A PRODUCT
OF A FUSION
THE BRIGTHENESS OF THE GREY
AND
THE JARAMA INDIAN
THE FUSION WITH MORE FUTURE OF THE
XXI CENTURY
---
INDIO GRIS Nº 62

YEAR II

EDITORIAL

Thursday, August 2nd, 2001

I was on the verge of abandoning everything. I was attacked by viruses and I distrusted even my own dead mother. Afterwards I realised that it was a more general thing, bigger than I. Nobody wanted nor had the desire to spoil a poet's site. It was the army's site they wanted to blow up. They couldn't do much with the army's site, but 15 million sites of civil people were ruined.

"Today, we're are going to blow up the Pentagon" and they blew up 50% of pornographic pages, which generates a tension in the citizens that no one can hold back.

Sometimes I came to think that it was a way to get a job. I generate the virus and then I sell the anti-virus. But I asked myself why they don't try with 10 computers. They would ensure work anyway and the users would very seldom be bothered.

And if it isn't to look for a job, one should ask oneself, who runs that evilness indiscriminately? That evilness in absolute freedom? That evilness without friends, without enemies, without allies?

And it isn't that I understand much of what I'm talking about, but I'd like, if possible, not to disturb the growth of poetry.

And she grows from the flower and from filth, from beauty but also from blackness.

I never feared that a word would touch me

I never feared that a word would touch me,


but I was afraid of all things.


Suddenly I wrote the word street


and a thousand cities would appear before me.

I said street, and millions of women and men


would walk across my heart with fervent steps


and a grove would grow, impressively, around me,


and a thousand stories were knitted in each corner.

But to walk along the street I was never able.


I cannot smell the scents of jasmines unless I write about them


and in love, what I touch is pure poetry.

Rain and torrents of water flood my memory.


I write memory and getting nowhere,


secret fibbers of history open before me.

Salobreña, August 16th, 1988

Darling,

Under the sun, I have been thinking these days that because of ignoring how life was here in Spain when we ran away from our country, there are some roads which that ignorance has blocked forever.

I want to say that in the life that we have built for ourselves (to my understanding because of my ignorance), there is very little room or none for speculation. That is to say, little space for grandiose narration, for big quantities of money.

That so many lives and so many futures depended exclusively on our work, that was what we didn't know when we arrived in Spain.

Trying to open a strong and everlasting market, we have abandoned almost all loves and a big portion of poetry.

To my today's understanding, what we have got is not so much, though it gives us a certain happiness, it is not much and to sustain it we'll have to work the whole life.

This small introduction is to say that I am, you are, a worker. I mean that someone cannot go around life thinking that he's a king. A worker is someone who should take care of his muscles, which he will always need, till the last moment of his life.

I say, I think that it isn't as easy as we thought to change the determination of class.

Today we can say that it's easier to change sex than social class.

In advanced societies, what is inferior isn't manufactured to become superior at sometime, but for the superior to exist. That is to say that what is inferior is an invariant in the current development of societies. Man lives dominated by that; the rest, all the rest, is within the realm of thought, that is, modifiable.

In the case of work, a man who can deal with various works is paid more and isn't accused of multiple personality or genius, not at all, he is only paid more. That, if it is a question of work.

On the verge of becoming 49, there are things which I don't like. I admit that hunger and its metaphors have taken me through roads, through undesired bodies. I admit that I have inhibited everything in me to become this, that I don't quite like and a little less, too.

To change, we will have to change, the whole world changes, but also we'll have to abandon something and abandoning something is not precisely to abandon oneself, but on the contrary to stand firmly in one direction.

Destinies are not abandoned, you build one.

I'm pretending that I'm vacationing for the first time in 14 years since I live in Spain, and I've not brought my typewriter, then I say to myself that, this season, something not yet conceived will happen.

When I think of cleaning some part of the grupal body, I realise that if I do it I'm left without a body.

I've seen men like us, with a lot less than us make big fortunes. Are we condemned? -I ask myself. Are we afraid of dying? Are we worried, perhaps, about what they'll say? I think I know what's happening to me. If I want to become grand, everyone will oppose; instead if I want to be mediocre, no one will doubt in recognising that.

But the problem is that in that question of nobody interrupting, there isn't desire either.

They give you a life which cannot be lived.

For example, they appointed me general of an army that because it exists only in my desire, I don't have or is altered.

It's strong to say at this age that we barely could, but the truth is that we barely could.

When I think myself I see nothing else but a respectable disregard, where everything is obtained at a low price, also our work even though it may be specialised.

When we lived in Buenos Aires, I was a first class citizen, my ambition, my only ambition is not other than becoming one once more.

It is because of that, that more or less in the middle of my working life, I convoke the thought to say that I hold my life for an instant to try new directions, new lives.

Between writings and sayings I must have almost 2,000 pages waiting to be processed, their time, my desire.

We were that song and also the other one.

We were, too many times, love and death, signs of those apparently bloodless fights have remained.

To hide the signs left in us by ignorance, by our pride, would take more than half of the remainder of our lives. So it's better to let the signs be seen and to occupy all the time with our life, our projects, without which, I say it just in case it might be forgotten, we would have no life.

Metaphorically speaking. During the journey we had our own laws, that is to say we must have broken other laws, other sayings about life. If we get down from the train, if we stop travelling, we will be found guilty of something. Or we continue travelling or we stop travelling and we get money to pay the bail.

CERO CLASSROOM OF FRENCH

Practise French in Madrid


INTENSIVE COURSES


Tel. 91 542 42 85. From 8 p.m. to 10 p.m.


ALL YEAR ROUND




I have only two minutes of peace left. She will appear at any moment.

I really don't know how to deal with her today.

She asked for today's session, because she got dizzy again, something that hadn't happened to her for quite a time.

Once lying, she started her monologue:

- Last night I slept only four hours, I should try to avoid those excesses in the future. Anyway there are things which I already know, and that is exciting.

During the course of my holidays I had contradictory thoughts about my psychoanalysis. To go on or stop coming. To come and pay you for talking to you, you who listens to me because I pay you, I can't bear it.

On the other hand, I wanted to start soon because I had a personal experience which frightened me. And as I didn't have anyone to talk it over with, I had to come here.

I was alone in the lounge, and I had been smoking. I thought of you at the beginning of the night, about what your work with me had consisted of, what psychoanalysis had done to me, I decided to write you a letter but I couldn't.

Afterwards I started to write a letter to my husband. This man doesn't love me at all. I sat in the armchair and felt that my body didn't exist. Going on with the letter I felt I was sinking to the bottom. Later I had a terrible pain in my womb and went to the bathroom feeling that I was about to faint. Everybody was sleeping, then I sat to relieve myself and I couldn't and felt I was about to faint, then…

She became silent as if she had fainted in the session and then continued:

- Above all, I can remember feeling a terrible anguish, I was sweating a lot and I was cold. My body, I felt I was going to die, all the objects looked huge, absurd.

- Except you - I told her timidly.

- Without listening to me much, she continued.

I threw myself to the floor and life came and went and then I rushed into the room and told him to tell me something and threw up at the foot of the bed. And the vomit looked like shit and I told him that that was all the shit I had inside and that we should see why he was treating me so badly.

I fell asleep thinking that I had to see you and the next day I was dizzy the whole day. And it was the day after when the patient's wife called me and I felt that this way I couldn't attend anyone else. Besides, because of not talking to nobody, anything can be anything…

This summer I had the desire to write, I was open, but dominated, I was a suffering woman like the women of my mother's family. I don't understand suffering…

And there, in that silence I dared to tell her:

- It's enough for you to bear it.

And then:

- We can continue the next time.

This time, when she got up, she thanked me.
Cero Group Consulting Room

Cero Group Consulting Room

Amelia Díez Cuesta
Psychoanalyst

Carlos Fernández
Psychoanalyst

Appointments: 91 402 61 93
Móvil: 607 76 21 04
MADRID
AMELIAA@terra.es

Appointments:
91 883 02 13
ALCALÁ DE HENARES (MADRID)
When I stop looking at other women - said the Master to Evaristo believing him very much in love with Josefina - and I only look at her, she stops smiling. For her to smile eternally - concluded the Master - each time I see her I'll cheat on her.
To that Evaristo always answers without knowing why:
- To establish social relations the best drug is pot.
Afterwards , in real life, Evaristo could most of the times without any help. In several opportunities he made love fifteen minutes after getting up.
They say that once he met three women in a ball and he danced the whole night and he got drunk and danced and danced and the women ended up in his arms before anything could happen and they moved their little asses in a terrific way, and they say that he went with one of them that same morning, and that he fucked her until she was totally exhausted, thrown on the bed.
Afterwards Evaristo got dressed and went to fetch the other two, who lived together, and after having them suck his dick for almost an hour, he came on their eyes to give them light.
All this is to state that Evaristo didn't need of any drug to establish social relations because of his dick, but he liked pot and various types of alcohol.
Evaristo knew that in normal conditions all women would die for him, but he wasn't totally satisfied with himself, so a little pot, a little alcohol, and when Evaristo finally would say:
- Before I used to be liked only by women, now I too like myself, the party would begin.
Cero Group Consulting Room
COUPLES COUNCELLING

EROTIC LITERATURE WORKSHOP

Miguel Martínez Fondón
Psychoanalyst

Coordinator: Miguel Oscar Menassa

APPOINTMENTS: 91 682 18 95
GETAFE (MADRID)

91 542 33 49 (MADRID)
Today I have been in the eye of the magic mountain's light and I learnt something.
FIRST TEACHING
The money that is needed to give a necessary step forward for all of us, to begin with I put it myself. And if I don't have it or I can't get it quickly, there was no teaching.
SECOND TEACHING:
The money that is needed to give a necessary step forward for all of us, I put it myself and some others. And if there are no others, there was no teaching.
THIRD TEACHING:
The one who can't or doesn't want to pay, doesn't want to pay. No one must request it from him. The one who doesn't pay will act according to his own ideology, but if he isn't able to rectify he will end up where his ideology carries him. That is to say, up to his own image in the mirror, that is not little, but nobody pays for that.
FOURTH TEACHING:
The one who pays doesn't have the result ensured, but he will only be sure that there will be a game.
FIFTH TEACHING:
To win the game doesn't assure the approval of the exam.
ANOTHER WEEK OF SOLITUDE…
---
THIS IS ADVERTISING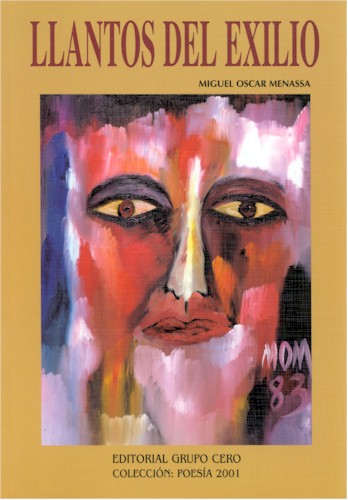 Tears of exile
author:
MIGUEL OSCAR MENASSA
75 pages
3,000 Pts., 18.3 Euros
It contains thirteen illustrations of some of the best paintings
of Miguel Oscar Menassa.
---