INDIO GRIS
Weekly magazine through Internet
Nº 60. THURSDAY, JULY 19TH ,2001
FUSIONED - DIRECTED - WRITTEN AND CORRESPONDED BY: MENASSA 2001
WE DON'T KNOW HOW TO SPEAK BUT WE DO IT IN SEVERAL LANGUAGES
SPANISH, FRENCH, ENGLISH, GERMAN, ARABIAN,
PORTUGUESE, ITALIAN, CATALAN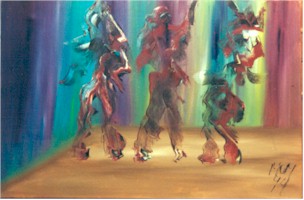 INDIO GRIS, IS A PRODUCT
OF A FUSION
THE BRIGTHENESS OF THE GREY
AND
THE JARAMA INDIAN
THE FUSION WITH MORE FUTURE OF THE
XXI CENTURY
---
INDIO GRIS Nº 60

YEAR II

EDITORIAL

She told me with juvenile ease:

-You are the only one who makes me realise that I can't fight my desire.

10 years ago I had no desire. Now that I have desires I can't handle them. I can't very well stand having those desires.

If we wait another 10 years, still and silent, I will have desires and I will be able to handle them, but nothing of what is mine will have to do with you.

I didn't mean to tell her anything but I said to her:

THERE WAS A CURTAIN THAT DID NOT OPEN
A LIFE THAT DID NOT SPEAK,


THAT DID NOT HURT.

LOVE, DARLING, LOVE

She knew all the crafts,


her profession: slave.

Always in the silent expectancy,


where desires, unexpectedly,


will allow her to be:

Journeys of moons over moons,


ample voices from the labyrinth,


waist of tamed savage,

neck of emperatiss,

fold of the wind over my skin.

Madrid, January 21st, 1978

Letter to our dramatist Teófilo Larriera

Dear BUBI,

Reality plays, plays with us. I live in the same house with 16 grown-ups, 4 adolescents and 5 children. Time goes by, families grow. Man flies in this end of century towards the centre of his being, nothing will stop him. And if I exaggerate it is to be able to talk about our possible transformations.

Before continuing I want to tell you that your letter made me cry. The new politics thinks that the world should be governed by great artists.

I want to tell you that your place in the movement after my Christmas card, in which I abdicate, is among the most privileged ones.

By today's standards, you are among the few of us who have demonstrated to be great writers and for the time being, nothing else. Don't worry, everything will be all right. everything will be different after the February conversations. We will talk about the next 10 years of our lives, an entertainment which I hope will be for everybody.

In the new morality, the judges have changed, today the one who couldn't yesterday can now, the beginning of the revolution of the senses is inexorable. Reason will lose its senses. Man will finally wander his own desert.

To ambition, I ambition a profound change in modern ethics, ethics, as we know, favours impotence and early death.

If they let us, we can live 200 years, and don't worry, go on writing, we are already in our track, now the only thing we must do is to pedal.

Time: our time. The limit: our writing. And for the mock to become historical, I propose you and I propose myself to be the maximum power, I mean, the first words of the next decade.

Madrid will do you good, because living in Madrid had done me good. Dreaming is not bad.

Death, my dear Teófilo, doesn't exist, she is also a construction of our desires.

To talk, what a wonderful thing it is to talk. And nevertheless, writing will be, so the grand ones say, the new god.

I want to tell you that this time we have fallen on our feet.

I'm not asking you too much, I only ask you for 20 years of your life, the next ones, I only ask you to write for us for 20 years, I only ask you to write the play of the end, the scenography of the end of the century must be another. The famous theatre of cruelty is the product of the philosophy of pain. To end up with it, will do us all good. A little more human. Less Christians.

Your theatre has the charm of revolutionary events, of the aesthetic bursts, this time and never more. Your theatre has a scent of grandeur and it concerns us.

P.S.: The present Jesus Christ would have shared the cross, although, truly, not yet, the glory.

CERO CLASSROOM OF FRENCH

Practise French in Madrid


INTENSIVE COURSES


Tel. 91 542 42 85. From 8 p.m. to 10 p.m.


ALL YEAR ROUND

Today, a psychoanalyst asked me:


What is Psychoanalysis?


What is Psychoanalysis good for?


Why is it necessary for psychoanalysts to be psychoanalysed?


How does the unconscious express itself?


I farted twice and burped.
Cero Group Consulting Room

Cero Group Consulting Room

Amelia Díez Cuesta
Psychoanalyst

Carlos Fernández
Psychoanalyst

Appointments: 91 402 61 93
Móvil: 607 76 21 04
MADRID
AMELIAA@terra.es

Appointments:
91 883 02 13
ALCALÁ DE HENARES (MADRID)
I undressed myself like birds do. And I sat down, like the father of my father, at some time, sat in the desert.
I crossed my legs one over the other and extended my gaze. I wanted to be, before those two women, the present and my ancestors, the only things I had to offer.
This time I said:
- I don't want to leave aside any detail, I want to see you two, nude. Not tied to your garments, but to your marks, to your own skin. I want your bodies like the waves in the sea. Tall, nude, with your sexes oriented , precisely towards me.
They were in silence, with their heads down. As if they were ashamed by my words. First I thought that I had exceeded myself, then, reacting, I told them:
- Come on! Naked like the manure in the fields. Or doesn't love exist in the Green Galaxy?
- My Lord, both said in unison, don't mention love in our presence, we are its worshippers.
- And then?- I said, while I started to walk the room furiously-, and then what is happening to you that you're unable to let your body crackle nude in the mist?
- The time of biology- they answered in unison- is not, my dear Lord, as you may think, the time of your reasoning.
- What? Is it that your bodies do not desire my body?- I said furiously.
- It isn't your body, Sir; which has the limit of blood, but ours. Today, we can't undress, we are having our menstruation.
Bored, I tried to fall asleep, but Kipuskia, with an energy in her that was unknown to me, stopped this time my disintegration. I thought I understood that she told me:
- No more tantrums. To bear, many things must be borne, so stop disappearing at any moment. And if we haven't held before the conversation we are going to hold tonight, is because after this conversation, you will only be able to dream three times, because the fourth after this conversation, it's called death, which means, trip to a faraway future. Where not even my thought has ever arrived. Can you imagine?, my child, the year 31,977, any October.
- All right -I told her- I understood. I have to remain awake for ever.
- No, interrupted Lipuskia, at this stage in your life, before the death's journey, you will sleep three times and only three times you will dream. And when waking up, your journey to the unknown will have started.
To tell you the truth I didn't like much what Lipuskia had told me so then, I replied. Without much confidence, I must say, because her speech had sounded sincere, mine wouldn't have sounded the same way, but anyway, I replied:
The dialectic that is born between your legs terrifies me, where the unknown is called death and not, as I think in my little thought, that what is known should be called death. Because she, death, nests on the contours of our gazes, the most known.
And ending the phrase as if it were not important to me, I told her:
- Look, baby, beyond the near future, in the faraway future, we'll find other men like us. What do you think we're going to find in the faraway future? Monsters, perhaps, unique beings of so many words over them, so much radiation? What are we going to find?, may be clay and copper.
- Well, clay and copper were already found by our ancestors, and certainly also yours.
- Souls? Of course, certainly souls is what we are going to find in the faraway future. Come on, baby, stop fooling around.
The man is here, and will also be there. Relax now, and tell your friend that I don't like my dick being bitten when I'm talking. The rest, baby: SUGGESTION, POETRY.
Yes, this way, this way I want you to suck me. Till all the calcium of the world comes out of my sex. Vitamins for the poor misguided beasts.
- Pleasure for our Lord, in the infinite sparkle of his gaze.
- Who is the one that kisses my feet so desperately, when it is my mouth which yearns for that madness?
- Sir, we know what we're doing, her name is what your desire indicates each time. And we will be with you, my love, and she in us…
- Wait baby, that you look just like the Mother Superior of my neighbourhood's chapel.
- You won't abandon me now, will you?
- That she at last doubted, made me feel cosmic for an instant ( for all it lasted) an immense power over almost everything, also over her. And then, I drew her to my side and caressing her hair I told her:
- Look, baby, the faraway future is me.
Cero Group Consulting Room
COUPLES COUNCELLING

EROTIC LITERATURE WORKSHOP

Miguel Martínez Fondón
Psychoanalyst

Coordinator: Miguel Oscar Menassa

APPOINTMENTS: 91 682 18 95
GETAFE (MADRID)

91 542 33 49 (MADRID)
Madrid, May 25th, 1978

Thunder over the waters of a pond,


everything will change and there will be no error.

High currents make my being sway from one side to the other.


What must be modified is the famous principle of reality.


Without a radical modification of good and bad,


the useful and the useless, there will be no possibility of travelling.


The nets of the systems are not only invisible,


but also powerful.

To modify our feelings slowly,


will do us all good.


To modify the true core of love,


slowly enter the entrails of hatred.


To modify death.

ANOTHER WEEK OF SOLITUDE…

---