INDIO GRIS
INDIVIDUAL MAGAZINE OF GARBAGE COLLECTION
Nš. 6 YEAR 2000, July, Thursday 6th.
FUSIONED - DIRECTED - WRITTEN AND CORRESPONDED BY: MENASSA 2000
WE DON'T KNOW HOW TO TALK BUT WE DO IT IN SEVERAL LANGUAGES
SPANISH, FRENCH, GERMAN, ENGLISH,
ARABIAN, PORTUGUES, ITALIAN AND CATALAN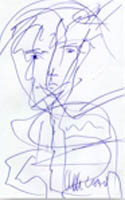 INDIO GRIS, ES A PRODUCT
OF A FUSION
THE BRIGTNESS OF THE GREY
AND
THE JARAMA INDIAN
THE FUSION WITH MORE FUTURE
IN THE XXI CENTURY
---
INDIO GRIS Nš6
1
21 of June, 1991
I'm happy without moving, the world moves.
I'm a happy cretin.
2
Contenting myself with the joy of what I have already given, is taking a step.
3
All desire of poverty must be attacked with strengh and poverty will disappear.
4
The centre of energy will be mended in a few days, later all will be grandeur. Large white pages of history stained by my verses.
5
Hhere is a freedom that is born from farewells.
Eyes of snow, silver of time, antelope of ligth.
6
How to convey what does not coincide with words.
With style, taht is, one of the habits of words.
7
In fact life cannot be solved.
Life is lived, suffered, that is all.
To be somewhat happy, apart from life,
one must have other things.
BEASTS ARE ALSO ALIVE
8
Psychoanalysis is not in itself possible if there is not a psychic individual who allows it to exist.
The psychoanalyst has little to do over this issue.
9
I have to be able to define the project clearly and then everything will be relatively easy.
10
I have been feeling an emotiiional burden for the last daays, but a strong relief in the economic aspect.
11
Arganda del Rey, July 8th, 1991
Yesterday, Pablo was put in jail for escaping with his motorcycle fron a halt order from the Police. He was beaten. It was brutal but without serious consequences. A few bruises but it could have been mortal.
After he was able to escape, he gave in thinking that the motorcycle had been left behind and as it was his and he was not doing anything wrong, he went back.
Only God knows what the police was thinking when they pushed him to the floor and gave him three or four kicks on his chest, insulted him a little and then handcuffed him and aimed at him with a pistol.
The kid's fright was tremendous.
I don't know if i'll wait for the horror to feel it.
12
I have to accept having been invaded by the nonsense of money. However, I should know that the money makes superficial any concept,any reality.
13
I'm a foreigner, I have to have things in order to be able to do things. My papers, my taxes in order. And this way I'll avoid to fall entirely.
Aand when someone asks me which is my country I'll answer that I pay my taxes inSpain. That must be my country, I'll say.
14
Eyes of open ligth, in love.
Far from me I find myself again with the being of the nigth.
15
JULY, 1991
A philosophy of enjoyment becomes absolutely nessesary beyond the age of 50.
Something has been attained and that is what must be enjoyed.
As to work, I don't expect more than what I have already earned. The rest of the work I'll collected once it has been done.
16
I AM THAT SOLDIER YOU HAVE BEEN WAITING FOR
I HAVE NO PATH NO PAST, POETRY,
I AM HERE FOR YOU, FOREVER.
17
And this way the psychoanalytical future is forged:
Vertigo of the ephemeral place.
I go after you to leave you later. Brutal
18
AUGUST 22nd, 1991
During 15 years of exile in Spain, I have published thirteen books, I could be happy already.
19
A psychoanalyst has ,at least, to look like one.
The one that not look like a psychoanalyst, when he speaks, isn't one.
20
So I have to stop thinking about time and start thinking about money, which is also psychic.
21
I have to recognise that I was lucky, at least, three times. Without that luck everything would have been worse.
My first time was to start my psychoanalysis at the age of 18.
My second lucky time was to dedicate myself to psychoanalysis.
My third lucky time was never to abandon poetry.
22
Did you see the ardent colour I had in my eyes.
I was in love.
I loved you the same way the hands of sunset
surrender to the poem.
23
Im not longer a giant
comming from the mountains.
Nor the vibrant bird
that pierced nothingness.
I come from everyday life,
from the daily opium.
I come from the hunger and greediness
of the very centre of love.
I am not very hard,
Iam not even weak
I'd rather perch
invisible on life.
Nothing touches me, I reach nothing,
and what is left in me of humane:
to suddenly die here,
to put an end.
24
IF I DON'T WANT TO SEE
I'M OBSTRUCTING THE WAY TO COMPRENHENSION
FINALLY I DON'T WANT TO CONCLUDE.
25
This time I move away from what is common, what is poor, though I get near to nothing.
26
Figurs combine themselves, accounts work.
Without guilt, without remorse. Fuit has grown fat because of the timely rains, without additives.
27
-You always fall, little cherub, so falls should not be counted.
28
Today I became 51 years old. The second half of my first century of llife begins today and I caan say I attained what is attainable and did not attain what is unattainable.
I have children and loves ans chains ans worries and I deserve them all.
I also have verses and tears for the revolution that made a failure of this century.
I understood with fear that we always fall even though we are rising.
29
I have to analyse this question very carefully.
Nobody can look after someone else's children unless it is an institution dedicated to that.
So until coming of age I lend the children to nobody that is not an institution dedicated to that: School, Institute, Town Hall, Church.
However, I understand that I'll never grasp the question by hoisting it.
30
EL INDIO DEL JARAMA.
1992-1997. EDITORIALS
IT IS ALSO A BOOK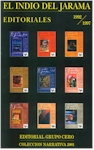 IT NEVER HAPPENED
IT IS NOT HAPPENING
IT CAN ONLY BE READ
31
September29th, 1991
I have to understand that an investment plan for me is a working plan.
I do some figures, but I feel as if I were a wind vane moving from one side to the other according to the direction, the power of the winds.
I should be able to be a large vessel deciding beforehand when to set out, when to halt, so that the power and direction of the winds stop having importance.
After money, still a huge world remains to be thought.
Small asteroids catapulted without mercy fill the night with lightworms.
32
Today, I've decided to live forty years more than what I'd thought to live.
My investment plans can wait.
If I continue resisting so much, something will break.
I need no other garden for the time being because the garden of the poet is my own soul.
33
WHERE ARE THE HURRICANES I HAVE DEFEATED
34
TOWARDS AN OLD AGE WITHOUT DOGMA
THE SOUL DOESN'T WRINKLE
35
I cannot agree with the motivs for which I nick n amed INDIO GRIS as an individual magazine of garbage collection.
Magazine because it could become that.
Individual because I would write it personally.
Garbage collection because all the material would come from unpublished writtings, manuscripts written from 1976 up to today, about all of these writtings that had been discarded from the previous publications, nobody knows why.
The idea was good but...
As for "magazine", the world can be accepted, I know a little about that, but I'm somewhat ashamed about " individual", even though it refers to my writtings and I have to type them every week, the quantity of people working to make INDIO GRIS possible is hallucinating: 8 translators and 6 assistants, 3 machinists, 2 correspondents and my peers from Grupo Cero that in total must add up to a hundred.
Individual my balls!!
As for " garbage", there will be garbage becaause there will be material never published before, but today I want to say it this way: inside INDIO GRIS there will be previously published material because among this published material; there are beautiful writings which are in a way insuperable, mine but also written by many Others.
Now, yes, now I'm happy.
36
Working as a psychoanalyst is the best I can do for the time being, the rest will be simply done, in any way.
37
THE DAY BEFORE
Wenesday, July 5th., 2000
Today, I have been given as a present a beautiful portable computer and I've promised to give up my small typing machine in which I've comfortably written 10.000 pages of the old ones, Dutch style, double-spaced. I realise that if I'm able to give up that glorious past, I'll have a future.
38
PRESS IS POWER
A greeting and my congratulations to my peers of Grupo Cero working so much and so well to make us know and enjoy psychoanalysis.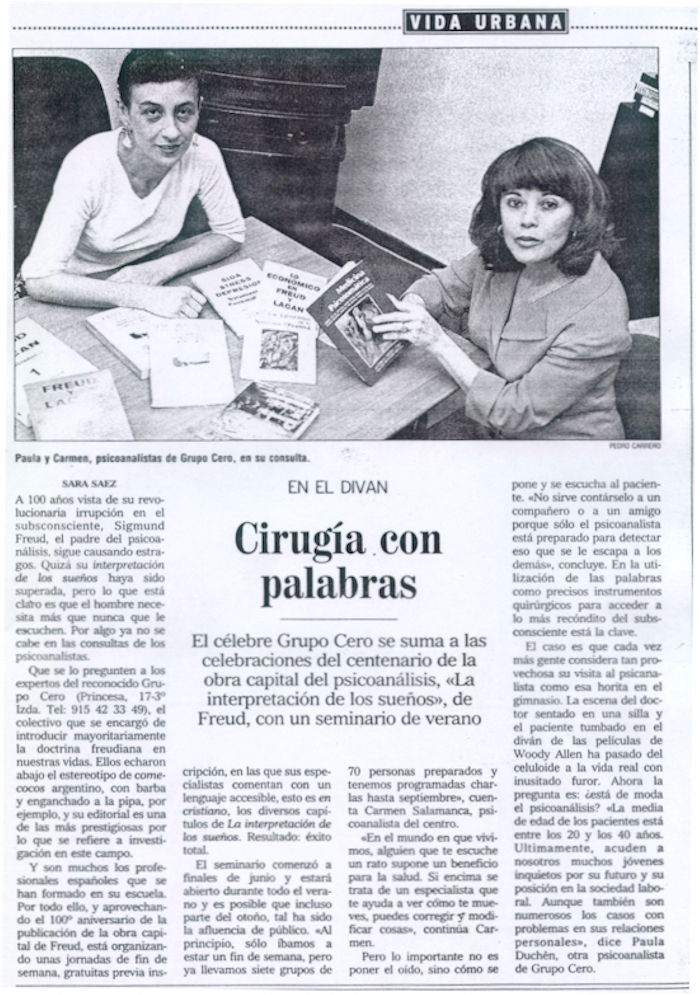 ---