INDIO GRIS
Weekly magazine through Internet
Nº 59. THURSDAY, JULY 12TH ,2001
FUSIONED - DIRECTED - WRITTEN AND CORRESPONDED BY: MENASSA 2001
WE DON'T KNOW HOW TO SPEAK BUT WE DO IT IN SEVERAL LANGUAGES
SPANISH, FRENCH, ENGLISH, GERMAN, ARABIAN,
PORTUGUESE, ITALIAN, CATALAN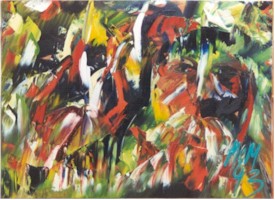 INDIO GRIS, IS A PRODUCT
OF A FUSION
THE BRIGTHENESS OF THE GREY
AND
THE JARAMA INDIAN
THE FUSION WITH MORE FUTURE OF THE
XXI CENTURY
---
INDIO GRIS Nº 59

YEAR II

EDITORIAL

To take the current citizen, bourgeois, intellectual petit bourgeois, to the limit of his contradictions is to do him the only possible good.

Today I saw her cry once more


because of my verses:


but today she cried as she never did before.


Time


held its silent nothingness


to see her cry.

She loved to cry


with rage,


with ease,


with treachery.

She cried


and looked at me with one eye,


with the other one she cried,


eye of waterfall love.

When she stopped crying


she loved me and said to me:


you are a bad man my love,


you are very bad.

And before diving into love she would say to me:


I'm not a woman who had to learn to dance the tango


to find a limit to her madness.

TO return, return, return

Return return return


sink myself


in the lust of that song


sink myself


until I can't any longer.

Distant solitude


Did you see what it was to die?


It was nothing


compared to this.

Nothing awaits me in this solemn afternoon of the end of summer.


Nobody welcomes in bed the one who knows that we are condemned to live.


I inhale the smoke of a mortal cancer and I see, in a poetic saying,


our blood strengthening small words produced by the chance of

combinations.


I admit: to die, I don't want although that may be the perfect

combination.


I admit: I want to live better, in that promised world of brotherhood

where my arms and my words may belong to the same body.


I recognise the pain, I recognise the shocks.


I recognise the impiety of justice. I know that one of us is dying each

day.


I admit that I live in a world where there will be shit for everyone.


I admit not knowing clearly who my brothers are. Nothingness pierces

my heart.


I admit that my peace is ephemeral, I'm being forced permanently by

an unpardonable vice: I want to be a writer. A combination of

gossip and disenchantment, but please don't kill me, let's try to find out

if I'm useful for something.


I'll write about everything because I saw everything.

I admit that I have a hope of forgiveness. Mercy for he who facing

catastrophe defenceless, was only able to maintain his eyes open.


I admit that I have a hope of glory. Glory for whom, dazed by the smell

of the atomic fission, survived the killing.


I admit having dived my soul in certain drugs of oblivion.


I admit that I have never been altered. My repression is sublime.


I am a professional of the soul. Intact and cold, I let my gaze stroll over

horror.


I am the waste of a developing society.


Wise man of nothingness.


I admit not knowing anything about what I write.


The violence to which I am submitted, must be investigated.


The cursed perversion of man, of which they want me to be responsible,

must be investigated.

CERO CLASSROOM OF FRENCH

Practise French in Madrid


INTENSIVE COURSES


Tel. 91 542 42 85. From 8 p.m. to 10 p.m.


ALL YEAR ROUND




Today, among shadows I was a slave of my own fantasies.

With softness and in a low voice, because we were just beginning, I made her notice that I had said slave, to which she quickly responded (it isn't usual in her):

- Yes, in my fantasy I became a superwoman with the most standing characteristics stolen from many of your male patients. In my fantasies I had Romualdo's unquestionable luck and good judgement. The firmness to defend my thoughts and emotions, the fanaticism that Ernesto possesses. I was capable of gambling my life in only one card like your patient, the gambler whose name I don't know yet, and besides, he was cruel to women imitating your own style towards me, doctor.

Afterwards she walked tranquilly around the room, dressed like a man, the outfit was all hers. Of course, I always look how she is dressed, when I come in and we shake hands, I take a photo of her and, later I study it carefully at home.

Sometimes she appeared dressed in a white jacket and in panties, other times in her trousers but with the fly open. In one of the pictures she appeared all dressed in white, her white shirt, her white trousers, her white shoes, the same outfit which one day gave me a terrible headache because I imagined that you had bought it in Via Venetto accompanied by more than two prostitutes. One time she appeared bare-footed and with that linen tie which was given to you by that patient of yours, who lives in love with your verses.

When I told her:

- As happens to you, there was no certainty in my voice. She continued firmly with her speech:

- The part I told you about was not the most important one, what happened afterwards was certainly extraordinary.

I felt, with the burden of having theoretical knowledge about what you are doing, I wanted to stop in the previous statement which she had so splendidly rejected, but she wanted to go on and once more defeated me. I listened attentively to what she was saying to me:

- The most incredible part of my fantasy is that, all of a sudden, while I walked around the room, all the women of my desires started to appear, I mean, all the women of all my men and they bent in front of me, and kissed some part of my body and then disappeared to give way to other new women.

- You fantasised that you should turn yourself into a great man for your mother to stop despising you and to love you.

- No, doctor, the most important, the most incredible aspect of my fantasies is that all the women, even possessing different bodies, in all cases had the same face.

- Your mother's face - I said, feeling that this time she had cheated on me, the monkey had fallen in the trap.

- Worse, doctor, much worse, the face that all the women had was yours, doctor, and now, please, let me go. I'd rather leave now and continue in the next session. I feel sorry for you, today I don't feel sorry for myself, how terrible, during all this time you were my mother, everything we lived was the journey of the transference, poor little doctor, poor…

I interrupted her to tell her not to worry so much for me, because I had already thought of increasing my fees.

- How much, doctor? - she said desperately - don't throw me out now that I had started to love you. Always money, always money, men are terrible, as soon as one gives in, they always ask you for the same thing, pussy or money, and now, what will you want?, because I recognised that you had psychoanalysed me well, you already want to charge me the same amount you charge those patients of yours, rich, high society boys. I'm a poet, an artist, I have the bleeding fire of occident in my mouth, I'm the violence of a children's rhyme defending their rights. Don't kill me, doctor, I ask you in God's name. Tell me how much?

- I had thought of increasing your fee a seven per cent, the same percentage as university fees increased, what do you think?

- What do I think? A cruelty, a hundred and forty pesetas more each time I come to see you, atrocious, that's what I think, an abuse of power.

- We'll continue the next time.

And she, getting up quickly from the couch, and the problem of the raise.

- We could leave it for the next time.

She murmured approaching me lustily:

- How patient you are with me, keeping quiet sometimes when I talk such nonsense.

- Don't think so - I told her while I moved aside from her body and at the same time opened the door of the consulting room - sometimes I keep quiet not because I have no patience, but because sometimes you frighten me.

- How funny, doctor, how funny!

And this way we said good-bye till the next session.
Cero Group Consulting Room

Cero Group Consulting Room

Amelia Díez Cuesta
Psychoanalyst

Carlos Fernández
Psychoanalyst

Appointments: 91 402 61 93
Móvil: 607 76 21 04
MADRID
AMELIAA@terra.es

Appointments:
91 883 02 13
ALCALÁ DE HENARES (MADRID)
I touched my dick a little and remembered Clotilde. She liked, above all, to make love in the bathroom. She undressed in silence, while I finished washing my ass or combing my hair or washing my teeth. She always caught me doing something in the bathroom. Sometimes she would bring me coffee and we would stay chatting for hours. Afterwards she would hold the basin with both hands, and start to murmur between her teeth, I suppose in order to be more maddening for me:

- Today, wherever you want, my love. Wherever you want.

And I would get close to her as if I were a cloud, open slightly her but with my hands and a perfumed song of larks would invade us, and then I did as if I were fucking her in the ass and I would fuck her pussy and later, I did as if I were fucking her pussy and I would fuck her ass. I always cheated on her.

- We are like three thousand, my love, we are like three thousand.

And she had orgasms like deliriums, like a multitude of men and women making love in her body. And she would end holding to her tits desperately and kissing her own face in the mirror.

- You killed me my love, you broke my pussy.

And she would sit on the toilet to rest. And still sighing:

- You are a genial poet! You are a genial poet! I'll give you a typing machine as a present, - and her face would darken - Of course, you must already have a typing machine, surely someone else before me gave it to you.

And while she talked she would put her hand between her legs and let my semen fall on her hand and, then, she would rub her hand all over her face and laugh:

- Your semen does good, it rejuvenates.

When she was in this mood I would tell her the truth:

- It was my father who gave me the typing machine.

- I don't believe it, I don't believe it.

And she would dress in a hurry and half-dressed she would come

out of the bathroom shouting:

- Men are sons-of-bitches and I love them. I'm Clotilde, the one who will never stop making love. Books, poems, writings, renown phrases, I don't know where we are heading to with so much bullshit.

When Clotilde finished making love, she would feel free.

- I want to kiss a woman in her lips. Berta, Berta, my darling, here is my beloved's semen in my lips. Kiss me.

And she would go up and down the stairs, shouting to me:

- Jacinto, I want you to fuck my friend Berta, I want your friend Alberto to pierce my entrails.

And she would run up and down the stairs till I recalled my father's attitude towards my mother in similar situations and I would give her two slaps on her face and she would cry a little and go to the kitchen to make some coffee.

Going up the stairs I would shout at her that the life of a monogamic couple is nice and that she should prepare me, apart from the coffee, an orange juice, to entertained her a little longer in the kitchen and give Berta time to suck my dick and fix up her hair, because I liked to pull her hair when she was sucking it. Berta was angel like. Clotilde was divine.

Between the two of them, I thought, they'll make a man of me or they'll turn me crazy. And I would dream of my uncle Leon and in dreams would ask myself how it was possible to satisfy six women at the same time, when although I could with one, I realised that being able to do it wasn't easy. Clotilde and Berta were two, but were also one. They never bothered me. Both of them had decided to think that the other one was my whim and they were ready to bear it. And so that I could be able to unleash the desire which they attributed to me, to have a different kind of relation with each of them. One worked on Mondays and the other one, on Tuesdays, one liked the night and the other one preferred the day. One wrote, the other one painted. They menstruated at different times in the month and educated their children at different times in the day, and all this so that when I would meet with one of them I wouldn't have to bear the nuisance (according to them) of bumping into the other. There were days in which the mechanism worked so perfectly that I would have two breakfasts, I would have lunch twice at midday, I would sleep a nap twice, I would make love twice, and there were splendid afternoons in which I was able to make love twice with each one and afterwards, another two coffees. Days went by this way and I was unable to transform those two women in two women, so that some day they could be among the six women of my desire. And each time they were closer, in spite of the life they led, to fulfilling their desire of one man for each of them, of transforming me in two men.

Sometimes it was a tooth and nail fight . With punches, with insults, shoving, I was able to lock them together with me in one of the rooms. Always one of them was menstruating, and not a common menstruation. Torrents of blood in all directions. I was always ready and some days we ended up in a blood bath. Those days the other one was in mourning, because of the death of some close relative. If nobody had died those days she would recall a death from her childhood or from her adolescence. Between the violence of blood and the always eternal sounds of death, I did what I could. As when I wanted to lift up the suitcases that my father lifted and I could barely pull one with both hands and scarcely a few centimetres.

Once I got them to kiss each other in their mouths.

I remember it as if it were today. First I made sure that each one of them had ten orgasms. With half-opened eyes, each of them leaned their heads in one of my shoulders. And it took me fifteen minutes, because of the slowness of my movements, to caress their heads and making their mouths meet. And there was a moment in which those lips broke by the pleasure of the encounter postponed so many times, an that way, at the edge of ecstasy by the mere fact of kissing each other, Berta put her finger in my ass and Clotilde squeezed my balls till I screamed. I was happy, and feeling that I had done good, I remained asleep.
Cero Group Consulting Room
COUPLES COUNCELLING

EROTIC LITERATURE WORKSHOP

Miguel Martínez Fondón
Psychoanalyst

Coordinator: Miguel Oscar Menassa

APPOINTMENTS: 91 682 18 95
GETAFE (MADRID)

91 542 33 49 (MADRID)
XII CERO GROUP INTERNATIONAL


CONGRESS

20TH ANIVERSARY OF THE FOUNDATION OF CERO GROUP

SCHOOL OF PSYCHOANALYSIS

AND POETRY
FROM JULY 24TH TO 28TH.
XII CERO GROUP INTERNATIONAL

CONGRESS OF THE FOUNDATION CERO GROUP OF CERO GROUP SCHOOL OF

PSYCHOANALYSIS AND POETRY

DATE:
FROM JULY 24TH TO 28TH.

ORGANISED BY:


MADRID'S TOWN HALL


MUNICIPAL COUNCIL OF MONCLOA-

ARAVACA


CERO GROUP SCHOOL OF


PSYCHOANALYSIS AND POETRY

MADRID'S MAYOR


JOSÉ MARÍA ALVAREZ DEL MANZANO
Y LOPEZ DEL HIERRO

PRESIDENT OF THE COUNCIL


MARÍA DOLORES NAVARRO RUIZ

HEAD OF THE CULTURAL SERVICES

UNIT


JESUS CURRO ESTRADÉ

PRESIDENT OF THE CONGRESS


DR. MIGUEL OSCAR MENASSA

ORGANISING COMMITTEE


CARLOS FERNANDEZ DEL GANSO


PILAR IGLESIAS


MAGDALENA SALAMANCA
FERNANDO AMEZ MIÑA

AUDIOVISUALS OF THE 2O YEARS


LIDIA ANDINO


CONCEPCIÓN OSORIO


EVA MENDEZ


FERNANDO SOLA

INTERNET


RAMÓN CHÉVEZ


CRISTINA FERNÁNDEZ


FABIÁN MENASSA


MANUEL MENASSA

PRESS COMMITTEE


CARMEN DE SALAMANCA


PAOLA DUCHÉN


CRUZ GONZALEZ


MIGUEL MARTINES FONDÓN

SPONSORS:


PSYCHOANALYSIS AND POETRY CERO


GROUP SL


MADRID´S TOWNHALL


MUNICIPAL COUNCIL OF MONCLOA-

ARAVACA


COUNCIL TOURISM DEPARTMENT


PABLO MENASSA DE LUCÍA

ASSOCIATION


VIENNA CAFE
Presentation
With the application of his psychoanalytic method, Sigmund Freud revolutioned the history of Psychiatry and Psychology. A 100 years after his first psychoanalysis, one of the most important schools dedicated internationally to the study of this movement, becomes 20.
The Moncloa Cultural Centre celebrates the XII Cero Group International Congress, that under the name "20 years of the Fundation of Cero Group School of Psychoanalysis and Poetry, congregates various of the most relevant professionals dedicated to the study and application of Psychoanalysis.
The Municipal Council of Moncloa-Aravaca hosts this congress, that I am sure will be remembered like one of the most trascendental in the history of Cero Group Foundation with satisfaction, as much for the quality of the presentations as for its objectives.
I want to transmit my sincere congratulations to all those persons who have participated in this school in its 20 years of existance and my recognition for all that has been done in favour of science and culture, developed by Cero Group School of Psychoanlysis and Poetry and by its affilliated entities.
Thanks to this and other activities which have been developing during the year, we fulfil each day our purpose of converting Moncloa Cultural Centre into a reference for the difussion of culture in Madrid.
-------------------------------------------------------------------------------------------
20 years of the Foundation of Cero Group School of Psychoanalysis and Poetry.
Cero Group School of Psychoanalysis and Poetry organises its XII International Congress that this time will deal with the 20 years of Cero Group uninterrupted treatment in the fields of health, education, poetry and politics.
The objectives of this Congress are:
-To celebrate that this School is the first one in Madrid city to become 20.
-To show the activities performed during these years.
-To put up an exhibition that is representative of the clases and lectures delivered (more than 8000), of the Poetry Recitals and Gatherings (more than 800), of the books (116), of magazines published (more than 200 issues), of the International Congresses held, of the clinic offices that function currently: 43 in Madrid and 30 in other cities of Spain and abroad.
-To announce to the population the launching of two projects that will change the social inscription of the Psychoanalysis in Spain, from September on:
Psychoanalysis for everyone.
-Clinic attention, 8000 ptas per month, once a week, individually; 5000 ptas. per month, once a week, grupal.
-Teaching: Sigmund Freud and Jacques Lacan Seminars, three years duration, once a week. Tuition: free.
THIS IS AN ADVERTISING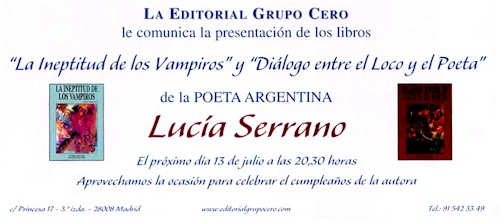 ---