INDIO GRIS
Weekly magazine through Internet
Nº 57. THURSDAY, JUNE 28TH ,2001
FUSIONED - DIRECTED - WRITTEN AND CORRESPONDED BY: MENASSA 2001
WE DON'T KNOW HOW TO SPEAK BUT WE DO IT IN SEVERAL LANGUAGES
SPANISH, FRENCH, ENGLISH, GERMAN, ARABIAN,
PORTUGUESE, ITALIAN, CATALAN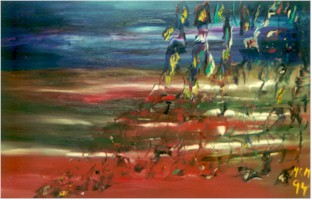 INDIO GRIS, IS A PRODUCT
OF A FUSION
THE BRIGTHENESS OF THE GREY
AND
THE JARAMA INDIAN
THE FUSION WITH MORE FUTURE OF THE
XXI CENTURY
---
INDIO GRIS Nº 57

YEAR II

EDITORIAL

There are things which are hopeless, they are like ice facing the sun.

Saturday morning of a hot end of June and I'm embarked in a new moving. The Cero Group Psychoanalysis and Poetry School is moving from the third floor on 17 Princesa Street to two premises in 4 Duque de Osuna Street, which means, in Princesa Street, but overlooking the street and with a garden. Do you realise?

I, on the other hand, will be able to accommodate the three offices that I used in 17 Princesa Street (consulting room, group room and office) in three storeys: ground floor with a patio of 56 square metres (I recall: Princesa Street, 30 metres from Plaza España) for the painting workshop. My private consulting room will be in the first floor (between 30,000 to 40,000 pesetas per session), a big lounge for the attention of groups (around 60,000 pesetas per month and per participant) and a small office in walnut and green tapestry for counselling interviews with companies, industries and similar studies (around 300,000 pesetas per consultation) and from August onwards I'll have 32 walls to hang my pictures and if I'm not completely happy it's because there are things in the world which are hopeless.

For the readers that visit its pages and leave something written to testify that they had done so, Indio Gris offers the opportunity of attending Sigmund Freud's Seminary, delivered by psychoanalysts belonging to Cero Group Psychoanalysis School, without charge. I hope to find and put at your disposal the complete information in the next issue.

November 20th, 1981

Did you know I was coming back? Were you waiting for me?

Bleeding and taciturn, after a thousand failures,


almost without hope of finding you-


I plunged so to go flying after you,


in heavy skies, in infinite jungle of madness.

You are not there, but desperate greens announce you.


You are not there, but in the jungle everything talks to me about you.

Howls from skulls that do not stand the wind,


the hurricane of verses, the tempest of love.


Little hearts drawn by strong currents,


little hearts thrown far away from the heart.


You are not there, but the sound of the birds names you.


You are not there, but in the jungle everything talks to me about you.

Madrid, March 24th, 1977

Let's attempt against the purest.


Let's give a chance to friendship.

Madrid, March 24th, 1977

Today, I loved your loves.


Tiles of terror, mallow of quietness,


your times of pain in your womb,


worms of the night,


millions of worms bursting to calm your thirst.

And I ask your forgiveness for all the excesses. They are unavoidable.

I want to sing,


and I only produce deaf snores,


wild notes,


enchanted humus.

Blasphemies,
I want the purest blasphemies for love.

Tall spike of May


I will reap you.


I will die in your bread.

Madrid, March 29th, 1977

Having told you that our conversation


had finished with my last writing,


didn't do me good.

There won't be an end for what is just beginning.

This time,


I'll kiss your lips.


This time,

I'll mark the beat of madness.


And don't expect a traditional madness.


no scandals,


no acts in public places.

Silence and perpetual night for lovers.

Silence and scents of silence for the final act.


May everything be body,


odour and blood.


Beloved ones kissing their hairs.


drowning the cries of horror against my skin.


I love, above all, the shuddering.


The explosion of hips.

The final silence.

Days lie on me, they crush me. That radiant future, that radiant future is in my hands, is in my hands and, however…

Today, she told it to me in a moving way.

- I have come, with this look, to die in your arms. I come badly hurt, I bring the art of breast feeding destroyed by ambiguous passions. I mixed up everything, doctor, I desire my children, I love my mother and I was psychoanalysed for five years, before coming to see you, with a woman just like myself.

- And why didn't you commit suicide? I asked her dryly.

- Because, when I was thinking of doing so, one of your books fell into my hands (from heaven, I imagine) and after reading it new hopes were born in me and I said to myself: I'm going to see him and if he doesn't save my life, at least I'll die happily. To live 200 years! as you say in your books… How wonderful!

- Well, Doctor, are you going to cure me?

I was a bit frightened and I answered with another question:

- Of what?

She became pale, she let her arms fall between her legs and bent to the point of almost touching the floor with her head and from that hole, from the deepest place one can reach, she told me in a muffled voice:

- Cancer…cancer… cancer… cancer…

When she stopped, I inhale deeply and said to her:

- If you come to see me for that, only for that, you may lie down on the couch.

Already lain on the couch, while she lit a cigarette, she said that she

should stop smoking, and among resplendent smokes coming out of her mouth as an erupting volcano, she asked me lasciviously:

- What should I do now?

- You should go and come back tomorrow to your second session. Good afternoon.

When she left, I did fifteen pull-ups of the difficult ones with my arms, I opened all the windows and sat again on the armchair. The first thing that occurred to me was the following: If I come from my ass, I'll end up in a sewer. As I closed the windows because of the cold I thought I didn't quite understand what was happening.

Quickly, I became entangled in the reading of future events and it didn't do me any good to see myself working as God in the next years.
Cero Group Consulting Room

Cero Group Consulting Room

Amelia Díez Cuesta
Psychoanalyst

Carlos Fernández
Psychoanalyst

Appointments: 91 402 61 93
Móvil: 607 76 21 04
MADRID
AMELIAA@terra.es

Appointments:
91 883 02 13
ALCALÁ DE HENARES (MADRID)
October 26th, 1976

Most times, I let her do.

She always had clear ideas,


of an impossible reality.

Sometimes I pushed her with her ideas


and she ran across heaven,


as if she could reach heaven in four steps.


Artist of the impossible, after each failure,


she came back dumb and crazy,


with open eyes,


as if heaven were now with us.

Thinking is an honourable work, she said to me,


while she put her fingers in her nose,


or else, caressed her sex with soft movements,


showing a notorious tiredness.

In cases like that, I caressed her forehead,


and let my lips


slightly touch hers


and everything was agony


and she cried, laughed


and pressed her body against mine


and wanted to eat me.


I would take some distance


and would strike her head with three or four fist blows.


She would calm down and promise me sweetly,


to suck instead of biting, and in that way,


we spent an agreeable moment.

Later,


she would spit what remained of the semen,


as if it were leftovers and we would become asleep.


Next morning, she would get up with the conviction


that to be happier, it would be necessary,


to earn more money.

Then she walks around the house


and explains to me, how money


is necessary for everythings.

In the mornings I listen to her without blinking.

She sweeps and stops sweeping,


she opens a book and closes it,


nervous, she runs from one child to the other,


not knowing what to do.


She looks at me with a defying gaze and says some disapproving words


and I kill her.

Afterwards, she prepares an orange juice for me,


We walk together through the yard


and we both smoke from one cigarette,


to save money.


She hangs from my arm and, as we go by,


we smile to the children


and while they now play in the yard,


we lock ourselves in the bathroom and make love.

And when we are making love she asks me if I love her.


Occupied in delicate manoeuvres


to be able to penetrate her ass,


I ask her to relax.


She, grinding her teeth,


asks me again if I love her.


Instants before becoming part of her entrails

I declare myself hers,


and she opens like a chestnut in the snow


and allows, in that incomparable gesture,


an ocean of enamoured semen


to mix with her shit.


And that kindness is only possible in God


and then she remains as if she were drowsy.


Taking advantage of her momentary quietness,


I go out into the street to fetch


some more money.


And I came back at night with nothing or with very little,


and she is waiting for me although she is tired,


or perhaps,


a bit sad because August was a hot month


and her friends were at the seaside.


Her face like one of a lost dove, makes me shudder,


I want to see her happy and I ask her:


Do you want us to go to the seaside?


Of course, she says,


as if the sea were here in the corner,


like my heaven, see,


like my impossible ideas.


Ah! men, men,


and she lies on the bed


and opens her legs as the ocean used to do.


I let myself slide in that pause between the waves,


like great swimmers do and now,


her silence is the sea.

Sometimes we make love like woman and man,


those days, afterwards, we remain chatting.
Cero Group Consulting Room
COUPLES COUNCELLING

EROTIC LITERATURE WORKSHOP

Miguel Martínez Fondón
Psychoanalyst

Coordinator: Miguel Oscar Menassa

APPOINTMENTS: 91 682 18 95
GETAFE (MADRID)

91 542 33 49 (MADRID)
EL PAÍS, Saturday June 18th, 2001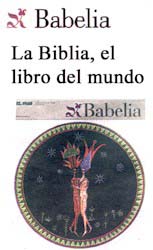 Babelia
The Bible, the book
of the world
The boys from Babelia have done it well. Two weeks ago animals had to be defended, last week we had to allow the dictatorships coming from the American democracy to dominate us, and this week, touch your feet, the Bible is the book of the world. I think that these guys won't last another week in their jobs. Just in case, keep your places some more weeks, we advise them with one example. The Bible: Universal Book, this way we would have avoided, at least in Madrid, hundred of thousands of people to think that Mundo was the Bible for Babelia's journalists, "cultural" magazine of El País newspaper and we continue not wanting to speak about Saturday's poem.
Today I have finally understood it, even if we published the same authors, we would publish different poems.
El País, Saturday, June 21th, 2001
There are things which are hopeless, they are like ice facing the sun.
A thief, Moldavian citizen, arrested nine times, kills a lawyer and wounds his wife
and his daughters
The Foreignness Law is only useful to expel foreign workers from Spain.
Murderers don't count for the Law, they can stay in Spain.
MARCA, Monday, June 25th, 2001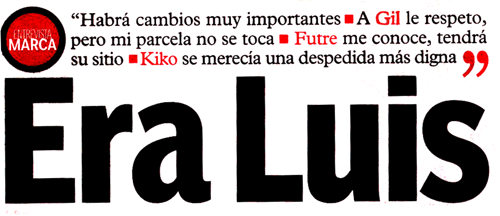 "There will be important changes - I respect Gil,
but my plot mustn't be touched - Futre knows me,
he will keep his place. - Kiko deserved a more
dignified farewell"
It was Luis

but now I'm the coach for Atlético de Madrid.

For Miguel Oscar Menassa

Dear poet and friend,

Last night, Friday, June 8th, 2001, something extraordinary happened to us that I can't avoid telling you. Enriqueta didn't want to watch TV, it was 6 p.m. and very dark in Buenos Aires, when she suddenly said: " I'm going to read Letters to my wife, by Miguel Oscar Menassa. And so she did. She read the pages of the book in a loud voice, leaving no word without being pronounced, while I smoked my pipe, and laughed frequently at your sincerity in that fierce autobiography, which in some way made me remember of Anaìs Nin. The reading lasted two hours. Enriqueta resembled Sara Bernard when she recited at Paris theatres, and I, Gerard de Nerval or another specimen when I was going after Jeny. We had forgotten everything. Your book and your confessions, Anaìs Nin and Juan Jacobo Rousseau were the only things that existed. The world had disappeared. It was a grandiose show.

But suddenly something similar to the objective chance of the surrealists surged. In the last pages of your work the number 35 was mentioned over and over again. In the three last games of the roulette and of 35 as the final and winner number. It was then when I told Enriqueta: "We could go out (there was plenty of time) and bet on 35 at the lottery". She thought the same, but none of us moved, fascinated by your book. Next day, 35 was the winning number. We therefore lost an opportunity that was announced in your book, that left me, in need of money as I am, nostalgic for the remaining part of the day This is undoubtedly a variant of the objective chance which was not favourable to us.

You had mentioned your 35 so many times in Letters to my wife, that it couldn't fail us. But destiny is already codified and we cannot elude it.

I write to you about this "adventure" so that you can enjoy it. On the other hand, Enriqueta couldn't stop thinking of Olga, and while she read, she would stop to say: "Olga and Miguel Oscar are two lucky fellows"

A hug.


Juan Jacobo Bajarlía

Madrid, June 27th, 2001

To Juan Jacobo Bajarlía

Dear Maestro,

You and your charming wife have been awarded with the $ 200 prize that Indio Gris has instituted for the reader who for the first time, when speaking about the book Monologue between the cow and the moribund (which we advise to read) mentions the number 35.

The prize will be delivered to you in Buenos Aires, within the next fifteen days, by one of our beautiful contacts, Marcela Villavella.

Please receive a strong hug for both of you. I hope you will share the prize with your wife because of its implication.

Thanks for existing,





Miguel Oscar Menassa
---