INDIO GRIS
Weekly magazine through Internet
Nº 55. THURSDAY, JUNE 14TH ,2001
FUSIONED - DIRECTED - WRITTEN AND CORRESPONDED BY: MENASSA 2001
WE DON'T KNOW HOW TO SPEAK BUT WE DO IT IN SEVERAL LANGUAGES
SPANISH, FRENCH, ENGLISH, GERMAN, ARABIAN,
PORTUGUESE, ITALIAN, CATALAN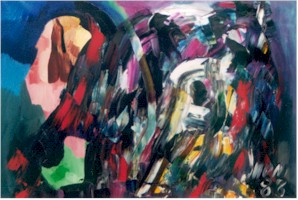 INDIO GRIS, IS A PRODUCT
OF A FUSION
THE BRIGTHENESS OF THE GREY
AND
THE JARAMA INDIAN
THE FUSION WITH MORE FUTURE OF THE
XXI CENTURY
---
INDIO GRIS Nº 55
YEAR II
EDITORIAL
Speaking was the most fascinating experience of my life. I could feel how a tremor ran through your body when listening to me. Now, just after Thursday noon, I'm preparing myself for our encounter. I sleeked my hair, I washed my teeth, I came to think that when I'd read my poem aloud to you, you'd know everything about me. I smiled showing my white teeth to the camera, which reunited us in an immortal photogram.
You listened to yourself enrapt. I stopped looking at you and sang:
menassa recites

I'M THE SINGER

I'm the singer, I told her smiling,


I have nothing to lose but my singing.


So you and I can kiss each other,


stand firmly over the ground, fly higher.

I know that it isn't decent to love life so much,


that it isn't honest, sincere, to want it for me only.


May the infinite fire be put off.


May the disquieting desire die.

Nevertheless, you and I could


sink slightly in the abyss,


fill the whole abyss with my singing.

Though truly, nobody wants it,


to live, to live, we could live a thousand years.


I will be the singer and you, my song.




Madrid, February 4th, 1977

I write to tell you that everything is going wrong.

The law,


that eternal fire that made man possible, can,


we could say,


be also its own destruction.

In certain positions, my beloved,


you should know it,


its flames,


its tongues of passion,


can definitely throw you into emptiness.


You surely will recall in the emptiness,


the time when my little words


licked your being


and you were predisposed to pleasure.


Oh! will of lovers and however


nothing will be possible.


Winds of madness deviate the flames against your own heart.

Your weeping,


inseparable and vigorous weeping,


will put my body, once more, against devastation.


Oh! my small dead enamoured woman,


my body is in danger


in vain it sets itself on fire.

The law,


now lies on my genitals,


fire is total.

Madrid, February 11th, 1977

Seven days without writing to you and it was due to pain.

I lost all of my days, all of my planets.


I got rid of my last memory,


only your bloomed body between my teeth,


only your body of carrier pigeon,


torn to pieces by truth,


by the mathematics of disorder.


Pain did good to me,


it is also an entertainment,


a luxury of love,


one more wall.

Let's blow up its foundations.


Let's invent nothingness, man needs space.


We must not be afraid,


madness


is with us.


Final hollow,


horde of lovers.

Madrid, February 20th, 1977

After all, your love does me good.

I promise not to ask questions about your truthfulness.


Your cares for my body,


maintain my skin young and give my gaze a certain rapture.


I'm grateful to you.


I also know,


that the movements of my body get more agile with your love


and my face is the face of a god before your amazement.

Your cries to the air


Oh! your cries to the air.

Madrid, March 23rd, 1977

A month and days without writing to you.

Only the moon and its four winged masks,


Told me of your deep hesitations.


I saw your body in the paroxysm of tremor.


The maximum tremor, tremor of tremors.


Violent medullar agitation between my teeth.


Final crumbling.

A month without writing to you and without writing to my friends.

A real month


made of fleshes and promises,


flows and violin orchestras for lovers


in the discovery of the being.


Your silence and my uneven breathing,


made literature impossible during this month.

Only poetry and revolts of the taste, were possible.

Only the lying of your eyes fixed in my eyes,


only your love words in the last moments.


Witch of pain,


she-wolf of howls.


Only your love words and your madness for cries,


at the moment of dying.

35 years of age married woman.

Today, she arrived nervous, lost, opaque.

- Today I want to talk about the quarrel I had with him on Saturday about some nonsense. It was a historical quarrel. He didn't allow me to express sadness and I had a fit. Later I was cold and distant, I was someone else. At some moment he started to cry, and I, not to be less than him, did so too. Afterwards, we were once again distant. THERE ISN'T, THERE ISN'T, THERE ISN'T…

He tries several times, but I don't know what happens to me. A barrier, something very strong prevents me from being with him. I am as if I were anaesthetised, I look for excuses. I say that his lack of sociability kills my desire.

I have to make an effort, you know doctor, to save my marriage. But what happens is that he never needs anything and besides I don't want to be the only one.

Why didn't I split when he was going around with another woman? Because at that point, I craved for him like a mad woman. That's why I didn't split.

(In reality she stays with him because she feels like a little thing and when he desires her exclusively, he turns into a little thing and then she cannot desire him. If they continue like this, they will end up each one disguising as the other. She fears and desires at the same time -that maddens her- meeting, some day, a man, a macho. That is what never happened to her. The idea of meeting a man, even though this man can be her own husband, fascinates and maddens her at the same time. She is afraid of losing in such an experience, all her money, her true love.)
Cero Group Consulting Room

Cero Group Consulting Room

Amelia Díez Cuesta
Psychoanalyst

Carlos Fernández
Psychoanalyst

Appointments: 91 402 61 93
Móvil: 607 76 21 04
MADRID
AMELIAA@terra.es

Appointments:
91 883 02 13
ALCALÁ DE HENARES (MADRID)
Yesterday night everything was terrific. I wanted to make love to both of them. And both were once more separated. She (the other) went to sleep to my bed. The Other (she) wanted to depilate her legs in the kitchen. First I made sure that the one sleeping, was asleep. And then I told the one who was depilating herself in the kitchen, to bring me a coffee to bed once she finishe
I lay down, being careful not to make any noise when I took off my clothes. I rolled a pot cigarette and waited. When she came with the coffee, I told her to sit by my side and we started to smoke. The other one was sleeping.
While she, with almost unnoticed movements of her body, sat with her legs open, enfolding her knees with her hands, on top of my right foot.
That way, each time she moved to hand me the cigarette, the big toe of my right foot got slightly into the thick mass of her sex. The other one moved as realising what was happening, but kept sleeping.
Using both feet, pushing and pulling her towards me, with my feet hooked under her arms, I was able to change her position. Now her mouth lay warmly on my genitals. Her long hair caressed the other's bare buttocks with each movement, who, in the mean time, slept.
Having achieved that position, I flexed my legs and let her mouth, anxious to suck, in front of my buttocks.
And everything was brief violin sounds disappearing in the night.
The pleasure was different to other times. This time silence was pleasure too.
Any man would do the same thing I had just done! Having my ass sucked by the other while she slept.
Coffee was cold. She, half asleep, told me that she had dreamed of making love in a terrific way:
- I'm exhausted, she says to me, I had many orgasms.
- What a coincidence!, I answered her, the same thing happened to me, and we embraced tenderly one against the other and fell asleep.
Cero Group Consulting Room
COUPLES COUNCELLING

EROTIC LITERATURE WORKSHOP

Miguel Martínez Fondón
Psychoanalyst

Coordinator: Miguel Oscar Menassa

APPOINTMENTS: 91 682 18 95
GETAFE (MADRID)

91 542 33 49 (MADRID)
El País, Thursday June 7th, 2001

A JURY ACQUITS THE SPANIARD WHO SPENT

THREE YEARS IN "DEATH ROW"

And, who acquits the jury, the American people, justice?

El País, Thursday June 7th, 2001

Elections in the United Kingdom


TOWARDS PRIVATE HEALTH

El País, Thursday June 7th, 2001

MENEM ASSURES HE PREFERS JAIL


TO RUNNING AWAY FROM ARGENTINA

That a'boy!

El País, Thursday June 7th, 2001

In not being able to bomb it,

GEORGE BUSH ORDERS TO REINITIATE
CONVERSATIONS WITH NORTH COREA

El País, Thursday June 7th, 2001

From Madrid

IGNORES THE AMOUNT OF ITS ASSETS AND KEEPS

BOOKS BY HAND

And, with their hands busy, they masturbate with the
computers which had deteriorated due to an excess of humidity.

El País, Thursday June 9th, 2001

BABELIA


SOLIDARITY AND MERCY FOR ANIMALS

Babelia defends animals because they don't have writers to


defend, not to mention the publication of the weekly poem.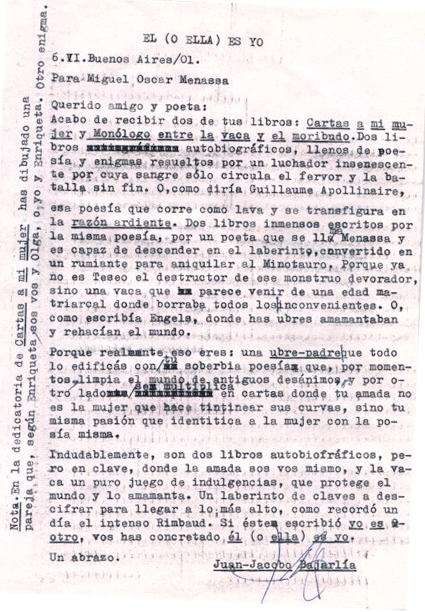 HE (OR SHE) IS ME

Buenos Aires, 7/6/01


For Miguel Oscar Menassa

Dear friend and poet:

I have just received two of your books: Letters To My Wife and Monologue of the Cow and the Moribund. Two autobiographic books, full of poetry and enigmas solved by an ageless fighter through whose blood only fervour and the will to battle endlessly, circulate. Or, as Guillaune Apollinaire would say, that poetry which flows like lava and becomes transfigured into ardent reason. Two immense books written by the same poetry, by a poet whose name is Menassa and who is able to descend into the Labyrinth, disguised as a ruminant to annihilate the Minotaur. Because he is no longer Theseus, the distructor of that devouring monster, but a cow that seems to come from a matriarchal age where it elided all inconveniences. Or, like Engels wrote, where udders fed and rebuilt the world.

Because, really that is you: a father-udder who builds everything with his superb poetry, which at times cleans the world up of an ancient discouragement and, on the other hand, he multiplies in letters where his beloved is not the woman who makes her curves clink, but his same passion that identifies woman with poetry itself.

Undoubtedly, they are two autobiographic books, but in code, where the beloved is you yourself, and the cow is a pure game of indulgences that protects and nurses the world. A labyrinth of codes to decipher to reach the highest peak, as an intense Rimbaud recalled one day. If this one wrote I, he is another one, you have made real: he (or she) is me.

A friendly embrace,

Juan Jacobo Bajarlía

PS.: In the dedicatory of Letters To My Wife, you have drawn a couple that in Enriqueta's opinion are you and Olga, or me and Enriqueta. Another enigma.
---
Madrid, June 12th,2001
To Juan Jacobo Bajarlía:
Dear Maestro:
I felt touched when I realised that to talk about my last two books you have used the sayings of two highly qualified poets, of the old man Engels and besides I consider it charming to have transformed myself into a cow, exterminator of evil and at the same time, while the cow exterminates all evil on the surface of the Earth, as if I were my beloved, I dedicate my best verses to myself.
This reminds me that a few days ago in the book fair, when I had to dedicate The monologue between the cow and the moribund to Olga, I wrote that I would make a confession to her: the cow is me.
Thank you for existing,

Miguel Oscar Menassa
PS.: In reading again your book on avant-gardism in Spain and America to send it to print, I considered it a necessary publication for those who sail in Spanish, though in two different cultures.
Thanks again,
---