INDIO GRIS
Weekly magazine through Internet
Nº 54. THURSDAY, JUNE 7TH ,2001
FUSIONED - DIRECTED - WRITTEN AND CORRESPONDED BY: MENASSA 2001
WE DON'T KNOW HOW TO SPEAK BUT WE DO IT IN SEVERAL LANGUAGES
SPANISH, FRENCH, ENGLISH, GERMAN, ARABIAN,
PORTUGUESE, ITALIAN, CATALAN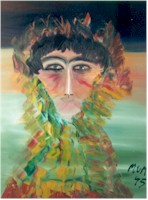 INDIO GRIS, IS A PRODUCT
OF A FUSION
THE BRIGTHENESS OF THE GREY
AND
THE JARAMA INDIAN
THE FUSION WITH MORE FUTURE OF THE
XXI CENTURY
---
INDIO GRIS Nº 54

YEAR II

EDITORIAL

Today we start our second year of life and we hope to be able to modify several things.


From now on we'll have these sections: POETRY - LOVE LETTERS -

PSYCHOANALYSIS - EROTISM - SOME POLITICS. We'll accept advertising in our pages and we'll answer the Letters to the Editor with a certain discipline.

menassa recita

WHERE MIGHT LOVE BE?

Love. The Love.


Where might love be?

How many times


I drew the corner


where you never arrived


and I looked for you


in the lounges


and I turned into a thief


to look for you among the shadows


and I would have been able to kill


if someone would have told me


that, in that gesture, I would find you.


I was myself and I was many.

All of the bodies


were searched


inch by inch.


All of the masks


were pulled out


to look for you


in the centre of truth


and you were not there.

I looked for you among the poor,


among the thick layers of pain,


between entrails and dirty alcohol,


in the very disgust for life.

Later I did not look for you any longer,


I found other words.

Madrid, January 28th, 1977

May my writing nauseate you,


may you think that my writing is a thing of morons


or the spurious product of hallucinogen drugs that,


you well know,


never altered my "reasoning",


and that at last there will be certain combinations, for the time being,


incomprehensible],


are not enough motifs


to stop my unrestrained race towards the centre of your being.

Poetry will produce its devastation.

Escape will not be possible,


only for us, beloved,


the last ceremony,


the consecrating act,


the final meal.

Drink, drink my semen,


it is as you must know,


your first communion.

To be afraid,


I am afraid of your torn nerves in the middle of your heart.

Madrid, evening of January 30th, 1977

I return because returning is my function.

I know that nobody needs our love


and nevertheless


the time of blindness is with us.

There is a place in man where flesh becomes sovereign again.

I'll split your body in halves,


only way.


I'll abolish silence between us,


your screams, pleasure and pain will tell about the encounter.


I'll take you


as habitual gestures are taken.


I'll make you live by my side up to the end,


the entertainment


will be definite.


Your scents


and our organic fluids rotting


-the smell of life -


will be with us.


Oh! blessed, I kiss your lips among the mist,


and I look through the window at a city,


completely dead, chained to its sewers.

Madrid, January 30th, 1977, at night

I plunge my head into the wilderness and only your howls remind me of life.

I hold up,


in front of your death,


my hands around your neck.


War continues.

Infernal lovers' game:


you'll be another and another indefatigable and another on the roofs


and even another one outlined against the blue snow


and a world of steps over the snow;


and you'll be another one, irremediable lost


in the labyrinth of my passion and the smoke of my drugs.

Alcohol, luminous alcohol.


and even, another one lying by my side in autumn


and the little one, dead between my arms,


and in the middle of my eyes,


you'll be at last,


the resuscitated one.


The one who no longer knows what to do,


my sweetheart.

Madrid, January 30th,1977, after midnight

Again, your weeping announces the warm space of repetitions.

Death against death, pain against pain.

I beat the universe of your shape mercilessly,


I mock justice.


I know,


we are condemned.


Let's open the floodgates, let the ocean


definitely flood our reasoning.

Love doesn't exist.

And there is no good reason for living


and however


I want as a final performance:


my body riding on your body.


We are saved,


we'll dedicate to imagination the next twenty centuries.


We'll have bread and milk and about the past


-that is to say our lives-


only these words.

A man of about 30 years, psychologist.

Today he arrived three minutes earlier and started to speak about will power. I drink my tea slowly. The patient, in the meantime, says that there is a fracture, he doesn't very well know where, between the professional and the intellectual.

Yesterday instead of making love with my wife, I began to work on the second session of my second patient.

I realise without telling him anything, that the patient is looking for the possibility of writing.

The smell of marihuana - says the psychologist-patient- like any other incense makes me think that I am in a temple. This morning I read in the newspaper that a sect practises vasectomy, abortion and couple shifting. Now a penis is approaching my mouth and I'm sucking it, I remember that someone of this sect was killed by sending him a snake by mail. Yesterday I was at the clinic with my wife and as she's not pregnant, they recommended us more pills and more mucosa tests and more X-rays. I ended up arguing with my wife.

I think, without uttering a word, that he doesn't want to have a baby with that woman, but with another one.

I don't know, now I feel a sort of relief, as if I were floating in someway, as with my body completely relaxed, as with a sensation of expansion. And you doctor, haven't you thought anything?

I felt exposed by his last words and I told him without knowing what I was saying:

Yes, I've thought that you can't leave your wife pregnant, because you want to have a baby with me.

Silence and then, with a tone of sadness far away from words:

You know something, doctor? My wife doesn't want to have anal intercourse. She is a little constipated. She hasn't conquered yet that hole for pleasure. Besides I have a certain disgust for shit. And certain revolts of feeling myself stained by the semen after ejaculation, or the odours, or inclusive the hygiene of the body. Once more a penis appears near my mouth and I suck it.

I think, without uttering a word, how that could be related with his mother's tits.

I saw my mother washing her hair without a blouse and without a bra, in turning around to tell me not to come in, she showed me her breast and I masturbate with them. I also masturbate sometimes with images related, in a certain style, to my father. I imagined homosexual relations between turtles.

I have the fantasy in this moment with you, of losing myself in some event.

I ask myself if that body which I caress, is the body of my dead father or of my old mother. Sometimes I think that my mother has a penis, sometimes while sleeping, I look for a penis between my wife's legs.
Cero Group Consulting Room

Cero Group Consulting Room

Amelia Díez Cuesta
Psychoanalyst

Carlos Fernández
Psychoanalyst

Appointments: 91 402 61 93
Móvil: 607 76 21 04
MADRID
AMELIAA@terra.es

Appointments:
91 883 02 13
ALCALÁ DE HENARES (MADRID)
I jerked off with my hand and hers. We were very aroused. This happened after having made love two or three times and having fucked her through the anus, first with a finger, then with two, then with the head of my penis and a fourth time, after rubbing it for a long time on her buttocks which she moved restlessly, I penetrated her up to the balls and started to push her against the wall.
I'm dying, she said, I'm dying.
I decreased the rhythm and without coming I interrupted the operation. We reached the bathroom swaying, she sat like if she were going to shit and told me:
Through the anus the pleasure is brutal and I who thought that it was only for shitting. The pleasure was so brutal that I almost faint.
Afterwards she farted two or three times and she relaxed enough. There I unzipped my trousers and took out my dick and started to sway it; when it was hard enough I told her:
Come on, baby, enjoy with me- and to help her with my free hand I squeezed her nipples.
Don't be afraid, I'm embellished of having achieved so much. It was I who had come to die.
Cero Group Consulting Room
COUPLES COUNCELLING

EROTIC LITERATURE WORKSHOP

Miguel Martínez Fondón
Psychoanalyst

Coordinator: Miguel Oscar Menassa

APPOINTMENTS: 91 682 18 95
GETAFE (MADRID)

91 542 33 49 (MADRID)
Zapatero proposes a higher budget and a Constitution for Ultra Spain.
*****
Rajoy softens the Foreignness Law while he deports more Nigerians.
(headline of the newspaper without retouching)
*****
The British start to lose their fear of Europe and will use it as an electoral weapon.
*****
Jospin recognises that he sympathised with Trotskyism after having denied it. Who would believe it!
*****
Matas declares before Parliament, to gun down all opponents.
*****
The Popular Party attributes Spanish Socialist Workers Party an illegality in informing dead people votes. Between you, leftists, as you die is legal to say that the dead shouldn't vote, but between us, of the Popular Party, that intend to remain in office more than twenty years, the dead do vote.
*****
Aznar considers Zapatero's proposal for buying armoured cars as "childish". Zapatero answers that expecting pears from an elm is even more childish.
*****
A Madrid Court denies an ID in Catalan to a citizen and in the rest of Spain an endless number of citizens are denied an ID in Arab, Chinese, Yugoslav, Polish, Colombian, Venezuelan, Argentine…
*****
Judges treat victims of violence worse if they are a legal couple.
*****
Europe leads the technology of optical and infrared observations of the sky but knows nothing about Earth.
*****
Construction of a new tunnel of the AVD under Serrano Street is being studied so that some building of Serrano Street will also colapse.
---