INDIO GRIS
INDIVIDUAL MAGAZINE OF GARBAGE COLLECTION
Nş 52. YEAR 2001- MAY, THURSDAY 24
FUSIONED - DIRECTED - WRITTEN AND CORRESPONDED BY: MENASSA 2001
WE DON'T KNOW HOW TO SPEAK BUT WE DO IT IN SEVERAL LANGUAGES
SPANISH, FRENCH, ENGLISH, GERMAN, ARABIAN, PORTUGUESE, ITALIAN, CATALAN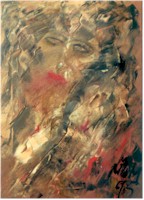 INDIO GRIS, IS A PRODUCT
OF A FUSION
THE BRIGTHENESS OF THE GREY
AND
THE JARAMA INDIAN
THE FUSION WITH MORE FUTURE OF THE
XXI CENTURY
---
INDIO GRIS Nş 52

Answering the women's claims of cero


group international in 1977

1

Between death and love

A fresh ocean breeze comes in through the open window.


The smell of the sea, reminds me of the smell of sublime vaginas


where my madness is transformed in the animal howl


of he who knows that everything resembles death.

2

I know that the body doesn't remember


and words, words


are blown away by the wind


and nevertheless


I want an encounter in open sea.


Because you and I


were savages among the fog,


among the sordidness of death


and without knowing what to do, desperate,


-that is what I want you to remember-


desperate


we made love.

3

Madrid, January 26th, 1976

If the years go by slowly


we'll say together that death doesn't exist.

Slow, the servitude of your skin


lain on time.


Measureless space


your body stripped of all pain.


Your body


opening and closing


before the oscillations of my sex.


Your badly wounded body


your blood between my legs.


Your winged body


your body of the one hundred terraces overlooking the world.


Your joyful flight


for the perfect murder.

4

Madrid, January 25th, 1977

It seems foolish to go on writing to you, I know that you won't understand.


I told you


nothing matters to me, everything seems the same.


I'll talk


and I'll make my body explode against the opaque mountain.


Everything seems the same to me, my life is the time of hurricanes.


My mind isn't


the stupid calculator that you know,


my mind is time,


your body open like the sun, that is my mind.


I'm glad that we live in any way.


Passion,


in time we'll find out,


is an art.

5

Madrid, January 26th, 1977

I love you, I love you and I won't stop.

I'm a gold seeker.


I look for an unsustainable passion


a passion that will turn you mad


a definite colour for your eyes.


This time I'll cheat on you up to the end


you'll have to fall in love with my way of writing.

Excuse the poet's words, he doesn't belong to us either,


his voice is the storm of our voice,


his song is the explosion of our singing.


The poet's body


lies


a thousand kilometres deep,


he is unreachable.

6

Madrid, January 26th, 1977

I kiss your genitals deeply up to the paroxysm of satiety.

I hold up my being


in the place where being a father or mother, is the same to me.


I love a certain degree of purity.


A certain horror for emptiness.


I confess myself, I'm a classic man.


Being with me, you'll have enough money,


-I know its deepest foundation-


From time to time I'll write you a poem,


from time to time we'll make love,


I'll kill and you'll kill me.


Fleeting mutilation, my guardian angel.

I'll teach you how to make fun of the whole world,


I'll make you immortal,


I'll write your name everywhere,


I'll tear your past to pieces.

I'll pretend to be dead.


Tempted by the vast quietness


stultified by the sudden encounter with an old desire,


Your love dance will begin.


And you'll dance, beloved,


like princesses do in palaces.


Stultified and crazy, you'll dance


like witches do among savages.


Farewell dance


we have already set sail.


Let your body lie under the sun, burn your entrails.

Time will go by slowly,


time doesn't exist.

Century of madness, furious wind of summer.

Tied to the mainmast of our vessel,


I'll utter incomprehensible shouts during the voyage.


I'll kill you a thousand times and a thousand times I'll resuscitate you.


and there won't be miracles and faith won't be necessary.


We'll go through together


along the path to your death and the path to your resurrection.


I won't have mercy.


I'm the king of sarcasm, there will be laugh between us.

The only definite thing is the body


let's go for it.

7

Madrid, January 27th, 1977

I'll give you flowers, of course I'll do.


I'll carry with me, that is to say, at your reach


seafood and hydrangeas.


Masculinity and femininity, whatever you want.


I ask, in exchange, your life


up to the last particle of your being.


Loving me is not enough.

I want your last drop of dew.


Your end of the century.

Your body maltreated by doubt,


your autumn body.

I love you


because I don't fear your dried leaves.

I want your body worn out by time.


I want your stories,


the lust of your words about our youth.


And nothing but that,


freedom doesn't exist.


Let's clean the cell.


The door remains open, it doesn't matter.

I'll always carry with me some writings


and an unusual violence.


I'm good at everything.


I can make any foolishness


reach the state of passion.


Olympics of coronation,


blasphemies against the bad life,


against timetables of thirst.


Your hidden treasures don't interest me.


Light, I only love light.


The burst of the suns,


the spell of the senses.

I put an end to the farce.

I love


the crossroads of destinies,


the shadows of night, the total darkness.

I kiss your lips


because kissing your lips entertains me.

8

Be ware! In our next number we will celebrate


our first anniversary

every THURSDAY…

9

PSYCHOANALISIS AND POETRY


CERO GROUP

Celebrate together with us


20 years of our life

Free admittance with prior registration

From the 25th to the 28th of July

From 10 a.m. to 2 p.m.: Submission of reports and discussion forums.


From 3 p.m. to 4 p.m.: Projection room (videos, recitals and lectures)


From 4 p.m. to 6 p.m.: Encounter groups.


From 6 p.m. to 8 p.m.: Submission of reports and discussion forums.


From 8 p.m. to 10 p.m.: Events: Recitals, presentation of books, theatre performances and celebrations.

Moncloa Town Hall Council


Plaza de Moncloa 1 - 28008 Madrid

Information: 91 542 33 49

9

THE COW WAS ALWAYS


A LITTLE CRAZY

MONOLOGUE BETWEEN THE COW


AND THE MORIBUND


A book by MIGUEL OSCAR MENASSA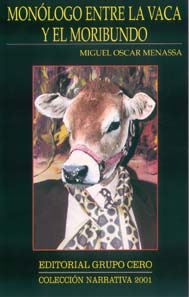 "I am tense, I have appetites, hungers of millenniums and now they'll want to content me with some piece of cheese, excrescence of some pastoral cow, or the same cow beaten to death and quartered on the table, recalling ancient rites, where men ate each other, and that was love.


I stab my small knife mercilessly into the cow's heart and the cow moos, it tears itself with passion in front of the murderer. I, with surgical precision, separate grease and nerves and I give my beloved one a morsel from the cow's burnt ovaries.


-We're free, she says to me, while she entertains herself with the noise of her teeth trying to chew the burnt parts of the universe. Later, lighter, making a mirage of everything, a lie, she says to me with ease:


A magisterial cow that moos and murders all the time lives in me. Sometimes she seems in pain, but nothing matters to her, she knows that she was born to be beaten to death, and then she shits everywhere and the mad flowers eat what is essential of shit and grow rapidly towards the future."
---