INDIO GRIS
INDIVIDUAL MAGAZINE OF GARBAGE COLLECTION
Nº 3 YEAR 2000, THURSDAY, June 15
FUSIONED - DIRECTED - WRITTEN AND CORRESPONDED BY: MENASSA 2000
WE DON'T KNOW HOW TO TALK, BUT WE DO IT IN SEVERAL LANGUAGES
SPANISH, FRENCH, ENGLISH, GERMAN, ARABIAN,
PORTUGUESE, ITALIAN AND CATALAN.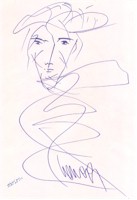 INDIO GRIS, IS A PRODUCT
OF A FUSION
EL BRILLO DE LO GRIS
Y
EL INDIO DEL JARAMA
THE FUSION WITH MORE FUTURE OF THE
XXI CENTURY
---
INDIO GRIS Nº3
1
Just from thinking things well for myself, so to say in my favour, I no longer desire to make love, thought the wicked.
And I cannot understand that this might be bad for anybody.
2
There might be madness in some movements and health in others, but living, really living, is always a delirious project.
3
I have some months ahead yet to be 60 and I feel a belly sensation, and sometimes it even aches.
I will have to live according to my wishes or I will die before being 80.
4
I'm all right and I realize that I have to take a sep back.
5
It is a torrent of delirious mirrors.
It calms me down to think that all the truth is based on a good saying way. In a jiffy something will be true for me: THE INDIVIDUAL MAGAZINE OF GARBAGE COLLECTION, INDIO GRIS, will appear in seven languages, once a week, for the time being: SPANISH, FRENCH, ENGLISH, HEBREW, ARABIC, GERMAN, and, PORTUGUESE.
PLAYING, PLAYING TILL DYING
Playing, playing till dying
as grandfather Naur's testament read
which cannot lie
because Naur had died.
He had died of sadness in the desert
and not from thirst escaping with fear
as some foreigners said.
Naur, it is true, had in his features
remnants of some mysterious past
-homosexual or sadist- women said.
Nevertheless Naur spoke seven languages and had
Intelligence stamped in the creases of his face.
When he made love he was not precisely
a man from the desert, it showed, an urban air
could be seen in the disorder of his hair.
7
There are magic steps.
Sometimes I discover them walking down the street.
8
Today I ask myself:
To have or not to have money?
To have or not to have sexuality?
Money and sexuality imposes, to have them, not to be controlled.
Having money, having sexuality, speaks of an individual that is commanded by money, by sexuality.
9
She also likes me to jerk off in front of her and her friends.
10
He has lived in Spain for more than 20 years and when he says "here" wanting to say "there" he does not consider it a lapsus, he will not go far.
11
He came and told me:
-I cannot go on. I'm really transferred.
I must admit it, I'm once more, depressed. With extravagant desires and very little will for doing my everyday things, the ones that make me live.
I'm pierced by the strangest sex of my life.
I always liked making love and now, I don't know what's the matter with me. It's not exactly that I don't like making love, but I just don't do it...
After a long silence I could only asked him:
-Oppressed?
-Not oppressed, tied up to a mountain that I cannot move.
-Ah, we can continue next time, then.
12
She dropped on the couch and started to speak about her husband:
- I don't see him well. I'm worried about him. He doesn't take care of himself. He doesn't even have the encourage, nor the time to do so.
Besides, he is an exaggerated about everything, about everything. Everything in him is big. Getting ill, poisoning...everything in him is big.
I started to feel uncomfortable thinking that she was talking about me.
Just in case I said nothing, but I remembered with exaggerated passion my days in the army jail, my days in the hospital, my days in marriage in the university, on the street, and the only thing that came to my mind was to say to her:
-We continue next time.
13
If I do not have the strength I will have to have the intelligence. And that is always with others.
14
They called from Brazil to say that number one and two are already translated into Portuguese. And the translation number one into German had just arrived at School.
Everything is like a vertigo, I could never imagined myself doing what I am doing.
Yesterday after speaking to all the translators, six as minimum, for the time being, I realized that all this matter would cost me some money.
The whole thing had started almost as a joke 15 days ago. I would introduce some of my words translated into various languages in the net and someone would say: look, look what he's doing. Fifteen days later I have to count with a minimun of 500.000 pesetas monthly to keep on with what seemed to be a simply joke and it turns out to be a real luxury
Are we all pals or what the hell in going on? the wicked asked shouting.
15
The framework must be extended to all of the culture, till one of us can say:
- I'm not a citizen, I'm a psychoanalyst.
As if saying:
-It rains today, but next summer I'll go to the seaside.
16
THE DAY I STOPPED SMOKING MARIHUANA
I smoked marihuana for the first time in Chile, in the beach of Valparaíso, in 1969, a little after I celebrated my first 30 years.
Negra and I were together in a camping to which we had arrived in our Fiat 600 after ascending and descending 4.500 meters high, upwards and towards an infinitive sky that I will never forget.
Two young people approached us, even younger than us and requested to sleep under the car or by its side., I don't remember well, and thanking our hospitality they asked us if we smoked pot.
Out of shame we answered in unison that we did and all in a sudden we found ourselves having a small pot cigarette, hot snow quality, 9 points according to the youngster. His companion did not utter a single word during the whole night.
We locked ourselves together with Negra in our tent as if were our cell, our first sin. At 30,at least for me, it was not bad to try something that was known to everyone in my environment at 20.
Later, in time, I would give that 10 years delay a great importance in relation to the difference of the effects on me of any hallucinogen substance. Not only had I started that relation with the pot ten years later than normal in my generation, but when I gave my first puff, I had already experienced most of the sexual pleasures, I had been an elite sportsman (16 fights, 14 triumphs and 2 ties), I was able to run 5 kilometers without stopping, I earned my living for almost twenty years, (since I sold jewellery in the Inclan market when I was thirteen), I knew from love all its rituals and wrote poetry when it surged from my testicles. I had begun, just in case, my personal psychoanalysis when I was 18, in 1958.
Thinking it over I didn't give my first puff to fuck Negra.
I remember, nevertheless, having sucked for two or three times with certain fear and having been invaded by inexistent shadows in the tent, though in some way existent, that is to say I knew in my own flesh and blood what is called illusion, that differentiates itself from hallucination because in the later, everything is creation, while in the illusion something is distorted, something that already exists.
I started laughing without consolation, I had discovered the existence of the unconscious, after eleven years of having begun my psychoanalysis. I smoked tobacco since I was 9 years old, at 13 I already smoked as a toad, without limits up to 52 years old when my lungs burst and I was on the verge of dying or almost dying and feeling myself rising from the dead I stopped smoking, tobacco, of course, that I would never return to smoke, and I stopped smoking pot, too, which was in reality chocolate since more than fifteen years ago when I started living in Spain and belonged for some years only to the world.
I remember a meeting with Cesar at home in which we ate and later went out for a walk, and he couldn't believe that I wasn't consuming anything, not tobacco, nor chocolate, nor wine, nor beer, nor nothing, I just spent long hours speaking to everybody. I earned a little less money, but those months after leaving the hospital in which I was secluded, dying, for almost two months, were the happiest in my life.
I was so happy being able to stand on my legs like a poem or a flower, just with a little bit of food, some paper, water and light. I read with joy and during those months ( a year and a half) I had all the ideas that at present (Year 2000, June) process my whole existence and the existence of the Grupo Cero project.
In November 1993 my son Pablo was murdered. I came to feel as if I was dying, I came to feel as if I were already dead, but I didn't any longer smoke, and I kept on working with the projects in which Pablo was partially involved: Editorial, El Indio del Jarama magazine ( among the ten best in Spanish), the School, and above everything the Freud course group in which Pablo would have started a week after being assassinated, his psychoanalytical studies, but I didn't any longer smoke.
I went on with the purchasing of my consulting room in Madrid, which I had inaugurated two months ago, and inexplicably, started traveling through Germany, Malaga, Cuba and finally, once again, Buenos Aires, with was remained of the family and some psychoanalysts from the Madrid Group, but I didn't any longer smoke.
17
THE DESIRE OF THE PSYCHOANALYST
PHRASES
-The desire of a psychoanalyst is an interpretation; previous to the work of interpreting there is no desire.
-It is a transitory place, you arrive to it riding on words, you do not arrive walking.
-He who pays, pays to desire, he lets himself be determined by the concept of transference.
-Analytical relation: I have to live a relation never before lived or desired. I have to live and desire.
-Taking the case is to be exposed to the transference swings of the case. Only in that moment, does the money appears.
-For a patient to start psychoanalytical treatment, the desire of the psychoanalyst is enough. When the patient says "I want to become a psychoanalyst" the desire of the psychoanalyst is no longer enough.
-To mantain the relationship with my mother I could destroy civilisation.
-If I don't find money on the road, I'm in no road. The money I must find on that road has already been ruled upon.
-A style in something that never happened, therefore it cannot be repeted, it has to produce things that never happened.
-He who does not bear uncertain cannot be a poet nor a psychoanalyst, nor any other thing.
---