INDIO GRIS
INDIVIDUAL MAGAZINE OF GARBAGE COLLECTION
Nļ 24. YEAR 2000- NOVEMBER, THURSDAY 9
FUSIONED - DIRECTED - WRITTEN AND CORRESPONDED BY: MENASSA 2000
WE DON'T KNOW HOW TO SPEAK BUT WE DO IT IN SEVERAL LANGUAGES
SPANISH, FRENCH, ENGLISH, GERMAN, ARABIAN, PORTUGUESE, ITALIAN, CATALAN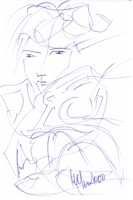 INDIO GRIS, IS A PRODUCT
OF A FUSION
THE BRIGTHENESS OF THE GREY
AND
THE JARAMA INDIAN
THE FUSION WITH MORE FUTURE OF THE
XXI CENTURY
---
INDIO GRIS Nļ 24
1
Today a lady confessed to me that she no longer has any illusion, that from now on she will only love herself.
2
August 26th, 1991: Today Iíll see two clients, today, in a certain way, my holidays are over and I donít very well know if Iíll stand it.
My personal matters follow an almost normal course, now I have to dedicate all of the time to my writing and to the direction of the Psychoanalysis School and I don'í know which of the two situations is more difficult for my ego. My writing means assuming to be one of best styles and the Psychoanalysis School means assuming myself as director, that is to say, transmitting other styles but not mine.
3
Since ten years ago, without chocolate, without tobacco, without alcohol, only my own wishes can kill me. And war?
There is no durable peace, thatís why I prepare myself in a way for some war.
To be a great writer so as to be able to narrate that fall of man into animality.
4
Oh, desperate green branch! Water and light for the beauty that only grows to die.
Vertigo is due to the fact that Iím starting to live my own life, that I donít owe anything to anybody but to myself. And they will come to ask me for my accounts and Iíll lie once more.
Everything was given to me by poetry and this will be so till I become one hundred.
5
September 5th, 1991: I send by phone a bouquet of flowers to my mother for her 77th birthday.
6
After 10 years working as the Psychoanalysis School Institution, Iím in conditions to say that something has been done.
A name, a multiplication. We have only founded and, we must say it, only a few passed the founding examination.
But nobody should worry too much, only now we consider the competition initiated.
7
A few days before becoming 51, Iím amazed by the emotional, sentimental, sexual and economic disorder with which the first 50 years of my life have been marked.
Something makes me ashamed, having to recognise that all that disorder has affected in some way all my production.
To change oneís life at 51 isnít something that you can buy at the supermarket, but anyway I want to propose it to myself.
I donít need stories to narrate even though some story Iíll narrate. My paintings are in various spaces, my poems in various times, my disordered life in various directions and Iím not going to talk about my sexual disorder because there, Iíve been always faithful. I always made love with women, even though I recognise that once, among friends, I told one of them that I loved him in order to make him feel like a man.
I loved, also, in the middle of disorder, children and elderly people, Indians and communists and because I didnít know what to do with so much love, I wrote verses till I was fed up.
Oh, those red flags, those days when the proletariat ate the illusion of being.
Oh, women onto the wind, verses in the pocket.
8
On the verge of abandoning Funchal forever I write on my laptop in an airport. I do understand, even if everything goes wrong, one always learn something.
Something will pertain to time and something will become from truth. Not everything went well in this trip even though Iím sure I have planted some seeds. But it was to me that things didnít go well. Poetry is always gratifying for me, people not so much.
They have taught me in Funchal: Judasíembrace, Cainís stab and the Romansí kick in the balls. I didnít either stay behind. In two days I questioned all knowledge, all life, all love. Iíll soon forget my little emotional failure, sooner than they will forget the great intellectual catastrophe caused by my words, but anyway I would have liked to be treated a little better.
What bothered me most was the fact that they didnít place a tape recorder to record the six-hour lecture about the Interpretation of Dreams.
9
At 51, away from all delirium, I open my eyes and I predispose myself to perform the next three decades. Hard work until becoming ninety and then I leave things as they are. The idea is simple, a magazine surging from me and reaching the world. Papers flying, showing that here is the world and a man lives.
I start my task without great ambitions but with a certainty: Iíll publish at least, 200 issues.
I already stopped drinking, stopped smoking, Iím already making love only whatís necessary and if itís necessary, for everything to be possible to stop gambling, Iíll stop gambling.
10
Iím a weak being, war affects me, it really affects me. Iíd rather have peace even if Iím dominated. And who knows if I would have said this before war. 50 years, half a century. Calm down, I must have arrived some place. Iíll drink water from that place and then Iíll think over about it.
My worries will be transformed into flying, my deliriums in skin.
11
Everything has an end, January, too. In suspending all my sexual relations because of the pain caused in me by war, my face swelled. There are things which arenít suspended though they may be suspended. It is perverse if one cannot be normal and the current world, war, arenít normal things, that means that they are perverse things.
My bursting molar tooth, my dick slightly irritated, my digestive apparatus dislocated, or I make war or war will kill me without having made it.
12
Iíd need to take care of myself a little more. Something from life must be also for me. Ambitions are good for health, but unmeasured ambitions are the perennial pain of the hypochondriac.
Iíd have preferred peace, comfort, progress. It is difficult for me to lose those watchwords. War, decay, misery, I donít know If Iíll be able to hold up without intervening.
13
When I look only at my hands, I feel that I have another 100 years more as a writer. The rest will be easy, outliving wars, loves, domination of peace, Iíll attain that writing.
I realise that writing is also saving oneself from something.
14
Iím still young to spend the whole day writing, something like my love memoirs. To be able to narrate that cosmic intensity, that tenderness, who knows if somebody could?. I try it beloved, I try it with all my dexterity and I only get these murmurs away from love.
Complains, bodies damaged by war, definitely hurt by doubt.
15
Iím so scary that Iíd need a person looking at me while Iím writing. That woman is me, she said trembling and yet, after 30 years it can be said that though sometimes she doesnít accompany me, I keep maintaining her. Afterwards there were others who said the same thing and donít accompany me either but I maintain them anyway. In that sense I look more like an affluent Arab than like a desperate Spanish-Argentine.
However, I was a desperate Latin-American and worked from dawn to dusk to maintain my loves. And this way we were happy and we only knew love until the day in which I got tired and no longer went to work. My beloved had to go to work and we knew hatred.
The dignity of work, in reality, was no dignity and poetry was on the verge of being sunk by 500,000 tons of mistaken bombs. Then it was necessary to abandon everything and take poetry home with me.
16
I have to realise that what is happening to me is not happening to the world. I must come out of myself, place myself in the world. That will make me live without parents, without children, fixed to language.
17
Sunday, July 27th, 1997: Everything was the delirium of fever. Later came an era of solitude where there was no fever nor disorder. I became a solitary. I and some pages of some books. I started then to earn some money.
I never thought that money was an achievement, but with money I achieved several things, some of them of great taste.
18
It was evident that in order to separate myself from my work, my work should be published. I have to publish grandiosely but without believing that Iíll obtain heaven. Weíll make a bit of a scandal, weíll sell some books and weíll get some work. For the time being thatíll be all.
19
And when Iím asked, said the wretch, why I stopped making love with all my lovers who were several, because all of them were ill suffering each one from a different illness. And the doctors wanted me to undergo all the treatments. Better, I said to myself, I stop making love for one or two years and later, Iíll try to know something.
The little fools suffer from erotic intoxication and when Iím with them I have no occurrence because we are always talking about the same thing.
20
February 13th, 1988: Little by little life will go by and every life will have its situations. The Ego resists also to all salvation. Ego doesnít see, doesnít feel, it never completely comprehends.
I donít find peace but Iím neither in the middle of a war. Iím a neurotic. Someone who is only afraid of his own dreams, of his own grandeur deliriums.
21
Morning comes and I get up, night comes and I collapse as a giant who dies crushed by his own weight. I understand it, all of my life is going through within me. Even poetry is made on its own within me.
Without any need for drama, events exist for me anyway. Even if I write nothing, next morning there is always a verse written. I blow and winds are generated, infinite waves of remoteness.
I donít know how to go on but Iíll go on. The most important things of life are only known afterwards and afterwards is always too late.
MENASSA IN BUENOS AIRES

MENASSA IN BUENOS AIRES
ďNext Monday November 13th at 7 PM

in the Central Headquarters of the Universidad Abierta Interamericana


( 951 San Juan Av., Buenos Aires city), Dr Miguel Oscar Menassa,

psychoanalyst of renown trajectory


both locally and internationally, will

receive the Professor Emeritus

degree.

The diploma that validates the


discernment will be granted by Dr

Edgardo N. De Vincenzi, Principal of

the U.A.I., in the presence of the


members of the Superior Council of

that University.


Dr Miguel Oscar Menassa, Founder

and Director of the Grupo Cero

Psychoanalysis and Poetry School,


will deliver the lecture ďGrupo Cero:

Psychoanalysis and PoetryĒ.

GRUPO CERO EDITORIAL
Presents


CONDEMNED POET
by

MIGUEL OSCAR MENASSA
THURSDAY, NOVEMBER 9th


from 8 PM.


to 10.30 PM.

Free admittance


ENCORE, 286 Rodriguez PeŮa 4į F.


Tel: 4371 8013

MENASSA IN BUENOS AIRES

MENASSA IN BUENOS AIRES

SALAC LA PLATA


VATES 2000


7th GATHERING 2000


of the MERCOSUR


and the SPANISH SPEAKING


POETS


NOVEMBER
10th,

2000-

at 6 PM.


HOMAGE TO
DR.

MIGUEL OSCAR


MENASSA


Sponsored by:


Government of La Rioja


in Buenos Aires


(745 Callao Av.


Federal Capital)


Presentation of the 7th


Anthology 2000

GRUPO CERO

EDITORIAL


Presents


POETRY AND I


By


MIGUEL OSCAR

FRIDAY, NOVEMBER
17th, 2000

Free admittance


459 Maipķ, 1st. F.


Buenos Aires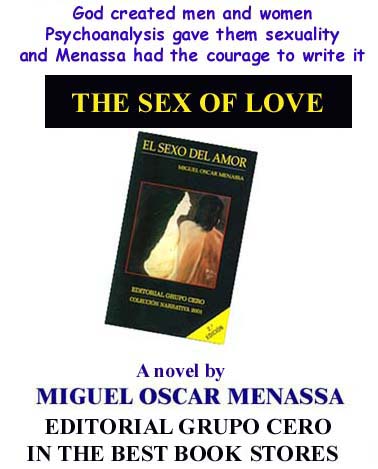 ďThis novel is a monument to desire, not to its satisfaction and desire doesnít fit in moulds normsĒ

Leopoldo de Luis

ď Menassa transforms eroticism into a real encyclopaedia of sexual relationsĒ.

Juan-Jacobo BajarlŪa
---