INDIO GRIS
INDIVIDUAL MAGAZINE OF GARBAGE COLLECTION
Nº 23. YEAR 2000- NOVEMBER, THURSDAY 2
FUSIONED - DIRECTED - WRITTEN AND CORRESPONDED BY: MENASSA 2000
WE DON'T KNOW HOW TO SPEAK BUT WE DO IT IN SEVERAL LANGUAGES
SPANISH, FRENCH, ENGLISH, GERMAN, ARABIAN, PORTUGUESE, ITALIAN, CATALAN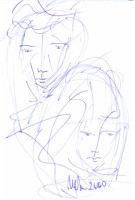 INDIO GRIS, IS A PRODUCT
OF A FUSION
THE BRIGTHENESS OF THE GREY
AND
THE JARAMA INDIAN
THE FUSION WITH MORE FUTURE OF THE
XXI CENTURY
---
INDIO GRIS Nº 23
1
I have seen the horizon creak and nothing hid from it. Barren farmer I won't fly, I'll reach no unsheltered place.
I must also put an end to my own illusions.
I won't be a fast cyclist any longer.
I won't be any longer the best centre forward of the world.
I won't any longer be a peasant, nor caster of statues, nor rock, nor worm.
But I can open up to the registers of History.
To register a piece of land as my own. Something of the thought that can carry my name during centuries. Something beastly for the ego that irremediably will die.
Waiting for the great moments I slowly write what has been.
I can say today that I have also been swallowed by the medical order. They almost kill me before becoming 50. I return comforted by the return.
2
Stripping myself out of all ruses, the watch too, I could find aspects of my verses which were not understood.
Finding out the direction, life cannot be attained, it can only be lived.
3
Neurotics shouldn't be listened to in their claims.
A blank sheet of paper is for me today my best interlocutor.
Interpretation is always on time and it is never necessary to explain anything.
I'll respect people's lives whatever that life might be, but I'll never again speak about my life with a terraqueous.
I decide in this act to make them believe that I'm one of them, make them believe that I'm like them.
To change everything for everything to remain as it is, if one feels well this way, isn't a bad idea.
In my case this means to say that I don't have any need, for the time being, of leaving anything. I must, that's true, manage everything in another way. The question of Buenos Aires, Madrid, Arganda del Rey, Paris, must be treated exactly the same way as the question of 1,2,3,4 women or the ones who might bring themselves up to the tone of the verb
4
To smoke or not to smoke, to gamble or not to gamble, to fuck or not to fuck, are relative things. Desire mustn't be annihilated, it must be delicately administered.
I must confess that I was born heterosexual, virile, in an odd epoch, when nobody nor nothing knew how that was. I have had to make decisions which were never made before. In the beginning I thought that it wouldn't last, but it isn't the beginning any more and nobody has discovered me yet.
5
And now it isn't easy either to live what is already known, but so is life. If at 50 I want an unknown life, that is the way of thought, of poetry. Love, hatred, desire, war, peace, I've already known all of it, I can live it by heart, it wouldn't cost me a thing to go on doing it. But I only ambition what is new.
To war I oppose the magisterial spasm of a terrible dream that once interpreted, spoke of love.
To peace I dedicate this torn verse. I am another civilisation, the Indian poet, even though I might not end the search of myself, I represent a new way of thinking life.
6
Principle of Pleasure/Principle of Reality: What is pleasant won't be represented any longer, what is real will, even though it might be unpleasant.
Repression is transformed into discernment. True or false according to imaginary links with reality and the transforming action arises.
7
How many illusions altered by love. Now I'll try to start all over again. I hope to be able to speak words of speech.
I have to carry out the work plans without worrying, for the time being, about what I'll do with the produce of my work. For the time being I must worry about my work yielding products.
If it is true that I don't any longer want what is external I have to consolidate what is internal. That is to say, that I must produce what is external for others.
8
She believed that if there was less, it was more expensive and better. That was her worst mistake.
She used to say – Come love, come to love the stubbornness of my skin, I'm yours, kill me.
9
February 23rd, 1985: I cannot count on her for the time being, I have to know it, not with her, not with the other one, not…
Yesterday I tried to study all night and sleep and tiredness threw me onto the bed before 3 in the morning, I slept at a stretch until eight in the morning and when getting up I wrote an unforgettable poem.
She only loves her own sex. And when she falls from hysteria she doesn't either achieve to become a woman, she is a mad woman who silences everything.
Since you left, shouted the wretch, all of my time is free, sovereign, haughty. No one will ever be able to stop my madness of love. I'll be the lover of the world, that is what I'll be. Now that you're not here, nobody will be able to resist my charms in full freedom.
All of my hours are free, they belong to others. On the verge of belonging to anybody (you must know) I belong to nobody.
Only the words and I, do you realise what grandeur?.
In relation to your writing, I tell you, it won't go far for the time being. It is full of feelings and as you should very well know, feelings are always the past: That unforgettable Our Father prayed in your mother's arms sucking her tits.
10
Yesterday a human being insulted me in the street in front of other human beings and as the rest of the human beings didn't say a word, I pretended that I wasn't spoken to and my life changed radically. The day after the event I write these lines, while I'm writing I'm transforming myself into a writer who dedicates all the time to writing and that, I imagine, will bring me problems unless I can sharply divide the issue: Doctor in Madrid, Poet in the World. This way in 50 years time I can retire and I'll have a work done and nobody will be able to say that I went through the world indifferently.
After becoming 100, other suns will wait for my howls. In becoming 100, rather than dying I'll set out to the conquest of new universes and somebody will still want to set out with me. For the time being I have to go on writing without bragging so much about having written.
Under these circumstances chance denies me. It is as if everything that should be solved in the next decades, should be done with my work. Anyway, I have had good ideas for myself. If it is necessary to continue working a few more decades, it is also true that it will be necessary to live a few more decades and that is for me good news.
11
The first reality, Lacan says to us, isn't then a beyond of nomination. What now we can't name: the first reality is linked to the act itself of naming. The first reality is linked to the position of the object in relation to the one who it names. An eccentric place for the individual and his ghost in relation with the significant.
Knowledge and its infinity exist on one hand and on the other hand the truth of the individual, the ID. If the individual forms part of this knowledge, he doesn't exist any longer as individual. The individual is he who is not included in this knowledge.
We had put the logic of knowledge from which infinite development on one hand, excludes the individual and on the other hand, grammar that is, by definition, what introduces the individual to the cost of the realisation of the unconscious.
Pleasure will remain by the side of the "Ideal Ego" and desire by the side of the "Ideal Super Ego".
12
We could talk about an inter-subjective time, where only hesitation in the other is what leads us to certainty.
13
The neurotic separates himself from reality or from a fragment of it because it becomes intolerable for him.
The being will not be able to remain as being. I think, I no longer exist. And that is what is intolerable for the neurotic, too.
14
It is not that in front of the child there is the surface of a mirror that the child looks at. We have to understand the specular phenomenon within the problematic of the gaze, and not the gaze from the specular phenomenon. The causative phenomenon is not in the mirror but in the Other.
We must not confuse being looked at with being emptied. Being looked petrifies, fixes the individual. In the Medusa myth, Medusa petrifies. In Orpheus there is a conviction for looking. Orpheus turns to look at Eurydice against the prohibition and she is once more condemned. Sarah fleeing from Sodom and Gomorra saves herself from the destruction of the cities under the condition of not turning her head back, because she violated the prohibition of looking, when she turned her head she was transformed into a salt statue. Cain is observed by God's gaze. Besides we can say that this is Kierkegard's theme, the gaze of the other, not the one on the mirror. Even Narcissus lives the illusion that it is someone else who looks at him.
What is fundamental in the experience of the mirror is not that the mirror reflects one's own image but the illusion that someone else is looking back.
The look, in Sartre's sense, discovers the being. The being in itself, uncovers to me what has already been.. Impenetrable, solid, irreducible.
That absolute "is" is death. But it leaves me on the edge of the other being, the being of freedom, the being for itself, the being that constitutes existence. For Sartre, in a way, that is negation. Not of the past, not of the whole of determination, when the determination is understood as coming from the past. As soon as I remain fixed , existence is under the gaze that petrifies. The possibility of movement, of freedom, is in acceding to negation or to remain in that affirmation of "is", from in-itself, that is like death.
15
In some way I have to be able to go on. In spite of the deaths and the pain I want to go on living, I want to go on creating.
I would like not to sacrifice myself for no one. Perhaps this time with the paintings everything will be different. Selling my paintings, selling my verses, selling my soul, to preserve my body a few more decades.
16
To be a psychoanalyst I must stop chatting with people in general and to be Director of the Psychoanalysis School I must stop talking to prospective psychoanalysts. Shit! I hope silence doesn't kill me.
Things are not analysed, one is who psychoanalyses oneself. It would be wonderful to defeat myself! How can we think that we did things well after having done almost everything wrong.
I have to be able to regulate my work so that no one realises that, in reality, I don't work, that in reality I psychoanalyse myself all the time.
17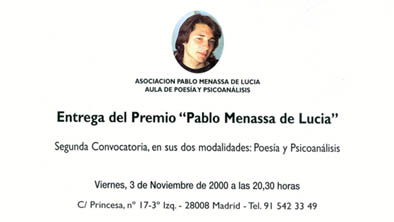 The Pablo Menassa de Lucía Association – Poetry and Psychoanalysis Lecture Hall announces the decision of the jury corresponding to the Poetry Award its second summons.

FIRST PRIZE: (shared)
- ROSA PUCHOL PEREZ with the work: "INTERLUNIO"


- LUIS DE BLASS with the work: " CLAROSCURO"


On Friday, November 3rd, 2000, this Award institutes by Pablo Menassa de Lucía Association will be delivered in the premises of the Grupo Cero Editorial. C/ Princesa 17-3° izq.
MENASSA IN BUENOS AIRES

MENASSA IN BUENOS AIRES
"Next Monday November 13th at 7 PM

in the Central Headquarters of the Universidad Abierta Interamericana


( 951 San Juan Av., Buenos Aires city), Dr Miguel Oscar Menassa,

psychoanalyst of renown trajectory


both locally and internationally, will

receive the Professor Emeritus

degree.

The diploma that validates the


discernment will be granted by Dr

Edgardo N. De Vincenzi, Principal of

the U.A.I., in the presence of the


members of the Superior Council of

that University.


Dr Miguel Oscar Menassa, Founder

and Director of the Grupo Cero

Psychoanalysis and Poetry School,


will deliver the lecture "Grupo Cero:

Psychoanalysis and Poetry".

GRUPO CERO EDITORIAL
Presents


CONDEMNED POET
by

MIGUEL OSCAR MENASSA
THURSDAY, NOVEMBER 9th


from 8 PM.


to 10.30 PM.

Free admittance


ENCORE, 286 Rodriguez Peña 4° F.


Tel: 4371 8013

MENASSA IN BUENOS AIRES

MENASSA IN BUENOS AIRES

SALAC LA PLATA


VATES 2000


7th GATHERING 2000


of the MERCOSUR


and the SPANISH SPEAKING


POETS


NOVEMBER
10th,

2000-

at 6 PM.


HOMAGE TO
DR.

MIGUEL OSCAR


MENASSA


Sponsored by:


Government of La Rioja


in Buenos Aires


(745 Callao Av.


Federal Capital)


Presentation of the 7th


Anthology 2000

GRUPO CERO

EDITORIAL


Presents


POETRY AND I


By


MIGUEL OSCAR

FRIDAY, NOVEMBER
17th, 2000

Free admittance


459 Maipú, 1st. F.


Buenos Aires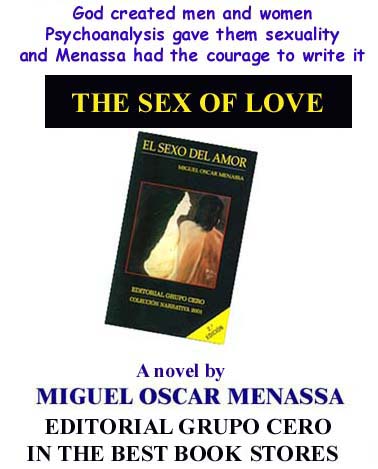 "This novel is a monument to desire, not to its satisfaction and desire doesn't fit in moulds norms"

Leopoldo de Luis

" Menassa transforms eroticism into a real encyclopaedia of sexual relations".

Juan-Jacobo Bajarlía
---