INDIO GRIS
INDIVIDUAL MAGAZINE OF GARBAGE COLLECTION
Nļ 21. YEAR 2000- OCTOBER, THURSDAY 19
FUSIONED - DIRECTED - WRITTEN AND CORRESPONDED BY: MENASSA 2000
WE DON'T KNOW HOW TO SPEAK BUT WE DO IT IN SEVERAL LANGUAGES
SPANISH, FRENCH, ENGLISH, GERMAN, ARABIAN, PORTUGUESE, ITALIAN, CATALAN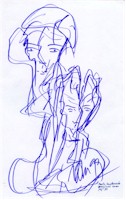 INDIO GRIS, IS A PRODUCT
OF A FUSION
THE BRIGTHENESS OF THE GREY
AND
THE JARAMA INDIAN
THE FUSION WITH MORE FUTURE OF THE
XXI CENTURY
---
INDIO GRIS Nļ 21

1

IT IS HAPPENING


YOU ARE LOOKING AT IT


BUT YOU CANNOT BELIEVE IT

A missile goes into the mouth of a child asking for freedom

2

Yesterday night I cried all night because of the lost freedom.

This morning Iím more calm. As if something I would have earned from crying.

When a poor or a small person or a slave kills a man, that is a thing of animals.

When a rich man or a big one or a master kills a hundred men, that is justice. I cried, I cried all night.
It is happening
I am looking at it


but I cannot believe it
A missile goes into the mouth of a child asking for bread
When I die, shouted the child, I would have left a trace but I will be already dead.
3
Surrounded by lies, the falsities of earth,
I try to write this poem to help the world.
I do not have truths to say, nor even watchwords.
I do not come to enrol in nobodyís armies.
The only thing that drives me crazy about war is that the soldiers are so young.
I cried, I cried all night and I felt sick as I never had before.
4
I live in a condemned world and I donít have the power to salvage it, Iím going to read it then.
The stop in war is put by the one who loses.
That is to say, in every war there is someone who surrenders, that is what puts a final stop to a war, there must be a loser.
Have you seen the clamour of the people!
Afterwards everybody died.
I cried, I cried all night and I was afraid just only be a writer. Even though, perhaps, I say to myself, the best thing would be to be resigned.
Being a writer isnít so bad comparing to be killed in a war, perhaps unnecessary.
5
Iím destroyed, war proves that my thought about man was wrong.
Man doesnít progress, it only progresses the technical object and not completely.
They kill us, I know that they kill us and though, I write for that man who without knowing who speaks will listen to my voice.
6
War is a big business,
it was said on the radio and the TV, today,
when the number of the dead is more than a thousand
the cost of the oil barrel will drop a dollar.
7
Love is what crumbles down, love is what hurts me, shouted the wretch, each tome I raise my salary I lose a love.
8
Madrid
September 26th, 1987
Times donít run, days donít move, winds donít flow. Is in this quietness stillness that I write today .Almost at the same moment of beginning, a little before beginning, that second before signalling the departure where any of the participants can yet win.
The trip to Buenos Aires together with the family, itís impossible for me to do it. The problem is that not being able to visit Buenos Aires in December, now, I want to go back forever to my home town to write my best works.
Before going back to my home city Iíll make translate all my work into French and Iíll try to publish or make publish some of my books in France. Before going back Iíll have to buy a house in Buenos Aires I donít know with what money. . Before leaving Spain I must finish all my contracts with the didactic groups. So Iíll prepare the trip will take place in ten years time, if nothing extraordinary happens, before the 2000 Iíll be living in Buenos Aires.
I hope to publish here in Madrid four or five Psychoanalysis books and three or four of poetry and one or another novel.
Autumn in this city is seen appears abruptly and firmly. I wrote a poem for my 47 years, but in general I donít want to sit in front of the machine to write because I think that first I must publish my unpublished writings that they already flood all the corners. Or I publish quickly, or I wonít have any place left in my soul.
Preparing the big project of my going back to Buenos Aires, I work as a beast
THE BOOK MIGHT BE CALLED:
GOING BACK TO BUENOS AIRES OR THE ALGORYTHM OF A SKILL
9
February 26th, 1994:
My sister brought me some dollars from the inheritance of my father and of my mother. All the inheritance is equal to what I earn each month, all the months of the year.
The dilemma: to buy something or to spend the money in perishable things. An important change is taking place in my life. Itís the first time in 18 years that I lived in Spain, that I have money and I donít know how to spend it.

If I donít die in 40 years time Iíll be grandiose.

10

I have to calm myself down, I already have work that is the only thing one can have in these times. Iím already loved by some woman. A little world already carries my name. Now i can ask myself, if making love wouldnít be so important, what would be important for me?

11

Dear Pablo, today after more than a year from your death, I went back to walk through the streets of the village where you were murdered and i felt profound emotions, like walking by your side.

I pronounce your name, small child, beloved Pablo,


to hear you live when I name you.

I name you to stop death from being,


the centre of my voice, the possible life in my song.


I name you to tell the world, to your beloved girlfriends,


to your friends who took you by the hand to death,


that my small child, beautiful Pablo, lives when I pronounce his name.

If another man pronounces his name, man does not die.

That is why when I name you in my poems, I walked


as we used to do along your side, hanging from your arm,


letting myself be driven along your paths of lost love.

I say to myself that is why when I named you each time in my poems,


it is as if you were alive, beloved Pablo,


as if nobody would have been able to murder you,


as if the fragrance of your skin would arrive in a verse,


on the letters of your name written on the paper.

And that delicate voice, low but firm in reaching a destiny,


with which you read your writings to me, waiting for a smile,


mysterious words that would link you to me, that would allow


your name not to ever end, that would go beyond,


that voice surges in me, warm and alive, when I write about you.

And that is why I donít let myself die in this sorrow,


only to name you, because each time, brave and happy,


we will make of love infinite roads of fire,


clear illuminated springs, waterfalls of laughs in your eyes.

If another man pronounces hi name, man does not die.

12

Sometimes she is like something that when functioning doesnít function.

13

Iím becoming foolish waiting for the turns of destiny to incline in my favour. I must carry out the idea of breaking with all the past. I must be able to stay to see what people will think like the first 30 years of the next century.

14

January,1995: I have to realise that the publication of my daughter Alejandraís first book and of Carmenís first book which are, in my understanding, two good books, produces in me the sortilege of triumph and the fear that emotions may overcome me.

15

Monday, February 27th, 1995: I donít want to work as a baby-sitter any longer.

16

IT NEVER HAPPENED


IT IS NOT HAPPENING


IT CAN ONLY BE READ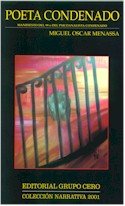 No more love means that positive results can also be obtained by diverse ways which arenít love.
When the outcome is negative or less beneficial, the candidate has said no to various ways.
Thatís why it isnít worthwhile trying other ways but changing the candidate.
Today I think I can even cure my frivolity.
To oppose, for a time, my time against all time.
There, there will be something new, perhaps what is poetic, another time.
Then they will come to ask me and I will have already said.
We have to get rid of old ideologies.
The power that money gives is not for everyone, but neither are potatoes and they are much cheaper.
There is something in the world that must be led, but thatís not within my possibilities.
No more numbers, we have already reached the level.
Now we ambition them to forget that we are the triumphant. We were the first ones, the best, the more numerous.
Now we ambition to improve our readings, our meals. We ambition for us, a strong love, a delirious writing.
There are also mad people around me, that oblige me to be careful with my writing.
Blind gold buyers set me free.
Now, without needing it any longer, I go for my desire.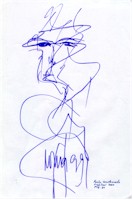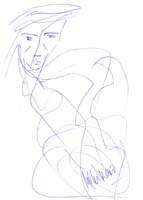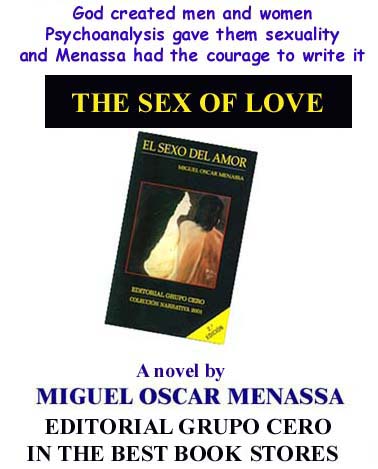 ďThis novel is a monument to desire, not to its satisfaction and desire doesnít fit in moulds normsĒ

Leopoldo de Luis

ď Menassa transforms eroticism into a real encyclopaedia of sexual relationsĒ.

Juan-Jacobo BajarlŪa
---