Weekly magazine through Internet Indio Gris
Nº 203. THURSDAY, MAY 6 TH , 2004
FUSIONED - DIRECTED - WRITTEN AND CORRESPONDED BY: MENASSA 2004
WE DON'T KNOW HOW TO SPEAK BUT WE DO IT IN SEVERAL LANGUAGES
SPANISH, FRENCH, ENGLISH, GERMAN, ARABIAN,
PORTUGUESE, ITALIAN, CATALAN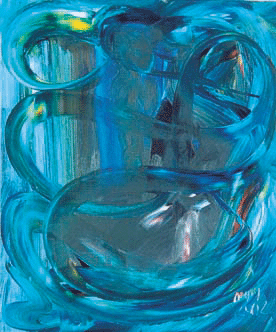 INDIO GRIS, IS A PRODUCT
OF A FUSION
THE BRIGTHENESS OF THE GREY
AND
THE JARAMA INDIAN
THE FUSION WITH MORE FUTURE OF THE
21st CENTURY
---
INDIO GRIS Nº 203
YEAR IV

Greetings (0.49 sec.)
EDITORIAL
To my friends,
the only poets of this century,
a especial dedication:
Friends,
THIS ISN'T WORKING ANY LONGER,
it is simply
about writing
one more verse than them.
THE LAST ONE,
which should read:
it must be this way,
the opposite.
EDITORIAL-2
Five centuries have gone by
and everything
was true.
They who empty entrails,
the sarcophagus violators,
reached with their bombs
the centre of the earth.
They wanted to conquer everything
and they possessed
an immeasurable passion
-perverse-
for the virginal encounters.
To love,
they love above all
whiteness,
asepsis,
a sort of deaf whim
for building
insurmountable walls,
for organising our senses
and, besides,
true sophistries,
bewitched models,
scintillating headlines in the newspapers,
in order,
if it is possible,
to deviate our gazes.
They don't allow us to live
They just need
that we don't go hungry,
such hunger!
and for our desire,
the relics,
the torpid beasts stupefied by old age,
the wastes,
in all,
for us,
BREAD AND CIRCUS.
the warm and melancholic
custom of the barbarian peoples.

Menassa reciting Editorial (2.03 min.)
When everybody awaited for my disappearance, I disappear.
I'm the perfect charm of poetry at any level of comfort.
A vulture storing its own carrion.
A sadness belittled by the accomplishment of being.
In the open sky, I play this desperate note: I love and I am loved.
When she tells me how I love her,
I have to admit that I am the only one capable
of doing it that way.
Persistent beloved,
stubborn solitaire snake tied to my throat.
I cry for you, I tear you into pieces in my eyes.
I have with me that cruelty which you ambitioned so much.
I became that open delirium where your smile fitted perfectly.
And we kissed our legs tenderly,
because toads sang merrily to an unexpected future.
I find you once more,
I always find you when I open my mouth,
when I let your gaze slide ostentatiously through my mouth.
We were little gods and, also, little bloody devils.
A mixture of slavery and freedom, both inconceivable.
As an empty hole in the middle of the sea.
As a silent curfew to death.
Whistle coming from the sea.
I dreamt,
I tied myself to death's arms
and your body didn't stop capturing my attention.
The coldness of my body was alarming.
You used to tell me:
Love, love, coldness is our dream,
death, death, death,
our inseparable companion,
love, love, time will turn to vengeance over us,
over the thick men of the snowed lands of hatred.
I love to write,
a noise similar to a hundred canons
related
to the most potent part of what is human,
the rest, all the rest,
rifles rotten by time.

Menassa reciting When everybody awaited … (3.27 min.
( Don't get desperate while unloading the video)
I was the singer of singers,
I lived
five thousand years.
I was everything which died
with the great bomb.
Swarms of dreams
riddled by particles,
-horrors of the metallic transformations-
and the splendid and stupendous
atomic spittoon.
The final shit.
I am, at last,
and this time
I ask for clemency because of the violence,
the dead who speaks.
A miracle of poetry.
A fierce combination
of everything against everything.
The Mutant,
the devilish experiment of madness
against the atomic final of the century:
In only one voice,
all the words.
And now I can say
that I am immune
to the wild bomb
and its consequences.
A sort of untamable savage,
barbarian by style.
The invincible
speaking fireball.

Menassa reciting I was the singer of singers (1.48 min.)

INTRODUCTION
I live,
-since a century ago-
in a remote country,
in the south of Europe.
I live,
by habit,
in its own centre.
At the south of the town,
where the city
is itself and its end.
The emptiness
where the drainages land,
the sheer limit
between freedom and madness.
I mean to say
that Buenos Aires
hasn't died,
because to live,
I live in its suburbs.
And, however,
-because of the old vice of my ministry-
no one suspects.
Standing on the sidewalk of my house,
looped,
with my legs crossed
and the right one, behind,
resting
on the new traffic light,
and the cigarette
hanging
down my mouth as if I were a "guapo"
and nevertheless
they think I am,
they think I am a misunderstanding,
a wild grass
grown unexpectedly
out of season.
I grow with difficulties
under the attentive gaze
of the amazed agriculturists.
Such beauty
at the end of the century
hadn't been calculated.
And that's why,
because of having violated the law
of appearances,
the opaque murmur of calumny,
the danger
of a destiny of crazy people,
hovers over me.
Disappearance.

Menassa reciting Introduction (2.24 min.)
Cero Group
Consulting Room

Cero Group
Consulting Room

Amelia Díez Cuesta
Psychoanalyst

Carlos Fernández
Psychoanalyst

Appointments:
91 402 61 93
Móvil: 607 76 21 04
MADRID
AMELIAA@terra.es

Appointments:
91 883 02 13
ALCALÁ DE HENARES (MADRID)
A man,
a woman,
held up
in vane memories concealing:
The threat of castration,
the envy of the penis.
And yet,
they haven't reached the smell of what is human.
He
has a penis.
She
doesn't have one.
They are two liars.
When someday they touch truth lightly
they will turn it into power,
and they will use
power
to exterminate
lie from earth.
They are two fanatics,
two believers full of faith.
To have till the end,
to have till the end,
an unique illusion.
He, a piece of flesh
or else,
a little money.
Her,
a hope,
at least,
a yearning.

Menassa reciting A man (1.35 min.)
Cero Group Consulting Room
COUPLES COUNCELLING

EROTIC LITERATURE WORKSHOP

Miguel Martínez Fondón
Psychoanalyst

Coordinator: Miguel Oscar Menassa

APPOINTMENTS: 91 682 18 95
GETAFE (MADRID)

91 758 19 40 (MADRID)
Any dialectic
is
stubborn.
In vain it repeats itself to the end
even if it proclaims independence,
even if it permanently proclaims revolution,
permanent metamorphosis.
History, for the time being,
transforming itself during centuries
in two kinds of wars.
One which has,
and the other one, which doesn't have.
One which has the hope of not losing.
The other which has the hope of having.
A world,
as we see,
full of hopes,
where saving and wasting
don't open any new path.
The ass
has made its devastation.
A poor man whose limits are
shit and purity.
Always a fit in a straight line
in one direction or in other
and, as a joke,
we believe that 5,000 years
are enough.
We can try the unmasking:
man
besides his ass,
has a heart.

Menassa reciting Any dialectic (4.20 min.)
( Don't get desperate while unloading the video)
THE ELEVENTH CHANT OR FINAL CHANT
Slaves
and even though
I am a writer.
I only want
your hungry gazes over me.
I only want
-for the last poet of the West-
a real luxury:
Witnesses,
billions of witnesses
for the final chant.
And the daring
is beyond suspicion
because, now,
I must write
our final chant.
Famous roars,
I want
wild voices,
so that the poet
can be able to achieve the impossible:
to evacuate in the bathroom,
eat in the dinning room,
die in a bed
and it wouldn't be amiss
a diploma on something.
Impunity is necessary.
Let the beast
rest in peace,
die in peace.
The circus
only needs its past.
I know, gentlemen,
freedom
doesn't exist.
I said it myself
but the poet
loves freedom.

Menassa reciting Eleventh chant or final chant (2.21 min.)
( Don't get desperate while unloading the video)
THIS MATERIAL WAS RECORDED LIVE IN THE SPACE
"AWAKENED POETS"
THE PAST MAY, 2TH, 2004
VISIT US!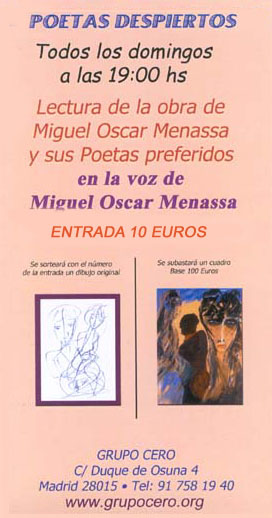 ---
THIS IS ADVERTISING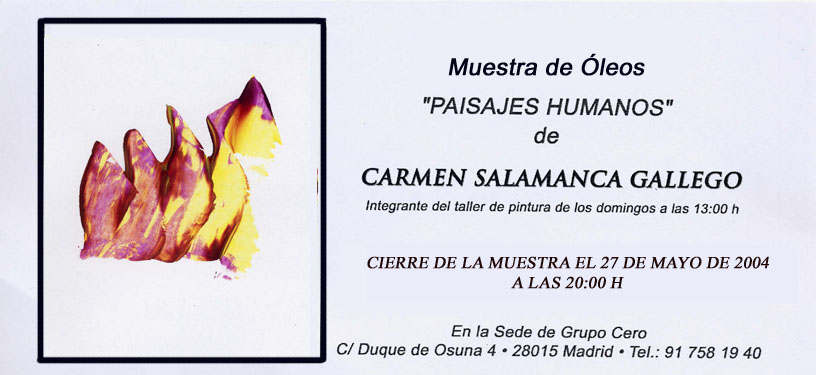 ---