Weekly magazine through Internet Indio Gris
Nº 201. THURSDAY, APRIL 22 TH , 2004
FUSIONED - DIRECTED - WRITTEN AND CORRESPONDED BY: MENASSA 2004
WE DON'T KNOW HOW TO SPEAK BUT WE DO IT IN SEVERAL LANGUAGES
SPANISH, FRENCH, ENGLISH, GERMAN, ARABIAN,
PORTUGUESE, ITALIAN, CATALAN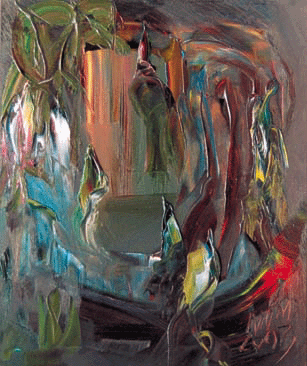 INDIO GRIS, IS A PRODUCT
OF A FUSION
THE BRIGTHENESS OF THE GREY
AND
THE JARAMA INDIAN
THE FUSION WITH MORE FUTURE OF THE
21st CENTURY
---
INDIO GRIS Nº 201
YEAR IV
EDITORIAL

Menassa presents (0:38 sec.)
WE COME FROM THE SHADOWS
We come from the shadows,
we were
announced in a poem.
A word
intertwined with the being.
vinegar and undergrowth,
deep
and new preoccupations.
Words
destined
to the profoundest insight of man.
Exquisite
forgotten nectar.
Ancient mutation
where man,
his thirst opened,
desperate hunger,
bewitched
by a piece of bread,
loses his wings.
He loses
for a jug of poisoned water,
the nobleness of the flight.

Menassa reciting We come from the shadows (1:00 min.)
To emerge from the shadows,
from the shadows of the sea.
Aquatic kangaroo.
Hours of a life
desperate and alive.
Little words
will go creating the world.
Stubborn gallops
will go covering distances.
Among marine beauties
I tear your skin,
I put my life on stage
within the contours of your rhythm,
I sense you with no preciseness
among the light sheets of paper.
To the wind.
To time.
To poetry.
Tenacious among your dead,
crazy and alive,
iridescent molecular eye,
flame of love,
poetry,
tenacious,
purifying algebra,
ardent antiseptic
against the little creatures of the woods.
Nocturnal nerve and light,
muscles and massacre,
Fleshes,
vintages of flesh,
poetry,
tenacious,
in the future
against whatever might smell rotten.
To the wind.
To time.
To poetry.

Menassa reciting POETRY (1.33 min.)
IF IT'S ABOUT LOVE
I am a voracious child.
If it's about love,
I need it permanently.
Opened to the sun
during the day
and also during the night.
And I confess,
in the limit of my power,
I would be insatiable.
An open mouth,
Thirsty,
dry and open.
Mute and imploring
humanity without wings.
There wouldn't be milks
nor sounds
nor juices opened from your womb
nor possible sex
for my love malady.
A child capable to break
the universe with a smile.
A child capable of smiling.
always defenceless and nervous,
a remain of humanity
among stones.

Menassa reciting
If it's about love
(1.15 min.)
WHICH ARE MY DESIRES?
Which are my desires?
To travel.
To love.
To speak.
To go conquering
little by little,
the universe.
To go conquering
little by little, at least,
a human cell.
A microcosmic particle of being
and afterwards,
rest on the grass,
on the fresh spring pastures.
Everybody
is sleeping,
the whole world
is asleep.
To rest
a little
I say
on the fresh spring pastures.
First truth:
I never knew well
what life was about.
Second truth:
I never wanted
to know well
what life was about.
I always chose to be wrong,
groping in the dark.
Not to follow,
in general,
any direction,
to arrive
in places
just by chance.
The time of life
caught me by surprise
living.

Menassa reciting What are my desires? (1.26 min.)
Cero Group
Consulting Room

Cero Group
Consulting Room

Amelia Díez Cuesta
Psychoanalyst

Carlos Fernández
Psychoanalyst

Appointments:
91 402 61 93
Móvil: 607 76 21 04
MADRID
AMELIAA@terra.es

Appointments:
91 883 02 13
ALCALÁ DE HENARES (MADRID)
STOP BEING SO HUMANE, GET ON THE MACHINE
Stop being so humane,
get on the machine.
In time you'll find some sense.
When a woman looks into your eyes,
tell her that you love her.
and in that way,
even if your eyes aren't beautiful
or you don't have eyes,
always with the same intensity.
I love you.
And if your gaze one day becomes fashionable,
don't you worry,
firmly:
I love you.
And so successively to the infinite.
Pervert once and for all
the sense of the word love
which, in all cases,
your mother gave you
in that unforgettable embrace.
You were a child.
she, a woman full of prohibited desires.
Imagine your little newly-born eyes,
demolished by that millenary fire.
Insist,
To each woman coming across you
tell her that you love her.
and don't accept that you are broken
and that you are a fragment of a man
and that your pieces are scattered
in the hearts of four hundred women.
No way.
Stand in front of her eyes
and tell her that she is the only one.
If you keep repeating this, together with "I love you,
I love you,
I love you more each day,
I couldn't have dreamt with so much love",
she will end up dedicating herself to something else
and you will be free.
The problem is
that with such repetition
you may end falling in love
with every woman,
you may become a feminist,
cut your balls
or go about in the streets saying
that man has to return to the woman
what he has taken away from her.
In order to be able to reach a not well-known state
that man has,
as a consequence
of what he has stolen from her.
And she, desperate,
waiting to be given back
what she never owned and which, however,
has been stolen from her.
In spite of all the risks
I advise you:
Invent heterosexuality.

Menassa reciting Stop being so humane (2.41 min.)
( Don't get desperate while unloading the video)
Cero Group Consulting Room
COUPLES COUNCELLING

EROTIC LITERATURE WORKSHOP

Miguel Martínez Fondón
Psychoanalyst

Coordinator: Miguel Oscar Menassa

APPOINTMENTS: 91 682 18 95
GETAFE (MADRID)

91 758 19 40 (MADRID)
MY BODY
My body
always yearning
humanity.
And flying
with it,
between the tall women
and the well-known men,
we made love.
Emblem
among emblems,
I leave my skin,
perfectly extended
onto the four winds,
and I don't allow
another skin
in the horizon of her eyes,
not because of any metaphor
lost in the past
but,
I must say,
because of the infinite extension of my skin,
magic of the senses,
exact measure against death.
My body,
a stroboscopic vision of love,
I am
a group.
A hallucination
with no precedents:
We look at ourselves
in the famous lake
where Narcissus died
and we see ourselves
beautiful,
and why not say it,
perhaps,
we face
when looking at ourselves
the unique beauty.
And we are fascinated by our own image
and we let ourselves be carried away
by that passion
for ourselves
and we fall,
noisily,
in the lake,
to die
where Narcissus died
and swimming,
swimming slowly,
and slowly,
losing our memory
in order to swim,
to reach the shore,
to the same place
where some words
join us.
And it wasn't about
dying,
and it wasn't about
falling apart,
just swimming
tranquilly through the lake.
I come back
and I rejoice
in some comrade gaze,
I'm not afraid of growing up,
of being universal,
athletic.
I'm not afraid of the night
nor am I afraid
that my soul may be invaded,
by brusque,
uncontainable
feelings.
In general,
I'm not afraid of sinning.
And
so that my word might not grow,
to stop the blooming of my word
it will be inevitable,
gentlemen,
for you
for someone to invent
a new stratagem,
because, in this poem,
Narcissus' myth
has died.
And now
I go
swimming tranquilly
in the lake
and I return.

Menassa recing My body (4.30 min.)
(Don't get desperate while unloading the video)
LOVE FLOWERS, GROW IN YOUR DESTINY
First,
love flowers, grow in your destiny,
be more powerful than yourself.
bend yourself,
you are more able than us.
I listen to the protests
of desperate wills.
I am a desperate will,
I cannot place myself,
I masturbate alone in the corners of the house,
I have violent noises within my body
and, besides, my personal history
cannot stand this historical role.
We should write:
Among us,
he who feels like a desperate will
does not exist,
because will and desperation
are two states of man, which are impossible.
Movements are involuntary
and over-determined.
But the poet loves freedom,
telling the poet to free himself
will be good for everyone.
In order that he frees himself
we will become his slaves
and that blood debt
will make of him our singer.
Cheers to the poet,
the solitary individual of the summits,
the bewitched one by the disease of the century:
the word.
Come on, little sayer child,
your body is within us,
you
can fly,
howl desperately,
climb the walls of memory,
require the most precise
biological investigations,
the poet
claims to be investigated,
he accepts that he cannot capture
the dimension of the phenomenon,
he is afraid,
the group has granted him the possibility
of turning invisible.
Such impunity,
such glory,
hurts the poet's sensibility.
The poet cannot understand,
death is always easy,
it happens with no efforts.
We advise the poet
to let himself be carried away.
Death does not exist,
she is also
a construction
of our desires.

Menassa reciting Love flowers, grow in your destiny (2.37 min.)

THIS MATERIAL WAS RECORDED LIVE IN THE SPACE
"AWAKENED POETS"
THE PAST APRIL, 18TH, 2004
VISIT US!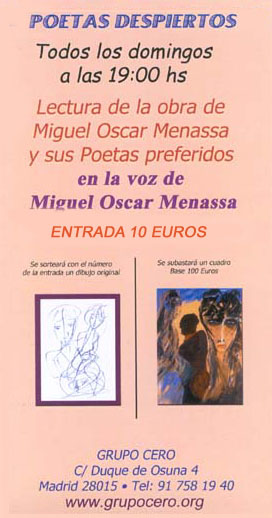 ---
THIS IS ADVERTISING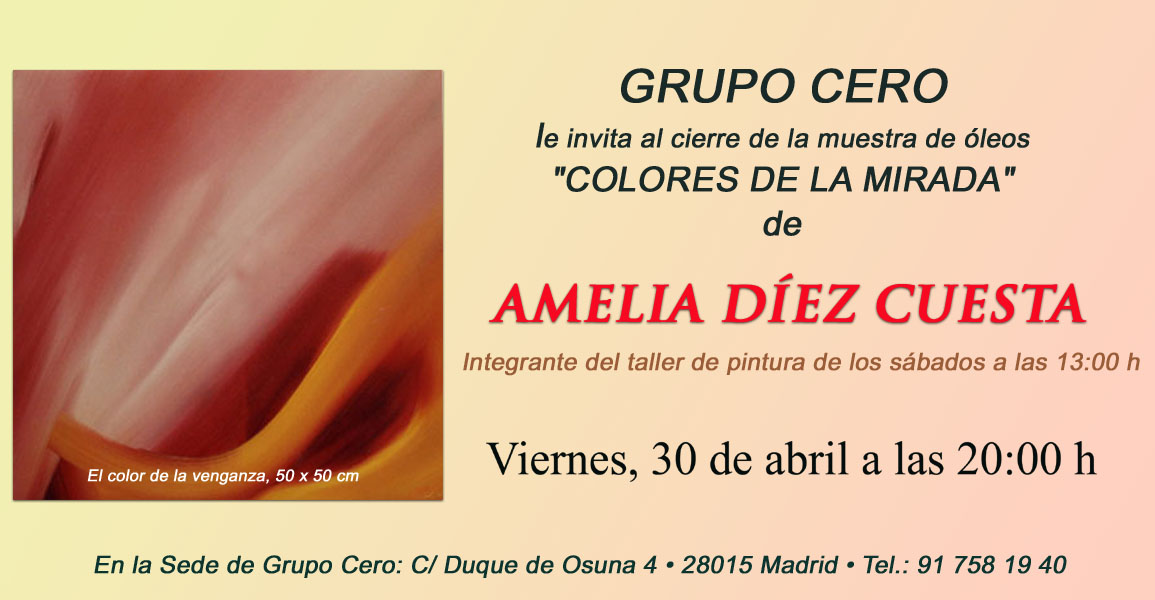 ---