INDIO GRIS
INDIVIDUAL MAGAZINE OF GARBAGE COLLECTION
Nº 2 YEAR 2000, THURSDAY, June 8
FUSIONED - DIRECTED - WRITTEN AND CORRESPONDED BY: MENASSA 2000
WE DON'T KNOW HOW TO TALK, BUT WE DO IT IN SEVERAL LANGUAGES
SPANISH, FRENCH, ENGLISH, GERMAN, ARABIAN, PORTUGUESE, ITALIAN AND CATALAN.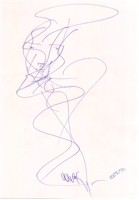 INDIO GRIS, IS A PRODUCT
OF A FUSION
EL BRILLO DE LO GRIS
Y
EL INDIO DEL JARAMA
THE FUSION WITH MORE FUTURE OF THE
XXI CENTURY
---
INDIO GRIS Nº2
1
Rafa, Rafita, as his mother used to call him, was desolated today and had to knock himself down on the couch to talk to me - "I'm worried", he stammered, "today I had it sucked for more than half an hour by Jacinta Unzué, and while she came six times by the mere fact of sucking me, nothing happened to me. Well, not nothing, but I wasn't able to ejaculate. While she was sucking me, in one or two opportunities I felt something similar to an orgasm, but as I couldn't ejaculate I remained sad, abandoned. When she left, she was smiling happily and told me that she was in such a happy state because she had really felt herself loved by me".Rafa remained silent for a long time and then remarked with some irony: "Each day I spend more time with women and what I'm attaining in not knowing them at all...for example, I can tell you what occurred to me last week..." I interrupted to tell him that it was enough for the day, and we said goodbye till next time. When Rafa parted I stayed there thinking of my own sexuality, which at the moment I almost lacked entirely. I could not exactly realize what my sexuality was about. I spent the whole day working, and when I was not working nor writing, I painted. I felt loved by many people, women, men and children. Sometimes, I got to think that the people who loved me were too many. Little by little I would become stupefied. It had already happened to Federico, dying and not having understood clearly a thing, or almost nothing.
Today, I sent some flowers to Gloria Fuertes, I felt well doing it, even though I would never completely understand why I was doing that. Sending telegrams to the King, flowers to the Poets, books to people that did not read.
When the telephone rang I startled and was late in picking it up. When I got up they had already hung. I left my consulting room and went out to take a walk on my own legs. As I was walking about, someone asked me for alms and like when I was young, I answered the beggar:
I don't give alms, I'm a Marxist.
Afterwards, I went all the way to the bar laughing at myself.
2
I have to learn to manage distances.
Buenos Aires, the world, and even more without moving out of Madrid.
3
Dealing with the matter well, means that you have to make businesses last the same way as concepts of lengthy duration do, the soul, for example, God.
4
Today, I'm only interested in knowing something about gambling, something about women.
And, on the other hand, I realized that I cannot demand others to understand what I do not understand.
5
I must place a limit to my madness. Something has to remain on its feet so that the sum is possible.
6
People must be educated. All people must be educated. This time education has to reach even my own family, including me.
7
I'm impressed by the fact that what it happens to me is life.
It is my turn to be associated to nothing. Being the name of things seems to me brutal, simply brutal
8
I realiza that there are certaing things I should not do. Certain groups, certain relations.
When I come back, I do not want to be back
9
I invented the heart of the snake and it is not an invention at all.
10
It had been proven to me with certainty that nobody is specially interested in my ideas. That is why I have decides to keep on being as I am. An independent professional.
11
I will be able to do something this century and I am speaking of the XXI century.
12
Each day that goes by I discover something terrible:
One cannot work with people who do not want to work.
13
I would like to live another 31 years. In total 91 years.
How tremendous. . 31 years. I blow my life up, I just blow it up.
At 54 I learnt to say good-bye and I made my whole self Grupo Cero.
At 55 I wanted to return to Buenos Aires and the wind took me away from myself.
At 56 I stripped myself nude in front of a mirror that was bigger than me and I felt happy.
At 57 I let the Indio del Jarama rummaged into his memory.
At 58 I published my son's Pablo's poems.
At 59 I broke some chains and wrote the '99 Manifiesto.
At 60, and this goes for the night of friends, I will learn to dance the tango, too.
19
When I was one year old I already suffered from an exaggerated strength. I seized the sacred tits of my mother and I moved and sucked, with no rhythm, until I got her exhausted.
20
At two I used to walk next to my father from one place to another until I fell tired out. He would take me in his arms tenderly and turn me back to my mother.
21
Estoy como loco, con ganas de escribir y soy acosado por los fantasmas de la realidad.
22
Estoy cerca de algo, mejor comienzo a cuidarme de mí.
23
IMPORTANCIA DE UNA ESCUELA DE PSICOANÁLISIS
FRASES
-La Escuela tiene una ley, la del Psicoanálisis.
-La tolerancia de las diferencias es una tolerancia psicoanalítica.
-No puedo humanizar sin estar previamente humanizado.
No puedo psicoanalizar sin estar previamente psicoanalizado y previamente, para un psicoanalista, es siempre.
-El psicoanálisis es civilizador.
-Una Escuela es lo que impide que los psicoanalistas se olviden del inconsciente.
-La imposibilidad de alianza da cuenta de la abolición del objeto a, que es lo único que determina como mortal al sujeto.
-EL psicoanálisis pone en marcha otra economía.
-Las palabras no traen nada detrás de ellas.
-Transforming themselves into workers is the first step to be thought of within the psychoanalytical field.
-If a psychoanalyst doubts about his services to a patient, we can assure that the psychoanalyst is not being psychoanalyzed.
-Being cultured is a requirement for a psychoanalyst and being cultured is vibrating as the era vibrates.
-Envy is what distances me from the event.
-Jealousy are, also, the doors to desire.
-What is normal is sickness in the individual.
-Reality does not exist, it is built up.
-Madness, if no one can prove it, deserves a price.
-If something grows too much ( psychoanalysis classes for multitudes that are not being psychoanalyzed or psychoanalysts seeing 10 patients or more per hour) somebody has to think if what is growing is not, simply, potatoes.
---