INDIO GRIS
INDIVIDUAL MAGAZINE OF GARBAGE COLLECTION
Nļ 19. YEAR 2000- OCTOBER, THURSDAY 5
FUSIONED - DIRECTED - WRITTEN AND CORRESPONDED BY: MENASSA 2000
WE DON'T KNOW HOW TO SPEAK BUT WE DO IT IN SEVERAL LANGUAGES
SPANISH, FRENCH, ENGLISH, GERMAN, ARABIAN, PORTUGUESE, ITALIAN, CATALAN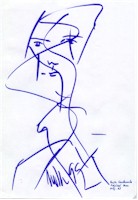 INDIO GRIS, IS A PRODUCT
OF A FUSION
THE BRIGTHENESS OF THE GREY
AND
THE JARAMA INDIAN
THE FUSION WITH MORE FUTURE OF THE
XXI CENTURY
---
INDIO GRIS Nļ 19
1
October 12th, 1996: Madrid, Pillarís celebration: Writing is what makes time not to pass. Iím in the clouds and a long time has gone by since I last was in the clouds and what a wonderful thing is to be in the clouds, it should be permitted to anyone who wishes to be in the clouds.
Today I have discovered my own America: writing without stopping every day however it may be and wherever it may be, until I finish the 2001 NIGHTS and conform Freud and Lacan- hablados-2.
Publishing the nights and leftovers as sayings of a dirty old man will give my life a new twist. I hope I can accept it tranquilly. It was my fate to become a great writer and I am one, that is the reward, all the rest, fame, money, depends more on neurosis than on history.
I always wanted to be something different to what I was, but now I am happy with all the things that are happening to me, everything that Iím doing is according to the desire of the groupís project. If this sensation continues Iíll write the best poems of my life.
2
October 21st, 1996: Iím waiting for a time of joy. Something similar to what happened in some movies of my youth, a kiss, a letting it be, without anything to do, a prolonging of every situation till losing consciousness.
The real expectancy came afterwards. To be reborn, to love life once more. And they were whole afternoons, skin over skin, cherishing all hopes. Your bare feet, bread eyes, syrup of lust stultified by the evening, slowly spilled over my words.
3
Madrid
April 16th, 1995
Dear Juan Carlos:
Your letter about my trip to Cuba accompanied me the whole time. Anytime an inconvenience arose which could impede the trip, I recalled the phrases in your letter when you told me that I was going to do something good in Cuba and that tranquillised me and I could go on preparing the trip.
In the Island I knew about 500 persons and brought with me 150 addresses and writings from 80 poets. I remember having been invited by a centre for research and literary documentation in a little village, 70 kilometres from Havana and next time if I wished to go back, I would do it invited by Ruben Villena, the Libraryís Director from Havana city, by the director of the Matanza Library, by the Sub- director of Culture of the Havana Province, by the titular of the Marxism professorship, by Pablo Milanes Foundation, by the Director of the House of Culture in Alamar (East Havana) and by Cubaís Academy of Sciences, but I donít know if I will return to Cuba someday. Funny, isnít it?
I have generated the possibility of three production groups (as we called the groups in our youth) and in ďThe Jarama IndianĒ 21-22 that is about to appear the first days of May, Iíll try to publish some photos from places that Iíve visited and some poems from each place.
This time, referring to my trip to Buenos Aires, Iím very hopeful of being able to establish my own relations in that city I love so much. Itís my turn, close to becoming 60, to travel from one place to the other (Buenos Aires, Madrid, Rome, Paris, Havana, Rio, Lisbon, Berlin, London, New York) showing around my poetry which already has been decorated with honours and a psychoanalytical saying, which, in the last days, resulted to me very productive and in a certain way, original, something in the way of articulating, of interpreting, make me think that I have something to say, that I have something to defend.
4
Madrid

Monday, July 10th, 1995

Dear Norma:

Iím writing a letter to you which I thought to write to Juan Carlos or Sergio or to make it public in any newspaper or in The Jarama Indian magazine.

Today I felt with great clarity and a lot of relief that there was a way to break the established perverse relationships around the School, without breaking the School, and that measure is to stop collecting my salary as Director of the School and as Director of the Editorial. More or less about $8,000 per month.

Not receiving a salary anymore would put me at the same level of the other members. Like them, I would work for nobody and could start occupying myself of style.

5

I have to be able to say that writings from previous years exist and that for the time being Iím incapable of attributing them to myself.

Looking for solitary steppes I found cities where people died from stacking. Later, also looking for great cities I found solitary steppes. I have walked looking for nothing and found nothing. And when I loved glory I reached what I wanted and if there was something I didnít want it was conceded to me.

Later, there were also days, when I could arrive to no agreement with anything. And everything I did came out more or less bad and the wrinkles persecuted me tenaciously and the loves were truncated, fallen.

6

October 27th, 1995: Darling: Thinking of your facial herpes, of my toothache (after more than three years), of a small erosion in my intimate parts, of extreme and variable aches in almost all of my body, just in the moment when we are doing best, has made me feel bad about myself at least, once.

In 20 years of exile I have done nothing about pain.

I never knew entirely how money could be sent or received. Iíve been living in Ameliaís place for six years, a hundred metres away from the Argentine Consulate and I could never go, I was never informed about anything. Living alone and isolated, I received the punishments which were delivered to the Argentine community in Spain, but I didnít receive the benefits or the rewards.

Exile was a historical event and no citizen, as far as I know, is responsible of the historical events.

So we must leave guilt abandoned in the path of the miserable, and try, in these three or four decades that we have left, to be able to enjoy what has been accomplished: a job, knowledge. Something good has happened to us in life, we only have to realise it.

Besides I think that one has to prepare oneís own pleasure, oneís own rest. Nowadays (modern States do not permit it), nobody is in conditions of thinking of nobody elseís well-being, so weíll have to abandon the position of capricious children waiting for someone to give in (as happened with mama) to our caprices and to start to do things according to our conveniences, without asking anybody permission because nobody is authorised to give us permission.

The work we chose is a good work but we must know that something in it puts us in chains. Always psychoanalysing oneself

(paying for it). Always studying. Always being in permanent contact with others. Always working. Permanently transforming the thing into another thing. And telling people the truth: Psychoanalysis is good for everybody and not only for me because Iím very intelligent.

The intention is to put a stop to the stage of pain that has already lasted about 20 years or, at least, put a stop to the pain that can be ended and that, after 20 years, is the pain of exile.

To remember that we are people favoured by fortune: alive exiles.

7

Today Iím sad, shouted the wretch, like a woman giving birth to what she wouldnít be able to love.

8

Beloved, donít be afraid, the clock wonít strike this hour.

9

I have my future insured but I have to make it now.

10

I donít know how good-bye is but Iím leaving.

I leave you these flowers, this extraordinary smell of torn skins.

11
Today is one of those daysÖ

Now I would like a double space and start again.

I come from the mediocrity of cities,

I very closely saw, drugs and high city walls,


women ran over by love,


animals registered in social security.


I walked the street and looked at nobody

I walked the street and nobody looked at me.


I used to let time go by through my plume,

I used to let life fall on the blank paper,


full, open, humane, which I no longer shall live.

12

Sometimes I mix up my life with my history, Iím still an idiot.

13

I write timorous words,


lost angels,


to call you in the delirium


of open roses.

It was wonderful to see how the gold coins fell onto the fountain never to be found. In years thereíll be doubts as to whether any coin might have fallen.

14

Today I had luxury Psychoanalysis in Madridís Casino:

a- I still donít know how to gamble.


b- I canít what is useless.


c- Life is only one

15

Sometimes man can bear the unbearable for money, how terrible!.


Sometimes life seems a little suspicious for my classic intelligence.

16

I have to overcome death, death in general, my fatherís, my motherís, my sonís, I have to overcome death, any death.
No more cemeteries, no more old lovers, no more poverty. Iíll say to death- come closer- and this time Iíll fuck her.

17

That there is no other resistance to analysis but the one coming from the psychoanalyst himself.
His fear which doesnít come from error but from ignorance.
His pleasure which is not to satisfy but not to disappoint.


His need which is not to govern but to be above.

18

I cannot stop being worried by little desperate biologies.

High flown animals continue to impose themselves over all thought.

Then I realise that what is real in her is not apprehensible by a linked knowledge.

19

The time has come to relax a little. The roof and food being insured for the next two decades Iím in condition to put myself to study.

Can Psychoanalysis be transmitted?

What desire does the transmission experience need? And other foolish things in that style.

I donít want to put aside that I was able to reach up to here with the machine at half power. Getting away from any vital rhythm Iíll make up the story. Something which in the end doesnít include us without previously having eliminated us with its appearance.

Something about the symbol and the thing is what happens to the individual with the history. Looking at himself as he will be seen a century after. How inspiring! History is a wonderful thing but man is brilliant!

20

I have to be able to conform work and writing, love is already attained and Iím astonished to be able to say it.

Iím happy, when this century finishes Iíll be moved.

The step of the tiger. Famous gale. Lost spell. Where are you illuminated, flexible spring, aquatic presence dazzled by love. Treasured green ice in the eyes, ambivalent spectre, I love you, I definitely pierce your ignorance.

21

Once the basic requisites for participation have been fulfilled, work begins. And if work begins a famous shiver will fall over all of us: the different levels of formation.

Work in Psychoanalysis, the psychoanalytical praxis, requires from the individual another position, as such individual, similar to that which would have been in the fulfilment of the requisites of admittance in the field.

A psychoanalyst, differing from a student, isnít afraid of his errors but of his ignorance.

The method is always a novelty. It mustnít be idle, nor repeat itself.

22

7th GATHERING Ė 2000
OF THE MERCOSUR AND
SPANISH-SPEAKING

POETS

November 10th , 2000


6 PM.

SALAC LA PLATA


VATES 2000

HOMAGE TO Dr. MIGUEL OSCAR MENASSA

SPONSORED BY: GOVERNMENT OF

LA RIOJA IN BUENOS AIRES

(745 Av. Callao - Federal Capital )

Presentation of the 7th anthology 2000

23

I never really cared much to know what words meant. But returning to Buenos Aires, I would like to know what those words mean to me.

24

BECOMING 60


PLURAL

I have serious problems with Poetry.
I feel I have not enough energies for Her.


After 60, I spend all my strength


to maintain all of my body.

All the energy, all of it, to be able to love


the hidden sex of my best verses


the hidden passion of silences


the verb that escaped from the word.


The world wishes for me at 60

a difficult test which I would not fulfil.


Eating almost nothing, some vegetables


and making love once in a while.


That I continue writing at 60


a lyric that sings all the passion.


The freedom of the world in solitude,


locked in an empty room.

That is asked from me,


I who was plural in school


loved with the same intensity


girls, lads and grown-ups.


I was embellished by young women teachers,


I was embellished by old women teachers,


though some day I should confess

that for two different reasons.


And so I went, from failure to failure


but I was plural since I was a child.


And I was plural in relation to the Institute,

I became general secretary


of two enemy societies.


Plural and open with gambling


I am always happy.

When I win Iím happy


because of my way of gambling.


When I lose Iím happy


here are superior beings!

And I was plural in the University in 1958.


When I arrived I hung over a window


and defended non-religious education when I,


in reality, was profound and religious.

And I was plural in love, from hundreds


to 5,000 million I loved with fervour,


I wanted bread for the loved one


and there was no bread,


that pain is in my skin


my verses testify it.

And I was plural in the word.


I spoke: Desert wind that will move


all the sand without leaving a trace.


Meeting what happened is impossible.

And I wrote: my digital prints on the wall,


I stroke a hard blow on the white of the paper.


I made marble from air, bronze from life,


Imperturbable diamond of my song.

I was plural even with myself.


Sometimes I would dress differently,


I spoke about love in another language,


I kissed her lips as if I were someone else.

Sometimes, I caressed her


in a distant way, as if unknown.


And there nights of fire and scandal


where her body was totally mine.

Not even her wrinkles escaped my voracity.


A mania of having her all for myself.


Plural to the point of pain in exchanging


that woman of fire for a cold poem.

And I broke poems when it was necessary


to stop the weeping of some child,


to soothe the violence of madness


or to love that woman till the end,


completely, forever, with no papers.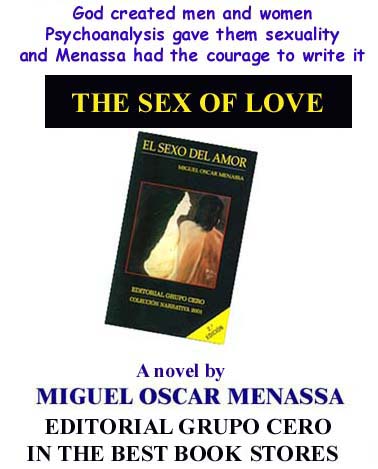 ďThis novel is a monument to desire, not to its
satisfaction and desire doesnít fit in moulds normsĒ

Leopoldo de Luis

ď Menassa transforms eroticism into a real
encyclopaedia of sexual relationsĒ.

Juan-Jacobo BajarlŪa
---