Weekly magazine through Internet Indio Gris
Indio Gris EXTRA
Nº 188. THURSDAY, JANUARY 22 TH , 2004
FUSIONED - DIRECTED - WRITTEN AND CORRESPONDED BY: MENASSA 2004
WE DON'T KNOW HOW TO SPEAK BUT WE DO IT IN SEVERAL LANGUAGES
SPANISH, FRENCH, ENGLISH, GERMAN, ARABIAN,
PORTUGUESE, ITALIAN, CATALAN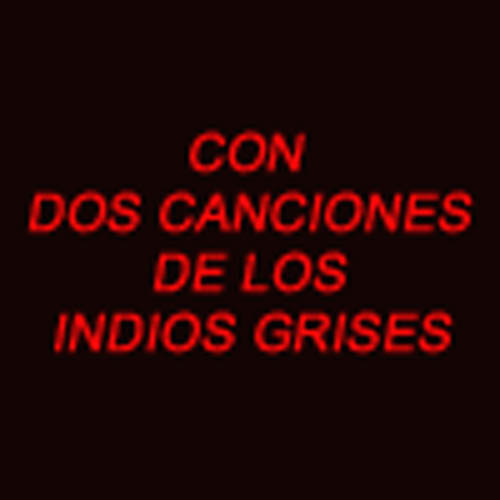 INDIO GRIS, IS A PRODUCT
OF A FUSION
THE BRIGTHENESS OF THE GREY
AND
THE JARAMA INDIAN
THE FUSION WITH MORE FUTURE OF THE
21st CENTURY
---
INDIO GRIS EXTRA Nº188
YEAR IV
The PP's measures against family abuse produce an increase of family abuse and prolong it
up to 85 years of age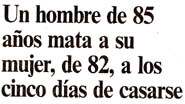 An 85 years old man kills his
wife of 82 after being married
for five days
What a shitty justice!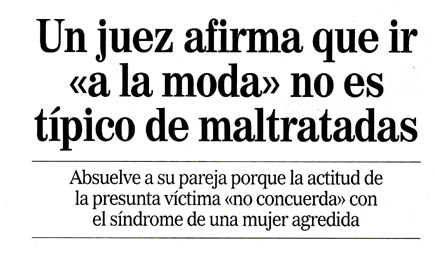 A judge states that "being fashionable" isn't typical of abused women
He absolves her husband because the attitude of the supposed victim "doesn't correspond" with the syndrome of an abused woman.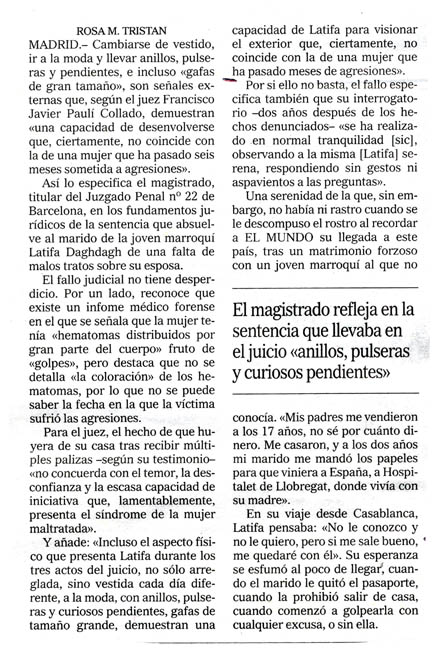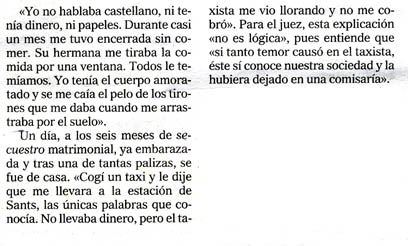 Rosa M. Tristan
Madrid - To change clothes, to be fashionable and wear rings, bracelets and earrings, and even "huge sunglasses", are external signs that, according to judge Francisco Javier Paulí Collado, demonstrate a capacity of acting that, actually doesn't coincide with the attitude of a woman who has been six months subdued to aggressions.
So it is specified by the magistrate, in charge of the Penal Court Tribunal n° 22, of Barcelona, in the juridical fundaments of the sentence which absolve the husband of the young Moroccan woman Latifa Daghdagh of charges of abusing his wife.
The juridical verdict has no waste. On one hand, it recognises that there is a medical forensic report in which it is established that the young woman had "hematomas spread over a great part of her body, fruit of blows", but emphasises that "the colouring" of the hematomas isn't detailed, so that the date when the victim suffered the aggressions, cannot be known.
For the judge, the fact that she ran away from her home after receiving multiple beatings - according to her testimony- doesn't agree with the fear, the mistrust and the scarce capacity of initiative that, unfortunately, the syndrome of the abused woman presents.
And adds: "Even the physical demeanour that Latifa shows during the three presentations of the trial, not only well made-up, but each day dressed up differently, fashionable, with rings, bracelets, huge sunglasses, denotes
Latifa's capacity to envision the exterior which, certainly, doesn't coincide with the appearance of a woman who has suffered months of aggressions".
In case that isn't enough, the verdict also specifies that when being questioned- two years after the denounced events- "the questioning took place with normal calmness, observing Latifa serene, answering the questions without gestures nor fuss".
However, there was no trace of calmness in her face which became distorted when recalling El Mundo of her arrival to this country, after a forced marriage to a young Moroccan whom she didn't know.
The judge highlights in his sentence that in the trial she was wearing "rings, bracelets and curious earrings".
"My parents sold me when I was 17, I don't know for how much money. They made me marry him, and after two years my husband sent the papers for me to come to Spain, to Hospitalet de Llobregat, where he lived with his mother"
During her trip from Casablanca, Latifa thought: "I don't know him and I don't love him either, but if he turns out to be good, I'll stay with him". Her hope vanished as soon as she arrived, when her husband took away her passport, when he prohibited her from leaving the house, when he started to beat her with any excuse or without it.
"I didn't speak Spanish, nor had money or papers. During almost a month he had me locked up without eating. His sister threw me food though a window. Everybody was afraid of him. My body was blue and purple and my hair was falling because of the tugs when he drew me through the floor".
One day, after six months of marital kidnapping, already pregnant and after one of his beatings, he left the house. "I took a taxi and told the driver to take me to Sants station, the only words I knew. I had no money with me, but the taxi driver saw me crying and he didn't charge me. For the judge, this isn't a "logical" explanation, because he considers that "if she caused such fear in the taxi driver, he who knew our society, would have dropped her in a police station".
Indio Gris
LOS INDIOS GRISES THINK
THIS IS WHAT HAPPENS TO US, WOMEN
WOMEN OF THE WORLD KEEP YOURSELVES APART
Cero Group
Consulting Room

Cero Group
Consulting Room

Amelia Díez Cuesta
Psychoanalyst

Carlos Fernández
Psychoanalyst

Appointments:
91 402 61 93
Móvil: 607 76 21 04
MADRID
AMELIAA@terra.es

Appointments:
91 883 02 13
ALCALÁ DE HENARES (MADRID)
carlos@carlosfernandezdelganso.com
www.carlosfernandezdelganso.com

Cero Group
Consulting Room

Mónica Gorenberg
Psychoanalyst

Ask for an appointment:


976 25 25 17 - 659 09 10 60
ZARAGOZA-MADRID
Cero Group Consulting Room
COUPLES COUNCELLING

TALLER DE ENSAYO

Miguel Martínez Fondón
Psychoanalyst

Coordinador:
Juan Carlos De Brasi


APPOINTMENTS: 91 682 18 95
GETAFE (MADRID)

91 547 56 64 (MADRID)
---