INDIO GRIS
INDIVIDUAL MAGAZINE OF GARBAGE COLLECTION
Nº 18. YEAR 2000- SEPTEMBER, THURSDAY 28
FUSIONED - DIRECTED - WRITTEN AND CORRESPONDED BY: MENASSA 2000
WE DON'T KNOW HOW TO SPEAK BUT WE DO IT IN SEVERAL LANGUAGES
SPANISH, FRENCH, ENGLISH, GERMAN, ARABIAN, PORTUGUESE, ITALIAN, CATALAN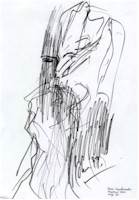 INDIO GRIS, IS A PRODUCT
OF A FUSION
THE BRIGTHENESS OF THE GREY
AND
THE JARAMA INDIAN
THE FUSION WITH MORE FUTURE OF THE
XXI CENTURY
---
INDIO GRIS Nº 18
1
SEPTEMBER 18th, 2000: As many other times, today I', beginning a new life. I'll abandon everything except my previous notebooks where I have been embroidering, with extreme patience, the particulars of a foundation and that, precisely, cannot be abandoned.
2
I'm alert but that isn't enough. To produce something you have to work somewhat. And when I realize that I've reached a place, I also realize that something I must have done to be there.
After having writing four of my best poems I have the sensation that time for business has arrived, writing and things like that is all right for the young.
3
Each time I wanted to save myself, shouted the wretch, some of my jealous lovers led me through an eternal damnation path.
4
May, 1984: I arrived here hoisting failures and shocks. Now I'm not very willing to do anything. I do things when I have to, I'm getting used to what corresponds to me, but willingness, real willingness, I think sometimes I'm not even willing to move because of lack of willingness.
And I want to explain that I'm not feeling bad, I'm contented. I earn enough to eat and for my children to eat, to pay the installments of the car, the house and the furniture, I can publish some writings in some magazines and if I get some more money I could publish those psychoanalysis texts which I copied from others authors who worked harder than I. And this way 30 years could go by and the whole world would know where to find me. Sitting in my house, in front of the fire, in winter, with a piece of paper in my hand or sitting by the sun watching the little domestic flowers grow, in summer, and seeing my children grow up with the hope that they might do it better than I. And later, step by step, my children will have children and I'll grow old and some journalist will say that I would have been a great writer because I had to go to the supermarket.
I have to apologies for something, I'm very sad but any other person in my situation could be even less able.
5
I must be able to get away from me so I can get close to the chores I must accomplish.
6
Everything is pain, beloved, and I go through life without a set direction, but anyway I'll write to you, you'll see:
I'll tie your body to my words forever.
Homing dove, your voice will not sound but in my chords.
7
March 16th, 1985: Today I brought 10 oil paintings from the consulting room to my house. Today the real moving has started. In a month I'll be completely moved. I'm not either interested in being A POOR AND DESPERATE WRITER. the PROBLEM OF MONEY IS DEPLORABLE THOUGH NOT YET CATASTROPHIC. what WORRIES ME IS THE WAY I SHIT. a LITTLE restrained. As if there were something that wants to stay in me. There is something that I don't want to give away, something that I don't want to put into circulation. As if the fact of money should be secret and solitary. In reality, nowadays the only one who can stand and not very well that earn enough money to pay things and have some left over for gambling it's me.
Everything is possible when what moves is the world of wonder.
Earning several millions in one evening and having nothing to eat the next day.
Everything is possible when what sings is a singer.
8
Another week without hitting the big punt, another weekend in which I decide to return to work on Monday, once more. But there will be a Sunday, thanks God, in which I'll be able to say: Today everything is over, today a new life begins. And I'll call all my clients one by one and tell them that I'm taking a 15-day holiday and if someone asks me why I'm taking a 15-daay holiday when summer is still far ahead, I'll answer tranquilly that money shortens distances and makes what it wants of the climate. Afterwards I'll also go back to work though I may not need it. I owe something to the world.
9
Today I won 25,000 pesetas and I gave 5,000 to my son Antonio. He gets on very well with me being single. He will do very well in that enterprise. And if he starts his first business with the right foot, he will able to cope with others.
10
I don't know how to live, shouted the wretch, I have some pain in all circumstances. And this my darling, considering that the Somersault has not yet been preformed.
11
May 25th, 1985: Today, I've decided to invest in Spain and as I have no money I'll invest my life.
12
I must have some sort of stubbornness, shouted the wretch, and some time later he suffered from high blood pressure of unknown origin.
13
I don't come from other lands, I live in this city and I want a five stars old age, shouted the wretch.
14
Discovering, what you may call discovering, I've already discovered everything. Now it's time to accomplish something, to build some future.
To privatize a part of Culture, to make it ours.
15
February 26th, 1994: I'm never here, said the wretch, I was always someone else, I was always somewhere else.
To be able to be decide to break all delirium, all solitude.
I'm breaking all the barriers that lack of money imposed over me, now the only barrier is me.
16
He is the whole day thinking of his mother. His mother is the whole day thinking of her navel. They meet and separate themselves but nobody ever finds any difference.
17
She doesn't speak because she's ashamed of what she fancies. Getting married and having children with me (her mother), and of course things in her life are going very bad.
18
June 7th, 1984: I must be able to do the new things without consulting the old advisers.
19
All revolution has to give up something of itself in order to be accomplished as one. Having as policy not giving up anything, transforms the possible revolutionary event into a marginal or criminal one.
20
Hell was within me, she said when he arrived and he remained silent.
I come because I want to talk and then I remain silent or have visions. Before I used to see monsters or animals in the clouds, and now I see human faces kissing. I have my head full of filth.
-You can leave something here, I told her and as she remained silent, I invited her to continue next time.
21
January 17th, 1985: I'm beginning to see a future for me here in Spain.
22
Living in Arganda confuses me. No model is useful to understand what happens to me. I don't have fantasies about dying but yes about getting ill. Today my condition is less serious, I only want to get ill without dying.
23
January 18th, 1985: The invitations from the Count Duke for the presentation of READING FREUD N ZERO are ready.
24
After a long time I've won 60,000 pesetas through gambling. What a genius!
I must pay 160,000 pesetas which I don't have. How funny!
25
BECOMING 60,

COMPANION

I also was a companion of life
in the amiable trench of friendship
and in the dark trench of death.

I was a ditch torn to pieces, quiet fire
flesh that is good for nothing, not
even love],
meaningful open word that could not flow.]

I was that piece of bleeding paving stone
a tango that is only danced in living
the tram rails in the mortal curve.

A kiss on the platform of the lost train,
stars parked in a distant sky,
a love that in dying never existed.

I was a companion of the American land
sowing the future of the world.
Poetry that will become love in the future.

Companion, all tied together
fighting for the letters do bread,
for the agony in good hands.

Fighting companion, all together
for a fair salary, if there were such,
a mutual love that doesn't exist.

Stories that erase the memory,
leaving the body without recollections,
the kiss without the sound of dreams.

I am from here, companion, here is my life]
Here, all my plants, my lettuces,
the things of earth in my loves.

Companion of the water, I sow fruit
the size of high expectations:
all together defeating sadness.

Wizard of me, I tie the belt of absences
in the poem, to the neck of the world,
companion of the sky I cry solitude.

And I also say to have a companion
for the mad, the sick in the soul.
Quartered and lonely beast of love.

And I was the great companion of night,
of the insomnious man that doesn't sleep
and wants to change the soul of the world.

Companion of the slender acrobat woman]
the one that swings ceaselessly in love.
She falls and reaches the zenith without uttering words].

Companion of the woman that without a gaze,]
walks without direction from one place to another],
without being able to understand why nobody loves her].

Companion of the working man,
Iron for love, weak of future,
someone who already lost what couldn't be].

Of the working woman and her destiny:
Making out of bread a truth and out of love,]
a dream interwoven in the shadows.

I was a companion of the letter and the rock]
the letter that serene reaches the world,
lasting rock of the sex of love.

Companion of myself, I was dazzled,
as shooting stars dazzle
for one of my verses that I didn't write.

I was an idle companion of death,
I watched her, I watched her all day
but in drams, she could more.

I REALLY BECOME 60

The acknowledged Miguel Oscar Menassa waiting to became 70

Antonia San Juan reciting a poem from Federico García Lorca

The actor Luis Miguel Segui in one of his monologues

the birthday cake

The food, the wine..

The poet Carmen Salamanca reciting her poem dedicated to Menassa's birthday.

The poet Miguel Oscar Menassa reciting the poem on the left column,"I became 60, Companion"
---