Weekly magazine through Internet Indio Gris
Nº 179. THURSDAY, NOVEMBER 20 TH , 2003
FUSIONED - DIRECTED - WRITTEN AND CORRESPONDED BY: MENASSA 2003
WE DON'T KNOW HOW TO SPEAK BUT WE DO IT IN SEVERAL LANGUAGES
SPANISH, FRENCH, ENGLISH, GERMAN, ARABIAN,
PORTUGUESE, ITALIAN, CATALAN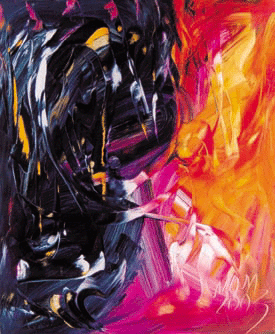 INDIO GRIS, IS A PRODUCT
OF A FUSION
THE BRIGTHENESS OF THE GREY
AND
THE JARAMA INDIAN
THE FUSION WITH MORE FUTURE OF THE
21st CENTURY
---
INDIO GRIS Nº 179
YEAR IV
EDITORIAL
ANALYSIS OF THE DAY AFTER
We are happy for the result: 0-3 for Spain (because we are interested in tourism, mobile telephone companies and RTVE) and in spite of us not understanding anything about football, we like very much what Julián Ruíz writes in Marca (November 20th).

JULIÁN RUÍZ


THE LAWN


MOWER

And in the end…a

piece of buffoonery.

I don't expect Iñaki Sáez to put out

his chest and display all his medals. He

doesn't have that kind of arrogance.

But only his mediocrity, his errors and his

lack of confidence has placed us in a critical moment of a comedy of situation,

of buffoonery. When Norway turned into

the best offensive auxiliary of the selection,

with two magnificent goals, as if it were a school yard

team, I started to think how Sáez frightened us,

making us feel panic in front of a team which is a folly

and even more. Players from the best league of the world,

what were they doing in a match with such a rival?

Anyway, on top of it, we have to put a happy

Easter's face and congratulate him. It is

outrageous. It wasn't cold nor it snowed nor it rained

nor the field was frozen. In the end, a buffoonery, with Olsen as a clown in front of the spontaneous,

because the match had turned into an absurdity.

With this result, Sáez has alibis of all sorts, that his

choice was the best, that he had all thought because

he sent four players as refreshment -it is the only

theory that can sustain on its own- and that Raúl had

to take out the selection from this predicament.

The question is written in the wind. And, if he had

done it well? I don't understand how Valeron is

worth for heavy fields and is worthless for others.

It is outrageous to have Reyes sitting on the bench, the

same way as with Barajas and Xabi Alonso. They should always be regular players.

There is nothing better to do than accepting Villar and

his team. We have no other choice. I can see from here the crest of ire of Villar, the cock, looking towards Lisbon and singing a "fado". We really don't know. Norway is

better than salmon, the Vikings are very fierce and Sáez

is a coach as objected as anyone else. But he is a monster.

One puts on the clown's hat, thinks he will write again about

the Europe Cup and sink into a sleep dreaming the buffoonery dream of Harlequin.

WE BRING FORWARD THE ISSUANCE


OF THE INDIO TO WARN WAKI

EDITORIAL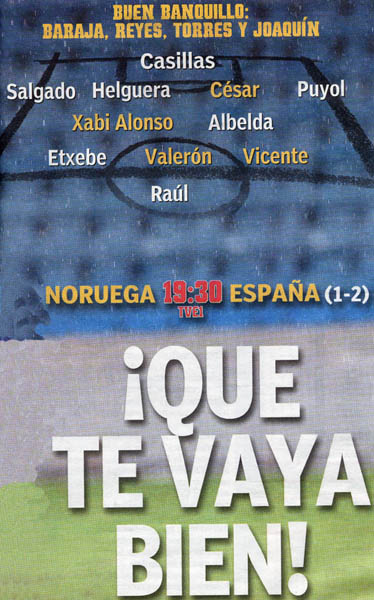 May the bull gore you,


may a lightning strike you,


may the train run you over!

Beyond the fact that we win the match against Norway today (it isn't so difficult to win over Norway), we want to state in this unforgettable morning for the Spanish football (13.05 hours), that Iñaki Sáez is much worse than Clemente (understandably, for the Spanish football selection). At least Clemente, in shouting, was admitting that he was guilty of something.

We inform you about the team which has been designed by the sport psychoanalyst from Cero Group Miguel Oscar Menassa:

Casillas; Michel Salgado, Helguera, Juan Fran, Albelda, Baraja; Torres, Valerón, Joaquín; and Raúl.

THE CREATIVE ARTIST

to Iñaki Sáez

I am as if floating


in the pure air of the morning


I don't understand what I'm doing


neither do I believe doing it myself.

Moreover my beloved tells me


almost every day


you are a genius, my darling,


you resemble God.

Doing everything


even kissing me for a while


without realising beloved


that you are the champion.

The champion of kisses,


of quick fucking


and of slow fucking


until dawn.

The champion of work


and of the beloved party


and everyone knows


that you are a winner.

The champion of studying


of clear inventions


and of the easy poem


for the people.

But, my darling,


you should know


that the man who did everything


has changed his being.

That is why you don't find yourself


nor in life, nor in work,


nor even in bed


when we do those things.

I am as if floating


in the pure air of the morning


I don't understand what I'm doing


neither do I believe doing it myself.

Indio Gris
Cero Group
Consulting Room

Cero Group
Consulting Room

Amelia Díez Cuesta
Psychoanalyst

Carlos Fernández
Psychoanalyst

Appointments:
91 402 61 93
Móvil: 607 76 21 04
MADRID
AMELIAA@terra.es

Appointments:
91 883 02 13
ALCALÁ DE HENARES (MADRID)
carlos@carlosfernandezdelganso.com
www.carlosfernandezdelganso.com

Cero Group
Consulting Room

Mónica Gorenberg
Psychoanalyst

Ask for an appointment:


976 25 25 17 - 659 09 10 60
ZARAGOZA-MADRID
Cero Group Consulting Room
COUPLES COUNCELLING

TALLER DE ENSAYO

Miguel Martínez Fondón
Psychoanalyst

Coordinador:
Juan Carlos De Brasi


APPOINTMENTS: 91 682 18 95
GETAFE (MADRID)

91 547 56 64 (MADRID)
---
ESTO ES PUBLICIDAD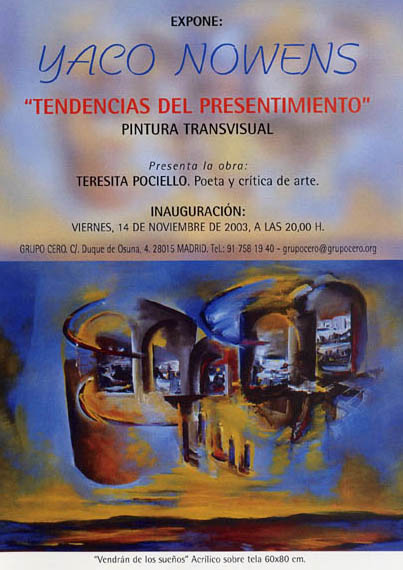 CIERRE DE LA MUESTRA 12 DE DICIEMBRE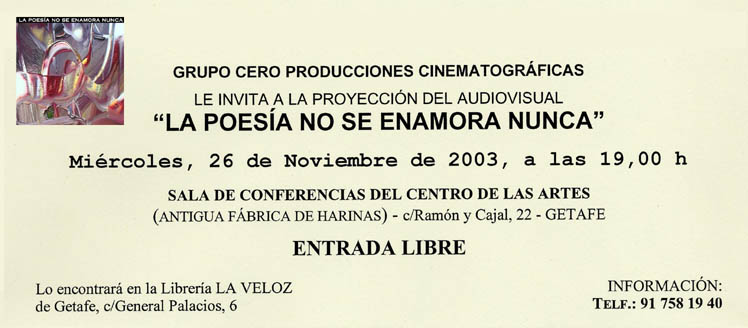 Del 12 al 28 de noviembre.
Exposición colectiva del taller de
pintura Grupo Cero
en colaboración con la
RED DE ARTE JOVEN DE LA COMUNIDAD DE MADRID
Centro Cultural y Juvenil Galileo.
C/ Fernando el Católico 35.
ENTRADA LIBRE.
Información: 91 758 19 40
Se ha fallado el


PREMIO DE POESÍA Y PSICOANÁLISIS
PABLO MENASSA DE LUCIA
en su 5ª CONVOCATORIA

MODALIDAD POESIA

Reunido el jurado bajo la presidencia de Olga de

Lucia Vicente, y tras la lectura de los originales presentados en los términos de las bases, se acuerda otorgar un primer premio (ex-aequo) a:

- "A PLENA LUZ"

. Autora: María Chévez

- "EL OJO DE CRISTAL"

. Autora: Carmen Salamanca Gallego

M

ENCIÓN ESPECIAL:

El jurado recomienda a la Editorial Grupo Cero

publicar una selección de los libros de los siguientes autores:

- "EL VERDE COLOR SE ABRE".

Autor: Carlos Fernández

- "EL PESO DEL SILENCIO"

. Autor: Ruy Henríquez

- AL TRASLUZ DEL SUEÑO.

Autora: Paula Malugani

- "APRENDIENDO A VIVIR"

. Autora: Concepción Osorio

- "DETRÁS DE LAS PALABRAS"

. Autora: Marcela Villavella

- "EL MISTERIO DE LA VOZ"

. Autora: Alejandra Madormo