Weekly magazine through Internet Indio Gris
Nº 172. THURSDAY, OCTOBER 2 TH , 2003
FUSIONED - DIRECTED - WRITTEN AND CORRESPONDED BY: MENASSA 2003
WE DON'T KNOW HOW TO SPEAK BUT WE DO IT IN SEVERAL LANGUAGES
SPANISH, FRENCH, ENGLISH, GERMAN, ARABIAN,
PORTUGUESE, ITALIAN, CATALAN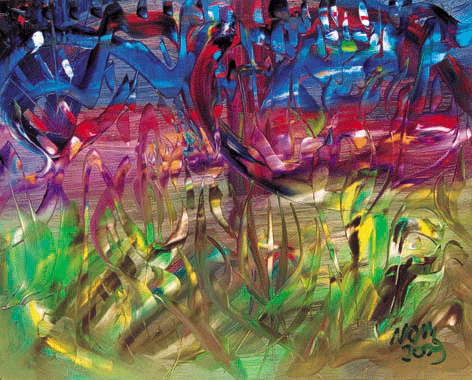 INDIO GRIS, IS A PRODUCT
OF A FUSION
THE BRIGTHENESS OF THE GREY
AND
THE JARAMA INDIAN
THE FUSION WITH MORE FUTURE OF THE
21st CENTURY
---
INDIO GRIS Nº 172

YEAR IV

"THE WOMAN AND I"

33

In the encounter with tears


she, we could say, was happy.


she searched, weeping, for a destiny


and she found within her,


always weeping, her own self.

Man always suffers for the same reason,


in the summit of poetry,


I still feel that my man can die


for lack of food. And of love?


She asked suspiciously and, without waiting


for a gesture of mine or an answer,


she pounced herself upon my poor doubts


and broke everything that was breakable.

And she spoke of me and of her


as if we were the same person:


Then, there are also those women


who love you because they're bored


or else, those who are crazy


and they are by side as


a personal defence technique against madness.


That also happens to me,


when everything is about to burst


when I don't any longer tolerate birds flying,


I get sick in your arms for an instant


and the world becomes once again what it used to be.

Today I'm intoxicated in several ways,


darling, I said to her on the verge of fainting.


the party alcohol, your drunken kisses


making me enjoy till dawn


and, then, that Himalayan golden gift,


took intoxication to the centre of delirium.


I saw myself arriving at places in silence,


several of my lovers died terrified


because of my creepy way of reaching the skin.

Something much worse happens to me, she said,


sometimes, I'm my own slave,


I chain and I beat myself pitilessly


and I ask myself what was it that happened:

We were goblins and savages,


everything at the same time.


Goblins when we made love


savages when we talked

Inexorably, everything must come to an end,


she said enthusiastically and I give my cigarette another puff


and the smoke, nor hot nor cold, not even smoke,


wraps me in a vortex of madness


that I cannot but recognise as my own.

Later the guitars start to tremble


and the afternoon contemplates itself


and it feels happy because the party


will start before her death.

And in a festive day everything is mixed up,


a fat lady and even a baby crying,


a weaned and anxious mother


and the dairy centre on a general strike.

The poor baby suffers during the first days


but he decides to go on living and nurses on his own,


afterwards, when he becomes a man, he needs to feel


that someone loves him for no reason, for nothing,


And, although he turns into a successful man in everything he does,


he is capable of dying everyday because of love.

A fatal night,


of drinks and loves


a woman told him:


You need your mother's love


and without saying a word


he delivered her


thirty stabs.

Indio Gris

MAXIM FOR PSYCHOANALYSTS:


Interpretation out of a session is an aggression.
Cero Group
Consulting Room

Cero Group
Consulting Room

Amelia Díez Cuesta
Psychoanalyst

Carlos Fernández
Psychoanalyst

Appointments:
91 402 61 93
Móvil: 607 76 21 04
MADRID
AMELIAA@terra.es

Appointments:
91 883 02 13
ALCALÁ DE HENARES (MADRID)
carlos@carlosfernandezdelganso.com
www.carlosfernandezdelganso.com

Cero Group
Consulting Room

Mónica Gorenberg
Psychoanalyst

Ask for an appointment:


976 25 25 17 - 659 09 10 60
ZARAGOZA-MADRID
Cero Group Consulting Room
COUPLES COUNCELLING

TALLER DE ENSAYO

Miguel Martínez Fondón
Psychoanalyst

Coordinador:
Juan Carlos De Brasi


APPOINTMENTS: 91 682 18 95
GETAFE (MADRID)

91 547 56 64 (MADRID)
---
THIS IS ADVERTISING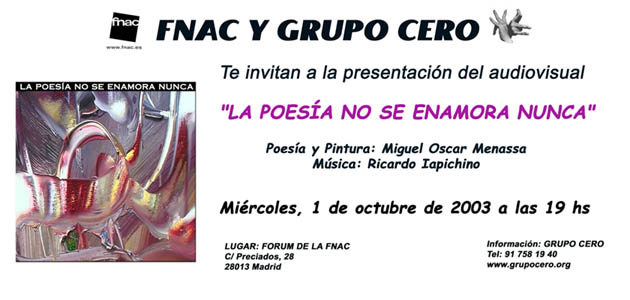 FNAC AND CERO GROUP

Invite you to the presentation of the audio-visual


"POETRY NEVER FALLS IN LOVE"

Poetry and painting: Miguel Oscar Menassa


Music: Ricardo Iapichino

Wednesday, October 1, 2003 at 7.00 PM

PLACE: FNAC FORUM Information: Cero Group


C/Preciados, 28 Phone: 91 758 19 40


28013 Madrid www.grupocero.org