Weekly magazine through Internet Indio Gris
Nº 167. THURSDAY, July 31 TH , 2003
FUSIONED - DIRECTED - WRITTEN AND CORRESPONDED BY: MENASSA 2003
WE DON'T KNOW HOW TO SPEAK BUT WE DO IT IN SEVERAL LANGUAGES
SPANISH, FRENCH, ENGLISH, GERMAN, ARABIAN,
PORTUGUESE, ITALIAN, CATALAN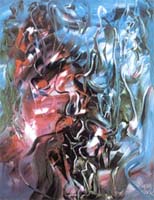 INDIO GRIS, IS A PRODUCT
OF A FUSION
THE BRIGTHENESS OF THE GREY
AND
THE JARAMA INDIAN
THE FUSION WITH MORE FUTURE OF THE
21st CENTURY
---
INDIO GRIS Nº 167
YEAR IV
THE CLOSING OF "MENASSA 2003" EXHIBIT
Wednesday, July 16th, 2003
Miguel Oscar Menassa: Cristina, don't laugh at my tie, I saw you watching me and starting to laugh at my tie.
Hey, this one is privileged, Eva listened to the radio. It was terrible, you laughed your head off, didn't you?
You, are you dressed up as a fridge? Ah! you look like that man who kills people wrapped in a long black apron.
I'm leaving because there are many people coming, where can I hide? Look if in the end we discover that I'm afraid of people, that that's the reason why I surround myself by so many. Always with so many, who can come close to you? Not even myself can come closer.
You really like to get into your pit. What are you going to find? Shit, baby, in the pit.
Hey, Pilar, how beautiful you are, why don't you two try to form a cowboy team, a pistol team, the word didn't come out because of its similitude with the masculine organ, the pistol, the boar.
Clèmence, do you find any pleasure? Is something shining in your gaze or do all of the lights come from my ties?
We will make a film where there will be deaths. I'm figuring out the song that the murderer will sing: "I'm the Moncloa's butcher and I kill without mercy all the decent people I see going past. I cut them into small pieces like this".
Don't put on those faces, weren't we going to make a film? I imagined the murderer during the whole picture, the 60 minutes, the 90 minutes, once in a while singing that song and you start to find him nice, you adore him.
The decanting, from Aragon. We applauded her because half of the week she spends her time in the Kingdom of Aragon. She suffered with the Kingdom of Aragon and the Kingdom of Castile. Didn't you realise that you weren't subjected by your mother, but by the history of Spain? You didn't realise that, you don't study.
Clèmence, how much are you going to pay me? Rosa, fix things up, don't you see that she's stealing my image?
You came to attend a conference and I haven't prepared anything. Clèmence, do you take some pleasure from shooting movies? To what extent does your pleasure reach? Does it remain up here or does it go down? It's very important. Isn't it true, Rosita? Rosa's inclination for movies moves up and down, it doesn't stop anywhere, I think that's the problem.
Isn't it fantastic that you dedicate yourselves to cinema! They are going to send me to Ethiopia. Do you know why? Because I said I knew two Ethiopians who wrote poems and didn't starve. They are going to tell me: Let's see Menassa, go to Ethiopia to look for those two who don't starve and write poetry. Remember what I say.
This is a representation for television. So, ask me some questions. Did anybody show the interview to Rosa? Yesterday we had an interview for Telemadrid-Radio and, as it was named Telemadrid, we asked Cristina to come and film the interview. She brought her camera and, while the journalist did the interview for Radio Madrid, we filmed her and we have the tape with the interview. It's very interesting, Eva saw it, and she says that she laughed her head off. We were in the air, which is not the same as living from air.
If I act the whole time as a clown and afterwards you don't buy any of my paintings, I won't salute you any longer.
You're relatively fortunate, you have come to see the closing of a painter's exhibit who has been invited to expose in the Centro Cultural General San Martín from Buenos Aires in August, the whole month of August, from the 5th to the 31st of August.
Do they give you a percentage? Give me a clue, Rosa, I'm asking you, please. They are going to blame Rosa for everything that may happen to me. They are going to ask Rosa, where is Menassa? In Hollywood? And you'll see how they will tell you off.
I'm going to sit, what happens is that I didn't want to sit because if I sit, chao, I'm finished. They go past me like this and I sign the paintings. Do you know what it is to be 63, walking in the middle of the desert, thinking that I was well accompanied but alone, the sun on my head, la, la, la and always a jerk shouting at me: and aren't you going to write today? And aren't you going to paint today? And are you going to quit working, and are you going to abandon the lady doctor and are you going to abandon the young lady? Please, leave alone, leave me in peace. Nothing. Ring. Dr. Menassa? There is no Dr. Menassa here, I'm the beau, the "chuchirunqui".
I'm very happy to close this exhibit so that the happy buyers take away the paintings, because there is a queue, we have done such a disaster that they won't forgive us. There are fifteen painters in the group, who I don't know where they came from, requesting the room, so we are going to work as if we were a real gallery (without being one). That is to say that the exhibits last fifteen days and the famous youngsters have to fill up at least one small room, not this way because this is nonsense. One little painting there, another one over there, twelve paintings. If they have twelve good paintings to exhibit, we give them a room, if they have twenty four we give them two. If they have thirty six we give them three rooms. The room downstairs, where the Therapeutic Didactic Group takes place, we are going to leave with a permanent exhibition of my paintings; it's small, it's downstairs and, as the psychoanalysts go by, it's good not to influence them with other theories,
I come very happy. Everyone has failed, out of every three students who solicited a revision in a selection exam, one out of three had their exams corrected eventhough they were correct, that means that one third of the exams weren't read nor seen, that's what it means. That's what happens.
They film me even chewing. I think that these are going to ask me for many in a few year's time, because if when I'm present they film me eating, chewing, when I'm not present, God knows what they film about me!
Thanks God that the professor who never understands me is here, and that makes me happy, because among you there are people who understand me, then they force me to do things. The professor is marvellous, he gives me information, he tells me in that posterior delirium that he suffers, that he lacks that bibliography but he gives me the information I need.
Did you like the murderer's song? They want to make a movie containing assassinations. I'm writing a poem called "The song of the murderer". I tolerate to have a murderer in the film but he should at least sing.
Do you like this tie? It is a pity because I always wear Italian pure silk ties, but now, despite being surrounded by so many people, did you see that at the beginning I said "walking through the desert" it's true, it's been three and a half years since someone gave a tie, I said to myself: well, they might want me to wear necklaces, I'm not going to wear the ties I used to wear three and a half years ago. I have a very pretty artist's tie, I'm proposing to the girls, I think looking for a beau and I'm a Flintstone.
Juan Carlos, did you know that the paintings that are hung and have a small red circle have been bought and someone is going to take them away? And why don't they donate them to the museum of the institution after paying for them?
Today I intended to make a speech, this is the speech: Gentlemen: or you buy my paintings which are already quite perverted, or I'll dedicate myself to the cinema and I'll pervert it, watch out, so buy my paintings so that I can stay quiet, painting. If you don't want to buy my paintings you fuck yourselves because I'm going to produce movies and I'll spoil the cinema for you, as well. You are going to attend the movies and you'll say: what's this?
The next 5th of August, a painter, who makes a living painting, will introduce me at the Centro Cultural General San Martín. I'm really impressed, what does this mean? What is he going to say?
Amelia Díez: They have already written about you in a magazine.
MOM: Yes, which should be stuck somewhere so that these ignorant people realise, so that when I ask for a raise you'll see what a row I'll kick up when this year is over, is this year ending soon? I don't know if they will be able to get someone as cheap as I am and multi-use.
Ah! What fell down? Lady, look, look, look…, well, the interesting thing is not to end six feet under, but allowing time to descend a little isn't bad either, and to think that you'll live all your life until you die thinking that this is time, how fantastic! And to tell you the truth, I go to bed at night and I get up in the morning, I can't avoid that. it isn't that I can't avoid going to bed at night and getting up in the morning, I can't avoid feeling that I'm going to bed at night when I'm going to bed at night, and when I get up in the morning I can't avoid feeling that when I get up it's already the morning.
Forty two works to be presented in the Buenos Aires Congress. Some of the professionals will not attend but they'll send their work, some Brazilian professionals won't attend but they'll send their work, as well. Forty two works will be presented, it could be said that we could call off the Congress, that it's a success. We have the forty two presentations, we publish a book with them and we say: XIV International Cero Group Congress -The woman and I-
Closing of the exhibit "Menassa 2003"

Cero Group
Consulting Room

Cero Group
Consulting Room

Amelia Díez Cuesta
Psychoanalyst

Carlos Fernández
Psychoanalyst

Appointments:
91 402 61 93
Móvil: 607 76 21 04
MADRID
AMELIAA@terra.es

Appointments:
91 883 02 13
ALCALÁ DE HENARES (MADRID)
carlos@carlosfernandezdelganso.com
www.carlosfernandezdelganso.com

Cero Group
Consulting Room

Mónica Gorenberg
Psychoanalyst

Ask for an appointment:


976 25 25 17 - 659 09 10 60
ZARAGOZA-MADRID
Cero Group Consulting Room
COUPLES COUNCELLING

TALLER DE ENSAYO

Miguel Martínez Fondón
Psychoanalyst

Coordinador:
Juan Carlos De Brasi


APPOINTMENTS: 91 682 18 95
GETAFE (MADRID)

91 547 56 64 (MADRID)
---
Estimados lectores:
Durante el mes de agosto no saldrá la revista semanal EL INDIO GRIS debido a que estaremos todos en Buenos Aires, en el
XIV CONGRESO INTERNACIONAL GRUPO CERO
LA MUJER Y YO
Un Congreso sobre la sexualidad según la poética planteada
en el libro "La Mujer y Yo" de Miguel Oscar Menassa
que se celebra en el CENTRO CULTURAL GENERAL SAN MARTÍN - SALA D.
En septiembre volveremos.
Feliz agosto