Weekly magazine through Internet Indio Gris
Nº 166. THURSDAY, July 24 TH , 2003
FUSIONED - DIRECTED - WRITTEN AND CORRESPONDED BY: MENASSA 2003
WE DON'T KNOW HOW TO SPEAK BUT WE DO IT IN SEVERAL LANGUAGES
SPANISH, FRENCH, ENGLISH, GERMAN, ARABIAN,
PORTUGUESE, ITALIAN, CATALAN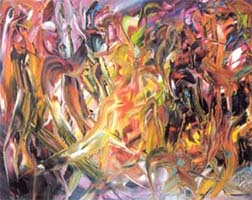 INDIO GRIS, IS A PRODUCT
OF A FUSION
THE BRIGTHENESS OF THE GREY
AND
THE JARAMA INDIAN
THE FUSION WITH MORE FUTURE OF THE
21st CENTURY
---
INDIO GRIS Nº 166
YEAR IV
INTERVIEW WITH THE POET MIGUEL OSCAR MENASSA FOR
THE PROGRAMME "LA TARDE" OF TELEMADRID-RADIO,
CARRIED OUT IN THE HEADQUARTERS OF THE POETRY AND PSYCHOANALYSIS SCHOOL, IN MADRID, ON THE OCCASION OF THE CLOSING OF "MENASSA 2003" EXHIBIT
Tuesday, July 15th, 2003
In the broadcasting station, Paloma Nolasco: You can't spend the whole production budget of the programme, it is clear for you, isn't it?
Live, Elena Pellitero: I have it clear, but if you would allow me to use the Visa of the programme in my way, I would leave you tomorrow, magnificently decorated, the studio, the editing office of Telemadrid-Radio, the third floor of Telemadrid building where all the film sets are and the big place under the cafeteria. Because we have enough here to fill up that and more.
M.O.M: Besides, with so many of my paintings, I would visit you two or three times a week.
E.P.: It is the first time that we listen to the voice of the painter of all these paintings, Miguel Menassa, but don't you think he is a painter, although he paints, don't think he is a poet, though he writes poetry, don't think he is a professor, though he teaches painting and poetry, don't think he is a doctor, even if he has studied medicine. In brief, he is like a man from the Renaissance who is capable of anything. I don't know if music, maybe we can now worm him into it.
M.O.M.: I'm not prepared for it. At 60 I should have dedicated myself to film making, which I'm doing now, and the violin, that is the most difficult thing for me, I'm going to start at 70, because I consider that if a man of 70 lets himself be shouted by a younger man because he's a stupid, because he places the violin wrongly, because the bow isn't handled that way, he rejuvenates 25 to 30 years.
E.P.: My God! What a good method to rejuvenate! Then, at 30 I should let myself be taught to paint, because I'm completely null. Do you think that you could teach even me to paint, being incapable of drawing a little flower?
M.O.M.: Yes, if you pay what the group is worth, which is cheap, in a year's time you can set up an exhibit with me or with the students because, how many museums have you been to?
E.P.: To the ones I was able to attend.
M.O.M.: To three?
E.P.: A few more.
M.O.M.: To fifteen?
E.P.: Around there.
M.O.M.: That's to say you saw 500 paintings, 70 important painters. How many drawing or painting magazines have you seen?
E.P.: None.
M.O.M.: What do you mean by no? television, cinema. Movies are made according to such painter. It doesn't matter if you know it or not. What I do to you in a year's time is to put in your hand what you think is in your head and then you become a painter.
E.P.: And can it come out from the head to the hand and from the hand to the canvass?
M.O.M.: What happens is that things which are in your head are useless, we have to put them within the instrument of work: if I write, in my hand, if I paint, in my hand, if I relate myself with the world, in my social relations, that is to say, in my speech, the same place of my body. If I want to be an actor, not in the body but in the punctuation.
E.P.: What do I do, do I hit him with the microphone until he admits that a woman younger than him, can hit him with the microphone?
P.N.: No, for God's sake! Do it at the end of the interview just in case you injure him.
E.P.: Well, we have to say that we are here, in the Cero Group Poetry and Psychoanalysis School. We are just next to Plaza de España and there is an exhibit which is called "Menassa 2003", which is the production of the professor, let's say from a year ago, the last half of 2002 and the first half of 2003. There are 103 paintings in total. Taking into account that the year has 52 weeks, it's an average of two painting per week.
M.O.M.: Well, I have two painting workshops. The classes in the workshop last from 2 to 3 hours, twice a week. You must consider that I have to paint a picture in each workshop because it's the student's obligation. So I have to do as students do, so that they don't think that I make them do a painting and I don't do it.
E.P.: Do the students have to paint a painting per workshop?
M.O.M.: A painting per workshop.
E.P.: I won't come here, you're an exploiter.
M.O.M.: You receive 40%.
E.P.: But let's see, if you dedicate yourself to teach painting, to teach how to write poetry, you exercise as a doctor…
M.O.M.: I write weekly a 100 verses.
E.P.: How long do you sleep a day?
M.O.M.: Around seven hours, six hours, which is the most I can do, I don't spend so long making love, sleeping about 6-7 hours.
E.P.: Six to seven hours. It's not much.
M.O.M.: I don't spend so long making love.
E.P.: Not even Dinio.
M.O.M.: Well, now we are going to run a marathon with other elderly persons from the neighbourhood, let's see who can endure more, I think we will reach about six hours among three or four.
E.P.: Let's see if we put it right. So what you do is not to stop, to work and work and work.
M.O.M.: It isn't so, it isn't so. I tell you… the word is like masturbation, but I don't want to use it. People masturbate a lot, I masturbate very little, so I have more time, it isn't that I sleep less. If you ask my loved ones if they miss me or if they complain about my absences while I work, I write poetry or I paint, they are going to say no, that I rather disturb them, that I phone them at their jobs to ask them how they are, well, I ask some of my kids if they have painted their weekly painting. For example, I know many poets who became poets because their parents didn't allow them to read nor write poetry.
E.P.: A rebellious act.
M.O.M.: Between us is the other way round. If you want to rebel you don't have to write, not to work, not to paint and not to make love, so it isn't convenient for you to rebel.
E.P.: It mustn't be easy to be your son.
M.O.M.: It isn't easy to rebel, I said.
E.P.: It isn't easy to be a rebellious son.
M.O.M.: Which is different.
E.P.: They must all be beloved sons, and that is sometimes complicated, to go though life saying that you admire your father.
M.O.M.: I don't know if they admire me. No, if not they wouldn't be good, if they admired me they would be closer to envy. What they do is to take a concept (which they consider as an inheritance), which is work, they inherit from me the concept of work. That is to say: a man can with his work modify reality. Did you hear that? A man can, with his work, modify reality.
E.P.: This, we will keep for Nila's phrase tomorrow, Paloma.
M.O.M.: They are young people who believe that, by not scratching their balls, but by working, they will be able to paint, obtain a degree at University, become part of a group of friends, to get married… What is work, because there isn't a world for no one, each of us has to build our own world, not even for the Ethiopians there is a private world, because I know two Ethiopians who wrote fantastic poems and didn't starve. That means that each individual makes for themselves their reality, their life. And how does he build his life? Working. So, the one who has difficulties to work, is sunk, to put it someway. The guy is sunk even if it is in olive oil. It is as if it were thought that man inherits something, he inherits nothing, not even his soul.
E.P.: Paloma, I'm here openmouthed.
P.N.: And we are all perplexed.
M.O.M.: Is anybody listening to us or are we alone in a room?
P.N.: We are listening to you so attentively that you leave us…
E.P.: It is that one, when the professor stops talking, has to let the bundle of ideas settle down in one's mind, which is gyrating in a vortex, anti-clockwise, let it rest, breathe and make the following comment which, of course remains always vulgar at the level of words. Because, I, for example, when you say that…
M.O.M.: You, when you say that something yours is vulgar, it's because you're maltreating me, because with my intelligence how can there be something vulgar in you?
E.P.: We are going to put an end to the interview because now is when I hit him with the microphone. I wanted to comment that this question of psychoanalysis is a little less noticeable, but the question of the fusion of poetry and painting, just by entering the different halls that hold 103 paintings of a considerable size, you can notice, Paloma, that there are names that are a poem in themselves. For example, the ones I'm seeing right now: "The pulse of the jungle", "The light in your entrails", for if something has to be obscure, the most obscure, that is the entrails of a human being.
M.O.M.: "Love on an open heart"
E.P.: This question of love can't be in another way. I have felt great there.
M.O.M.: I only smiled to you, I didn't say anything.
E.P.: "The heart of the night", "Sunset in Cerceda", "The hooks of love", after "Love on an open heart" which from so much opening of the heart afterwards the hooks come and tear it apart.
M.O.M.: Every love has an end, doesn't it?
E.P.: No.
M.O.M.: Yes, darling, it is good to know it, even if it doesn't have an end, my love. And it is precisely because it has an end that love is good, because to start again doesn't mean with another person or with another author, I, this year, have restarted to study Freud after 45 years.
E.P.: You must already be intimate!
M.O.M.: No. I'm the eldest., do you know how it might be to meet with me in 20 years' time, when you will be 20 years older? You know how you'll fancy this, when I'll be 85 and you talk to me and do you know how you're going to fall in love with me and me with this voice. Because now you are going to think that everything is a lie and you're going to leave just like this, but if in twenty years' time we have another interview… do you understand what I'm saying?
E.P.: Yes. We are closing this interview in 20 years' time.
P.N.: Of course, I think it's right to put an end but not in 20 years' time, because we don't know where we shall be.
E.P.: It is also true.
P.N.: Yes, it will be interesting to meet again in two weeks because for sure, being this man so versatile, he will surprise us with any other initiative which will call our attention. Thank you very much.
E.P.: We will come around here again because there are always many things to tell about. And when this exhibit leaves, which will go to other places, I'm sure that in crossing the threshold of this School we will find more surprises, especially if the professor is around.
Interview with the poet Miguel Oscar Menassa

Cero Group
Consulting Room

Cero Group
Consulting Room

Amelia Díez Cuesta
Psychoanalyst

Carlos Fernández
Psychoanalyst

Appointments:
91 402 61 93
Móvil: 607 76 21 04
MADRID
AMELIAA@terra.es

Appointments:
91 883 02 13
ALCALÁ DE HENARES (MADRID)
carlos@carlosfernandezdelganso.com
www.carlosfernandezdelganso.com

Cero Group
Consulting Room

Mónica Gorenberg
Psychoanalyst

Ask for an appointment:


976 25 25 17 - 659 09 10 60
ZARAGOZA-MADRID
Cero Group Consulting Room
COUPLES COUNCELLING

TALLER DE ENSAYO

Miguel Martínez Fondón
Psychoanalyst

Coordinador:
Juan Carlos De Brasi


APPOINTMENTS: 91 682 18 95
GETAFE (MADRID)

91 547 56 64 (MADRID)
---