Weekly magazine through Internet Indio Gris
Nº 165. THURSDAY, July 17 TH , 2003
FUSIONED - DIRECTED - WRITTEN AND CORRESPONDED BY: MENASSA 2003
WE DON'T KNOW HOW TO SPEAK BUT WE DO IT IN SEVERAL LANGUAGES
SPANISH, FRENCH, ENGLISH, GERMAN, ARABIAN,
PORTUGUESE, ITALIAN, CATALAN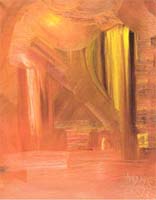 INDIO GRIS, IS A PRODUCT
OF A FUSION
THE BRIGTHENESS OF THE GREY
AND
THE JARAMA INDIAN
THE FUSION WITH MORE FUTURE OF THE
21st CENTURY
---
INDIO GRIS Nº 165
YEAR IV
EDITORIAL
If it is about the last race, each step can last years. This time it isn't for any success that I'm fighting for, but for the place I will occupy as a man in my death. Not in any death which might occur at any time in the afternoon, but that death which will carry, just like now, my verses, my name and my surname.
Up to here, we can say, that everything was a game, imitation.
I think I will start to govern and a poet is always a tyrant.
Poem recited in the voice of Miguel Oscar Menassa

RAIF, MY FATHER

When Raif, my father, talked about men


he always talked about Arabs.

Drinkers of liquor


capable of giving their lives for a woman


or daydream in the evening


because of the fragrance of citron blossoms.

An Arab never kills without passion.

Facing uncertainty


he abandons his loved ones and seeks


in the silence of the desert, his destiny.

He loves flowers and cigars


and at dawn


simply sitting at his front door


he awaits the sun to touch life with its hands.

Darling,

One day she had a whim and the next day she had another.


She arrived wrapped up in a black cloak, deadly.


She undid her waist and let fall a gaze over my sex.


When she finished dying, she told me that she had been thinking of me the


whole day.

Today, she told me:

- Everybody asks me for things. Everybody gives me nothing. Everybody takes away something from me.

I answered to her that she was a privileged person and, once more, what happened to me was that I saw her no more.
Cero Group
Consulting Room

Cero Group
Consulting Room

Amelia Díez Cuesta
Psychoanalyst

Carlos Fernández
Psychoanalyst

Appointments:
91 402 61 93
Móvil: 607 76 21 04
MADRID
AMELIAA@terra.es

Appointments:
91 883 02 13
ALCALÁ DE HENARES (MADRID)
carlos@carlosfernandezdelganso.com
www.carlosfernandezdelganso.com

Cero Group
Consulting Room

Mónica Gorenberg
Psychoanalyst

Ask for an appointment:


976 25 25 17 - 659 09 10 60
ZARAGOZA-MADRID
To fuck lustily with everybody will do us all good, moreover, if none of us gets to know about it.
Cero Group Consulting Room
COUPLES COUNCELLING

TALLER DE ENSAYO

Miguel Martínez Fondón
Psychoanalyst

Coordinador:
Juan Carlos De Brasi


APPOINTMENTS: 91 682 18 95
GETAFE (MADRID)

91 547 56 64 (MADRID)
The pawn has no will power. Its motion is steady, forward, towards death, towards what it will never be certain of. And there is no known way to escape from that destiny of being a pawn.
The word "always" usually transforms a possible discourse into an impossible one.
The miserable have been in rebellion for more than 20,000 years and nothing has happened yet. I come for what has not yet happened: the rebellion of the wise men.
---