Weekly magazine through Internet Indio Gris
Nº 164. THURSDAY, July 10 TH , 2003
FUSIONED - DIRECTED - WRITTEN AND CORRESPONDED BY: MENASSA 2003
WE DON'T KNOW HOW TO SPEAK BUT WE DO IT IN SEVERAL LANGUAGES
SPANISH, FRENCH, ENGLISH, GERMAN, ARABIAN,
PORTUGUESE, ITALIAN, CATALAN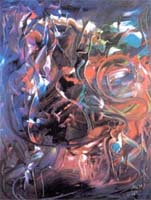 INDIO GRIS, IS A PRODUCT
OF A FUSION
THE BRIGTHENESS OF THE GREY
AND
THE JARAMA INDIAN
THE FUSION WITH MORE FUTURE OF THE
21st CENTURY
---
INDIO GRIS Nº 164
YEAR IV
EDITORIAL
The left not only was mistaken at a world-wide level but also at a personal level. The things of love, friendship, of groups, of projects, the left was unable to see them in any way.
Everything has be thought over again. And if it is necessary to write it all again, it will be done.
Poem recited in the voice of Miguel Oscar Menassa

SOME OF THEM

They will dress lightly to spend the afternoon


they will uncomb their hair


they will light cigarettes in our room


they will read our names


for the first or the second time in glossy paper.


They will stay that afternoon and the next


until we have to go out like whores


onto the streets


to change of boarding house and of family.

Darling,

I would say to all the wonderful women that surround me, without whom my life just as it is wouldn't be possible, that just by being close to me they have love ensured. Because that doesn't cost me a thing, but not to the intelligence. For the intelligence the daily and continuous carrying out of a WORK is necessary.

The rest is OK. all of us will grow old and we will laugh a lot in remembering the days when we didn't think about it.

Those splendid and blind days in which even the stones we touched became immortal.

Afterwards, on top of it, everything happened the other way round. Horror opened our eyes.

Jealousy is an illness and one can't nor shouldn't go around with exposed injuries.

That is the reason why jealousy should be psychoanalysed, never be shown in public.

The jealous person ends up inspiring pity and it's clear that a psychoanalyst who inspires pity won't have many patients.
Cero Group
Consulting Room

Cero Group
Consulting Room

Amelia Díez Cuesta
Psychoanalyst

Carlos Fernández
Psychoanalyst

Appointments:
91 402 61 93
Móvil: 607 76 21 04
MADRID
AMELIAA@terra.es

Appointments:
91 883 02 13
ALCALÁ DE HENARES (MADRID)
carlos@carlosfernandezdelganso.com
www.carlosfernandezdelganso.com

Cero Group
Consulting Room

Mónica Gorenberg
Psychoanalyst

Ask for an appointment:


976 25 25 17 - 659 09 10 60
ZARAGOZA-MADRID
Today, I've felt myself sexually harassed by a woman. What made me feel continuously raped by her, was the faith she had in any of her convictions.
Cero Group Consulting Room
COUPLES COUNCELLING

TALLER DE ENSAYO

Miguel Martínez Fondón
Psychoanalyst

Coordinador:
Juan Carlos De Brasi


APPOINTMENTS: 91 682 18 95
GETAFE (MADRID)

91 547 56 64 (MADRID)
I'm happy, very happy, I've discovered that the power of reason is the power of reason, that is to say, any poet would give a damn for it.
Today I'm sure to be able to succeed with my things: love, writing, work. The rest, of which I don't know if there is anything left, I can't control. But work, love and writing, that has been absorbed.
I'm a psychoanalyst in the world, that's to say, an expensive one. I'll obtain everything as a writer and referring to love I have already worked enough so as to not lack love for five decades.
About the other things, about the other things, I don't know, I don't know…, perhaps…
---
THIS IS ADVERTISING