Weekly magazine through Internet Indio Gris
Nº 163. THURSDAY, July 3 TH , 2003
FUSIONED - DIRECTED - WRITTEN AND CORRESPONDED BY: MENASSA 2003
WE DON'T KNOW HOW TO SPEAK BUT WE DO IT IN SEVERAL LANGUAGES
SPANISH, FRENCH, ENGLISH, GERMAN, ARABIAN,
PORTUGUESE, ITALIAN, CATALAN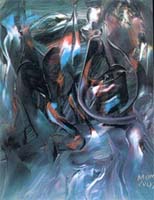 INDIO GRIS, IS A PRODUCT
OF A FUSION
THE BRIGTHENESS OF THE GREY
AND
THE JARAMA INDIAN
THE FUSION WITH MORE FUTURE OF THE
21st CENTURY
---
INDIO GRIS Nº 163
YEAR IV
EDITORIAL
I spent half a century waiting anxiously what they were going to say about me. Now, I hope it is not too late, I understand everything.
No one will say anything about anybody, everybody is occupied in their own shame, in their own dishonesty.
Birds greedy of pain without hope, because they didn't want to work and waited for the sidereal roar of time to eat them. I, just in case, as I have some life left, I go back to work.
Poem recited in the voice of Miguel Oscar Menassa

ANCESTORS

Ancient fishermen, old spies of pain,


those who were born for me to be born,


those who brought the order of killing,


they were innocent.


Gold seekers,


artisans of good manners,


for them


to live


had been a hard apprenticeship.


They didn't possess the elegance of the Norman


and their women who were incapable of doing their domestic chores,


they had been born to love.

To love in spring


the persistent blues and during the nights,


the songs of strange nocturnal birds and pain.


They spoke when natural events


broke peace.

Darling,

Uneven enamoured feasts.

I have been finding all your beauty in the subtleties of reason.

I am opening, in the mirages of your voices, my most hidden loves.

Dazzled by the subtleties of night, I knit, this delirium opened to the docility of daily words, over your eyes.

You said to me:

-When the sublime happiness of life covered up in the senses of hatred and the knowledge of knowing ourselves to be decidedly loved by the good eyes of God…

And I answered to you:

-When joy opens itself without mercy,


Crazy lover of nothingness,


virtue alienated in madness,


meditated flattery, remote.

I don't come for the pain of the enamoured verb.

She said it to me calmly:

-I'm born because of envy and not because of culture.

Today I have seen someone dying and I have seen someone being born and I have learnt nothing about both things.

-We'll continue the next time.
Cero Group
Consulting Room

Cero Group
Consulting Room

Amelia Díez Cuesta
Psychoanalyst

Carlos Fernández
Psychoanalyst

Appointments:
91 402 61 93
Móvil: 607 76 21 04
MADRID
AMELIAA@terra.es

Appointments:
91 883 02 13
ALCALÁ DE HENARES (MADRID)
carlos@carlosfernandezdelganso.com
www.carlosfernandezdelganso.com

Cero Group
Consulting Room

Mónica Gorenberg
Psychoanalyst

Ask for an appointment:


976 25 25 17 - 659 09 10 60
ZARAGOZA-MADRID
When I fail in anything, I feel that it is a failure of my body. Well, this cannot go on being this way because aging has to do with feeling in the body what should be felt in the word.
Cero Group Consulting Room
COUPLES COUNCELLING

TALLER DE ENSAYO

Miguel Martínez Fondón
Psychoanalyst

Coordinador:
Juan Carlos De Brasi


APPOINTMENTS: 91 682 18 95
GETAFE (MADRID)

91 547 56 64 (MADRID)
If I want so much peace, I will have to make war. And in a war, I must know it, family ties don't count for almost anything.
After yesterday's crisis, today I see things more clearly. Nor luminous triumph nor sublime defeat. For me normalcy, average state, nor 50 as we are nor 3,000 who form the world, but slightly enough, 100 which is the double of us.
No one will gain much, but no one will lose either.
---