Weekly magazine through Internet Indio Gris
Nº 162. THURSDAY, June 26 TH , 2003
FUSIONED - DIRECTED - WRITTEN AND CORRESPONDED BY: MENASSA 2003
WE DON'T KNOW HOW TO SPEAK BUT WE DO IT IN SEVERAL LANGUAGES
SPANISH, FRENCH, ENGLISH, GERMAN, ARABIAN,
PORTUGUESE, ITALIAN, CATALAN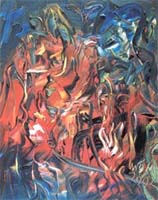 INDIO GRIS, IS A PRODUCT
OF A FUSION
THE BRIGTHENESS OF THE GREY
AND
THE JARAMA INDIAN
THE FUSION WITH MORE FUTURE OF THE
21st CENTURY
---
INDIO GRIS Nº 162
YEAR IV
EDITORIAL
I'm more convinced each time that if I don't use my power over the people who surround me, in due time there will be no people.
The other one always needs, to face truth, to be carried up to the edge. There, where the individual cannot do any other thing, he speaks.
For the time being I have to lead this situation which I don't entirely understand. I'll try to submit myself to psychoanalysis. The rest, I imagine, will be easy because it won't be me who advances, but psychoanalysis.
Poem recited in the voice of Miguel Oscar Menassa

FURY IS IN ME

Opening the padlocks of my heart


we came together making tests


trying to know.


He used to worry about


watering the magnolia tree calmly in the afternoons.

She talked less and it seemed


that on foggy days in the middle of the street


she opened her eyes to illuminate


those who had nothing to lose.


Tame as death


he


was thirty four years old and a violent life,


he wrote poems and said: I belong to the past.

In my chest, in the middle of my chest


breaking once and for all the front door


which separates me from her, we can see her practising


dangerous chess moves and target shooting.


He knows that so many preparations are for war


and nevertheless


he proposes to her, in the middle of my chest, an strange feast.

Darling,

Sometime you'll say that I write just for writing, and you'll have your reasons for that. With not much money so that the everyday deaths could be briefer or insignificant, the best death at my reach is to die writing. The small necessities are lost with writing and the man when writing is more hungry of freedom than of bread and when he is hungry for bread, it is always something general, many men and millions of children die because of lack of bread. I, the person who writes, if he isn't killed before by the States or the social communication media, ends up loving big things, immense prairies as the palms of the skies, several million of lice wanting to rescue the itch they produce, a true army of lice wanting to rescue the filth it suffers from the world. And, in the meantime, a star breaks in halves in front of the lovers' eyes.

And everything is big for the one who writes, kites hoisting invisible flags, subterranean spaces, open cells like open arms.

Supersonic speeds where each music finds its word.

She, when she speaks to me, always speaks about the life they wouldn't allow her to lead and, of course, with that conviction, she goes through life without knowing what to do with money, not knowing what to do with her sex, not knowing what to do with her hands, her feet…
Cero Group
Consulting Room

Cero Group
Consulting Room

Amelia Díez Cuesta
Psychoanalyst

Carlos Fernández
Psychoanalyst

Appointments:
91 402 61 93
Móvil: 607 76 21 04
MADRID
AMELIAA@terra.es

Appointments:
91 883 02 13
ALCALÁ DE HENARES (MADRID)
carlos@carlosfernandezdelganso.com
www.carlosfernandezdelganso.com

Cero Group
Consulting Room

Mónica Gorenberg
Psychoanalyst

Ask for an appointment:


976 25 25 17 - 659 09 10 60
ZARAGOZA-MADRID
On a May 25th, after freeing 225 political prisoners, a group of 25 friends met in the house of one of the group's members, and we drank. At that time we used to smoke some pot and we undressed and danced, and we fucked everyone with everyone and all of a sudden you found yourself in the arms of three women at the same time or, as happened to me, five men, all at the same time trying to find a treasure in my entrails.
I enjoyed, I enjoyed myself as a madwoman.
Cero Group Consulting Room
COUPLES COUNCELLING

TALLER DE ENSAYO

Miguel Martínez Fondón
Psychoanalyst

Coordinador:
Juan Carlos De Brasi


APPOINTMENTS: 91 682 18 95
GETAFE (MADRID)

91 547 56 64 (MADRID)
I must confess that aesthetics doesn't interest me as much as the good functioning, health, the light pleasure.
The experiences which I have had the chance to live can be narrated in one simple way:
Characters of time, luxury of dawn.
Energetic sway, the sway of life.
One day I said it to myself and it wasn't easy: to get rid of the man, to throw into space the painful fireflies and stay without myself.
---