Weekly magazine through Internet Indio Gris
Nº 161. THURSDAY, June 19 TH , 2003
FUSIONED - DIRECTED - WRITTEN AND CORRESPONDED BY: MENASSA 2003
WE DON'T KNOW HOW TO SPEAK BUT WE DO IT IN SEVERAL LANGUAGES
SPANISH, FRENCH, ENGLISH, GERMAN, ARABIAN,
PORTUGUESE, ITALIAN, CATALAN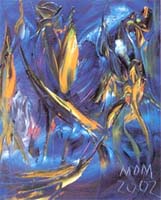 INDIO GRIS, IS A PRODUCT
OF A FUSION
THE BRIGTHENESS OF THE GREY
AND
THE JARAMA INDIAN
THE FUSION WITH MORE FUTURE OF THE
21st CENTURY
---
INDIO GRIS Nº 161
YEAR IV
EDITORIAL
And when I saw that reality escaped from my hands, I did nothing to retain it.
Sometimes I was left with no reality and that was poetry in me.
Afterwards when tax inspectors and collectors preyed on me, everything became a dream to me.
Poem recited in the voice of Miguel Oscar Menassa

TOGETHER WITH THE BATTLE


WE LOST ALL HOPES

Together with the battle we lost all hopes.

They offered me to stay with them


a chest full of sterling pounds


and a sure death in the sea


at dawn, in a stormy day.

Faride remained silent


And a gesture of pain crossed his face.

They offered me to impregnate my body


with jasmine's perfume forever


to give me a pure silk cloak


and a ring to testify my power.

Faride ripped his fine clothes


to show her chest riddled with bullets


by the enemy's grapeshot.

My son


there is no destiny for men in the sea.

You will travel through the desert towards the south


you will cross the mysterious ocean


until you reach the Río de la Plata.


Near its banks you will found your city.


a son will be born to you in spring


whom you will name Miguel.


You will apply the colour of olives to his skin


and the power to decipher dreams in his mind.

DARLING,

Hungry trails of the night tremble, they state to be so many as the stars. They tremble more from immensity than from solitude.

Far away skies always take in any possible gaze. There is nothing in my eyes, beloved, to illuminate you. All of my gaze is lost.

She said to me:

- Because of my work I have lost my smile.

And I told her:

-You haven't lost it, you have abandoned your smile, because it's useless. We'll continue the next time.
Cero Group
Consulting Room

Cero Group
Consulting Room

Amelia Díez Cuesta
Psychoanalyst

Carlos Fernández
Psychoanalyst

Appointments:
91 402 61 93
Móvil: 607 76 21 04
MADRID
AMELIAA@terra.es

Appointments:
91 883 02 13
ALCALÁ DE HENARES (MADRID)
carlos@carlosfernandezdelganso.com
www.carlosfernandezdelganso.com

Cero Group
Consulting Room

Mónica Gorenberg
Psychoanalyst

Ask for an appointment:


976 25 25 17 - 659 09 10 60
ZARAGOZA-MADRID
-I'd cut my balls and offer them to you and I'm sure you'd think that another woman would benefit from that love gesture.
That's why I won't cut them, and because of that I love you up to offering what I won't be able to fulfil…
There is no true proof of love, in the sense that no proof of love is enough proof.
Cero Group Consulting Room
COUPLES COUNCELLING

TALLER DE ENSAYO

Miguel Martínez Fondón
Psychoanalyst

Coordinador:
Juan Carlos De Brasi


APPOINTMENTS: 91 682 18 95
GETAFE (MADRID)

91 547 56 64 (MADRID)
I wanted the world to be for everybody and among all of them, they almost break the world.
Astonished, I'm astonished, having made all that of my life and, however, I want to go on. I don't care how.
I accept having put my name and surname in those phrases and, in the right moment, I must say it, with full joy. And I still admit having chosen the wrong country and the wrong century and, yet, I want to go on, I want to go on.
I'm specialising myself in not knowing what to do.
I wouldn't do everything the same way, I'd do everything better.
To be a slave of not loving, that is the extreme kind of slavery. Afterwards, one also has to work a little.
---